Best Black Friday Golf GPS Deals
Big savings on a wide variety of golf GPS devices including handhelds and watches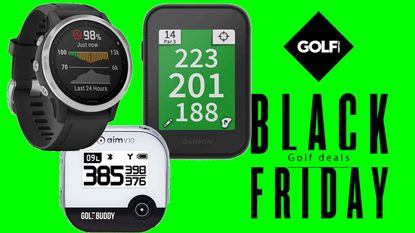 (Image credit: Golf Monthly)
Best Black Friday Golf GPS Deals
Technology in golf has grown massively over the last few years and one particular avenue brands like Garmin, Bushnell, GolfBuddy and many more have gone down is golf GPS, which often takes the form of a watch, or a handheld device.
So why would you want one for yourself? And why is Cyber Monday (opens in new tab) the best time to get one?
Well a golf GPS (opens in new tab) system will give you accurate yardages to the hole, green and other hazards you encounter whilst playing golf to help give you confidence that you're pulling the right club out of the bag.
They've been around for years now so the tech on offer currently is highly-sophisticated and comes in various different packages, from tiny devices to larger ones with beautiful screens as well as stylish watches. Most of the time, they are just really cool pieces of kit.
In short, there is not really an excuse for having the wrong yardage anymore and a GPS device is a convenient way for you to make sure you don't come up 20 yards short or hit it over the back.
Now because of the growth in GPS tech in golf, around and on Cyber Monday there are lots of deals out there so to make sure you don't miss out we have compiled a list of the best golf GPS deals right now.
Why not also visit our Cyber Monday golf deals hub (opens in new tab) to check even more deals for even more great offers this Black Friday weekend and Cyber Monday week.
Best Black Friday Golf GPS Deals - US Quick Links
Best Black Friday Golf GPS Deals - UK Quick Links
Today's Best GPS Deals
US Deals
UK Deals
Want more Black Friday golf deals?
When does the Black Friday golf sale start?
Black Friday this year takes place on the 26th of November but there are actually lots of deals to be had throughout the month of November.
Because of how big technology is in golf right now there will be lots of deals online and to help you find the best ones, Golf Monthly will scour the internet and bring them to you in hubs like this one.
As such we recommend checking back on this page regularly, or if you are after something else, go on the relevant hubs on the Golf Monthly website.
Also we should mention that if you do miss out on the day itself, do not worry because there is also Cyber Monday too, on Monday 30th.
We will also do our best to bring you all those good deals too.
Where are the best places to find Black Friday golf deals?
In the US the best golf retailers include Dick's Sporting Goods (opens in new tab), Golf Galaxy (opens in new tab), Rock Bottom Golf (opens in new tab) and Walmart (opens in new tab).
In the UK, we recommend looking at American Golf (opens in new tab), Scottsdale Golf (opens in new tab), Sports Direct (opens in new tab), Click Golf (opens in new tab) and of course Amazon (opens in new tab).
But as we mentioned above, if you want GPS specific deals we recommend checking this page often because we update it regularly.
Rather than have to find the deals yourself, we have got you covered.
What to consider when buying a golf GPS on Black Friday
So what are some of the factors you need to consider and think about before trying to purchase a golf GPS? Let's take a look.
Your routine - The best golf GPS watches only require a quick glance so they are much quicker than taking a device out of its case, so weigh up if extra detail or less disruption is most important to you.
Your course - If your course has lots of doglegs, blind tee shots, or you play at other clubs in matches or socially, then you might want the extra information a GPS offers over a laser.
Type - As the list above shows, there are different types of GPS device to use and they all have positives and negatives affixed to them.
1. GPS Watch - Simplicity and convenience are the key here. If you are the type of player who would rather have a quick glance at their wrist to know the yardage rather than using a larger GPS, then a watch could be the way to go. GPS watches nowadays are a lot more compact, slim-lined and light making them ideal because they do not hamper the swing or distract in any way.
2. Handhelds - The chief bonus here is the large screen which gives a lot more detail and the touch screen functionality will be familiar to most users because of modern phones. You get clear hazard information and overhead maps of the hole too which could guide your strategy and save you shots.
Additionally you need to have a think about what features you want your GPS to have...
Features to look out for
Clear and accurate distance information - this is a no brainer really but some models are more accurate and clear than others.
Pre-loaded courses - there is some variation in how many courses are pre-loaded onto some models compared to others.
Scorecard - rather than have to write down or log scores into an app, on some GPS devices you can mark your score down with ease.
Stat tracking - particularly useful to those wanting to know more about their game and where they earn or give away shots.
Green mapping and pin location - some devices give the user the ability to map the green and place the pin in the correct place. This often gives more information to the user on yardage and what club to hit.
Waterproofing - a waterproof device is very important, especially if you play somewhere that gets a lot of rain
Battery power - GPS devices normally need charging via a USB after two to four rounds, so consider which would be easiest for you on a week-to-week basis
Didn't find what you're looking for? Check out the best golf GPS devices on the market right now.