Best Golf Watches 2023
A golf watch can save you ample shots when out on the golf course. Here, we take a look at the best ones on the market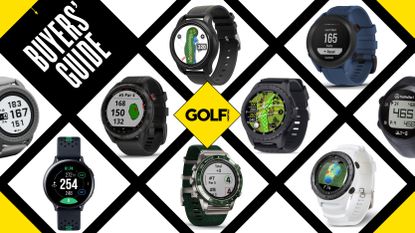 (Image credit: Golf Monthly)
Best Golf Watches: Quick Menu
A golf ball is just a golf ball, right? Wrong! In fact, that's probably less true now than ever as all the main ball brands seek to cram as much all-round performance as possible into every model. All the major brands have been launching new versions of their premium models for the new season, along with a number of other newcomers and next-generation golf balls. However, before we get to the best golf balls on the market, what features should you look out for? At the top end of the market, it's all about getting the multiple layers to work in harmony to generate the flight characteristics you want in the long game, like low spin and speed, without compromising feel and control in the short game.
On the other hand, manufacturers are always looking to cater for golfers with more moderate swing speeds through their lower compression, mid-price offerings. So, what are some of the best golf balls out there? We've tested the leading options currently available and these are our very top picks. All have been thoroughly reviewed by our team, which means testing on the launch monitor and over multiple rounds on the course. Rest assured, this guide is updated on a regular basis to make sure it includes the latest releases.
Before we list the models for this guide, Cyber Monday is here and there are lots of deals on equipment like this. As such, check out all of the best Cyber Monday golf deals as selected by our experts.
VIDEO: Joel Tadman compares eight of the best golf watches in 2023
Joel has worked in the golf industry for over 15 years and as the Technical Editor oversees all equipment testing. One of his areas of expertise is distance measuring devices and specifically GPS watches. As such, he knows what makes the perfect golf watch - performance, features, versatility, battery life, looks and value for money. Joel has personally used most of the watches in this guide.
The Quick List
Garmin Approach S70 Golf Watch
The Approach S70 is the most feature-packed golf watch to date with a brilliant display and incredible detail as well as an expansive suite of features.
Bushnell Ion Elite Golf GPS Watch
This is an incredibly useful and intuitive watch to wear. The slope-adjusted distances and moveable pin make it almost as accurate as a laser rangefinder.
Voice Caddie T9 Golf GPS Watch
With slope functionality, heat-mapped greens and hole maps with flyovers, the T9 has all the information you need to optimize your strategy.
Garmin Approach S62 GPS Watch
The Approach S62 Watch is undoubtedly one for the gadget lover who wants lots of features and the ability to track shots all in one place.
Samsung Galaxy5 Pro Golf Edition Watch
For anyone with an Android phone and wants a golf watch, this is the way to go. It's easy to use, packed full of features, and comes with all the benefits of a smart watch.
TAG Heuer Connected Calibre E4 Golf Edition Watch
A feature-packed, sporty yet elegant golf watch, the TAG Heuer E4 Golf Edition provides one of the most cutting-edge experiences in golf.
Load the next 11 products
The LX5 may well save you a few shots, giving accurate distances and crystal clear hole maps that enable you to see what lies ahead in great detail.
Voice Caddie A2 Golf Watch
Full color hole maps and green undulations, along with slope adjusted distances, make the Voice Caddie A2 a very user-friendly and stylish golf watch.
The Shot Scope X5 is sleeker than the previous V3 and has a greater array of features that will enhance your strategy and understanding of your game.