Best Golf Balls 2023 - The Best Performing Models In The Game
Premium golf ball models offering best-in-class spin, control and distance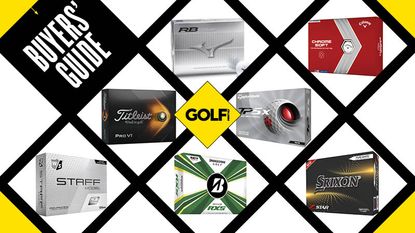 (Image credit: Golf Monthly)
Best Golf Balls
A golf ball is just a golf ball, right? Wrong! In fact, that's probably less true now than ever as all the main ball brands seek to cram as much all-round performance as possible into every model. All the key brands have been launching new versions of their premium models for the new season, along with a number of other newcomers and next-generation models. But before we get to the best golf balls on the market, what features should you look out for?
Features To Look Out For
Why you can trust Golf Monthly Our expert reviewers spend hours testing and comparing products and services so you can choose the best for you. Find out more about how we test.
At the top end of the market it's all about getting the ball's multiple layers to work in even better harmony to generate the flight characteristics you want in the long game without compromising feel and control. At the other end of the market, it's increasingly about adding as much feel and control as possible into balls primarily designed to help those with more moderate swing speeds enjoy as much distance as possible.
So what are some of the best golf balls out there? Below we have taken a look. We've recently tested the leading golf balls currently available, and these are our picks of the best. All the balls here have been reviewed by our team, which means testing over multiple rounds out on the course, and this guide is updated on a regular basis to make sure it includes the latest releases.
Best Golf Balls
Best On Test
Specifications
Construction: Three-piece
Colors: 2 (white, yellow)
Reasons to buy
+
Greater longevity and tour-validation than any other premium golf ball
+
Provides superb all-round performance
+
Excellent control into the greens
+
High levels of consistency throughout with a soft feel.
Reasons to avoid
-
Hard to track down bargain prices for golf's No.1 premium ball model
The Titleist Pro V1 golf ball is our best on test model at the moment. With its biennial upgrade, the design got several significant changes made to it, such as the new reformulated 2.0 ZG Process Core which was implemented with more distance in mind. Additionally the cover was noticeable when we first got our hands on some.
The dimple count increased from 352 to 388 following extensive trials and testing to maximize distance and flight consistency. The cover itself is also made from a new softer, urethane elastomer for more greenside spin and control.
The result of all of this was five stars from us and the ball has found its way into many Tour professional bags. It launches lower and spins less than the Pro V1x and overall it provides superb all-round performance. A couple of other key difference between this and Pro V1x is the Pro V1 feels fractionally softer and offers a lower peak height. To see a full breakdown on the differences between the two balls, check out our comparison post on them.
Exceptional Performance For Moderate Swing Speeds
Specifications
Construction: Three-piece
Colors: 2 (white, yellow)
Reasons to buy
+
Exceptional tee to green performance
+
Soft feel and excellent greenside spin
+
Impressive stability in windy conditions
Reasons to avoid
-
Maybe not the best fit for faster swingers
Bridgestone (opens in new tab) developed its Tour B RXS golf ball for golfers with driver swing speeds of under 105 mph, and in our testing it proved to be a phenomenal option for players who fit into that demographic. The Tour B RXS is exceptional around the greens in terms of spin and control, which we expected, but in the long game it exceeded expectations by offering impressive distance both off the tee and on full approach shots.
The B RXS also proved to be very stable in windy conditions, which through the years has been a staple of Bridgestone golf balls, and its cover held up well even after significant use. It's also a great-looking golf ball in terms of its subtle aesthetic details and it offers incredible feel off the putter on the greens.
Best For Distance Chasers
Specifications
Construction: Five-piece
Colors: 2 (white, yellow) Also available in Pix design
Reasons to buy
+
New Tour Flight Dimple Pattern improves aerodynamics and carry distance
+
Larger, more reactive core boosts ball speed without compromising softness
Reasons to avoid
-
Lower-launching iron flight will not be right for some golfers
A golf ball that Collin Morikawa switched into, the updated TaylorMade TP5 now boasts a Tour Flight Dimple Pattern which was engineered for improved aerodynamics and carry distance for golfers across the ability spectrum.
It remains the softer of the two models (TP5x), ensuring an excellent balance of distance and spin. On testing, it was found to offer exactly that. Distance off the tee was never an issue, while approaching greens it was very workable with an iron in hand. Flighting shots high and low has rarely been easier.
From driver through to the flatstick, the soft cover felt great and meant that, even when using it for the first time, making the adjustment from other brands was seamless. Around the greens it also performed exactly how we wanted it to.
Best For Faster Swingers
Specifications
Construction: Three-piece
Colors: 2 (white, yellow)
Reasons to buy
+
Brilliant in all departments and one of the best value premium golf balls
+
New slightly thicker cover brings enhanced spin, control and feel
+
Cover combines with FastLayer core for more ball speed and distance
Reasons to avoid
-
Only fast-speed players will reap maximum benefit
The new seventh generation Srixon (opens in new tab) Z-Star features a number of improvements on the previous model. The 0.6mm cover is actually now slightly thicker, promising enhanced spin, feel, and control around the greens. The greenside spin on offer is fantastic and even with well-used wedges we noticed plenty of grab and stop on the second bounce.
It retains the macromolecule Slide-Ring (SeRM) material in that cover. This helps the ball to restore its shape more proficiently post-impact, absorbs impact vibrations and makes it less susceptible to damage. The new cover teams up with a FastLayer Core that's soft in the centre and firmer around the edges to boost ball speed and distance while keeping spin low.
The mid-flight characteristics mean the ball never balloons on you and flies very well through the wind, just as you would hope from a premium golf ball. What shouldn't be ignored here is the price because the Z-Star can often be found for less than other premium models on this list, and yet the performance is comparable.
Best For Lower Spin
Specifications
Construction: Four-piece
Colors: 2 (white, yellow) Also available with Truvis and Triple Track designs
Reasons to buy
+
Affordable price for a premium ball
+
Solid, all-round performance
+
Soft feel around the green
+
Low spin off the tee
Reasons to avoid
-
Drop-off in short game spin versus the X version
Any list of the best golf balls cannot go without the Chrome Soft from Callaway. Billed as a model that will suit all levels of player, Callaway says it has enhanced every component and design feature in the Chrome Soft and one such example is the new 'Elastic SoftFast Core'. But how well did it test?
Off the tee it produced a good mixture of high launch with relatively low spin which therefore offered impressive distance. Admittedly the new Chrome Soft X and LS versions are faster off the face so maybe try those models if you want as much distance as possible, but the regular model's performance was still good. Around the green, whilst many golfers will prefer a slightly firmer feel, we loved the muted sound through impact. We immediately noticed the soft feel when warming up and hitting pitch shots as well.
In conclusion the Callaway Chrome Soft for 2022 is a good all-round golf ball. The stand-out performance elements in our testing were the soft feel in the short game and the low spin but high launch flight off the tee.
Best For Lower Ball Flight
Specifications
Construction: Four-piece
Colors: 1 (white)
Reasons to buy
+
Impresses from tee to green
+
Excellent spin control
+
Ample durability
Reasons to avoid
-
Some may find it too high spinning with driver
A new addition to this list of the best golf balls, the Wilson (opens in new tab) Staff Model is an all-new tour-calibre four-piece ball available in white and a unique, raw, unpainted finish – the R version.
At its heart lies an advanced V-COR core composition, which magnifies energy for optimum velocity and greater distance. The urethane cover's seamless 362-dimple pattern is designed to smooth airflow around the ball for a lower flight trajectory which is ideal in the wind. The four layers combine to promote easy shot-shaping and workability, plus a stable and reliable ball flight and excellent greenside control.
We recently put the ball to the test and we were very happy with the results. Admittedly some may be put off by the higher spin numbers with the driver, but overall it was very impressive from tee to green, produced good spin around the green, and the durability was right up there as well given how premium balls can often cut up easily.
Used by Brooks Koepka
Specifications
Construction: Three-piece
Colors: 2 (white, yellow)
Reasons to buy
+
Sounds and feels highly controllable on and around the greens
+
A strong performer in the wind
Reasons to avoid
-
You need a 90+mph swing speed to reap this ball's full, all-round performance benefits
The newest model in the Z-Star range, and the ball used by Brooks Koepka, is the Diamond. In terms of technology, it's a three-piece ball with a compression of 102 and a slightly thicker 0.6mm cover that is designed to offer a mid-high launch to golfers with a swing speed of 90+mph, so not everyone will be able to reap maximum benefits.
As a result, the Diamond sits between the two other Z-Star models, with one of the key new elements being that slightly thicker cover, engineered for more spin and control on approach shots. The ball feels soft to the touch, too, and that will reassure many golfers who rely on their touch and feel on and around the greens. It also performed well in the wind, had surprisingly good durability, and had a touch of class with the gold numbering. A superb all-around golf ball.
Best Tour Favorite Ball
Specifications
Construction: Four-piece
Colors: 2 (white, yellow)
Reasons to buy
+
Good spin control and feel around greens.
+
Flies higher than the previous generation Pro V1x model
Reasons to avoid
-
Slightly firmer feel compared to Pro V1 may not be right for some golfers
The Pro V1x features the same reformulated 2.0 ZG Process Core and softer cover as the Pro V1 for enhanced distance plus improved feel and control. In the four-layer Pro V1x, the dual core is now surrounded by a faster, low-spinning casing layer previously used in the Pro V1x Left Dash option. This helps to add speed while lowering long-game spin. Its dimple count has increased from 328 to 348 for a more consistent flight that will also be higher than in the previous Pro V1x model as well.
Like the Pro V1, it got five stars from us because of the short-game control, and we were particularly impressed in the wind as it produced a strong ball flight. If you're a real Titleist fan, check out our guide to the best Titleist golf balls too.
Used By Rory McIlroy
Specifications
Construction: Five-piece
Colors: 2 (white, yellow) Also available in Pix design
Reasons to buy
+
Firmer feel
+
Good stability in the wind
+
'Speed-Layer System' boosts ball speed via improved energy conversion
Reasons to avoid
-
Only faster swing speeds will get the most out of the TP5x model
The latest TaylorMade TP5x , like the TP5, also features the new Tour Flight Dimple Pattern for improved aerodynamics, with the new 'dual-radius shape' dimples optimizing airflow around the ball to reduce drag and therefore promote greater distance. The five-piece design also uses the High-Flex Material (HFM) as part of a 'Speed-Layer System' designed to deliver added ball speed via optimal energy conversion.
It remains the firmer of the two models, and is faster, longer and higher-launching in the right hands. But a new, slightly softer, cast urethane cover helps it grip wedge grooves better for increased spin and a lower launch around the greens.
Despite feeling firmer than the TP5, it's certainly not too firm and TaylorMade has done a good job of blending tour performance and feel in a low spinning golf ball with this firmer feel.
Best For Workability
Specifications
Construction: Four-piece
Colors: 2 (white, yellow) Also available with Truvis and Triple Track designs
Reasons to buy
+
X model is more workable than the Chrome Soft
+
Excellent ball speed off the driver
+
Superb spin control from close range
Reasons to avoid
-
Feel off the face is on the firm side
It comes as no surprise to us that top professionals like Jon Rahm and Sam Burns use the Callaway Chrome Soft X golf ball. One of the big reasons here is the distance on offer because the X is one of the fastest balls we've tested.
When put up against the regular Chrome Soft, and Pro V1x, the Callaway X model was the fastest, offering a big jump in ball speed over its family model, and a slight jump on the Titleist design. We felt the slight tradeoff here is the firmer feel around the greens, but the X did still produce good short game spin and control.
The final point we'd make is that we tested the Triple Track version of the Chrome Soft X. There is no doubt the multi-colored alignment aid works really well on the putting green and off the tee. However it should be acknowledged that you can get regular and Truvis versions of the ball as well.
At a strong swing driver speed, the Chrome Soft X was one of the best premium golf balls we have tested this year. Consistently long off the tee, it also offered plenty of control when pitching from short range. Finally because Callaway make so many outstanding models, we created a comprehensive best Callaway golf balls (opens in new tab) guide to help you understand the current range.
Best For Windy Conditions
Specifications
Construction: Four-piece
Colors: 1 (white)
Reasons to buy
+
Stable and penetrating flight
+
Excellent durability
+
Good distance and greenside control
Reasons to avoid
-
Lower flight won't suit everyone
The Mizuno RB Tour golf ball features the brand's new drag-reducing Cone Profile Dimple (C-Dimple). These cone-shaped dimples help keep fast-flowing air close to the ball's surface for improved performance. This is particularly noticeable on iron shots where reduced drag generates a more penetrating flight and extra carry distance. A high-traction urethane cover then comes in handy around the greens.
The RB Tour model pictured here offers low driver spin and will suit more downward attack angles. An RB Tour X version is also available, offering mid/low driver spin for those with flat-to-upward attack angles.
How we test golf products
The quality of Golf Monthly's reviews and buyers guides is built upon a rigorous testing procedure as well as the knowledge and experience of the test team that has a sterling reputation in the industry, known for delivering the key points you want to know in a concise, easy-to-digest manner.
Our specific golf ball testing (opens in new tab) is built upon this procedure so we can get controlled data inside, and then see how the golf ball performs outside and on the golf course. That way we can get a more complete picture and get greater feedback to pass on to you.
The first port of call to is usually the indoor simulator at Foresight Sports, where the team can test in a controlled environment using the GCQuad launch monitor. The majority of Golf Monthly's outdoor testing takes place at West Hill Golf Club, a stunning course in Surrey with excellent practice facilities. By using the balls over a number of rounds, and in different conditions, we can get a clearer understanding on factors like feel, control, ball flight and so on.
Factors to consider when buying golf balls
What are some of the factors you need to consider when buying golf balls? Let's take a look.
Soft or firm?
The best premium golf balls come in alternative versions that spin slightly less for players who prefer a firmer feel or more control off the tee. Try both from various distances to find your preference.
Cover material
Urethane-covered balls offer the best spin control and feel but do cost more. Experiment to see if you notice enough of a difference to justify the extra cost, or whether the best mid-price golf balls might be an option.
Long game or short game?
Which aspect of the game is most important to you? Do you want to get as much distance as possible out of your golf ball or would you prefer a model that allows your short game to flourish thanks to improved feel?
Well we have created guides for both. If you value the former then check out our guide on the best distance golf balls. Or, if you put a real premium on feel, perhaps our best soft feel golf balls guide might be a good next step.
Price
No buying guide would be complete without at least mentioning the price factor. Thankfully most brands make models at different price points so you can rest assured there will be a top-performing model for you, however much you want to spend.
FAQ's
What is the #1 golf ball?
There are lots of models above that may claim to be the #1 golf ball in the game. The Pro V1, Pro V1x models from Titleist are used by hundreds of players out on Tour, and many top players also use the TP5/TP5x, Chrome Soft/Chrome Soft X, and Z-Star/XV models as well. Once again, when trying to answer this question it is worth noting that the #1 ball for one golfer, may be totally different to another because no two golf games are the same.
Do golf balls make a difference?
The short answer is yes. Different golf balls do different things whether that be offering more spin, high or low launch, soft or firm feel, as well as different colors and alignment aids printed on the golf balls. This is because golf balls are made in different ways. some have two-piece constructions, some have five. This is to offer the player something a little bit different dependent on what the golfer likes to feel and how they like to play. As such most brands offer several models to cater for every type of player.
Which brand of golf ball is best?
There are lots of golf brands that make excellent golf balls for a wide range of abilities and swings. Importantly, big brands like Titleist, Callaway, TaylorMade, Srixon, Wilson and others all make models of golf ball from the top Tour level, to those looking to just start in the game. When it comes to saying which is best, every single golfer is different and it is a case of each player finding a golf ball that is best suited to their game.
If you enjoyed this guide on the best golf balls, browse the Golf Monthly website for all our latest equipment news and video reviews.
Joel has worked in the golf industry for over 12 years covering both instruction and more recently equipment. He now oversees all product content here at Golf Monthly, managing a team of talented and passionate writers and presenters in delivering the most thorough and accurate reviews, buying advice, comparisons and deals to help the reader find exactly what they are looking for. So whether it's the latest driver, irons, putter or laser rangefinder, Joel has his finger on the pulse keeping up to date with the latest releases in golf. He is also responsible for all content on irons and golf tech, including distance measuring devices and launch monitors.
One of his career highlights came when covering the 2012 Masters he got to play the sacred Augusta National course on the Monday after the tournament concluded, shooting a respectable 87 with just one par and four birdies. To date, his best ever round of golf is a 5-under 67 back in 2011. He currently plays his golf at Burghley Park Golf Club in Stamford, Lincs, with a handicap index of 3.3.
Joel's current What's In The Bag?
Driver: Titleist TSR3, 9°
Fairway wood: Titleist TSR3, 15°
Hybrid: Titleist TSi2, 18°
Irons: TaylorMade P770, 4-7 iron, TaylorMade P7MC 8-PW
Wedges: Titleist Vokey SM8, 50°, 54° and a Titleist Vokey SM9 60° lob wedge
Putter: Evnroll ER2V
Ball: 2021 Titleist Pro V1x