Best Golf Balls 2023
We take a look at the best golf balls currently available on the market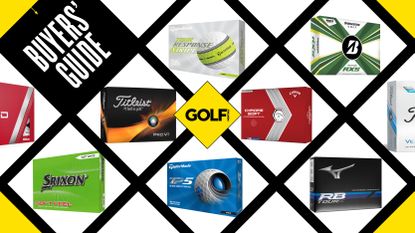 (Image credit: Golf Monthly)
Best Golf Balls: Quick Menu
A golf ball is just a golf ball, right? Wrong! In fact, that's probably less true now than ever as all the main ball brands seek to cram as much all-round performance as possible into every model.
All the major brands have been launching new versions of their premium models for the new season, along with a number of other newcomers and next-generation golf balls. However, before we get to the best golf balls on the market, what features should you look out for? At the top end of the market, it's all about getting the multiple layers to work in harmony to generate the flight characteristics you want in the long game, like low spin and speed, without compromising feel and control in the short game.
On the other hand, manufacturers are always looking to cater for golfers with more moderate swing speeds through their lower compression, mid-price offerings. So, what are some of the best golf balls out there? We've tested the leading options currently available and these are our very top picks. All have been thoroughly reviewed by our team, which means testing on the launch monitor and over multiple rounds on the course. Rest assured, this guide is updated on a regular basis to make sure it includes the latest releases.
Before we list the models for this guide, Christmas is nearly here and there are lots of deals on equipment like this. Additionally it is a gifting time of year so take a look at our best golf gifts for Christmas page as well.
---

Neil has been part of the Golf Monthly team for 15 years and has been testing golf balls for many of those years. As such he knows what makes the perfect golf ball for different levels of player - feel, sound, control, long and short game performance, looks and also value for money. He's personally used most of the golf balls on this page.
The Quick List
Titleist Pro V1 2023 Golf Ball
Titleist has raised the bar again with its new 2023 Pro V1 design. In our testing it was the added consistency in the long game that shone through.
Bridgestone 2022 Tour B RXS Golf Ball
The Bridgestone Tour B RXS impresses in the long game and around the greens, whilst it is also simply exceptional in the wind.
Srixon Z-Star Golf Ball 2023
The Srixon Z-Star golf ball 2023 is ideal for mid to high swing speed players who prefer a softer feeling ball with more control around the greens.
Callaway Chrome Soft 2022 Golf Ball
If you're looking for a ball that will offer control and distance off the tee, and soft feel on the greens, the Chrome Soft 2022 golf ball is worth considering.
TaylorMade 2021 TP5 Golf Ball
The TaylorMade TP5 is a faultless ball in every area of performance and should prove to be popular for those who play competitive golf.
Mizuno RB Tour X 2022 Golf Ball
An impressive performer in all areas, the RB Tour X offers a strong ball flight in the long game and plenty of greenside stopping power.
Load the next 13 products
TaylorMade Tour Response Stripe 2022 Golf Ball
Distance was good as was the greenside spin, whilst those seeking alignment help could definitely see improvements thanks to the Stripe.
An impressive all-round golf ball, the Wilson Triad delivers good distance in the long game and a great feel on and around the greens.
Titleist Tour Speed 2022 Golf Ball
A superb all round performer at an appealing price. This particularly impressed in the long game where it offered consistently good distance.
Callaway ERC Soft Golf Ball
The ERC Soft offered excellent distance and alignment. All in all, the value for money is competitive here, especially given how durable we found it.