Best Drivers For Slicers 2022
We take a look at the best drivers that will stop you slicing tee shots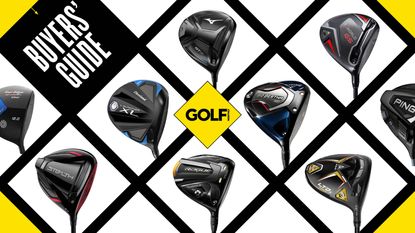 (Image credit: Future)
Contributions from
Golf Monthly Newsletter
Golf tips and expert instruction, golf club reviews and the latest golf equipment.
Thank you for signing up to . You will receive a verification email shortly.
There was a problem. Please refresh the page and try again.
Best Drivers For Slicers
Slicing the ball off the tee is one of the most common and destructive shots for amateur golfers. Not only does it put you in a bad position on the hole, but it loses you significant distance, which makes good scoring harder to come by.
Luckily, the best golf drivers from all of golf's major brands are on hand to help if you have a tendency to slice the ball. Manufacturers create draw-bias drivers in a number of ways, but most commonly you'll see drivers with weights toward the heel-side of the driver and with plenty of offset too.
While these drivers won't have you instantly hitting hooping draws off the tee, the set up of these clubs will keep the massive slices at bay and hopefully encourage a straighter, more powerful ball flight.
Of course, investing in a new driver is one of the most expensive products a golfer can purchase, with Golf Monthly discussing at length whether you should buy a new driver in 2022.
Below is a list of the best anti-slice drivers 2022, but if you're looking for something more specific, check out our guide on the best golf drivers for beginners, the most forgiving golf drivers or the best drivers for distance.
Best Drivers For Slicers - Best Anti Slice Drivers
Most Forgiving Anti-Slice Driver
Specifications
Lofts : 9.0°, 10.5°, 12°
Adjustable Hosel: Yes
Stock Shaft: 6 custom fit options
Left Handed Option : Yes, in all available lofts
Reasons to buy
+
Very forgiving off-centre
+
Draw bias helps slicers create a straighter flight
Ping's new G425 range comes in three heads - the Max, LST and SFT. For slicers of the ball, the SFT head is the best option because it stands for Straight Flight Technology.
A consistently straighter ball flight is achieved by a fixed weight near the heel of the club for maximum slice correction and, with the G425 SFT, it offers even more draw bias than the G425 Max in its draw setting. This means that serial slicers of the ball will definitely want to opt for the SFT head.
The rest of the club performs the same as the G425 Plus, which we loved when we reviewed it earlier this year. The whole G425 range also comes with an Arccos sensor embedded in the grip, creating a very competitive package.
Technology-packed design
Specifications
Lofts: 9.5°, 10.5 & 12.5°
Adjustable Hosel: Yes
Stock Shaft: 3 options (Mitsubishi Chemical Tensei AV Blue, Project X Cypher Black 50 & Fujikura Ventus Blue)
Left Handed Option: Yes, in all available lofts
Reasons to buy
+
Confidence inspiring look at address
+
Powerful sound and feel
+
Comfortably aids a draw shape
Reasons to avoid
-
Offset look won't suit all visual tastes
The Rogue ST Max features in four different heads: Rogue ST Max, Rogue ST Max D (draw bias), Rogue ST LS (low spin) and Rogue ST Triple Diamond LS, but it is the Max D we are focusing on here, with the D standing for Draw.
For 2022, Callaway's new driver range has extended its use of A.I. to optimise its Flash Face for launch and spin as well as ball speed. So, while this is still a forgiving driver, it goes a long way too.
Down at address, the Rogue ST Max D has a new matte crown which we really liked, although we didn't care much for the clock-style graphics at the rear. The face looks flatter and is lighter in color, making it more visible and therefore easier to align.
Importantly, the Rogue ST Max D has the longest profile from front to back to inspire maximum confidence, with the draw bias weight in the heel helping those who tend to slice ball. There is some offset to be seen here, but it is pretty well hidden in our opinion.
Most Innovative Driver For Beginners
Specifications
Lofts : 9°, 10.5° & 12°
Adjustable Hosel: Yes
Stock Shaft: Fujikura Air Speeder 45
Left Handed Option: Yes, in 9° and 10.5°
Reasons to buy
+
Very strong overall performance
+
Outstanding shelf appeal
+
Consistent ball flights, especially in the wind
Reasons to avoid
-
Less confidence inspiring than outgoing SIM2
Over the last few years, golfers have become used to seeing TaylorMade introduce new driver technologies in a bid to unlock more distance off the tee. For 2022, this promise comes in the shape of an all new carbon fibre face.
To highlight this new technology, the face of the Stealth driver is red and, whilst this might not be to everyone's taste, the chosen colour is not too bright and fairly recessive down behind the ball. We liked it.
The version we have highlighted in this piece is the Stealth HD, with HD standing for high draw, making this driver perfect to help encourage a draw shape off the tee. TaylorMade has used the carbon face to save weight across the head, with the company strategically placing it's draw bias weight without losing any of the forgiveness across the face.
During our testing, we found that the majority of our shots finished left of target, which is ideal for a right handed golfer struggling with a slice. We also saw 5 more yards of draw shape when compared to the standard Stealth.
While it may be a little more high pitched than the outgoing SIM2 driver, it still sounds great in our opinion. During our testing, we managed to deliver an extra three miles per hour in club head speed with the Stealth compared to the SIM2. As you'd expect, this (along with a reduction in spin versus the original SIM) translated into more distance.
Refined Aesthetics
Specifications
Lofts: 9°, 10.5° & 12°
Adjustable Hosel: Yes
Stock Shaft: Project X HZRDUS RDX Blue 60, HZRDUS Smoke iM1060 & UST Helium Nanocore.
Left Handed Options: Yes, in all available lofts
Reasons to buy
+
More refined aesthetics versus the last generation
+
Improved sound
+
Impressive forgiveness and consistency
Reasons to avoid
-
Marginal gains versus last year's Radspeed range
Launched right at the start of 2022 to replace the Radspeed range of the clubs, the new Cobra range of drivers features three heads. In this piece, we are recommending the LTDx Max, which is one of the best drivers for beginners. As well as the LTDx Max, there is also the standard LTDx and LTDx LS, which are both draw bias and lower spinning models respectively.
We've highlighted the Max here as it will suit golfers who slice the ball the most. The Max head features a 3g weight positioned toward the heel of the head to help encourage a draw shape. The LTDx MAX also sits less closed behind the ball than some other draw-biased drivers you'll find this year.
For us, that meant we were able to swing confidently at the ball without worrying about hitting a hook and, ultimately, we were pleased by how consistent the Cobra LTDx MAX was. For others who prefer the look of an offset driver, this probably won't be the most pronounced option.
The aesthetics have become more refined for 2022. This year's LTDx features a very similar-looking matt black carbon crown to last year's Radspeed (why change it - for us it was one of the best looking drivers of 2021).
Moving on to the sound of the driver, which has a much lower pitched, quieter impact sound than the Radspeed XB. For us, it was significantly better - creating a satisfying 'crack' through impact that felt very powerful.
A great fit for slower swingers
Specifications
Lofts: 9°, 10° & 12°
Adjustable Hosel: Yes
Stock Shaft: Aldila Ascent UL
Left Handed Option: Yes, only in 10°
Reasons to buy
+
Designed to be as forgiving and light as possible
+
Will help slicers
Reasons to avoid
-
Only designed for slower swingers
The Titleist TSi1 is the lightweight option of the range and is engineered for the moderate (less than 90 mph) swing speed player who is seeking increased club and ball speed with control off the tee.
The 460cc TSi1 is almost 40g lighter than standard drivers and has a high launching flight with mid spin. The reason for it being on our list is that it's the most draw-biased Titleist driver available through its CG positioning.
By reshaping the head, engineers were able to move the CG closer to the center of the face, which results in more ball speed versus the outgoing TS1.
Best for value
Specifications
Lofts: 10.5°, 12° & 15°
Adjustable Hosel: No
Stock Shaft: Mitsubishi Fubuki HL
Left Handed Option: Yes, only in 10.5°
Reasons to buy
+
Highly forgiving on mis-hits
+
Exceptional looks for an offset driver
+
Great value at its price point
The Tour Edge E522 driver was designed specifically to combat a slice. To do that, it has an offset hosel design, a more upright lie angle, and internal weighting that has been moved toward the heel to make it easier for golfers to square the clubface at impact.
In our testing, those technological features delivered, as we found it very difficult no matter how hard we tried to hit balls that moved significantly from left to right. Not only that, but we also found the E522 to be highly forgiving on mis-hits in terms of accuracy.
The looks are also very clean in the playing position, that is despite the offset it presents. It also delivers naturally high launch conditions, with the impact sound of the E522 offering a pitch that is slightly on the louder side, which might not appeal to everyone.
Annoyingly, the driver does not have an adjustable hosel, but for golfers who slice the ball, the E522 is definitely worth a look, especially if you're shopping on a tight budget.
Best For Offset Looks And Performance
Specifications
Lofts: 9.5°, 10.5 & 12.5°
Adjustable Hosel: Yes
Stock Shaft: Callaway RCH 55 Graphite
Left Handed Option: Yes, in 9° or 10.5°
Reasons to buy
+
Feels fast off the face
+
Adjustable hosel means you can get fully dialled in
Reasons to avoid
-
Offset look won't suit all visual tastes
A driver aimed specifically at those who slice the ball, the BB21 is one of the best anti-slice drivers for 2022. This driver provides distance, forgiveness and allows the ball to travel down the fairway, rather than across it as many slicers experience.
The beauty of this driver is that it comes with all premium technology found on Callaway's latest drivers. The larger A.I. Designed Flash Face SS21 has been made of a super strong, heat treated TA-15 titanium, which allows for the complex face architecture required to promote optimal speed, forgiveness, and spin characteristics.
At address, the generous amount of offset and large club head inspires confidence and the loft adjustment in the hosel allows you to add or take away loft depending on your preference. If you slice the ball a lot, we'd recommend adding more loft to club to increase back spin.
This driver has the most offset of any in this list and it is very visible from address. It's a personal preference as to whether you'll like this look, but either way, it'll seriously help to stop the slice.
Suits A Broad Range Of Golfers
Specifications
Lofts: 9°, 10.5° & 12°
Adjustable Hosel: Yes
Stock Shaft : Project X Cypher 50
Left Handed Option: Yes, in all available lofts
Reasons to buy
+
Very generous head size inspires confidence
+
Modern, premium finish
Reasons to avoid
-
Quite high pitched through impact
Replacing the popular Launcher HB model that was released in 2020, the Cleveland Launcher XL Driver is aimed at the mid to high handicap range, with the Launcher XL suiting those who slice the golf ball off the tee.
The driver benefits from a larger driver head and an incredibly confidence inspiring look at address. To start, the length of the head from front to back has increased by 6% and the contrasting crown and face finishes mean you can see all of the loft from address, making it one of the most forgiving drivers on the market.
Performance wise, the Launcher XL gave solid carry distance on an easy swing, perfect for the wider range of players this driver is aimed at. The spin rates created with this driver will also help keep the ball in the air and provide good carry distance. Lastly, it is also superb value for money and cheaper than the premium options from the likes of Callaway, TaylorMade and Titleist.
Stable Ball Flight
Specifications
Lofts : 10.5° & 12°
Adjustable Hosel: Yes
Stock Shaft : 23 custom fit options
Left Handed Option: No
Reasons to buy
+
Generous footprint at address is confidence-inspiring
+
Easy to launch
+
Stable ball flight
Reasons to avoid
-
Not as exciting or eye-catching as offerings from some of the other brands
The Mizuno ST-X 220 driver has been designed to help moderate swing speed players find extra yards and consistency, as well as stave off the unwanted slice shape.
The head features a 20g weight placed in the back, heel section of the driver to generate a draw bias while still featured all the technology of the ST-Z 220 driver.
This is an incredibly easy to hit driver and is certainly regarded as one of the best drivers for beginners. It feels that the technology built into the head is working to get the ball up and away without too much effort required from the player. Throughout our testing with the ST-X 220, we felt as if shots that would have potentially drifted off to the right held their line. Hit after hit, we felt in control.
How We Test
When it comes to product testing, our reviews and buyers' guides are built upon a rigorous testing procedure as well as the knowledge and experience of the test team. Headed up by technical editor Joel Tadman, and assisted by Neil Tappin, both have been testing golf clubs for years and both play to a handicap of 5. Both are also able to efficiently test the vast majority of the biggest product releases and convey the pros and cons eloquently.
Getting into specifics for drivers, we first attend product launches and speak to manufacturers to understand the technology. We then hit the golf clubs indoors, usually at Foresight Sports and test the products with premium golf balls on a launch monitor.
Outdoor testing is the next port of call and this usually takes place at West Hill Golf Club, a course in Surrey with top-notch practice facilities. Ultimately, we aim to be as insightful and honest as possible in our reviews so it is important to acknowledge that no manufacturer can buy a good review. This is because our team tells it how it is.
What to consider when buying a new golf driver
You've probably already asked yourself whether you need to buy a new driver in 2022, but there's a few key things to consider when investing in a new driver, especially one that can help with your slice. Hopefully answering these questions will narrow your search down slightly and make comparing between various models much easier.
When purchasing a new big stick, it is crucial to ask yourself just what you need from it. Is distance your main priority or are you looking for something to help you find more fairways? We'd always recommend a custom fitting with a PGA Pro but if you know what you're looking for you can make an informed decision.
FAQs
Do offset drivers help slice?
In short, yes. An offset driver is where the club face sits slightly behind the hosel, delaying the arrival of the club face, allowing it more time to arrive to the ball square. Some drivers - like the Callaway Big Bertha 21 driver - have a very pronounced a visible offset at address whereas some manufacturers try to hide the offset look. It's an entirely personal preference as to whether you like the look of an offset driver.
What is the best driver to help with a slice?
All of the drivers in this guide will help golfers who tend to slice the ball. Important things to keep an eye out for are offset and a heel weighting that will combine to keep the club head square or even closed at address.
Does a higher loft reduce slice?
Yes. While those who tend to slice the ball off the tee often want to see a lower ball flight, adding extra loft to your driver will add back spin and create a more stable ball flight with less side spin. We'd recommend having a driver with 10.5° as a minimum.
Dan is a Staff Writer and has been with the Golf Monthly team since early 2021. Dan graduated with a Masters in International Journalism from the University of Sussex and primarily looks after equipment reviews and buyer's guides on the website. Dan was a custom fit specialist at American Golf for two years and has brought his expertise in golf equipment to a huge range of buyer's guides and reviews on the website. A left handed golfer, his handicap index is currently 9.8 and he plays at Fulford Heath Golf Club in the West Midlands. His golfing highlight is shooting 76 at Essendon Golf Club on his first ever round with his Golf Monthly colleagues. Dan also runs his own cricket podcast and website in his spare time.
Dan is currently playing:
Driver: Ping G425 Max
Fairway: Ping G425 Max
Hybrid: TaylorMade Rocketballz
Irons: Ping i59 (4-PW)
Wedges: Ping Glide Forged Pro
Putter: Wilson Staff Infinite Buckingham
Ball: TaylorMade TP5 Pix