Best Golf Bags 2022
Here is our selection of the very best golf bags - models to suit a full range of on-course requirements and conditions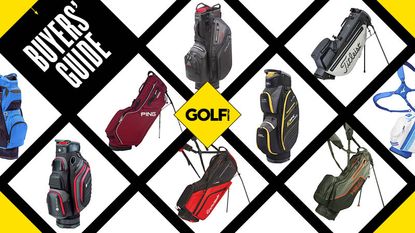 (Image credit: Golf Monthly)
Best Golf Bags
The golf bag is an essential item of equipment and finding the right one could help you make the difference when it comes to organizing and planning your game. Whether you prefer to carry, take a cart or a buggy, the best golf bags have been designed and engineered to suit your requirements. You need a bag that will protect your equipment, provide the right level of storage with easy access to clubs and accessories, and one that delivers the best possible ergonomic fit for you.
If you use a cart or buggy, you'll look for a robust and stable bag that's easy to lift and sits well on its side or base. Other features to consider will be, the level of storage, the ease of access to clubs and accessory/apparel pockets. Many modern bags provide water resistance and extra protection for valuables and are great gifts for those golf obsessive friends in your life. Especially as the festive season is fast approaching, you're no doubt wondering what to get your golfing friend or loved one for Christmas, but do not fret. We've got plenty of ideas on the best Christmas golf gifts (opens in new tab), which also features some of the best golf bags on the market right now!
If you like to carry, then you'll look for something lightweight and comfortable that sits well on the back. Depending on the conditions you generally play in, you might consider the quality of the stand and the level of storage available. Easy access and protection of clubs will always be a consideration.
What then are the best golf bags right now? We've reviewed and tested them and have selected our favorites below to help you prepare and manage your golf game in the most effective way. Additionally make sure you check out our other golf bag guides too - such as the best golf push cart bags (opens in new tab) or even the best waterproof golf bags (opens in new tab).
Best Golf Bags
Stand Bags
One of the best golf bags on the market and perhaps the most well known, the Ping Hoofer continues to offer an incredible blend of performance for a wide array of golfers.
As soon as you pick it up, the comfort is delivered by two well-cushioned shoulder straps. as well as a hip pad that cushions all the right areas. Weighing just 5.5lbs - less than 2.5kg - it provides also provides a pleasurable walking experience from start to finish.
In addition, for those who like to do things a little old school, the new back puck makes it far easier to transition from two straps to one. Alternatively, for cart lovers, there is a cart strap channel that passes underneath the main pocket, meaning it is straightforward to attach and ensures unrestricted access to all 11 pockets!
This bag is slightly harder to get hold of compared to the 4 StaDry model, but the Plus is definitely worth the effort. The extra pocket and storage space it offers may seem fairly insignificant, but being able to separate gloves, tees, balls and apparel is crucial and the Players 4 Plus StaDry stand bag allows you to do that easily. It also has a lined valuables pocket for your phone and two drinks holders either side of the ball pouch.
We should acknowledge that usually the bag arrives with the straps unattached and this can be fiddly. However there is a handy instruction guide included to help speed up the process. It is worth it too because the straps are excellent when attached, because the bag seemed to level itself nicely when walking.
Thanks to the seam sealed zippers, it's impressively waterproof, while the wider stand delivers great stability on uneven terrain or on windy days. Finally it is excellently lightweight at just 1.95kg. Also if you are a fan of Titleist, check out our guide on the best Titleist golf bags too.
The FlexTech Crossover's USP in the new TaylorMade range is that it fits well on a trolley as well as giving the player the option to carry. Obviously from a looks perspective, the first thing you notice is how good the bag looks, with each color way offering something a little difference too.
With a self-adjusting strap system and 14-way full-length dividers, the TaylorMade FlexTech Crossover is a bag designed for ease of use and we certainly found this when using it. Admittedly 14-way dividers split opinion but we thoroughly enjoyed the design during testing.
The Strap Slider System allows the bag to stay stable while carrying and adjusts itself as you move. Meanwhile the FlexTech stand system is easy to use and means the bag is easy to access while walking.
The amount and variety of storage pockets is fantastic. There's more than enough space for everything you could possibly need, and the seam-sealed and micro-suede lined valuables pocket and drink bottle pouch are very handy additions.
Stylish and packed with useful features, this waterproof stand bag from Inesis earned a spot in our Editor's Choice awards in 2022 (opens in new tab). Providing incredible value for money, it is also available for a fraction of the price you might pay for a similar product made by a more well-known brand. Made from a Polyethylene Terephtalate material, this bag is one of the most lightweight stand bags (opens in new tab) on the market and comes with 14 individual dividers for your clubs. That means it's great for players who like to stay organized.
It takes no time either to adjust the supportive straps to your desired length and they will stay firmly in position as you walk around the course. When you put everything this bag has to offer together, we think it's right up there with the very best waterproof golf bags (opens in new tab) on the market, with its performance in extreme conditions a big stand out.
With its spacious interior and modern styling the Dri Lite Hybrid Tour is the perfect water resistant solution if you like to push, carry and look great on the course. On the model we tested, the design had an upscale aesthetic whilst there are also several colors available ranging from the eye-catching, to the more subtle.
It has a 14-way divider and 5 spacious water-repellent pockets for all your golfing accessories and gear. The best golf bags have to be practical and this is where this Big Max model stands out. It works well not just as a stand bag, but because of the flat, footless base, it is compatible with most trolleys. The leg lock feature and positions of the stand also help in this fluidity.
As with most Big Max products it comes with a great warranty directly from the manufacturer, so even though this bag feels well made and robust, there is peace of mind there too.
The new Datrek 2022 Carry Lite stand bag is a highly efficient, functional stand bag that is also a tremendous value at a retail price of under $200. At just 3.9 pounds, it's a great option for walkers who carry their bag, and the walking experience with the Carry Lite is only enhanced by a comfortable, user-friendly strap system and strategically placed hip padding on the side of the bag.
The Carry Lite also offers five pockets for storage, and while that might not seem like a big number, the pockets are large and offer significant capacity. There's also a fleece-lined pocket that's perfect for a rangefinder, wallet, phone, or other valuables. The Carry Lite's stand mechanism is another standout feature and an ergonomically designed handle at the top of the bag makes it easy to maneuver. There are also six color options available for players to choose from.
Many golfers might not be that familiar with Vessel as a golf brand, but they should be. The Southern California company, which also makes luxury luggage and tennis bags, builds some of the finest golf bags on the market.
The first notable factor is its comfort, with the "EQZ" strap system working flawlessly. Along with the system, it's easy to carry over different terrains and is effortless to carry. The fact that it's only 4.2lbs empty also helps, but it's also about the sleekness of this bag and how it fits on the body. In fact, there's a large pad on the side of the bag that rides along your back that makes it really comfortable.
As a premium product, Vessel is priced a little more than most mainstream bags on the market, but it certainly seems worth it both in craftsmanship and utility. It has all the right features, is well built, and made of the finest materials.
An all-rounder when it comes to balancing features while offering a comfortable and easy ride, the BR-D3 stand bag is a great option for any avid golfer. The bag itself is also a great value option for anyone not looking to spend a pretty penny on a new golf bag. That does mean it has a slightly stripped-back design, it does come with eight pockets and compartments that give players enough space and storage to keep their clubs and equipment tucked away nicely. While the bag is not fully waterproof itself, it does come with a waterproof valuables pocket that will shelter your most precious belongings from the elements.
Carrying the bag is a pleasure too, as it is one of the best lightweight golf bags (opens in new tab) around coming in at just 2kg. Its well-padded strap also helps to cushion your shoulders and disperse the weight of the bag around your back. While the lack of waterproofing may be a slight issue for some golfers, it doesn't take away from the functionality and practical benefits this bag can offer you around the course.
We have written about our affection for Sun Mountain bags in the past and this is Lite Speed bag is no exception. There are five excellent colors to choose from and we cannot stress enough just how light and easy to use this bag is.
Where it really comes into its own though is the waterproofing. Like all H2NO bags, the Lite Speed is made using 100% waterproof fabrics with high quality waterproof zippers and seams that are all taped and sealed. Additionally the rain hood, with a two-way zip, doesn't just slip over the clubs before slowly coming loose, there are velcro attachments all the way around the top of the bag and a very secure one around the grab handle.
A 4-way top with full-length dividers leaves plenty of room for a full set of clubs and the double, self-adjusting strap and padded cushion mean this bag is comfortable to carry even if it is loaded with a full set of clubs and accessories.
The new HydroFlex is a versatile, waterproof, super lightweight carry bag designed to fit on any Motocaddy trolley thanks to the pioneering Easilock compatibility. This is great if you have a Motocaddy trolley but, even if you don't, the bag fits nicely on most trolleys and comes with an easily removable strap.
We think the bag looks even better than the 2020 version thanks to a style update for 2021. The brilliant waterproof technology carries over from last year, giving all the gear in your bag excellent protection from the elements thanks to the waterproof TPU-coated nylon fabric and welded seams.
The HydroFlex features include a quick release strap, full length dividers and five spacious and easily accessible pockets. A moulded hip pad provides ultimate comfort when carrying your clubs around the course and we found this incredibly comfortable despite the relatively large footprint of the bag.
It is available in three colors but easily the best part of this bag is the versatility. It's lightweight enough that you can comfortably carry a half-set one day but also big enough that you can fill it up with clubs, clothing, water bottles and food and use it on a trolley the next day. One bag that does every job
Cart Bags
Big Max is a brand that offers a wide range of excellent options of golf bags, but our favorite, is the Dri Lite Tour Cart Bag. From the outside, it looks just like a tour bag, but it is actually suitable for golfers of all abilities due to the wide-ranging features on offer.
There are a lot of features on the Dri Lite, which is also part of our Editor's Choice awards for 2022 (opens in new tab). 14 full-length dividers ensure clubs go in and come out easily, whilst the zips are also fully waterproof. Another aspect that is waterproof, is the rest of the fabric used in construction. For a cart tour bag, it is also very light and comes with a rather nice five-year warranty.
This is a feature-packed and premium cart bag that delivers on practicality, style and usability. The Pro-Series is made from long-lasting premium PU and nylon fabrics and features 14 full-length dividers, nine pockets and a jumbo putter well that fits putters with any size grip. It features an anti-twist Easilock base that will fit to any Motocaddy trolley and provide a fully stable unit.
Easy to maneuver thanks to the well-placed carry handles, we think this is an impressive trolley bag, both in terms of aesthetics and performance. If you're considering a premium cart bag, then this is undeniably one of the best golf bags out there.
The C-130 made its debut for Sun Mountain in 2005 and since then has been a best seller for the company and one of the most popular cart bags of all-time. The C-130 was developed specifically for golfers who ride when they play. It will work on a push cart but riding carts were the focus of the design.
Highlighting the features of the C-130 are 14 individual club dividers, including a putter well that will accommodate putters of all sizes. The C-130 also has excellent storage capacity, providing golfers with 13 pockets to utilize. Two of the pockets have been dedicated for apparel, while there is also a cooler pocket, a rangefinder pocket with a magnetic closure, and two velour-lined pockets for valuables, one of which is water-resistant.
The C-130 has three strategically placed utility handles that make it easy to get on and off of a golf cart or in and out of a car trunk. Sun Mountain's Smart Strap system also keeps the bag secure during play, and all 13 pockets are easy to access when the bag is on a cart. A matching waterproof hood is also included and there are 11 different color options to choose from.
The Big Max Dri Lite Sport 2 golf bag features a wide range of features in a waterproof design that will tick a lot of boxes. Along with the waterproof protection, there is plenty of space in there for gear as the two side pockets are very generous, even if they aren't the full length of the bag. Easily enough room for two sets of waterproofs and everything else you need.
One thing we did like about the Big Max Dri Lite Sport 2 golf bag is the handles, especially the large padded one on the front for lifting out of the car on to the trolley. It's strong and comfortable and so much better than having one on the underside that turns the bag upside down when you are carrying it.
The Big Max Dri Lite Sport 2 Golf bag is a very good trolley bag and the 14 way divider plus additional putter well provides easy access to your clubs in a lightweight bag that will keep your clubs dry. When comparing the best golf cart bags, this model comes out favorably.
There was a lot to like about the BagBoy Chiller cart bag in our testing. It looks sharp aesthetically and at 5.4 pounds is one of the lightest cart bags on the market today. It also offers nine pockets, and while others on this list might offer more, the Chiller's pockets are all quite large. We also found the Chiller to be easy to maneuver and its 14-way top and full-length dividers made it very quiet on a cart during use.
The Chiller's standout feature, however, is its removable cooler bag. Despite the fact that it will hold up to six 12-ounce cans, it has been implemented seamlessly into the design of the bag and is visually inconspicuous. The Chiller is also available in nine different colors for golfers to choose from, but it is worth noting that the bag is not fully waterproof.
The PowaKaddy X-Lite is the streamlined, least expensive option within the brand's impressive 2022 cart bag range, although it shares many of the same features as the hero Dri Tech model.
Notably, they come in at the same weight (2.3kg), with both featuring seven pockets and a 14-way divider top. The crucial difference is that that X-Lite is not 100 percent waterproof and lacks a couple of other features but that aside, there is a lot to like about what the X-Lite has to offer.
How we test the best golf bags
Our testing process for all golf gear, let alone golf bags, is rigorous and comprehensive. As far as our testing methodology goes, if we say we have reviewed a product, that means we have used it out on the golf course, and put it through its paces in different conditions. We also endeavor to use all the features on the golf bag, for example if the valuables pocket claims to be waterproof, we pour water on it to find out.
We should also say that manufacturers cannot pay for a good review because we tell things how we see it. As far as the testing team goes, the Golf Monthly team is a mixture of ages and handicaps, and most are members at golf clubs so regularly put golf gear to the test in fun rounds as well as competitions.
What to consider when buying a golf bag
There are several key factors to consider when thinking about buying a golf bag and we have gone into those below...
Bag Type
Put simply what kind of bag do you want? Do you want a stand bag? Or a cart model? Both of these types of bag have their positives and negatives and you should think about what you think is important to your golf.
Stand bags are built for those who want to carry their clubs around the golf course which means factors like comfort and weight are very important. Stand bags also have to offer waterproofing as well as strength and robustness. The two negatives most associated with stand bags are they require more effort to use, and they usually don't offer as much storage as cart bags. However, that being said there are several stand bags above that can also be used on golf carts as well so maybe that is a way of killing two birds with one stone.
Cart bags are for those who want to use golf carts on the golf course. If this is you, then you'll likely want a stable model that is not only easy to lift and move around, but also one that sits firmly on your cart. One big advantage we have found is that cart bags also tend to offer ample storage for accessories, apparel, valuables and all the other golf paraphernalia you might need during the round. The main negative is they are just bulkier and have to be taken off the cart before and after the round, whereas stand bags offer a bit more freedom.
Storage
Storage is important in golf these days because a good golf bag has to offer pockets for lots of different things as we mentioned above. Cart bags tend to have larger pockets because they are just that, larger. They also require less effort to use too which means players are able to carry more stuff with them if needed.
Stand bags on the other hand usually have enough to house the essentials. However there are also golf bags out there that keep the game simple with only a few pockets so have a think about how much gear you want to take onto the golf course, and pick a bag accordingly.
Waterproofing
If you live or golf somewhere that gets a lot of rain then this is a no-brainer really, get a bag that offers protection from the rain. Whereas if you don't, then this factor won't be as important. We should acknowledge that some models above are better than others in this regard because they have been designed as such.
Weight
Across all types of bag, weight is important. Stand bags obviously have to be lightweight because players will be carrying them on their backs and shoulders all day, whilst cart bags should also have a degree of lightness too so they are easy to maneuver on the golf course, and from the car to the cart itself.
Thankfully most brands these days make lightweight models across their ranges because not many players want to use a heavy bag.
Looks
How do you want your golf bag to look? Whether it be a stand or cart model, brands try their best to create design aesthetics that stand out, or blend in on the golf course. Therefore have a think about which models you like the look of, or if some bags have different color schemes.
Budget
Our final factor to consider is of course price. There are golf bags at every single price point so if you want to go for a premium cart model you can, or if you want a cheap stand bag you can also do that too.
FAQ's
What makes a good golf bag?
A good golf bag needs to protect your equipment first and foremost. It also needs to be lightweight, spacious and waterproof for when the conditions are at their worst. If your bag doesn't provide the above then it can distract you from your game, as your focus will be on protecting your clubs, not hitting them!
Do I need a stand bag or a cart bag?
It all comes down to preference. If you are needing to use a trolley when out on the golf course then a cart bag is going to be better. However, if you don't mind carrying, then a stand bag is going to be more suited for your golf game.