Best Golf Balls For High Handicappers 2022
Our guide to the best balls for high handicappers covers a range of options. Read more here.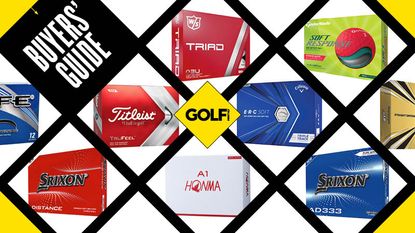 (Image credit: Golf Monthly)
Golf Monthly Newsletter
Golf tips and expert instruction, golf club reviews and the latest golf equipment.
Thank you for signing up to . You will receive a verification email shortly.
There was a problem. Please refresh the page and try again.
Best Golf Balls for High Handicappers
The general assumption is that high handicappers don't swing it as fast or hit it as far as lower handicappers. Often that is true, but we will all have played with high handicappers who hit it miles, with their power perhaps betrayed by wayward hitting or poorer greenside skills. This makes coming up with a list of the best golf balls for higher handicappers a slightly trickier task than it perhaps appears at first glance. It means, for example, that any such list can't consist exclusively of balls primarily designed to go further.
But for many high handicappers, that is, indeed, one of the most pressing requirements, so our list does feature a number of the best distance golf balls, along with others offering greater playability closer to the greens.
There are also balls on the market that seek to neutralize the damaging effects of sidespin to a degree by spinning less. The slice is the most common high handicapper's affliction, so anything that might stop the ball heading quite so far right would be great for many. It could see them in play a little more often and slightly further up the hole too, as slice spin is the avowed enemy of distance! Inconsistency is another hallmark of many higher handicappers' games. That brings us to our final, and perhaps most important, consideration for many. Price!
If you're still losing a lot of balls, you'll be wanting to keep the cost down, much though you may hanker after the best premium golf balls. For this reason, our guide to the best golf balls for high handicappers features models that reside some distance from the very pinnacle of the golf ball price spectrum.
Best Golf Balls for High Handicappers
Specifications
Construction: Three-piece
Colors: 1 (white)
Reasons to buy
+
Good distance in the long game
+
Consistent ball flight
+
Soft feel off the putter
Reasons to avoid
-
Not as much greenside spin as a Tour-level premium golf ball
Wilson released the Triad golf ball at the beginning of 2022 and was designed for those golfers after the feel and control of a urethane model without having to pay the premium price of a Tour golf ball. Did it deliver?
Well from a high handicapper perspective, it produced good distance and we were very happy with the consistency of the ball flight as well. There was still an element of short game control and spin, despite the model being a touch below the premium models in the game. But this is not a massive issue because higher handicap players will still be able to maintain a degree of touch and feel when they are on and around the greens with this golf ball.
With plenty of distance and consistency in the long game and a good feel on the green, the Wilson Triad is definitely a golf ball to consider if you are a high handicapper who seriously wants to improve at the game.
Specifications
Construction: Two-piece
Colors: 3 (white, yellow, red)
Reasons to buy
+
A chance to play golf's premier ball brand for a modest price
+
A particularly good performer on full iron shots
+
Soft sound and feel
+
Good control for this type of ball
Reasons to avoid
-
Less driver distance at higher swing speeds
One of two Titleist models to make this guide on the best golf balls for high handicappers, the TruFeel incarnation continues the evolution of the softest ball in the Titleist range. Why would it suit high handicap players? Well thanks to new technologies like the TruFlex cover, and new, larger TruTouch core, the ball has been designed to provide a soft feel as well as distance. Too often high handicap golf balls seem to be rock hard and don't have softness and spin control play key parts in the design. This is not the case here.
Additionally, if you prefer a softer sound and feel then the Titleist TruFeel 2022 is the one to go for as it certainly won't hurt your ears on and around the greens. If you generate too much spin, then the lower spinning nature of the TruFeel might help you gain some distance and straighten out some of your shots as well.
It is available in white, optic yellow and also a matte red design in October 2022. If you want to check out the rest of the Titleist ball range, have a read of our best Titleist golf balls (opens in new tab) guide.
Specifications
Construction: Two-piece
Colors: 1 (white)
Reasons to buy
+
Ideal for 80+mph swing speeds
+
High penetrating ball flight
Reasons to avoid
-
Durable cover is very hard
A model that seems to sell very well everywhere, the Srixon Distance ball has a number of design features which many high handicap players will enjoy. First it has a softer compression compared to the previous iteration, which helps deliver distance through more velocity and higher launch. Our tester did see a good increase in distance and it also penetrated the air in windy conditions a little better than other models as well, resulting in more yardage. This is because of the reduced dimple count, with 108 fewer.
High handicap players will also enjoy the durable cover which is engineered for greater cut-proof durability. So these are good value as well. The trade off with this ball is the lack of significant feel when compared to more premium models, although we were pleased it did not feel like a rock, which has often been an issue with golf balls designed purely for distance.
Specifications
Construction: Three-piece
Colors: 3 (white, yellow, red)
Reasons to buy
+
Excellent feel off the putter face
+
Superb short game spin control
Reasons to avoid
-
Faster swingers may see a drop off in driver distance
The Soft Response golf ball has had an update in 2022 and TaylorMade says it is the softest ball it has ever produced and that was something we really noticed on the greens. It has a lovely feel of the face of the putter and this extends to the wedges as well with the spin numbers produced being only slightly behind the best golf balls on the market.
However, it is important to say here that with a low 50-compression, the TaylorMade Soft Response 2022 is undoubtedly aimed at players with mid or slow driver swing speeds. With faster speeds there was a drop off in distance but if your driver head speed is around the 90mph mark, you may well find the long game performance is good.
Overall the TaylorMade Soft Response 2022 is a product that promises plenty of performance. Whilst faster swingers may see a drop off in distance at the top end of the bag, slower swingers will still be able to benefit from the superb short game performance without seeing the same drop off.
Specifications
Constrution: Three-piece
Colors: 2 (white, yellow, also available with Triple Track)
Reasons to buy
+
The longest soft-feeling golf ball in Callaway's current range
+
More efficient energy transfer promotes added ball speed and wedge spin
Reasons to avoid
-
Alignment markings won't suit those who prefer a less fussy look
The latest version of Callaway's ERC Soft is packed with new technology and features designed to make it Callaway's longest soft-feeling ball. Was this the case and why is it on this list? Well one of our testers for this ball was an 18 handicapper and he thought it produced a higher launch and extra distance, with less spin being created as well.
In the short-game performance was good too. It shares the same hybrid cover featuring a Paraloid Impact Modifier as Callaway's Supersoft model, which produced a noticeably soft feel and ample greenside spin on the majority of well-struck, short-game shots. Another design feature that will definitely help high handicap players be more consistent on the green is the distinctive Triple Track alignment aid. Having not used the tool before our tester was dubious but felt it really helped him concentrate more on lining up the ball properly, and it seemed to help with consistency of start line on the greens.
Specifications
Construction: Three-piece
Colors: 3 (white, yellow, red)
Reasons to buy
+
New Contact dimples allow more contact at impact for better energy transfer
+
Slightly lower spin than previous e12 models helps reduce sidespin
Reasons to avoid
-
It's all about straightness so won't be as workable as some balls
Back in 2021, Bridgestone replaced its e12 Soft and e12 Speed balls with one new model – the Bridgestone e12 Contact. The key to performance is a new and distinctive Contact Force dimple, which features a visible raised area in the centre.
This raised area allows for 38% more contact between clubface and ball at impact than traditional dimples, improving core activation for more efficient energy transfer. The end result is improved ball speed, distance and accuracy with every club, plus a little more grip and spin around the green thanks to the increased levels of contact.
Specifications
Construction: Two-piece
Colors: 4 (white, green, orange, pink)
Reasons to buy
+
Excellent for distance
+
Nice firm feel
+
Good value for money
+
There are color options to suit all tastes
Reasons to avoid
-
Low spin design reduces control around green
The Titleist Velocity 2022 golf ball celebrates its 10th birthday with the latest version continuing its claim to be the longest ball in the Titleist range. Of course, every high handicap golfer could do with more distance and the Velocity is all about that. Titleist made the core of the ball a little firmer which is to help generate more speed on shots. Additionally the brand introduced a new octahedral pattern with 350 dimples for a high flight with a little more consistency. Its cover also got a makeover for feel so this ball is not a one trick pony.
Compared with the older Velocity, with the driver the ball did fly higher and carried 5 yards further whilst the performance with a seven-iron was very similar. The spin was very low which was great for distance but again, there is a tradeoff in terms of feel because there is less spin on approaches and less control on chips around the green. It is not totally non-existent, but if you are a high handicap player who really values feel, then perhaps look at others on this list, but if you purely want more distance, the Velocity is definitely a model to consider.
Specifications
Construction: Two-piece
Colors: 2 (white, yellow)
Reasons to buy
+
One of the best low to mid-price balls for many years now
+
The low-spin core makes it particularly effective in the wind
Reasons to avoid
-
Not the softest-feeling cover, especially off the putter face
Srixon's AD333 was first launched in 2003 and is now into its tenth generation. It has long been a great option for those who want as much all-round performance as a lower budget allows. Given how long it has been around, it is unquestionably one of the best Srixon golf balls (opens in new tab) and the new generation continues that. A new FastLayer Core maximizes speed and keeps spin low by being softer in the centre and then progressively firmer towards its edges.
Closer to the green, Srixon's Spin Skin technology and Slide Ring Material (SeRM) increase friction at impact to maximize short-game spin. Available in white and optic yellow. With the combination of performance and value, we also think the AD333 is one of the best golf balls for beginners (opens in new tab) too.
Specifications
Construction: Two-piece
Colors: 1 (white)
Reasons to buy
+
Good all-round performance
+
Excellent value for money
+
Soft feel
+
Impressive levels of durability
Reasons to avoid
-
Significantly less spin compared to urethane balls
-
Soft feel won't appeal to all
As we have discussed a good golf ball for a high handicapper has to do a lot of things well and another example of this is the Hex Soft from Callaway. The all-round performance is good in the long and short-game areas of golf, whilst the ball itself is extremely durable as well. Our tester managed to get two and a half rounds out of one golf ball and it was very resistant to cuts and general wear and tear. Importantly you can also find these golf balls at a good price too, further adding to the overall value on offer.
Specifications
Construction: Two-piece
Colors: 4 (white, yellow, orange, red)
Reasons to buy
+
A very attractively priced option from a premium golf brand
+
Extremely soft feel off the face, good distance, and excellent value.
Reasons to avoid
-
Limited spin control around the greens.
Japanese brand, Honma, sits at the super-premium end of the club market. But its new A1 is one of the best golf balls for high handicappers because it is a low-cost option. It's fair to say that we were pleasantly surprised at how well this ball performed with such a low price tag. It's easily one of the best value golf balls you'll find on the market.
The ball has been designed to reduce sidespin to potentially neutralize the severity of slices a little and our testing did seem to suggest this worked. Slicing off the tee, a common problem that can affect the best of us, went reasonably unnoticed, so the A1 ball will definitely assist golfers who are struggling to find distance.
There is a trade off in that it seemed to run a lot in the short-game which limited the control. But this small sacrifice is worth it to the high handicap players who want more distance. Finally it is available in white, yellow or orange plus a multicolor pack option including pink.
How we test golf balls
Our testing procedure for golf balls (opens in new tab), as well as all other golf gear, revolves around several key commitments;
If we say we've reviewed a product, that means we've used it out on the golf course and hit it on a launch monitor where applicable.
Manufacturers can't pay for a good review – we tell it how we see it.
We will always endeavour to use the latest and best equipment to assess performance.
In terms of specifics for golf balls, we use several members of the Golf Monthly team, who play at a variety of levels, to put golf balls to the test out on the golf course.
The entire team are regular golfers and therefore balls are used over a number of rounds because that is how you can test for things like distance, feel, durability, spin and so on.
We then seek to be as honest and insightful as possible in reviews and guides to help you be more informed.
What to consider when buying golf balls
If you are a high handicap player and want to find the best golf ball for you, what are some of the things you need to consider? Well this section is here to help...
Distance or feel? - The area of the game that higher handicap players usually need the most help is in getting the ball in the air and in terms of distance. Therefore many models above have simple constructions which are designed to create a high launch, stay in the air longer, and feel a bit harder at impact. Models like the Srixon Distance, and Volvik Vivid for example.
However there are also players who struggle in terms of feel so we have also included some models above in this regard too, such as the Titleist Velocity or Callaway ERC Soft.
Whichever part of the game you most struggle with, there is a ball to help.
Spin - Linking with the above point many models above are going to spin less too which will help destructive shots become less so. For example the Bridgestone E12 Contact helps reduce sidespin which means it won't curve as much after a slice strike. That could mean fewer lost balls, and you are further down the golf hole.
Durability - Golf balls also have to be durable too especially for higher handicap players. They tend to get into more trouble in terms of sand, bushes, trees and so on, and therefore a good golf ball will be resistant to cuts and scrapes here. Many of the models above have firmer covers to help in this regard.
Color - No longer do you have to plump for a white golf ball because now you can go for greens, reds, yellows, or if you want the Volvik Vivid, just about any color you can think of. If you struggle to see the white golf ball in the air or when it lands, why not try a different color?
Budget - Finally be aware of how much you can or want to spend on golf balls. If you want the cheapest dozen possible with a degree of performance then a couple of models will suit you above, whereas if you want to spend a little more then we have got you covered there too.
FAQ's
Which golf ball is best for high handicappers?
There are lots of models that can lay claim to this title as the best golf ball for high handicappers. It is worth noting though that many high handicap players want something different from their golf balls. For example, some want as much distance as possible, and some want more of a soft feel so the best golf balls for these players will differ.
If you found this guide on the best golf balls for high handicappers interesting, make sure you check out the Golf Monthly website.
A golfer for most of his life, Sam started playing the game to prove he was the best player out of his father and two brothers.
He quickly became a golf equipment expert and has always been the one family and friends come to for buying advice, and spends a lot of his time putting golf gear, apparel and shoes to the test.
He is a graduate of Swansea University where he studied History and American Studies, and he has been a part of the Golf Monthly team since February 2018. He also previously worked for World Soccer and Rugby World magazines.
A jack of all trades across print and digital formats, Sam now spends most of his time testing and looking after golf gear content for the website. He also oversees all Tour player content as well.
Unfortunately, Sam is not a member of any club at the moment but regularly gets out on the golf course to keep up the facade of having a handicap of five.
Sam is currently playing:
Driver: Titleist TS3
Fairway Wood: TaylorMade M5 (15 degrees), Nike Covert Tour 2.0 (19 degrees)
Irons (4-PW): Titleist AP2
Wedges: Titleist Vokey SM7 54˚, 58˚
Putter: Scotty Cameron Circa 62 #6