Best Golf Club Sets 2023: The Entire Set
Our guide to the best golf club sets for those golfers looking to invest in a whole new line-up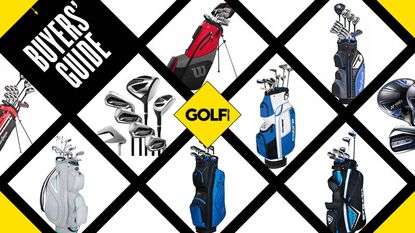 (Image credit: Golf Monthly)
Get the Golf Monthly Newsletter
Thank you for signing up to Golf Monthly. You will receive a verification email shortly.
There was a problem. Please refresh the page and try again.
Best Golf Club Sets: The Entire Set
Not everyone goes about buying a new set of golf clubs in the same way, and we all have different preferences. For some, the preferred option is to buy an entire set, or package set. Maybe you only play once or twice a year, or you just want a spare set at home. Regardless, you still want to get the best golf irons, best golf wedges and every other type of club you can think of. In short, you want to get the best golf clubs for you.
There are also those who are new to the game and just want to buy a set from the shelf without going through the custom fitting process. It's why package sets are typically aimed at beginners and mid to high handicappers and are a fantastic present for any loved one or friend looking to get into the game! Kids are a common focus when it comes to package sets and you'll find some fantastic options in our best golf club sets for kids guide. More accomplished golfers tend to have greater demands. However, if you want a package set of clubs to tick lots of boxes at once, here are some of the best golf club sets that you may wish to consider.
The Quick List
Best Golf Club Sets - Best Package Sets
Men's Sets
Callaway's XR offering sits towards the premium end of the package set market and, the first thing to mention is what you get for your money - a 10.5˚ driver, 3-wood, 4-hybrid, then 5-iron to pitching wedge followed by a gap wedge, 55˚ sand wedge and a putter. From a gapping perspective, we thought that this composition makes perfect sense and, for most golfers, this line-up is more than enough to get you onto the course.
All the woods feature matte black crowns and are shaped to look generous down behind the ball, something which will appeal to the golfer this set is designed for. Importantly though, they are easy to flight and get airborne, something which will help those with slower swing speeds.
We see yet more help at address with the irons, which have a fairly rounded toe area and a thick topline that strikes a good balance of inspiring confidence without being too bulky and uninviting. The last point to mention is the Odyssey putter, with the brand known for producing some of the best putters on the market. Again, there is plenty of generosity in the head shape and even an alignment aid which will help when setting up to the golf ball.
Strata Men's Golf Package Set
The only gear missing with the Strata 11-piece set is a dozen balls and a bag of tees - you really are getting the full set. It's comprised of driver, fairway wood, two hybrids, irons 6-PW, putter and a stand bag. In testing we found them to be forgiving and easy to hit, and whilst they might not have the same premium look as Callaway's top end products, there's no debating the performance on offer. There's room to add to the set, specifically in the wedges department, which is where game improvers may want to consider a Callaway Mack Daddy CB wedge or two. The putter leaves a lot to be desired, and replacing that with a cheap putter under £100 would complete this excellent value set.
We were particularly impressed with the irons. The topline is nice and thick to inspire confidence at address while the generous amount of offset should suit those who tend to slice their irons, and the quality of the grips and shafts are akin to a premium set of cavity back irons. The driver is equally forgiving and it is very appealing to look down on because you can see a lot of the face at address.
TaylorMade RBZ SpeedLite Package Set
This is a premium TaylorMade package set and the quality of the equipment matches the price tag. The 12-piece set includes six irons, two hybrids, two fairway woods, a driver and a putter, all in a trolley bag. The clubs all have clean, premium aesthetics and wouldn't look out of place in the bag of a mid-handicapper. We did think the bag was a little bit flimsy, and it does require you to invest in a cart, but other than that this is a package set built to last.
The irons feature toplines that are thick enough to inspire confidence at address without being too clunky and uninviting. The grey finish on the crown of the metalwoods combines with a small flash of green which we thought looked superb. At the other end of the bag, the sand wedge and putter are slightly more compact, with a refined, premium look.
The Stix Golf Complete Set contains 14 clubs from driver through to putter. The set comprises a driver; 3- and 5-woods; 4 hybrid; 5-iron through to pitching wedge; three wedges – 52° 56° and 60° – and a putter.
In our testing we thought the star performer was the driver. Not only does it look great but we found it popped the ball in the air nicely with an aggressive ball flight. It also wasn't spinning up and losing distance either. The black woods and irons both look great as well.
The irons continue the sleek look, and produce quite a firm feel and strong ball flight. The wedges have more a specialist design to them which many will enjoy and the set also comes with a mallet putter. The only thing to be wary of here is the black finish can get easily scuffed over time and the set we got had no headcovers.
MacGregor CG3000 Golf Club Set
MacGregor may not be regarded as a premium brand in the modern market, but it does have a long and distinguished history in the game. Whilst its package sets aren't going to set you back an arm and a leg, it doesn't mean they lack innovation. The CG3000 is an entry level set, with the 13° driver, low profile fairway and hybrid designed in such a way that they're easy to hit. Meanwhile, the irons (steel and graphite options are available) feature an undercut cavity to keep the centre of gravity low and deep, so golfers should find them easier to launch.
We thought the irons were fantastic, with a fairly thick top line but nothing too intrusive. We found them to launch high and were impressed with the forgiveness on offer. They look absolutely fine too and the feel is not too bad considering we were testing them up against forged musclebacks.
Given you're also getting a mallet style putter and the choice of either a premium stand or cart bag, there's no question that this set offers terrific value for money. What's more, MacGregor offers 1" longer or shorter steel stand options with clubs, therefore making them suitable for taller and shorter golfers.
MacGregor's 'ultimate full set for beginners' and improving golfers' is comprised of a titanium driver, a stainless steel fairway wood, two hybrids, stainless steel irons (5-SW) and a putter. The 10.5° driver features a high MOI design for increased stability at impact and an expanding sweetspot for greater forgiveness on off-centre hits, which is something game improvers will really benefit from.
The fairway and hybrids, which incorporate a shallow face with high MOI design, are also easy to use, and make our task of launching the ball nice and high a lot simpler. Meanwhile, the irons feature an on oversized head design - which, again, makes them extremely forgiving. With a durable bag and four matching headcovers, you're getting a lot of bang for your buck with this package set.
Wilson Prostaff SGI Package Set
If you're new to golf, you want every bit of help getting the ball in the air, plus you need plenty of forgiveness when you don't find the centre of the clubface. As such we think the Prostaff SGI set from Wilson is a great option to deal with both of those things.
The sweetspots on the clubs in this SGI set are large and forgiving, and the heads themselves inspire confidence. We found the irons in particular achieved this. Meanwhile, the wide sole of the sand wedge makes escaping bunkers far easier, which is an area of the game beginners can really struggle with.
This set comes with a 10.5° driver, a three wood, a hybrid, a 6-iron to sand wedge and an excellent putter to match. Other sets may come with more clubs (this is a 10 piece set), but it does mean you can add extra clubs, perhaps as your game improves. Price is also another plus as it comes in at an attractive price point.
Another premium option in this list of the best golf club sets. This Cobra set comes with 10 clubs in total – frustratingly short of a full set – which includes a 10.5° 460cc driver, a 5-wood and an easy to hit hybrid club. These irons (6-SW) are made with graphite shafts instead of steel, which make them really lightweight and will allow the ball to launch easier. This composition of shafts are ideal if you are a senior golfer starting out for the first time or would just prefer a lightweight feel.
The trolley bag that is included is high quality too – however this does mean buying a cart to get the most out of it. Overall this is another set that allows those who want to pay a little more, get a full premium set of clubs from a well-known brand.
A solid, cost-effective option that is perfect for anyone looking to kit themselves out with a quality set of golf clubs, this offering from Wilson is one of the best and most complete club sets on the market. Featuring 10 clubs that include a driver, 3-wood, 5-hybrid, 6-iron to SW and a putter, beginner players will have a blast playing with these smart-looking golf clubs. The bag is made of high-quality materials and we thought it had a very simple design with ample pockets and an easy-to-use seven-way divider.
The highlight of this set though are the irons. Both in the bag and behind the ball, they have a smart look that inspires confidence ahead of your swing. The toplines are thick, but not too chunky and deliver a great profile high-handicap players. The driver and woods both offered ample distances off the tee, while we thoroughly enjoyed playing with the putter although were tempted to replace its grip with a thicker offering from our best putter grips guide.
PXG 0211 Z Golf Club Set
There are three options when buying these as a set. The 10 piece full bag costs $1695 and includes six hybrid irons (6-9 plus a pitching wedge and sand wedge), three woods (a 16° driver, 4 and 5 wood) and a 0211 Hellcat Putter along with the PXG Bag and a hat. This is what we were lucky enough to be testing. You can also buy just the three woods or six hybrid irons on their own for $795 each.
Very much in keeping with the PXG look, the black and white really popped. The driver in particular felt and looked amazing, the matte top has a simple X in white showing you the center of the face from the top. Performance wise we thought the clubs in the set were very forgiving, especially the irons which really came into their own when we tested the set on the course. One thing we did notice though is these clubs can be quite loud acoustically at impact so that is something to bear in mind.
Asking a beginner for north of $1,600 means these fall firmly into the premium end of the market. Value is always subjective but it's a big investment for a category of player that may not be willing to spend so heavily with a low skill level, not knowing if it will improve enough to warrant it. You only have to take a look at our best club sets for beginners to see there are a number of options out there from the leading manufacturers, but we're confident in saying the 0211 Z is one of the best beginner sets on the market.
Whilst not strictly an 'entire set', this is a clever make-up from Decathlon, with a strong 7-iron (6/7) and strong 9-iron (8/9). It's aimed more at beginners, but don't be concerned by the low price; in testing we were really impressed by the performance. Each club is designed for easy launch; they felt stable and produced consistent results. With a mid size top line and wide sole, the irons provide beginners with something that's really important when just starting out – confidence at address, and extra assistance getting the ball up and away.
We also enjoyed the feel, especially in the irons, which frame the ball really nicely. Meanwhile, the driver sits slightly closed, which should appeal to beginners, many of who struggle with a slice. In summary, this seven-piece set offers good value for money, and if you're a beginner looking to get into the game, it gives you everything you need.
This Cleveland Golf CG Package Set features 10 clubs and is comprised of a 10.5˚ driver, 3-wood, 4-hybrid, 6-SW irons and putter. The woods and putter all have headcovers and there is a smart stand bag as well.
In testing, we found the irons to be the stand-out performers as, from an aesthetic standpoint, Cleveland have done a good job of offering something that looks generous and confidence-inspiring behind the ball without being too bulky. What's more, they are extremely easy to flight.
Along with the irons, the fairway woods and Cleveland Launcher XL Lite driver are extremely well performing for the price, with a smart and spacious golf bag providing enough storage for the vast majority of things you'll want to take with you onto the course without being too big.
Women's Sets
A top women's set worthy of inclusion in this list is the REVA set from Callaway. This set includes a driver, three wood, 5 and 6 hybrids, 7-9 irons, a pitching and sand wedge and a putter as well as a snazzy cart bag and five headcovers. We loved the driver performance, with it providing a high launch and ball flight, powerful feel, and the big circular target-style sweet spot on the face looks impossible to miss. The three-wood and hybrids continued this theme as well.
Moving to the irons, the large, oversized cavity back irons are designed to help on mishits and our testing seemed to prove this. They felt effortlessly light to swing and easy to use thanks to the stability and forgiveness on offer. We would've maybe preferred specialist wedges but the clubs included in this set do the job of a simple pitch or chip shot well enough.
What makes this one of the best women's golf sets is that the included putter includes the Stroke Lab shaft. The fang design, coupled with the Stroke Lab technology, is aimed to help you with tempo and consistency and we loved it, especially in the blue finish. Overall this is certainly a set worth considering if you want to make the game seem easier.
Strata Ultimate Titanium Women's Set
This 16-piece package set is an all-encompassing offering from a brand that have a rich history producing golf equipment. In this set, we got to try out a fantastic 12° driver, fairway wood, 4 and 5 hybrid, 6-9 iron, PW, SW and a putter, all held together in a tidy stand bag.
We found the clubs deliver excellent distance and forgiveness off the ground, but also help to make tee shots fly straight. Aesthetically, they look fantastic, with a glossy chrome finish across the irons that reminded us of the Callaway Big Bertha Irons.
As for the putter, it does come in a blade orientation, and while some beginners may prefer to use a mallet putter, it boasts a very sleek aesthetic and handy alignment line on its top line, that will help with your accuracy. As this set costs a little more than some drivers do alone, there is excellent value to be had here, in what is easily one of the best golf sets for beginners out there.
Cleveland Bloom Ladies Package Set
The Cleveland Bloom ladies package set is designed for the beginner golfer or for women on their way to taking their game to the next level. This set has every club in the bag that a player needs to take them from tee to green including a driver, 5-wood, hybrid, SW-7 iron, putter and a sturdy cart bag.
Coming in at around $600, it is certainly great value for money, with each club providing plenty of loft to help get the airborne. Additionally we felt there was plenty of forgiveness and a confidence inspiring look. The irons for example, feature a cavity-back design with a thick sole and a large clubhead, which allowed us to get the ball in the air as quickly as possible.
Whether you are just starting out in the game or are a keen improver looking to upgrade your equipment, the Wilson Magnolia ladies golf set is an appealing option. This stylish-looking package of clubs includes a high-lofted driver, easy-to-hit 3-wood, 4, 5 and 6 hybrids, 7 iron through to sand wedge, putter and a trolley bag.
The metalwoods and irons are all fitted with decent lightweight graphite shafts that feel easy to swing. The driver has a very rounded, oversize head with lots of loft which gave us confidence and helped launch our tee shots easily. The irons have also been designed for ease of use with oversize heads, weight cleverly positioned to the perimeter for better balance and forgiveness, so even our mishits flew straight.
The Magnolia clubs also come in a beautiful blue cart bag that's really lightweight to lift in and out of your car boot and onto your cart. Overall, we really loved the design and styling of this set and were instantly impressed with how well the clubs performed through the bag. This is the perfect way to get someone started in the game.
How we test golf clubs
Golf club sets are no exception when it comes to our testing ethos and methodology. We put sets to the test out on the course and over a number of rounds to see how they perform on different courses and in varying conditions. It is only through using each club out on the course and at the range that you can get an idea of how well something is made and how it performs. Only by using a set can we gauge feel, sound, durability, usability, quality, and so on and so forth.
Additionally we want to make very clear that no manufacturer can buy a good review because our testing team tells it how it is, and we often have to buy the sets ourselves to put them to the test.
How to choose a golf set
If you want to get an entire set of clubs then there are some crucial factors to be aware of before purchasing. We have given some advice below.
What comes in the set
The great thing about golf is if you want to buy single golf clubs for your bag you can, but you can also get entire sets with one purchase too. When doing the latter, it is worth checking which clubs come as part of the set to make sure you have all bases covered, and it is also worth getting a bag with the set too.
Quality
A common problem for entire sets can be quality. Unlike the models we picked above, many can be poorly made and have issues with the head, shaft or grip, or even all three. Therefore it is definitely worth going for brands that are well-respected in the game of golf because the products will have been made properly and would've been designed to perform properly. The prevalence of Wilson, Callaway and TaylorMade in this area is a case in point.
Forgiveness
Chances are if you want an entire set of clubs like the ones above you are probably a beginner or junior and the big factor to consider here is therefore forgiveness. The most common problem for beginner and junior players is mishit shots which limits distance and hinders accuracy. Beginner and junior golf clubs are designed to have larger heads and sweet spots, and therefore more forgiveness to help players still make solid contact with the golf ball.
Budget
Obviously there are different sets at different price points so it is worth thinking about whether you want to spend more or less here. You can go down the premium route with brands like TaylorMade or Callaway, or you can find a cheaper option with brands like MacGregor. What is important to note though is a package set is ticking off a lot of boxes with one purchase whereas if you want to buy clubs individually this can take longer and can be more expensive.
FAQs
What clubs come in a full package set?
So this can vary depending on the set you have gone for but we usually see package sets come with a driver, some kind of wood or hybrid, a set of irons which often goes from roughly five-iron down to sand wedge, and finally a putter. Some also come with a golf bag as well which is something to think about when you are purchasing.
What type of players would golf package sets be good for?
Overall we think package sets are good for those players who are perhaps new to the game and want to tick off as many club boxes as possible with one purchase. As we have shown above, many package sets come from high-quality brands which means you can get good golf clubs that perform as you would want without having to buy each club individually. We also think package sets are good for kids as well.
For more buying advice on golf gear, take a look at our guides on the best cheap golf club sets, and best golf shoes.