Best Golf Drivers 2023
We take a look at the best golf drivers currently available on the market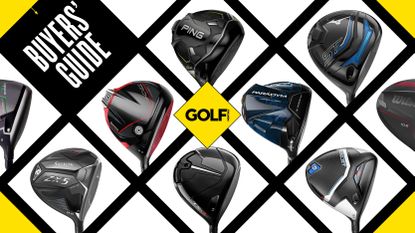 (Image credit: Future)
Best Golf Drivers: Quick Menu
When it comes to your golf game, there are a number of ways in which individuals can save shots out on the course. One of those is to focus on shots off the tee as, put simply, if you are putting the ball in play with a sufficient amount of distance, you are going to be nearer to the green and, therefore, more likely to get the ball closer to the flag with your approach shots.
Over the years, the golf driver is the club which has arguably come on the most technologically-wise, with companies seemingly coming up with new innovations every year to maximize a number of different aspects of performance. Whether you're a fast swinger looking for workability, or a beginner searching for as much distance as possible, today's drivers provide a new level of playability that should help you find a few more fairways and maximize forgiveness.
However, this throws up yet another conundrum: which driver is best for your golf game? Well, in this guide, we have listed the best drivers currently available on the market and, what's more, we at Golf Monthly have tested the entire class of drivers out on the course, as well as on launch monitors, with the video below offering a full insight into what you can expect across the board, including our launch monitor data comparing the performance on offer.
Of course, a new driver is one of the most expensive products a golfer can buy, and we've discussed, at length, which models are the best to come out in 2023. However, it will of course come down to personal preference, making a custom-fitting session crucial to maximize your performance from off the tee.
In our experience, each of the main brands has a model that will work well for pretty much every golfer but, if you are looking for a specific type of performance, you can take a deeper dive into some of our other guides on the most forgiving drivers, best golf drivers for distance, or even the best high handicap drivers.
The Quick List
TaylorMade Stealth 2 Driver
The original TaylorMade Stealth made an impressive debut in 2022. The 2023 version has been subtly improved, making this an impressive all-rounder, one that will appeal to a wide range of golfers.
The Ping G430 Max looks, feels and plays like a premium driver. We noticed a modest bump in distance without any loss of control. With its' high tech aesthetic and improved feel, the Ping G430 Max driver is a superb all rounder.
By neatly balancing power with forgiveness, Callaway's Paradym driver has a truly broad appeal. Throw in some new, aspirational aesthetics and a lively feel and you have a serious contender at the premium end of the market.
Withthe Aerojet, Cobra has built on its reputation for producing top performing drivers at a more affordable price. We were particularly impressed by the increase in speed and distance on offer from a head that still has a classic profile at address.
A classic-looking driver that delivers impressively fast ball speeds. The consistency of flight and distance comes from a generous 460cc clubhead that is up there with the most aspirational drivers on the market.
The Srixon ZX5 Mk II driver combines a lot of forgiveness in a no-nonsense design that offers very good performance in a good looking head. Ideal for mid to slower swing speed players, the ZX5 Mk II also sounds better with the all titanium head.
In the ST-X 230 you have a draw-biased driver that sits beautifully square behind the ball. A solid, consistent flight and powerful feel through the ball combine to make this a worthy contender for many golfers.
This is without question one of the best value for money drivers on the market this year. Aspirational looks combine with consistent performance to offer a driver that could benefit a broad spectrum of golfers.
Wilson Dynapower Carbon Driver
The Dynapower Carbon is a tech-advanced, visually appealing driver that, well fitted, should perform admirably against what's in your bag. A little lacking in ball speed but we certainly enjoyed the dull, dense sound and feel at impact.
Best Golf Drivers
Why you can trust Golf Monthly Our expert reviewers spend hours testing and comparing products and services so you can choose the best for you. Find out more about how we test.
Best for feel
Specifications
Lofts: 9°, 10.5°, 12°
Adjustable Hosel: Yes
Stock Shafts: 2 options (Fujikura Ventus TR & Mitsubishi Diamana S+)
Left Handed Option: Yes, available in 9° & 10.5°
Reasons to buy
+
More user-friendly looks compared to previous generation
+
Improved ball flight consistency
+
Powerful feel
Reasons to avoid
-
Minimal distance gains over the previous generation
In 2022, TaylorMade made arguably the biggest impact within the driver scene, as it introduced users to the 'Carbonwood Age' with its Stealth range of drivers. For 2023, the company has refined its offering, as the original technology stays in place, but with some slight adjustments.
Notably, there is still the red and black aesthetic but, we believe that TaylorMade has made it more user-friendly for 2023, especially behind the ball. How you may ask? Well, they have made the red on the face brighter which, in turn, makes the loft a little clearer. Add the glossy black crown into the equation and you have a driver which, at address, we thought was extremely generous.
Still crammed with technology, such as the original 60X Carbon Twist Face and advanced version of Inverted Cone Technology (ICT), the Stealth 2 spun a little more than the original in our testing but one thing that came across clearly during our testing was the consistency of the ball flight, which remained impressive throughout.
Best for forgiveness
Specifications
Lofts: 9.0°, 10.5°, 12°
Adjustable Hosel: Yes
Stock Shafts: Ping Alta CB Black 55 (5 other options available at no upcharge)
Left Handed Option: Yes, available in all lofts
Reasons to buy
+
Very user friendly
+
Offers plenty of forgiveness
+
Wonderful shelf appeal
Reasons to avoid
-
Only slight distance gains compared to previous generation
Having not released a new driver since 2021, Ping has brought in the brand-new G430, with the focus on upping the superb forgiveness that we saw in the previous G425 range. The company is known for producing some of the most forgiving drivers on the market and their new offering is no exception.
For 2023, Ping's engineers have created a slightly thinner face and shallower profile which also makes way for the brand's forged variable face thickness. This should deliver more flexing for greater speed and forgiveness across the entire face and, in our testing, there was a noticeable bump in ball speed and clubhead speed.
Just like the G425 range, there are three models available, with the Max driver joined by the G430 SFT and the G430 LST. In testing, all three provided that easy-to-hit feeling, and the inclusion of a moveable weight in the back of the head really helped hone in spin rates and distance.
Best adjustable
Specifications
Lofts: 9°, 10.5°, 12°
Adjustable Hosel: Yes
Stock Shafts: 5 options (Aldila Ascent PL Blue 40, Project X Hzrdus Gen 4 Silver (50 & 60) Black (60), Fujikura Ventus TR Blue 6 Graphite
Left Handed Option: Yes, available in all lofts
Reasons to buy
+
Premium, high tech aesthetics
+
Lively feel through impact
+
Impressive mix of speed and consistency
Reasons to avoid
-
Not a huge leap forward over the previous generation
For 2023, Callaway have launched the Paradym range, which sees the introduction of a 360˚ carbon chassis and, in another first, the engineers have gotten rid of any trace of titanium in the body, saving weight to use elsewhere for more forgiveness.
There are three Paradym models on offer, with the standard driver being accompanied by the Paradym X and the Paradym Triple Diamond. Obviously, each model will vary, but we found the standard driver to be the most user-friendly for the widest group of golfers, with a brand new Jailbreak design, A.I. Optimized face and a Face Cup allowing for faster ball speeds and fantastic forgiveness.
In testing, the Paradym delivered a jump in ball speed despite a slightly slower clubhead speed, with the brand retaining that user-friendly performance that we know and love within their range of clubs. It is also worth mentioning that, aesthetically, it now features a gloss crown with a dark blue carbon effect, which is something that may divide opinion. However, with the classic shape, we thought it still remained extremely premium and modern.
Best for distance
Specifications
Lofts : 9.0°, 10.5°, 12°
Adjustable Hosel: Yes
Stock Shafts: 3 options (MCA Kai'li White 60, MCA Kai'li Blue 60, UST Helium Nanocore 4)
Left Handed Option: Yes, available in all lofts - 12° is custom only
Reasons to buy
+
Classic shape and modern aesthetics
+
Superb club and ball speed translated into excellent distance
+
Satisfying sound and feel through impact
Reasons to avoid
-
Perhaps not as exciting visually as we have seen from previous generations
Cobra has always had the reputation for building premium performing equipment that is significantly cheaper than other models on the market. For 2023, their offering is based around speed, with the Aerojet range featuring a new aerodynamic shape that should help the driver move faster through the air.
Along with the new shape, the engineers have created a new 'PWR-Bridge', which is a 13g weight that sits low in the sole, behind the face, and the brand is promising golfers fast ball speeds and low spin for more yardage. In our testing, the claim was backed up, as it delivered the fastest average head speed, making it one of the best golf drivers for distance in 2023.
Aesthetically, the matte black crown and subtle ridges of its predecessor, the LTDx, have gone, replaced by a blue and grey combination that is simple and modern. The feel of the face is similar to that of the LTDx, but we really don't mind as the feel was excellent in last year's model.
Best traditional style