SuperSpeed Golf Men's Training Set Review
We test out the SuperSpeed Golf training system that claims to help you add up to 30 yards to your drives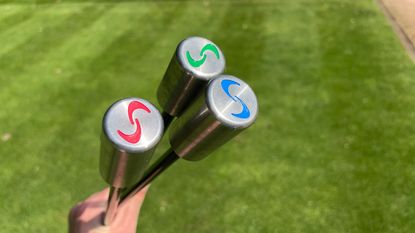 (Image credit: Future)
If you can commit to the training schedule, there is genuine clubhead speed and distance to be gained here. The neuromuscular training this kit provides means you don't have to bulk up like Bryson DeChambeau if you want to start hitting the ball further.
Reasons to buy
+

Simple to use and well-made

+

Supported by clearly explained videos online

+

Genuine gains can be made

+

Represents good value for money if used properly

+

Can be used at home
Reasons to avoid
-

Extra investment of a small launch monitor required to gauge swing speeds

-

Long term time investment
Why you can trust Golf Monthly Our expert reviewers spend hours testing and comparing products and services so you can choose the best for you. Find out more about how we test.
Get the Golf Monthly Newsletter
Thank you for signing up to Golf Monthly. You will receive a verification email shortly.
There was a problem. Please refresh the page and try again.
SuperSpeed Golf Men's Training Set Review
Speed and distance have come to dominate golf's lexicon for the last couple of years and has arguably changed how the game is played at the professional level. We've seen the likes of Bryson DeChambeau drastically change swing and body compositions in the chase of ultimate distance, but is it possible for amateur golfers amateur golfers to still chase speed in and easier, healthier and cheaper way than the pros?
The SuperSpeed Speed Training Set allows golfers of all levels to start a journey to gaining more clubhead speed and hitting the ball further, all without the drastic body and diet changes we've seen on Tour. The company claim that you can gain up to 30 yards when using this set to its fullest and I was keen to see if I could back this claim up. Of course, 'up to 30 yards' also includes just one yard of extra carry, but I was keen to see if I could garner any gains and how long it would take me.
The theory behind overspeed training is that you are training your brain, rather than you muscles for more speed. Repetitive neuromuscular training will begin to train your brain into swinging faster and more efficiently thanks to the different weighted sticks that come as part of the set. Neuromuscular training focuses on training exercises that train the muscles to react and communicate differently and the benefits include enhanced body movement mechanics while also increasing muscle strength and increasing speed and agility in the process.
It's worth noting that taking part in the SuperSpeed training regime is a real physical test to start out with. Don't think you're just swinging a few sticks around in the garden, this is some serious exercise and proper warm-ups and cool downs are highly recommended after I tried this for a month.
Out of the box you get three golf shafts of varying colour and weight that each have a grip on the butt end. The green stick is the lightest at about 20% lighter than a standard men's driver, the blue stick is 10% lighter while the heavier red stick is actually 5% heavier than a standard driver.
Before you start, it's important to record some baseline stats before you start your training and I started by recording by average clubhead speed and carry distance with my driver. You can then work from these numbers as you start to begin your training. Of course, you're going to need some sort of device to measure these and the brand offers a package that includes the training set as well as the PRGR Portable Launch Monitor. This is a fantastic little device that will measure your clubhead speed with your driver and when swinging the sticks with no golf ball. On it's own the PRGR is a great device for outside of speed training too, offering carry distance and smash factor too. It's frustrating that this requires an extra investment, but its vital to help you track your stats.
Back to the training itself and essentially, once you've done some stretching to prepare your body, the idea is to start with the lightest stick and swing as hard as possible a three times on your dominant side, before switching to do the same on the opposite side. That process is then repeated with the middle-weighted stick and then the heaviest.
Image 1 of 3
Once that's done, you move on to the next exercise which involves taking a swing with your feet together at the start and then stepping forward with your lead foot to begin the downswing. As before, you work through the sticks from lightest to heaviest, remembering to use both your dominant and non-dominant side. Finally, you repeat the first set of swings. All along the way, you're supposed to take as mighty a swing as you can, which ends up being a real workout. There is free online video help and tutorials available to help guide you through the training and they are easily accessible and easy to follow too.
There are four more levels of overspeed training to continue on with after this first level, each lasting several weeks and building off the previous level with more elaborate swing exercises. In my testing, I was able to dedicate four weeks at the first level and I did manage to eek a couple of extra mph from my driver swing. While these gains were only minimal, I can easily see how dedicated a few months to the various training programmes. What intrigued me the most was the neuromuscular training element of overspeed training. Instead of physically training my body to swing faster, I was simply training my brain and muscles to swing faster. Without any drastic swing changes, visits to the gym or total change in my lifestyle, I did manage to start swinging my driver faster and that, to me, is success.
Get the Golf Monthly Newsletter
Tips on how to play better, latest equipment reviews, interviews with the biggest names and more.