Best Lightweight Golf Bags 2023
Our selection of the best lightweight stand, carry and cart bags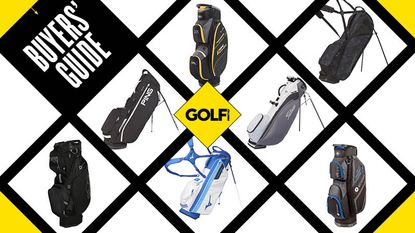 (Image credit: Golf Monthly)
Get the Golf Monthly Newsletter
Thank you for signing up to Golf Monthly. You will receive a verification email shortly.
There was a problem. Please refresh the page and try again.
It's easy to underestimate how staying organized on the golf course can impact your game for the better. And that's where having the right golf bag for your needs can really help improve your performance and your overall enjoyment of the game. You may have already taken a look at our ultimate guide to the best golf bags, or our guides to the best golf stand bags currently available. But in this guide, we'll be looking more specifically at the best lightweight golf bags available right now – carry and cart.
Carrying a bag gives you more freedom to move around the golf course, you can walk straight up to your ball wherever it's sitting and play it as it lies. It's also quicker and easier to deal with pre and post-game without having to faff around with trolleys. If you like to carry, you're inevitably going to expend more energy than someone with a caddy or taking a cart or trolley, which may not suit every golfer out there. Yet, to minimize energy loss and maximize carrying comfort, you might want to look out for a bag that's super lightweight and comfortable, that also sits well on your back.
WATCH: Dan Parker gives his verdict on what he thinks is the best stand bag of 2023
Even so, that shouldn't rule you out from picking up a lightweight bag if you prefer to use a trolley or buggy around the golf course. They are very easy to move between car and cart and easy to maneuver out on course if needed. There are a number of extremely lightweight bags on the market right now – stand bags, cart bags and pencil bags. So, without further ado, here are our top picks of some of the lightest bags on the market, but while you're here, be sure to also check out some of our other golf bag guides too - such as the best golf trolley bags, best waterproof golf bags, or the best golf pencil bags.
The Quick List
Best Lightweight Golf Bags
Stand Bags
An excellent looking golf bag that is as light as a featuer, the Mizuno K1-LO is designed to help you traverse the course in some of the harshest weather conditions while staying bone dry. The bag, while being suited to summer months, can withstand heavy rain and will easily hold all 14 clubs too. Its versatiliity makes it one of the best golf stand bags on the market.
Visually, this bag is excellent. We tested it in the blue and white colorway and it offers up a premium look that many golfers will enjoy. It also comes in five other colors that we think will appeal to many different kinds of golfers. We thoroughly enjoyed the experience on offer here, with the high-density foam shoulder straps on this bag making it a joy to carry. In fact, it is one of the best and lightest stand bags on the market.
There is plenty of storage space on offer here too, with the bag coming with nine pockets including a full-length apparel pocket and fur-lined valuables pocket that are great additions. The bag also boasts a velcro glove patch that is great for any one who takes their glove off to putt. Lastly it comes with a five-way top cuff that can carry all 14 of your golf clubs. The legs are lightweight and sturdy and helped this bag stand up on a pretty windy testing day on the golf course.
Cobra Ultradry Pro 2023 Stand Bag
There is a lot to like about this excellent, high-performance golf bag from Cobra. The Ultradry Pro, as the name suggests, is a waterproof and easy to carry golf bag that will keep all your golf gear well protected in the harshest of conditions. It's a solid performer that is one of the best waterproof golf bags in the game. Having put it to the test on the course, we really benefitted from the weatherproofing this bag delivers, keeping all our clubs and personal items bone-dry. A lot of that protection comes from dry-sealed zippered pockets, and a waterproof rain hood in the bag.
The bag also comes with a five-way top divider which worked really well out on the golf course as we found there to be no club tangling when trying to pull our sticks out of the bag. We really enjoyed the Swivel Straps on the bag here too, which were very comfy and made it very easy to carry. The Swivel Strap is designed to move to the adjusted height while you walk, something that works nicely when you'pre walking around undulating terrain. The six pockets included are also very spaceous and offer plenty of room to keep bottles of water or a jacket. Ultimately, it is an excellent, lightweight option that many golfers will enjoy playing with.
Callaway 2023 Fairway C HD Stand Bag
The Fairway C HD is one of the best Callaway golf bags on the market, with the main standout the all-new straps and hip pad system that uses EVA molding for added comfort around the shoulders and back. The EVA within the straps, and on the hip pad, adds a level of softness that you don't get with many other of the best straps.
At 2kg (4.4lbs) it is one of the most lightweight bags you can get that still holds all 14 golf clubs and more, with the 4-way top comfortably carrying a full delegation of golf clubs with no club crowding present.
Featuring five pockets, there is more than enough space for your valuables, with the valuables pocket itself the main highlight. This is because it's fleece-lined to protect your phone from scratching, as well as being pretty deep to comfortably store a phone, wallet, keys and more.
Titleist Premium Carry Bag
The Titleist Premium Carry bag is laden with features and comes in at an incredible value considering the quality on offer. If you're considering buying a lightweight bag for summer golf or if you fancy just taking out a few clubs for a quick nine holes, then this is an excellent carry bag to consider. As with all of the best Titleist bags, this offering boasts a stunning aesthetic made from a cool material that has a nice black sheen to it which is contrasted by the classic Titleist logo that adds a premium feel to the bag.
Weighing just under 1kg, it is perhaps the lightest option on this list. I is worth noting that it is a pencil bag and doesn't come with a kick stand, meaning you will be bending down to pick it up from the floor when you stop to play your shot. If you are a senior player who suffers from back trouble, that might put you off this bag a little, so instead do check out our best golf bags for seniors. That being said, it does come with a very comfortable strap, that is very easy on the shoulders. It is the perfect bag if you fancy taking a few clubs out for a quick round with friends, and comes with ample storage space in its four, easy access pockets.
Wilson Exo Lite Stand Bag
The Exo Lite Stand Bag is a thoughtfully designed and practical bag, that has been crafted to help you improve and enjoy your round more. It is one of the most lightweight stand bags on offer and as more golfers are loading their bags up with the best golf accessories on the market, we loved the functionality and storage options it delivered - striking the right balance between sufficient space and weight. It comes in at just 1.8kg and is super easy to carry, with only the Callaway Hyperlite Zero stand bag and Big Max Dri Lite Feather coming close to this weight.
Some golfers like to have their clubs in a neat order when stored inside their bag, and here, we found the 4-way top divider kept our clubs neatly packaged, and not over crowded. The bag feels both premium and sturdy and one important point to note is that we never felt like the legs were not kicking out when we placed the bag on the course. The straps weren't the most high-tech, but they were comfortable nonetheless and very easy to adjust. It also comes with a magnetic rangefinder pocket which was the highlight of the bag. That pocket adds to the premium feel on offer here and makes it very easy to grab your rangefinder whenever you need it.
Ping Hoofer Lite Stand Bag
We featured the standard Ping Hoofer stand bag in our best golf stand bags list and unsurprisingly, another bag in the excellent Hoofer family of bags makes it onto this list: the Hoofer Lite stand bag. Weighing just over 1.5kg, the Hoofer Lite has a well proportioned 4-way top that feels well made and protective as we walked around the course. It has seven pockets, one more than the Hoofer Monsoon despite it being a slightly smaller bag. The water bottle pocket is our favourite feature on the bag as it was so conveniently placed that we were able to access our water bottle as we walked the fairways.
Ping has also added some great new features to its already comfortable carry strap, which kept our shoulders feeling nice and relaxed on the golf course. It's now more easily adjustable, with Ping having changed the design from a backpack style to a new one-strap system that can be comfortably carried on one shoulder. The strap also uses Ping's SensorDry technology to wick water away and kept our shoulders dry on a particularly wet day on the golf course. If you are a fan of Ping, be sure to read our best Ping golf bags guide.
Titleist Players 4 Carbon Stand Bag
Weighing in at just 1.3kg, the new Titleist Players 4 Carbon features an ultra-lightweight frame with carbon fibre legs for style, practicality and stability. It is one of the lightest bags in golf and when we took it out on the golf course, it delivered a fatigue-free, effortless carry. It comes with a 4-way player-preferred top cuff that is well padded and protected our clubs from clicking together when we walked the course.
It was also very easy to access all of our clubs from this divider with no congestion or clubs sticking together when trying to select a club from the bag. Carbon fibre legs provide excellent strength and support and we had no problems teeing this bag up on the golf course. The bag isn't fully waterproof as the pockets are not sealed but a rip-stop material adds to the durability and style on offer here. An exterior water bottle pockets is another great feature of this bag and makes for an altogether practical, lightweight and well built bag, that certainly holds its own against some of the best stand bags on the market.
Callaway Hyperlite Zero Double Strap Stand Bag
Weighing under 3lbs the Callaway Hyperlite Zero is one of the lightest stand bags around. Some of the weight saving comes from the fancy carbon fibre legs, which are like a pair of graphite shafts in their appearance. Strong and stable with wide angular feet that enable the bag to stand up even when placed on a slight slope. The Hyperlite has a very clever strap system that's self-balancing and makes it a great option as one of the best callaway golf bags on the market.
A central circular swivel device between the double straps basically adjusts to keep the bag straight on your back as you walk, so it doesn't tilt and your clubs can't fall out. Not only was this highly practical but it was great to not have to mess about adjusting the strap once you found your optimal position too!
TaylorMade FlexTech Lite Stand Bag
With a self-adjusting strap system and four full length dividers, the TaylorMade FlexTech Lite is a bag designed for ease of use and we certainly found this when using it. The Strap Slider System allows the bag to stay stable while carrying and adjusts itself as you move. Meanwhile the FlexTech stand system is easy to use and means the bag is easy to access while walking - something we particularly enjoyed. The 4-way top provides plenty of space for clubs and it was a breeze to select our club and draw it from the bag.
Akin to the best TaylorMade golf bags this option boasts some stunning visuals, particularly in the jet-black colorway which offers up a very sleek and elegant design. Eight pockets include a suede lined valuables pocket which was great for all our valuables, as well as a large apparel pockets and a large insulated cooler pocket meaning there is plenty of space to store all the essentials and more!
Big Max Dri Lite Feather Stand Bag
At just 1.4kgs (around 3lbs), this Big Max Feather bag is one of the lightest stand bags we've tested, and yet still performed well in other areas as well. For example you still get a bag that protects your golf gear from elements, and has a good amount of storage space for clubs and accompaniments, with the cooler pocket a real stand-out feature due to its size. The main drawback is the adjustability of the strap which can be a little tricky but regardless the performance on offer makes this a very good golf bag. We also like the look of it, especially in the black and grey color we tested.
Cart Bags
A stunning cart bag that comes in several fantastic colorways that are all perfect for any golfer looking to stand out on the golf course. While some may not like their flashy, vibrant designs, others will love the fantastic eight colors on offer here. As cart bags go, we like to look for functionality and this one comes with a whopping 11 pockets, including a valuables pocket, that we thought was noticeably deep which meant it was harder for anything to fall out of it, but had enough space for our keys, wallet and phone.
While it does come at a punchy price point, we really think OGIO have thrown everything at this bag and you'll say with some confidence that it will last a while. It is made of a lightweight waterproof material and the zips ooze quality and durability too. We put this bag to the test in some pretty grim weather and the bag certainly lived up to its name, 'All Elements'. It also comes with several lock down cart straps that attach the bag to a cart very easily, making it in our opinion, one of the best golf trolley bags available right now.
Izzo Ultra Lite Cart Bag
The Izzo Ultra-Lite is an excellent cart bag that boasts a simple aesthetic that is designed to be used nicely with a push cart. The big bonus here is that unlike many of the best cart bags on the market, this is by far one of the lightest going, coming in at 1.72kg. With all the storage space on offer, it can get quite heavy if you do fill up the six spacious pockets on offer. Yet, we found that gave us more than ample room for a box of the best golf balls, one of the best golf towels and even one of the best golf sweaters. And believe it or not we had space left over for more goodies!
It's also worth noting that this is an excellent bag to carry as the single strap is very well padded, and while it doesn't offer the same lumbar support as some of the best stand bags, it is an excellent carry option too. The 14-way divider adds to the appeal this bag offers and is great for those players who like to efficiently keep their clubs in check. Best of all, the Ultra-Lite sits nicely on a push or powered cart, which is great for any player who likes to use a cart on the course!
PowaKaddy X-Lite Cart Bag
The PowaKaddy X-Lite is the streamlined, least expensive option within the brand's impressive 2022 cart bag range although it shares the same weight (2.3kg) as the hero Dri Tech model. Visually, this cart bag has plenty of style - it's sure to catch your eye in any of the three colors (black with red, yellow or blue trim) you see it in. It's weight, coming in close to what many of the best golf stand bags weigh, means it's surprisingly easy to maneuver for a cart bag. This is helped by the easily accessible carry handle at the top of the bag.
Of the seven pockets, two are close to full length, which provides versatile storage for golfers that like to carry extra kit like waterproofs with them at all times. The lined 'Dri Pocket' on the side is the ideal place to store valuables like your phone and wallet. Elsewhere, you could house a full packed lunch and water bottle in the spacious cooler pocket if you wanted to - it is that roomy. All in all, the X-Lite combines simplicity with functionality. It is clearly robust, well made and is a simple, cost effective option for dry weather trolley users seeking practical storage and golf club organization.
Callaway Chev Dry 14 Waterproof Cart Bag
Generally speaking, the best cart bags in golf are quite heavy. However, at just 1.8kg (just under 4lbs) the Callaway Chev Dry 14 waterproof cart bag is easily one of the most lightweight golf bags we have ever tested. Despite the lightweight design, there is still plenty of space in this bag thanks to seven pockets.
We first tested the bag on a very damp day on the golf course and we were happy to see the waterproof materials working as advertised. Nothing in our bag got wet and the seam-sealed zips on every pocket worked well. The bag comes included with a rain cover and all of the pockets are back-lined with more waterproof materials.
Our only gripe would be that some of the materials feel less than premium in some places. The lightweight nature of the waterproof materials means they are a bit scratchy to the touch while the materials covering the 14-way divider don't scream premium either.
How we test golf bags
When it comes to our process of testing golf bags, we take it very seriously. Whether we are sent a product or buy it ourselves, we put each bag to the test out on the golf course to ensure we can provide thorough and reliable advice. Most importantly though, manufacturers cannot pay for a good review because we tell it how we see it. Every member of the Golf Monthly team is an avid golfer and as such, knows what does and doesn't make for a good stand bag.
As far as our methodology goes, if we say we have reviewed a product, that means we have done so properly. We also endeavour to use all the features on the golf bag. That means, for example, if the valuables pocket claims to be waterproof, we will pour water on it to find out. This comprehensive testing style is not just exclusive to golf bags either, we test using the same ethos and methodology across all gear categories.
How to choose a new golf bag
So what are some of the factors to consider when you are purchasing a golf bag? Well below we have listed some that we think are the most important and most of the bags above will satisfy all our criteria.
1. Weight
If it is going to be on your back and shoulders during the round, then it has to be light and it is important to realize that some models are lighter than others, as shown by our selections above. That being said if you want heavier models or ones you can use on carts too, there are models designed for that.
2. Comfort
On that same kind of note, comfort is also vitally important. It has to fit properly on your body whilst also having comfortable straps. Some also have padded areas around the hips and back as well which helps.
3. Strength
Whilst a good bag will be light and comfortable, it should also be strong whether it be the core bag section, the strap, or the stand itself. Preferably the sturdier the better because it has to protect your golf clubs properly.
4. Storage
If storage for all your gear is important, then some bags have more, and larger, pockets. The top models will have specifically designed pockets for your apparel, balls, accessories, perhaps a beverage pocket and definitely one to house valuables.
5. Waterproof
If you see yourself playing in the rain a lot then waterproofing will be a factor to consider. Some models above are better than others in this regard because they have been designed as such.
6. Looks
Importantly many brands have started to realize that we want our golf bags to look good as well as be functional. As such there are loads of unique designs and colors to choose from so it is a case of finding something you like the look of.
7. Budget
The final factor to consider is of course price. When choosing a golf bag you have to be aware of what you can afford because there are good models at every single price point. If you want to spend more, or less, then there is a bag for everyone.
For more advice on purchasing top quality golf bags, check out our guides to the best golf trolley bags, the best pencil bags and the best waterproof golf bags.
FAQs
Should I use a stand bag or a cart bag?
That comes down to personal preference. Golfers looking for more mobility should opt to use a stand bag and that will help them navigate the course much easier. Although those looking to carry more equipment on a trolley may be better suited to a cart bag.
How many clubs should I carry in my bag?
That depends on the type of game you want to play and the clubs that you tend to regularly use and the gapping between them. 14 clubs may be too much for a beginner golfer but may just enough for others!
What equipment should I carry in my golf bag?
Aside from your clubs, we definitely recommend bringing with you a bag of tees, enough balls to get you through your round, and some waterproofs incase the heavens open! You can also bring snacks, jumpers, a divot tool - anything you think will help you in your round. Why not take a look at our guide to the best golf accessories for inspiration!