Best Push Carts 2023
Golf Monthly's experts give their verdict on the best push carts currently on the market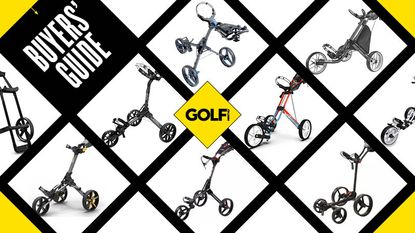 (Image credit: Golf Monthly)
Best Push Carts: Quick Menu
Golf carts have grown sharply in popularity over the past few years because they make walking the golf course that little bit easier. Carrying your clubs for 18 holes is tiring enough, even more so when you factor in your shots in between.
Additionally, push carts are a relatively cheap way of getting around the golf course a little more easily and they should last a long time as well as offer value for money. Nowadays, the quality of a push cart is as good as it's ever been, with manufacturers creating a number of superb options.
VIDEO: Watch Dan Parker's verdict on the best push carts and best electric trolleys available right now
Why choose a push cart over an electric model?
Brands like Motocaddy, Stewart Golf, BagBoy, Sun Mountain, Powakaddy, to name but a few, have manufactured, refined and developed push carts, electric carts and even remote control golf carts to make the job of walking the golf course more convenient and, importantly, easier on the body. While electric models sit atop the tree when it comes to golf technology, the push cart market has a wide range of brands offering unique and high-quality products. But why specifically would you choose a push cart over the best electric golf trolleys?
For starters, push carts are far cheaper, with the very best costing under $450, which is considerably less than electric trolleys which can cost almost double. Push carts are also simpler to set up when you get to the course and require less fuss as there's no battery to worry about. They also have great storage options on the handle of the chassis that can house your golf balls, tees, scorecard and other items.
Gone are the days when the best golf carts were heavy and cumbersome while being difficult to push and maneuver around the golf course. These days, modern push carts are light and easy to use making the experience less physically demanding compared to carrying your golf bag. Additionally, push carts are easy to assemble and have mechanisms that allow them to fold down compactly so they easily fit the trunk of your car or garage space. They also tend to be significantly lighter.
If these qualities sound like something you're interested in then we have created a guide on the best push carts available right now. Alternatively, if you are in the UK, it would be worth checking out our guide on the best golf push trolleys as well.
Before we list the models for this guide, Christmas is nearly here and there are lots of deals on equipment like this. Additionally it is a gifting time of year so take a look at our best golf gifts for Christmas page as well.
The Quick List
Want to cut to the chase and find out what the best push carts are? Below, you'll find a roundup of our choices, and you can jump to a more detailed review of every pick, along with our price comparison tool to help you find the best deals.
Lightweight, compact and with plenty of storage, the Bag Boy Nitron is one of the best push carts we've tested thanks to it nailing the basics.
EzeGlide Smart Fold Push Cart
The Eze is lightweight, which makes pushing uphills a breeze, but has also proven to be robust and reliable. Plenty of storage options on the handle too.
The Motocaddy Cube push cart is quick and easy to unfold and makes getting around the golf course a breeze. It is also very compact and lightweight.
PowaKaddy Micra Push Cart
The PowaKaddy Micra's looks, compact folding size and lightweight frame will see it go toe-to-toe with any push cart currently on the market.
Golfstream Express Push Cart
The Golfstream Express is an extremely lightweight cart that has an incredibly quick and impressive set up procedure. The design looks great too.
Caddymatic 360 Swivelease Three-Wheel Push Cart
You get lots for your money in a well thought-out trolley that does pretty much everything you could ask for. Not the lightest, but feels very sturdy.
Big Max Blade Trio Push Cart
This model folds flat for easy storage and transportation to and from the golf course. It comes with a huge amount of storage and glides with ease.
Sun Mountain 2022 Speed Cart V1R Push Cart
The latest Sun Mountain Speed Cart V1R release is exceptionally stable, highly functional, and easy to maneuver around the course. A top performer.
ClicGear 4.0 3-Wheel Push Golf Cart
The ClicGear 4.0 3-wheel push golf cart has a robust frame and the overall size allows you to walk a course with confidence. Stability is another plus point.
CaddyTek CaddyLite EZ V8 Cart
The one button mechanism is incredibly easy to use here and the different features available really set this CaddyTek push cart apart from the rest.
Having the chassis permanently attached to the bag saves time and space, while the premium materials and design make this a very desirable product.
Zero Friction Wheel Pro Pushcart Bag
If you travel a lot and like to walk, and don't want to carry your clubs, the Zero Friction Wheel Pro Pushcart Bag is a unique alternative worth trying.
Best Push Carts For Golf
Why you can trust Golf Monthly Our expert reviewers spend hours testing and comparing products and services so you can choose the best for you. Find out more about how we test.
Top pick
An Editor's Choice Award recipient
Specifications
Dimensions Folded: 48 x 32 x 55cm
Weight: 7.6kg
Material: Aluminium
Colors: 7 (Grey & Green, Green, Red & Blue, Red & Black, Silver & Black, Black, Black & Red)
Wheels: 3
Reasons to buy
+
Folds down easily and compactly
+
Well thought out storage areas for water bottle and phone
+
Very little bag twisting on over rough terrain
Reasons to avoid
-
Wheels perhaps could have been bigger
If speed is what you are after, then the Bag Boy Nitron is also an excellent option, with the mechanism to fold and unfold lightning fast. In testing, we found that it opens up in one smooth action and then folds closed again just as easily, with the wheels also able to be taken off and put back on again.
Away from the mechanism, it is very lightweight and compact when folded down, which makes it perfect for storing. Also, the Nitron isn't as heavy or bulky as other similar carts on the market and has a number of features which exceed other models. These include an integrated beverage holder, mobile device holder and golf ball storage, handle-mounted parking brake and bungee straps that secure the golf bag with ease, making this incredible value.
Best value
A lightweight and easy to push model
Specifications
Dimensions Folded: 79 x 58 x 40cm
Weight: 7.2kg
Material : Aluminium
Colors: 2 (White & Black)
Wheels: 3
Reasons to buy
+
Easy to assemble
+
Lightweight and folds quickly
+
Holds a carry bag easily
Reasons to avoid
-
Not as compact as some more expensive models
The first model on the list is the EzeGlide Smart Fold Push Cart, which received five stars out of five in our test. What stood out? Well, pretty much everything, with it being extremely manoeuvrable out on the golf course, as well as lightweight and compact making it easy to unload to and from the car.
It's made up of a 7.2kg (15.9lbs) lightweight durable aluminium frame, which we felt was very easy to lift and, when folded down, it measures just 79cm x 58cm x 40cm. This means that it won't take up much storage at home. The features of the EzeGlide including a broad scorecard holder, dry space for valuables and equipment, an umbrella Holder and x2 Wheel Covers.
Out on the course, we were seriously impressed with its manoeuvrability as the lightweight nature meant it glided along the golf course. As well as the manoeuvrability, it's simplicity will appeal to a wide range of people, with a footbrake and adjustable handle allowing for maximum comfort when in the pushing position. What's more, this model houses a slender carry bag just as well as a more hefty tour bag, with the arms also folding around the bag as the elasticated bungees secured our clubs in place.
Motocaddy Cube Push Cart
One of the most compact golf carts money can buy
Specifications
Dimensions Folded: 55 x 36 x 18cm
Weight : 6.8kg
Material: Aluminum
Colors: 3 (Blue, Lime, Red)
Wheels: 3
Reasons to buy
+
Compact and light while folded and simple to unfold
+
Easy to push even on hilly courses and provides ample storage
Reasons to avoid
-
Lightweight design means you have to be a little careful on side slopes
Motocaddy are known for producing some of the best electric golf trolleys on the market,