Best Budget Golf Clubs 2023
Not looking to spend mega bucks on golf equipment? You have plenty of options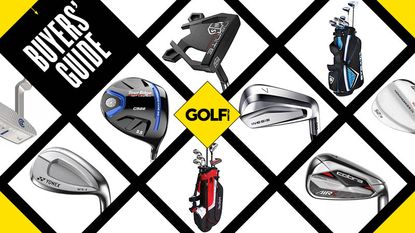 (Image credit: Golf Monthly)
Best Budget Golf Clubs
Not everyone wants to spend big on premium golf equipment. Perhaps you're a beginner, just wanting to give the game a go for the first time. Whatever your reason for looking into the best budget golf clubs, there are plenty of golfers out there searching for equipment that's more wallet friendly. Yes, the best players in the world play the best golf drivers, best putters and best golf irons, but that premium price is, well... premium.
Of course, if you go down the budget route, you are going to lose some performance benefits - premium product is premium product for a reason. However, the best budget golf clubs can still give a large percentage of the golfing population what they need.
Could Tiger Woods win a PGA Tour event with the best budget irons? Probably not, but that's not to say that playing with budget clubs will prevent you from beating your friends at the weekend. And, if you're a beginner, these clubs may just kickstart your love for the game. Here, we review the best budget golf clubs and to research further, be sure to check out the best golf club sets: the entire set, as well as the best golf club sets for beginners.
Best Budget Golf Clubs
Why you can trust Golf Monthly Our expert reviewers spend hours testing and comparing products and services so you can choose the best for you. Find out more about how we test.
Package Sets
Complete steel set including bag
Specifications
Clubs: Driver, fairway, hybrid, 6-SW, putter
Reasons to buy
+
Complete set
+
Includes a decent stand/cart bag
Reasons to avoid
-
Not the best grips
-
No putter cover
MacGregor may not be regarded as a premium brand in the modern market, but it does have a long and distinguished history in the game. Whilst its package sets aren't going to set you back an arm and a leg, it doesn't mean they lack innovation.
The CG3000 is an entry level set, with the 13° driver, low profile fairway and hybrid designed in such a way that they're easy to hit. Meanwhile, the irons (steel and graphite options are available) feature an undercut cavity to keep the centre of gravity low and deep, so golfers should find them easier to launch.
The irons do have a fairly thick top line, but having played a few rounds with them, we don't think they're too intrusive. They are forgiving, too, and they go the distance.
Given you're also getting a mallet style putter and the choice of either a premium stand or cart bag, there's no question that this set offers terrific value for money. What's more, MacGregor offers 1" longer or shorter steel stand options with clubs, therefore making them suitable for taller and shorter golfers.
Expansive offering for beginners
Specifications
Clubs: Driver, fairway, 4-hybrid, 5-hybrid, 6-SW, putter
Reasons to buy
+
Forgiving irons and driver that offer plenty of distance
+
Lightweight and spacious carry bag
Reasons to avoid
-
Basic putter lets the set down
-
Hybrids are fitted with steel shafts so are not so easy to launch
We were pretty impressed with this starter set when we tested it, not least because of how forgiving they were. In the set you get 11 clubs, two of which are hybrids, which we didn't feel were quite so easy to launch. It's about our only criticism, along with the fact that the putter is very basic.
Overall, however, this set offers great value and it's a really comprehensive package for beginners - one that's built to last and is further boosted with a decent carry bag.
Inesis 500 Irons Set
Best looking budget set
Specifications
Price: £349.99
Clubs: 5-PW
Reasons to buy
+
Matte grey and satin finishes look superb
Reasons to avoid
-
Off-set look might not be to everyone's taste
-
Irons only (not woods or putter)
We really enjoyed hitting the Inesis 500 irons when we took them out for nine holes. Not only do they look superb at address, they frame the ball really well and offer a generous hitting area. Inesis has come up with an interesting way for you to find the right irons for you without having to do the traditional custom fit. You have six different set-ups to choose from. The first thing you need to do is figure out your hand-to-floor measurement, which will give you an idea on the length of golf clubs you need.
Then, you select the iron set you want based on your swing speed - which do do via Decathlon (opens in new tab). If you're on a strict budget, but you're serious enough about ensuring they're as good a fit as possible, this is a set well worth considering.
Drivers
Incredible performance, incredible value
Specifications
Lofts: 9.5°, 10.5° & 12°
Adjustable Hosel: No
Adjustable Weights: No
Stock Shaft: Mitsubishi Fubuki HL
Left Handed Option: No
Reasons to buy
+
Highly forgiving on mis-hits
+
Longer than expected in testing
Reasons to avoid
-
Limited stock shaft options
The Tour Edge C522 driver has been one of the biggest surprises of the year in our testing. It's available at an incredibly competitive price point while delivering performance on par with what golfers would expect from far more expensive drivers (opens in new tab). In our testing, the C522 proved to be highly forgiving on mis-hits but also quite long and very consistent in terms of the ball flight it delivered.
The C522 also looks good at address. It has a larger profile that inspires confidence without sacrificing the traditional, rounded shape that most golfers like. Its aesthetics also offer a premium look that one might not expect at this cost. It is worth noting that the C522's impact sound is a bit on the louder side but in an explosive way as opposed to being distracting or bothersome.
Overall the C522 won't fit everyone for those reasons, but it will fit the vast majority of golfers just fine, and at its price it should be a consideration for any golfer who's looking for a solid all-around driver without having to break the bank.
Inesis 500 Driver
Custom fit yourself on a budget
Specifications
Lofts : 12°
Adjustable Hosel: No
Adjustable Weights: No
Stock Shaft: Two different lengths (1 and 2) as well as three different speeds (Slow, Medium and Fast)
Left Handed Option: Yes, available in all three speeds
Reasons to buy
+
Solid feel at impact
+
Great value
Here's a driver that has been created in two lengths, which, the manufacturer says, meet the needs of 90 per cent of people's morphologies. Its golf team creates clubs to reflect how golfer's move, and not the other way round and they are largely made specifically for golfers new to the game.
It means there are two shaft lengths: size 1 if your hand/ground distance is less than 78.5 cm, and size 2 if your hand/ground distance is more than 78.5 cm. There are also three shaft options for three speeds, too: low, medium and high speed. Inesis recommends your shaft speed by working out what club you would hit into a green that is 135 meters (150 yards) away. Low speed is recommended if you would normally hit a 5-iron or hybrid club from that distance, medium speed if you hit a 6 or 7-iron from that distance and then fast speed if you'd use a 8-iron or less from that distance.
Whilst this is not an exact science, it is a great way for a beginner golfer to make sure the shaft is the right flex for their swing speed. It will also the driver is easier to hit and more consistent when you're using the right sort of shaft. At this price, there's no other driver with so many options in length and shaft. Further research is said to demonstrate that 12° of loft enables intermediate golfers to achieve the longest distances with a driver. If you're new to the game and would rather not spend big on one club, the Inesis 500 is well worth considering.
Forgiveness on a budget
Specifications
Lofts: 10.5 and 12°
Adjustable Hosel: No
Adjustable Weight: No
Stock Shaft : MacGregor Lightweight Graphite
Left Handed Option: No
Reasons to buy
+
Stretched-out look inspires confidence
+
Cutting edge looks from every angle
Reasons to avoid
-
Other drivers feel more solid
Sporting a stylish matte black 460cc full titanium head with elegant lines, the V Foil Speed sits perfectly behind the ball, inspiring confidence at address. The ultra-thin face delivers significant ball speed and distance gains while the expanded sweet spot, bespoke premium lightweight graphite shaft and high MOI design add in the perfect combination of distance, control and forgiveness off the tee.
Finished off with a soft compound MacGregor grip that has been designed to provide the perfect combination of comfort and secure connection to the club, the V Foil Speed driver is packed with performance features perfectly suited to the high handicap golfer.
A highly forgiving driver option that offers golfers high launch conditions and anti-slice technology
Specifications
Lofts: 10.5 and 13°
Adjustable Hosel: No
Adjustable Weights: No
Stock Shaft: Project X Evenflow Graphite Shaft
Left Handed Option: Yes
Reasons to buy
+
Delivers on the promise of draw-bias performance
+
Premium look at a value price point
Reasons to avoid
-
Spin can be an issue for faster swingers
Our final driver pick in this budget guide is the 2022 version of Wilson's new Launch Pad driver. Coming at a price point significantly lower than the ultra-premium models this driver was designed to help golfers who struggle with a slice square the clubface more easily at impact. And as it relates to that goal, Wilson has succeeded in a big way. The Launch Pad 2022 utilizes heel weighting, an offset hosel design, and an upright lie angle to create a draw bias, which as mentioned is effective, but an increase in bulge radius keeps the face from looking overly shut at address.
The Launch Pad 2022 driver was also developed to be extremely lightweight in each of its components (grip, shaft, and head) to help moderate swing speed players move the club more quickly and create more ball speed.
Irons
Cobra Air-X Irons
Reasons to buy
+
Feel effortless to swing
+
Premium looks
Reasons to avoid
-
Not available in One Length
The lightweight Cobra Air-X irons are ideal for golfers with dwindling strength levels and cash levels (opens in new tab). A lighter clubhead design yields 2 grams in weight-savings, while a 6-gram lighter 41g standard size grip with a lighter and softer rubber compound improves feel, making these irons seem easy to hit, adding to the enjoyment factor.
A deep undercut cavity, low profile shape and greater lofts throughout the set help with launch and flight while weight positioned low and wide increases stability and forgiveness on off-center hits. There's also heel-biased weighting that provides additional draw bias for golfers that struggle with a slice. Certainly an iron to try if you're looking to upgrade without breaking the bank.
Easy-to-hit irons for inconsistent golfers on a budget
Reasons to buy
+
Easy to launch
+
Explosive feel off the face
Reasons to avoid
-
Very long from heel to toe
Cleveland is a brand that regularly manufacturers excellent golf clubs with the more budget conscious player in mind, and the Launcher XL irons continue that. They are an ideal iron set for players seeking forgiveness and accuracy in one complete iron set. They feature hollow body long irons for distance and forgiveness, while cavity back short irons focus on precision when attacking the pin.
MainFrame technology faces are optimized with Artificial Intelligence to guarantee shots all over the face maintain distance and precision, while Action Mass CB, with a counterbalance weight in the grip end, helps players get on the correct swing plane while increasing head speed for distance. To improve turf interaction, a V-Shaped Sole helps maintain speed and power through the ground for a cleaner strike, while loft specific grooves help pull the best game-improvement (opens in new tab) performance out of every club.
Yonex Ezone Elite 3.0 Iron
Reasons to buy
+
Very forgiving
+
Excellent graphite shaft technology
Reasons to avoid
-
Not a brand with a big reputation in golf
These irons will strongly appeal to the golfer on a budget seeking to swing with less power but without losing distance as a result. Yonex produces its own graphite shafts to match the performance of the head and our testing of this iron in particular showed that you can maintain or even increase distance while being able to control dispersion.
The Ezone Elite 3.0 irons also feature a double undercut cavity which helps shift the weight of the iron further back from the face, lowering the centre of gravity to promote a high ball flight. They certainly get the ball up easily and keep it there. Yonex might not be a mainstream brand but this is a particular area in which it excels so do not discount them on name alone.
Wedges
MacGregor V-Foil Wedge
Specifications
Lofts: 52°-60°
Grinds: 1 (Standard)
Finishes: 3 (Chrome, Gunmetal, Black)
Reasons to buy
+
Classic looks
+
Great turf interaction
Reasons to avoid
-
Only available for right-handers
The V-Foil wedge from MacGregor is a great option for beginners to get them started on their journey without breaking the bank. The soft feel and classic teardrop shape at address make it look awesome. With 12° of bounce, it offers good turf interaction on full shots and around the greens, while it also generates a decent amount of spin for a club at this price point. The only drawback is that it is only available to right-handed golfers.
It comes in three lofts - 52°, 56° and 60° - and three finishes, meaning beginner golfers have some flexibility with the route they want to go down. When just starting out there may not be a need to have a full set of three, but any one or two of these wedges will give newcomers to the game a great starting point. The choice is yours.
Yonex WS-1 Wedge
Specifications
Lofts: 52°, 56° and 60°
Grinds: 1 (Standard)
Finishes: 1 (Chrome)
Reasons to buy
+
Good value from a well respected brand
+
Forgiving
Reasons to avoid
-
Only one grind and finish option
Yonex might be a brand best known for its graphite shafts and has become a go-to brand for those players seeking as much forgiveness and help as possible out on the golf course. Additionally the brand offers up clubs that don't break the bank either, as shown by this WS-1 wedge. With a simple aesthetic the wedge looks great in the bag and yet it has a thicker top line to aid confidence and forgiveness.
Speaking of the latter, this forgiveness does not compromise the feel either because of the Premium 8620 Carbon Steel construction, and the Micro Convex Grooves really aided the feel of zipping through the ball and creating spin when needed.
Wilson Harmonized Wedge
Specifications
Lofts: 52°, 56°, 60° and 64°
Grinds: 1 (Standard)
Finishes: 1 (Chrome)
Reasons to buy
+
Look great
+
Right and left-handed options available
Reasons to avoid
-
No sole or grind options
Our final wedge pick is the Harmonized from Wilson. Possibly one of the cheapest good wedges money can buy, the wedge has a blade-like look to it which we really liked and we also liked the fact you could get it in four degree increments from 52 all the way up to 64 degrees.
With the alloy steel construction feel may be compromised somewhat, at least when compare to some of the best golf wedges (opens in new tab) on the market, but given the price, this is to be expected.
Putters
Reasons to buy
+
Counter-balance technology provides for smoother putting strokes
+
Comes with an oversize grip
+
Great value
Reasons to avoid
-
Design and size won't suit everyone
This putter is an addition to the excellent Wilson Staff range of clubs (opens in new tab) and a very recognizable head shape that has become increasingly popular in mallet putters across the market, and one of the most forgiving putters too. As with all the Infinite range, the Buckingham features counterbalance technology which combines a heavier head and grip weights, moving the balance point closer to the hands for a smoother and more controlled putting stroke.
The Buckingham also comes with an oversize grip as standard which is great for golfers who use a claw grip, or golfers who find themselves gripping too hard on a thin grip and want a softer feel. At a very competitive retail price with a premium look and feel, the Wilson Staff Infinite Buckingham is a great option at an excellent price.
Cleveland Huntington Beach Soft #4 Golf Putter
Reasons to buy
+
Excellent feel
+
Produces brilliant roll
+
Deep milling produces a quiet, soft sound
Reasons to avoid
-
Might intimidate higher handicappers
We were surprised to find this range of putters available at this price point, so of course, it had to be included on our list of the best cheap putters. Cleveland's Speed Optimized Face Technology (SOFT) is brilliant and delivers really consistent ball speeds, even when the strike isn't optimal. Not only that, but the CNC milling produces a pure roll which helps massively when it comes to judging distance from range.
Another thing definitely worth mentioning is the aesthetics. Made from stainless steel and featuring a classic head and hosel shape, this is one of the finest-looking putters you're likely to come across. It's available in a range of length and grip options and will suit golfers with a slight to moderate arc to their stroke. Golfers who have an arc in their stroke are typically better off using a blade putter, so take a look at our best blade putter guide (opens in new tab) for a few other clubs that are similar to the Cleveland Huntington.
MacGregor MacTec X #1 Putter
Reasons to buy
+
Looks great at address
+
Provides a firm feel
+
Gives excellent speed
Reasons to avoid
-
Color scheme quite garish
The head shape on the MacGregor MacTec X #1 is a classic mallet and looks great at address. It's also got a nice noticeable alignment aid that stands out and is long enough to make a difference. On the face, the ARC Tech milling offers quite a nice feel and as a result of its coverage, it also delivers on the forgiveness front making it a consideration for one of the best mallet putters (opens in new tab) on the market.
At the top end, we enjoyed the thick 3.0 parallel grip that really helped to take the hands out of the stroke and promote more of a pendulum action with the shoulders. An added benefit to this option is the one-year warranty it comes with as standard.
How we test golf clubs
Our testing for golf clubs (opens in new tab) is built upon a comprehensive process combined with the knowledge and expertise of the Golf Monthly test team. Our team usually attend product launches and then when it comes to our actual testing, we first try clubs in a controlled environment. This usually takes place on an indoor simulator at Foresight Sports, with premium balls and the GCQuad launch monitor.
Next up is outdoor testing, which takes place at several different golf clubs. We think it is vitally important to do both and continue to test the clubs so they have been comprehensively put to the test in different conditions. It should also be mentioned that manufacturers cannot pay for a good review and we make our conclusions from the testing and our experiences. This is because we strive to give the best reviews possible so you can get a greater understanding of the clubs themselves.
A golfer for most of his life, Sam is a Senior Staff Writer for Golf Monthly.
Working with golf gear and equipment over the last five years, Sam has quickly built outstanding knowledge and expertise on golf products ranging from drivers, to balls, to shoes.
He also loves to test golf apparel especially if it a piece that can be used just about anywhere!
As a result he has always been the one family and friends come to for buying advice and tips.

He is a graduate of Swansea University where he studied History and American Studies, and he has been a part of the Golf Monthly team since December 2017. He also previously worked for World Soccer and Rugby World magazines.
Sam now spends most of his time testing and looking after golf gear content for the website. He also oversees all Tour player content as well.
Unfortunately, Sam is not a member of any club at the moment but regularly gets out on the golf course to keep up the facade of having a handicap of five.