Best Golf Gifts 2023 - Our top gift ideas for Father's Day
Need some gift inspiration? Our best golf gifts guide has ideas galore for the golfer in your life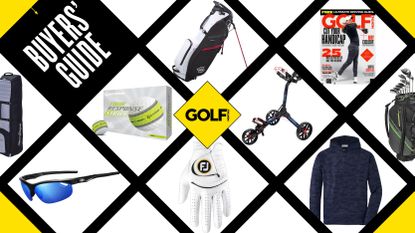 (Image credit: Golf Monthly)
Best Golf Gifts
In need of a few golf gift ideas for your Dad as we approach Father' Day? We have you covered with this fine selection of goodies – large, medium and pocket sized. We would all like golf gear for our birthday, Christmas or just treating someone you love to something special - hopefully the right stuff - so our golf gift guide selects the hottest golf gear and best golf accessories out there. Alternatively, check out our guides on the best golf mats, best golf nets or funny golf gifts if you're looking for something more specific for Dad.
If you need some inspiration for golf gifts, or would like to drop some hints to those buying for you, then we have you covered with suggestions for all levels and budgets. You may want the latest driver, irons or top-of-the-range golf cart, but most budgets won't stretch to that, so this guide focuses on everything from stocking fillers to GPS gear and golf training aids.
Sales and Gift Cards
Best Golf Gifts - our top gift ideas for Father's Day
Ideal for Father's Day
TaylorMade love to start new trends and the Tour Response Stripe epitomises their commitment to developing new golf technology. Similar to the TP5 Pix released in 2021, the standout feature of this golf ball is its striking design that looks to assist golfers with their alignment on the greens. The inclusion of the big yellow stripe around the ball might not be to everyone's taste, but it does have a purpose of assisting golfers in calibrating the angle of their putts while also helping players assess the quality of that stroke.
For example, when we hit a putt sweetly and at the right speed, we noticed the strip cleanly rolled end-over-end. When we hit the ball crooked, the yellow line turned to a blur around the golf ball. This level of instantaneous feedback is a unique feature of this golf ball and can really help you save shots around the greens.
Being made of the same composition, the Stripe performs in a similar manner to the Tour Response ball, enabling golfers to reach long distances off the tee thanks to its three-piece casing. Overall, it is an excellent all-around golf ball that is great for players looking to work on their short game and maximise distance from the tee.
The biggest compliment we could pay the Veloce is that you genuinely don't notice you're wearing them. They weigh just 28g and feature an adjustable nose piece, which helps create a comfortable and secure fit. The matte black Grilamid TR-90 frames we tested felt sturdy and well made plus there's just enough give in them to ensure they will fit a variety of face sizes.
The lenses are made of a shatterproof polycarbonate and scratch resistance, besides the Smoke lenses that come as standard there are clear and All conditions red lenses. While the Smoke lenses were good all purpose lenses, we really liked the All Conditions Red lenses for golf. The shade of brown they are seemed to enhance the contrast we could see on the greens
The VIP II Premium travel cover offers all the durable protection and ease of use of the Deluxe model, with a few extra features for added peace of mind - like additional padding around the top of the cover increases the layer of protection for the clubs, while an internal support strap keeps clubs secure during transit. We cannot stress how much of a difference these little design details make. As some of the best golf clubs can cost a lot of money you're going to want to ensure that your bag, like the Deluxe model on show here has a lot of protection on offer to keep them safe.
Three heavy duty external straps provide a fail safe seal on the cover and lockable dual zips add a final level of security that makes this travel cover very good value for money. There is also plenty of space to throw in the clothing and footwear that didn't make it into your suitcase. And to give you an idea of how much space there is, there's enough to accommodate a 49-inch driver. We should also mention the price because despite having the word Premium in the name, it definitely comes at the value end of the price spectrum which is very appealing to us.
The StaSof has been an incredibly popular franchise for over 35 years, both at retail and on Tour, with its popularity coming from the combination of feel and traction, as well as a hint of durability.
Constructed from a premium Cabretta leather which provides a soft, supple feel, it also has a Powernet Mesh section at the back that helps with comfort and breathability. Along with its practicality, we thought it looked stunning at address and that there was no opportunity for it to move around unless you significantly loosen your grip. This really allowed us to swing with confidence.
The stand out feature though is how it handles different weather conditions. This comes from the moisture management on offer that ensures, on hot days, you won't lose control of the club. It features an All-climate grip and exclusive APL leather used on the palm and, in light passing showers, it performs admirably.
A small, lightweight speaker that adds a lot of fun to your rounds, this portable speaker is a great and loud option for anyone who likes to listen to music on the course. Set-up was super easy and stress-free, while we really enjoyed the magnetic clip on its back that you can attach to any metal structure. It will also read yardages to the front, back and middle of the greens. The only caveat is you have to be within 15 yards if the speaker with your phone, which we found wasn't a big issue at all.
Downloading the TecTecTec app will also show you those yardages on your phone, as well as distances to hazards. We did think using the same button for several functions is a little complicated, but usability here is excellent. You can also clip the speaker onto your back pocket and can use the microphone built into this product to call your friends and family. It is charged by a USB-C cable and will hold enough battery for two rounds.
Our favorites
PHIGolf's Smart Home Golf Simulator is a fun and performance-enhancing simulator that is very easy to set up and use. It takes up very little space in your home and you won't need a hitting mat or a net with this simulator. It comes with a swing stick that features a built-in motion sensor that tracks your golf swing.
Ultimately, this simulator is built for entertainment purposes, allowing users to play some of the most iconic courses in the world of golf from Pebble Beach to St Andrews. It also comes with seven different game modes including stroke play, nearest to the pin and longest drive, meaning there are hours and hours of fun to be had.
The original Laser Lite was arguably the leading choice among the best budget golf rangefinders given the features and accuracy on offer. Its replacement, the Laser Lite 2, claims to offer an even better experience. For starters, it's three grams lighter, which means it accentuates that lightweight feel many golfers like, and it is also thinner and a little more compact, which we definitely noticed.
In terms of accuracy, the Laser Lite 2 produced similar numbers to the Bushnell Tour V6. The non slope numbers were pretty much identical and when going uphill the numbers compared closely, it was only on shots that played downhill where the differences got bigger.
Other features include a Scan mode, where you hold down the main button and scan the surroundings - the distance changing as you do so, which we found useful when assessing what lies ahead off the tee. There's also a new Pin Finder mode, which is automatically employed when you press and hold the measurement button when not in Scan mode. Finally it is IPX4 water resistant, which should keep light showers at bay.
A GPS device is a must these days because there is no excuse for getting the wrong yardage when out on the course. A good way of dealing with this problem is a golf watch and one of the best is the S12 from Garmin. Usable, versatile, and offering outstanding value, every single golfer out there will enjoy the performance from this watch.
Do you know someone who insists on walking on the golf course? Well a good push cart is the way forward then and one of our top picks is the Nitron from Bag Boy. A model that made our best golf carts list, one simple step is all you need to fold this cart up or down which is outstanding. It's extremely lightweight and, when folded down, it's very compact, making it a dream in terms of storage. And while it may not be as heavy or bulky as other similar products, it remains robust and able to cope with any and all demands placed on it.
Game Improvers
Want to work on your putting at home, in the office or just about anywhere? Well this mat from Perfect Practice is definitely a model to consider. The slight incline toward the hole makes you have to hit the ball nice and firm, a great way to practice putting pace which you can translate into more putts holed on the golf course.
Once a putt is holed, the ball conveniently comes back down the wooden runner on the right so you don't have to march back and forth every time you've holed a putt.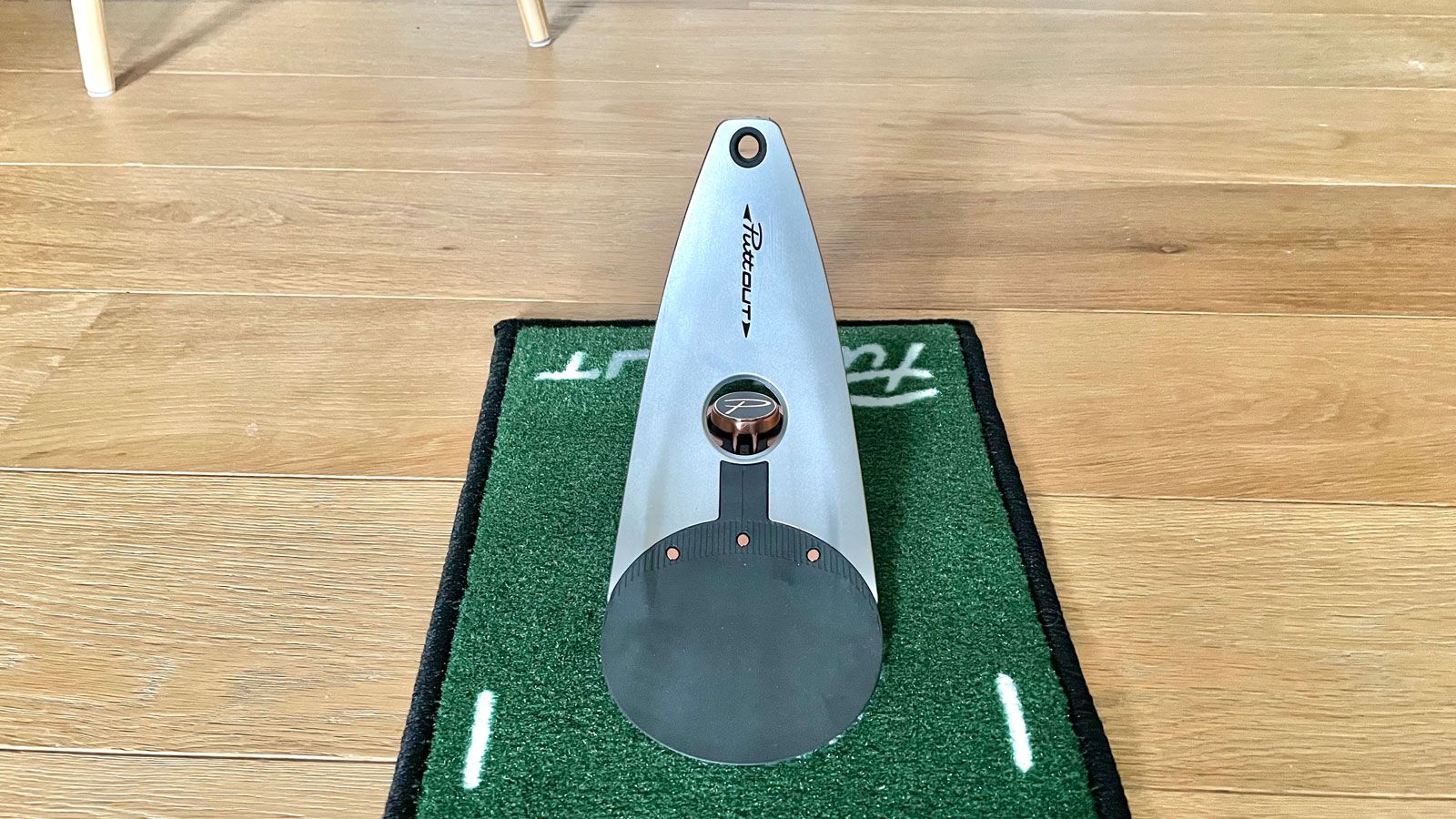 The PuttOUT Pressure Putt Trainer is quite simply one of the best and most enjoyable putting aids out there right now. Its best use is to help with pace control and finding the 'perfect putt' is a great way to focus your practice and keep it entertaining. It can also be infuriatingly tricky to get right but worth the time nonetheless.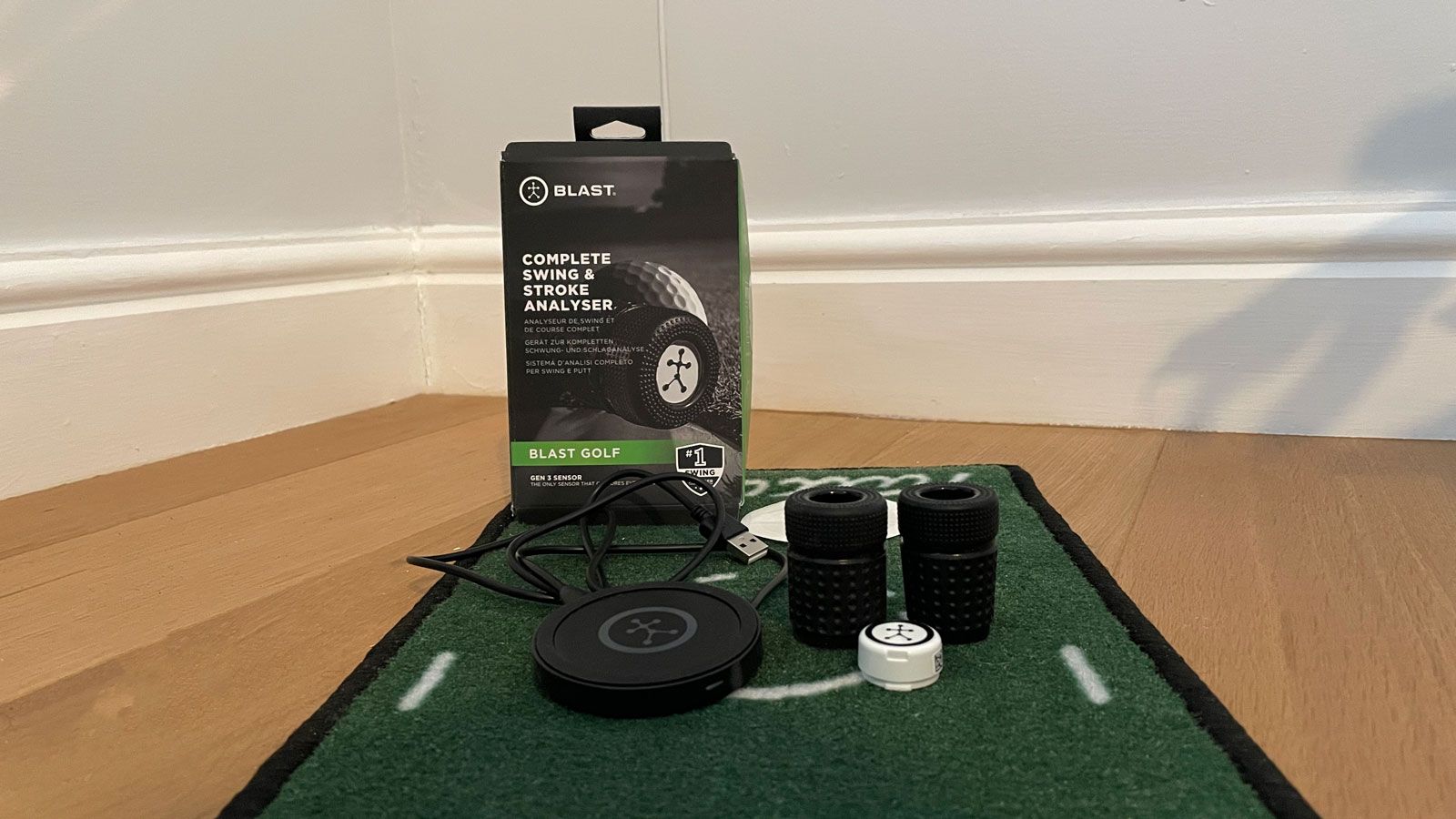 The Blast Golf Swing Analyser is a sensor that attaches to the grip of any golf club and gathers data about your swing. Alongside the free app, the swing analyser captures an incredible amount of data about your golf swing and quickly feeds back that information so you can work on your swing.
The speed of the feedback, the accuracy of the data and the way it feeds it back is incredibly intuitive. When you're swinging, a simple red, amber and green banner lets you know when you're in the right part of a specific metric. It's a fantastic way to practice with some intent on the range, as opposed to aimlessly hitting balls.
If you know he doesn't want a watch then why not a small little GPS device that clips onto his golf bag? If so the Phantom 2 from Bushnell is a top choice. 40 per cent larger than the original Phantom, the 2 is still a relatively small device that easily fits into the palm of your hand and your golf bag.
It comes with a larger screen and much clearer graphics, and it gives clear front, middle and back distance measurements no matter which direction you are approaching the green.
Something Extra Special
The Shot Scope Pro LX+ is the first of its kind as it offers three-in-one functionality that combines the pinpoint accuracy of a laser, the convenience of a handheld golf GPS device and shot tracking performance analysis.
The GPS and shot tracking functionality goes through the H4 GPS, which is a very compact device that magnetically attaches to the front of the Pro LX laser rangefinder.
In terms of the rangefinder itself, we liked its ergonomic shape, Slope mode and the option of a red or black display depending on the light conditions.
Got a golf trip lined up but still using the same travel bag from decades ago? Well an upgrade is vital especially if you want to keep your clubs safe and secure when travelling. Enter the Meridian from Sun Mountain, which will be your best friend on a trip.
It features an integrated leg set that retracts easily and supports all the weight of the bag for easy wheeling on all surfaces. Just like the name suggests, it simply glides around the airport and takes away any stress from your back, arms and wrists for when maneuvering it. The legs are very sturdy and the wheels roll excellently.
There is a lot to like about the Exo Lite Stand Bag, with the stand-out feature the magnetic rangefinder pocket. Not only is it superbly convenient, but it also feels super-premium and, if you don't want to use your rangefinder in this pocket, then there are plenty of other pockets, or even an accessory clip that you can utilize.
Although it is not fully waterproof, it's certainly showerproof in light rain and there is a fully waterproof, fleece-lined valuables' pocket that will keep things like your phone dry even in monsoon conditions.
This is one of the best lightweight golf bags on the market, with the Exo Lite weighing just 3.5lbs. In testing, we had no problems with the legs not kicking out when placed on the ground and, on a windy day, there will be peace of mind knowing it won't topple over. Although we have tested better straps, they are certainly comfortable and easy to adjust while the comprehensive hip pad makes for an altogether comfortable experience over the shoulders and back.
We recently tested this set and we have to say it is one of the best golf club sets you can buy. It comes with everything a new golfer needs and the quality is very high, meaning it will last a much longer time than many budget sets.
Apparel
Adidas is one of the most visible golf clothing brands with the likes of Collin Morikawa, Xander Schauffele and Tyrrell Hatton all wearing its extensive range of clothing on Tour. For 2023, the brand has launched the Ultimate 365 Tour range with this Primeknit polo being of the highlights.
There's a lot to like about Tour Primeknit, such as the fact it is constructed of 70% recycled materials, dries incredibly quickly due to moisture-wicking fabrics, and the fact it oozes class with its simple, but effective, design. All-in-all, it is a superb performer and excelled in every department.
The Under Armour Storm Midlayer Half is one of the most versatile of its kind. The brushed fabric provides great warmth on those colder days, meaning you don't have to worry about feeling restricted in too many layers. The zip allows for easy removal if you get too warm and the four-way stretch allows for the golfer to move athletically when on the course.
This midlayer won't look out of place off the course and doubled up well as a gym sweater for myself. There are multiple color options, allowing you to choose either a bold or classic colorway. Storm technology repels water while also remaining extremely breathable even in warmer weather.
Another pair of shorts with performance at the center of the offering as they have four-way stretch in the fabric as well as a soft hand feel for the ultimate in mobility and comfort. With two side pockets and a pocket on the back with a popper to keep items secure if you need to, these shorts are practical as well as playable. Assisted by the two buttons at the front, these shorts won't be going anywhere when they shouldn't.
The fit was snug without feeling tight, which certainly enhanced the overall look, and with three color options to pick from you should be able to find what you need in the Castore Essential shorts which are, thanks to their quality and design, some of the best Castore golf clothes on the market right now.
Often hoodies are bulky, a little hard to swing in and feel like they've been designed for lounging at home on the sofa, not wearing on the golf course. This Peter Millar design, which made our Editors Choice list, is the opposite. It has a four-way stretch meaning it plays like a proper performance garment that in no way restricts your swing.
No matter how many times you fold this garment up it comes out crease-free and looking smart. It's worth highlighting that it's not the warmest but thanks to its lightweight design you can easily wear a gilet or jacket over it without feeling like you're over layered. We did find the hood can flap a bit in high winds but this is a minor point.
Smaller Items
Receive a copy of the world's oldest golf magazine through your door every four weeks. Treat yourself, or a fellow golf fan with the gift that keeps on giving.
Peter Alliss' Reflections On A Life Well Lived reads as if the reader is eavesdropping on a chat between two friends reminiscing, those people being Alliss himself and Bill Elliott. Aliss' last book before his death in 2020, Reflections uses his trademark style, whimsical, digressive, avuncular but occasionally sharp, to talk about his life.
Alliss had requested Elliott's voice in the book, so Bill often contributes introductions and closing words to the eleven chapters. He also provides a prologue, and Jackie Alliss has written an epilogue. She writes: "When Peter talked of writing the ultimate book, he said he wanted to do it with Bill. My abiding memory is of the two of them giggling away in Peter's study as they reminisced."
Additionally it includes tributes from fellow commentators like Hazel Irvine.
This glove is fantastic at giving you a neutral grip with some outstanding feedback features. There are three blue silicone areas that will tell you that you've got a consistent grip on the club. Across the base of the left-hand fingers – this is just for right-handed golfers – is a blue channel which is crucial to sit the club in the right place, at the bottom of the fingers. There is a dual knuckle silicone spot on top of the glove, which will be visible when you look down on the ball, and an arrow tip which should point to your right shoulder. In short it guides you to a consistent grip every time, and we liked it so much it was included in our recent Editor's Choice list.
So, there you have it - a gift for every golfer out there! We hope you found it useful. For all the latest news and reviews, check out the Golf Monthly website.
A golfer for most of his life, Sam is a Senior Staff Writer for Golf Monthly.
Working with golf gear and equipment over the last six years, Sam has quickly built outstanding knowledge and expertise on golf products ranging from drivers, to balls, to shoes.
He combines this knowledge with a passion for helping golfers get the best gear for them, and as such Sam manages a team of writers that look to deliver the most accurate and informative reviews and buying advice. This is so the reader can find exactly what they are looking for.
Sam now spends most of his time testing and looking after golf gear content for the website, whilst he is also responsible for all content related to golf apparel.
He also oversees all Tour player content as well so if you need to know what clubs Tiger or Rory has in play, Sam is the person to ask.
Unfortunately, Sam is not a member of any club at the moment but regularly gets out on the golf course to keep up the facade of having a handicap of five.
Sam's What's In The Bag:
Driver: Titleist TS3 (9 degrees)
Fairway Wood: Callaway Paradym (15 degrees), Nike Covert Tour 2.0 (19 degrees)
Irons (4-PW): Titleist AP2
Wedges: Titleist Vokey SM7 54˚, 58˚
Putter: Scotty Cameron Phantom X 5.5
Ball: Srixon Z-Star Diamond
Shoes: G/FORE Gallivanter/Nike Air Zoom Infinity NEXT%/Cuater The Ringer/adidas Tour 360 22