TecTecTec KLYR Laser Rangefinder Review
Our TecTecTec KLYR laser rangefinder review uncovers a strong addition to the laser rangefinder category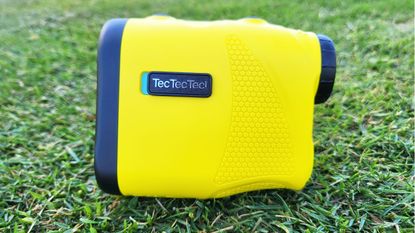 (Image credit: Golf Monthly)
Compact, stylish, and functional, the TecTecTec KLYR laser rangefinder is a revelation at its highly competitive price point. The KLYR is fast and accurate while also offering features such as target lock and slope that every golfer wants in a rangefinder.
Reasons to buy
+

Impressively vibrant display optics

+

Extremely accurate even from long range

+

Retrieves actual and adjusted yardages quickly

+

Sleek and stylish aesthetically

+

Tremendous value at its price point
Why you can trust Golf Monthly Our expert reviewers spend hours testing and comparing products and services so you can choose the best for you. Find out more about how we test.
Get the Golf Monthly Newsletter
Thank you for signing up to Golf Monthly. You will receive a verification email shortly.
There was a problem. Please refresh the page and try again.
TecTecTec KLYR Laser Rangefinder Review
If you're at all serious about golf, a rangefinder or GPS device is a must for your game. Not only will those products make golf more enjoyable, they'll help you become a better player. Most notably, knowing the exact yardage you need to hit a shot inspires confidence to make a good swing, and good swings typically lead to good shots. Additionally, the best laser rangefinders and GPS devices will help you better learn your distances with each club in the bag and improve your course management, both of which are keys to lower scores.
Personally, I've always been a rangefinder guy. As such, it's been great to see an influx of quality new products coming onto the market each year, which has also led to improved prices, so it's been a win-win for golfers. I recently had the chance to test one of the newer laser rangefinders to be released, the TecTecTec KLYR. This was my first experience with a TecTecTec product and the KLYR scored high marks across the board.
Let's start by addressing the unique name. KLYR is pronounced "clear" and it's an apt choice for this device, as its display optics are incredibly vibrant. What also stood out as I was gathering first impressions was how compact and light the KLYR was. Further research revealed that this device is about 30 percent smaller than most of its competitors and it weighed less than 1 1/4 pounds. That said, in spite of its lightweight design and diminutive size, the KLYR felt extremely sturdy in hand.
When it comes to a laser rangefinder, accuracy is paramount, so that's where I began my testing. To judge how accurate the KLYR was, I tested it against the Bushnell V4 Shift that I've most recently had in the bag and by using marked sprinkler heads at my home course. In terms of accuracy, I found no issues at all. The KLYR and the Bushnell came up with the same numbers more often than not and were never more than a yard or two apart, even at ranges well over 200 yards. More importantly, I never hit a shot where the result left me feeling like the KLYR had provided me with a questionable number.
That was also the case using the slope functionality that the KLYR offers, as I came away with the impression that adjusted yardages were on the mark as well. It should also be pointed out that the visual display of the KLYR in slope mode does a great job of differentiating between actual and adjusted yardages, the latter of which is more important and deservedly featured more prominently. Rest assured, however, that you can use this device in tournament play. There is a switch to turn slope off and also a mode option to not display adjusted yardages. You can also set the KLYR to display in yards or meters, depending on your preference.
The KLYR also stood out in terms of how fast it captured yardages and its range. Yardages were populated in the display almost immediately after shooting a target and the device features target lock vibration technology to provide reassurance that you have the correct number. I did occasionally have to hold the button longer to get the locking vibration from longer distances, but it always worked as intended.
Additionally, I had no problem getting fast and accurate yardages from ranges in excess of 400 yards, which was impressive. The KLYR is less expensive than many of its competitors and in my experience less expensive rangefinders can struggle from a performance standpoint as you get further from the target. That was not, however, the case with this device.
The KLYR offers some other features that add to its overall value as well. It comes in a nice carrying case that you can easily attach to your bag, and there's a magnet on the device that allows it to be secured to a riding cart during play. Additionally, a magnetic belt clip is included so you can keep the KLYR attached to your belt while you play. It's doubtful that I would actually go that route during rounds, but I did test the belt clip out and the device stayed in place even while making driver swings.
Kudos to the KLYR. It delivered all of the functionality that I would expect in a laser rangefinder and did so in a compact, stylish package, including the eye-catching yellow color that I tested. Add in the fact that this device retails for just $199.99, which is significantly less than some of its competitors, and you have a product that should warrant serious consideration from golfers who are in the market for a new rangefinder.
Get the Golf Monthly Newsletter
Tips on how to play better, latest equipment reviews, interviews with the biggest names and more.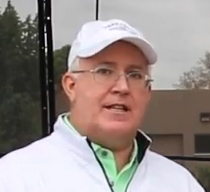 Chris joined Golf Monthly in February of 2022, becoming the organization's first full-time staff writer in the United States. In his role at Golf Monthly, Chris reviews a broad spectrum of golf equipment, ranging from the latest in golf clubs to what's new in the world of golf technology. His vast experience in the game allows him to look beyond the marketing hype to judge the merits of the latest equipment for golfers of all ability levels. As for the trend in golf equipment that Chris has been most impressed with in recent years, the Players Distance Iron category would earn that distinction, as golfers now have far better options for irons that provide the assistance that so many need in terms of distance and forgiveness without forcing them to sacrifice look and feel.
On a personal level, Chris played college golf and was a three-year letterwinner and two-year captain at Lynchburg College in Virginia and later spent two years as the assistant golf coach at the University of Virginia. The vast majority of his professional career, however, has been spent as a sports writer and editor. In the early phases of his career, he covered college football, college basketball, and golf for different newspapers and websites before turning his attention solely to golf in 2011. Over the course of the past decade, Chris managed the Instruction Blog for GolfChannel.com and more recently created equipment-related content for TGW.com and 2ndSwing.com.
An avid player, Chris currently maintains a handicap index of 2.4 and has a career-low round of 66, which he has shot on three occasions. He lives about 20 miles north of Atlanta in Roswell, Georgia, with his wife, Stacey, and is a member at Atlanta National Golf Club.
Chris is currently playing:
Driver: Callaway Epic Sub Zero, 10.5*
Fairway wood: TaylorMade M3, 17*
Hybrid: Callaway Apex UW, 19*
Irons: Mizuno JPX 921 Forged, 4-PW
Gap wedge: Cleveland RTX 4, 50*
Sand wedge: Titleist Vokey SM6, 56M
Lob wedge: Titleist Vokey SM8, 60L
Putter: SeeMore Nashville Z3C
Ball: TaylorMade TP5x