Best Distance Golf Balls 2023
If you want extra yards, check out our guide to the best distance golf balls on the market...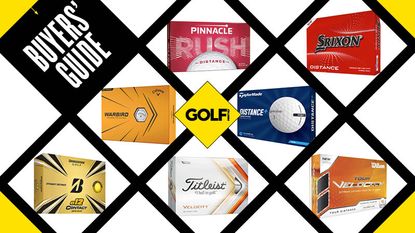 (Image credit: Golf Monthly)
Best Distance Golf Balls
There are lots of things we all wish our golf balls would do. Fly straight, stop on the green and maybe not land in the rough... But there is one thing that we can all agree on that tops the list of priorities for a golf ball and that is more distance. Thankfully, from the best premium golf balls (opens in new tab) all the way down to the budget packs, there's barely a product on the market nowadays where this isn't a major consideration for the manufacturer. But while tour-caliber models are just as concerned about spin, control and feel, our focus here is on the sole quest for extra yards.
That does mean that there are sacrifices you'll need to make elsewhere - although perhaps not as many as was once the case. More and more, manufacturers are finding ways to cram an element of feel and control into balls designed to deliver extra yards. Brands are also adding better alignment aids and more color options to the latest distance balls on the market too, so there are plenty of great options to choose from.
While they will inevitably feel firmer around and on the green, it's important to remember that the best distance golf balls are often the cheapest as well. So, if you're new to the game or tend to lose more than your fair share, one of these could be perfect. Alternatively, we also have a guide to the best value golf balls (opens in new tab) on the market, meaning you won't have to shell out too much cash for a batch of ammo.
Most distance balls usually feature a two-piece design comprising merely a cover and a core, rather than the multi-layer constructions used in the best golf balls (opens in new tab). It is this simple production method that makes them a great blend of all-out distance and affordability. So, if price and distance are more important than all-around performance, these are the makes and models you should be checking out. Also make sure you have a look at our other golf ball guides, such as the best golf balls for high handicappers (opens in new tab) or the best mid-price golf balls (opens in new tab).
Best Distance Golf Balls
Why you can trust Golf Monthly Our expert reviewers spend hours testing and comparing products and services so you can choose the best for you. Find out more about how we test.
Our pick
Specifications
Construction: Two-piece
Colors: 1 (white)
Reasons to buy
+
Ideal for 80+mph swing speeds
+
High penetrating ball flight
Reasons to avoid
-
Durable cover is very hard
First up in this list is the Srixon Distance golf ball, one of the most popular balls in this category. As each generation of Srixon ball (opens in new tab) goes by, the brand implements updates here and there, with this new model boasting a softer compression than its predecessor. This is to help deliver optimum distance and a higher launch angle for a penetrating ball flight.
The dimple count is down significantly too (108 fewer), which Srixon says will reduce drag and increase lift for better performance in all wind conditions. Our tester did see a good increase in distance and penetration of the air in windy conditions so these claims seem to stack up. High handicap players will also enjoy the durable cover which is engineered for greater cut-proof durability, making them a great value golf shoe.
High launch
Specifications
Construction: Two-piece
Colors: 4 (white, green, orange, pink)
Reasons to buy
+
Latest cover design brings added feel
+
Color options to suit all tastes
+
High launch
Reasons to avoid
-
Feels especially firm off the putter
The Titleist Velocity 2022 golf ball celebrates its 10th birthday with the latest version continuing its claim to be the longest ball in the Titleist range. Titleist made the core of the ball a little firmer which is to help generate more speed on shots. Additionally, the brand introduced a new octahedral pattern with 350 dimples for a high flight with a little more consistency.
The result? Well, our testing revealed with the driver the ball did fly higher and carried 5 yards further when compared to the previous generation. The spin was very low which was great for distance but again, there is a tradeoff in terms of feel because there is less spin on approaches and less control on chips around the green. To take a full in-depth look at the rest of the Titleist range, have a read of our best Titleist golf balls (opens in new tab) guide.
Best for speed off the face
Specifications
Construction: Two-piece
Colors: 2 (white, yellow)
Reasons to buy
+
Highly compressible core unlocks greater distance potential at any swing speed
+
HEX aerodynamics in the cover reduce drag for added hang time and distance
Reasons to avoid
-
May launch too high for those who struggle to keep their flight down
Callaway has used the Warbird name for several decades now, and it has become synonymous with distance and speed in its ball range. The latest model uses a two-piece construction with an extra-large, high-energy core to promote distance with a high launch at different swing speeds.
All of that sounds ideal for the golfer seeking more yards and who struggles to get the ball in the air, but what was the performance actually like? Well in our testing we found there were extra yards to be had, especially on iron shots into the greens, but its firmish ionomer cover provides less check and control than some might want greenside. However, we feel this tradeoff is worth it because of the distance on offer. For more golf ball offerings from Callaway, check out our best Callaway golf balls guide (opens in new tab).
Best for alignment
Specifications
Construction: Two-piece
Colors: 2 (white, yellow)
Reasons to buy
+
REACT Speed Core and aerodynamic cover design boost ball speeds
+
New 'plus' alignment helps you line up and aim better on the greens
Reasons to avoid
-
As with any distance ball, feel and control are not its primary attributes
The TaylorMade Distance+ ball is about speed and distance, with its REACT Speed Core and aerodynamic 342-dimple pattern promoting low-drag, high-velocity performance. The soft ionomer cover not only provides a decent greenside feel but also boosts the ball's scuff-resistant properties for greater durability. That means you'll feel comfortable putting all your energy through this golf ball to smash your shots long distances. The final part of the package is a new cross-shaped 'plus' alignment stamp to help you line up and aim properly with the putter.
Available in matte colors
Specifications
Construction: Three-piece
Colors: 3 (white, yellow, red)
Reasons to buy
+
New Contact dimples allow for better energy transfer at impact
+
Slightly lower-spinning than previous e12 models so less sidespin
+
Cover feels soft
Reasons to avoid
-
It's all about straightness so won't be as workable as some balls
Back in 2021, Bridgestone replaced its e12 Soft (opens in new tab) and e12 Speed balls (opens in new tab) with one new model – the Bridgestone e12 Contact. It's a three-piece ball with an ionomer cover that feels nice and soft at impact. The key to performance is a new and distinctive Contact Force dimple, which features a visible raised area in the center.
This raised area allows for 38% more contact between clubface and ball at impact than traditional dimples, improving core activation for more efficient energy transfer. The end result is improved ball speed, distance and accuracy with every club, plus a little more grip and spin around the green thanks to the increased levels of contact. Available in white, matte green, matte red, and matte yellow.
Best value
Specifications
Construction: Two-piece
Colors: 1 (white)
Reasons to buy
+
Excellent value for those starting out
+
Dimple pattern enhances power
+
Great distance all-round
+
Very durable
Reasons to avoid
-
Cover may feel too hard on putts
This low-compression Wilson ball promises extreme distance through a hard ionomer cover material that optimizes trajectory for maximum yardage and roll. From our testing, we can vouch that this ball certainly delivers. The enhanced aerodynamic dimple pattern really does add to the power potential from the tee. These balls are very durable and won't mark up easily, even when it bounced off the cart path. Although the Wilson Velocity Distance is a low-compression ball overall, its mid-compression core introduces an element of greenside playability too.
The Velocity Distance is also up there as one of the best value golf balls (opens in new tab)on the market, thanks to the three extra golf balls you'll find in the box. While most other brands provide only 12, we were surprised to find 15 in the Wilson Velocity Distance package. Overall, it is the perfect golf ball that can help recreational golfers reach higher distances off the tee.
Impressive gains off the tee for a very durable golf ball
Specifications
Construction: Three-piece
Colors: 1 (white)
Reasons to buy
+
Impressive long game distance
+
High, powerful ball flight
+
Incredibly durable
+
Excellent value at its price point
Reasons to avoid
-
Not the most workable golf ball
Having made big strides in the golf ball market in recent years, OnCore are continuing to innovate and produce an excellent range of high-quality golf balls. And the Elixr is one of their best offerings yet. It is their Tour-standard golf ball and boasts impressive gains off the tee and exceptional ball flights. It is also very durable and comes at a great price compared to other balls on this list, making it one of the best value golf balls (opens in new tab) on the market.
On testing, we thoroughly enjoyed playing with this three-piece golf ball. It boasts a urethane cover that delivers a Tour-quality feel and performance from tee to green. It is a little firmer than previous models and has a new dimple pattern that is designed to deliver a higher ball flight. And that's where the Elixr really stood out. It was impressively long off the driver and when hitting full approach shots. The ball has a strong flight and travels pretty straight for the most part. Around the greens, the Elixr performed very well too and generated pretty adequate amount of stopping power too. Overall, we were very impressed with this high launching golf ball, which offered great distance off the tee.
Unique branding and packaging are all excellent selling points of this ball
Specifications
Construction: Three-piece
Color: 1 (white)
Reasons to buy
+
Standout aesthetics
+
Impressive distance off the driver
+
Solid feel, ideal for year-round golf
Reasons to avoid
-
Lacked a little short game spin control
Standing out from the crowd, this golf ball is one of the most aesthetically pleasing offerings on the market. From its packaging down to its branding, it is an excellent-looking addition to this list, but it packs a punch too. The Sounder Golf Ball is an affordable three-piece urethane golf ball that delivers on quality and game-improving performance. Testing it with a launch monitor and over 18 holes, it was clear the Sounder offered exceptional distance, totaling a fast speed off the clubface and flighted through the air well. We did think that the ball flight was a little lower than we were used too, but that's not too big of a problem, with the Sounder carrying strong from start to finish.
Data with our 7-iron was solid too. Carrying 166 yards with a mid-spin of 5313, we liked how much distance and stopping power the ball offered. It did lack in spin control around the green as it is quite a firm golf ball, but that solid feel does make it a fantastic year-round golf ball. If you're after something a bit less firm off the clubface, check out our guide on the best soft-feeling golf balls (opens in new tab).
Brilliant colorways
Specifications
Construction: Two-piece
Colors : 6 (Orange; White; Yellow; Lime
Reasons to buy
+
Offers extra roll (distance)
+
Very hard to lose
+
Spectra lettering a useful alignment aid when putting List
Reasons to avoid
-
Matte finish won't appeal to all
-
More skilled golfers will demand more spin
Founded in 2001 Zero Golf made its name in the industry designing and building golf tees that offered players greater distance. But the brand are not letting up in their quest to help players hit the ball further and have developed these fantastic distance golf balls that we had the pleasure of testing quite recently. Looking at the ball, it has a two-piece construction and a large super-fast core for explosive distance. And we were impressed with how hot off the face this ball was.
It provided a higher launch and excellent roll out on longer iron shots. Plus it was easy to flight and we felt the zip of the ball off the tee when we powered through our swing. In the short game, we did think it felt a touch heavy off the face of our wedges, but we were able to make the ball grab on well-truck shots.
Snell Get Sum Golf Ball
Packs a punch off the tee
Specifications
Construction: 2-piece
Colors : Yellow
Reasons to buy
+
A fantastic golf ball for distance
+
Excellent value
+
Very easy to flight
Reasons to avoid
-
Doesn't offer the best control around the greens
If you're looking for a golf ball that will maximize distance and consistency off the tee then this offering from Snell is a great option. Coming in at excellent value too, the Get Sum golf ball is perfect for individuals looking for a high-performance golf ball that won't cost them a bomb. Made from a soft Surlyn material, the Get Sum golf ball is designed to help players get the ball up in the air more easily. It also spins less than many other offerings on the market, to help you strike the ball straighter and further.
It is a no-nonsense golf ball that might not offer a lot of control around the greens, but will certainly help you improve in your long game. Check out our guide on the best distance golf balls (opens in new tab) for more options that will help you tee it high and let it fly.
Best for all abilities
Specifications
Construction: Two-piece
Colors: 1 (white)
Reasons to buy
+
Great distance
+
Nice feel off the face
+
15-ball packs add to the value
Reasons to avoid
-
Greenside spin is almost non-existent
-
May be better options for cheaper
The Pinnacle name has long been associated with good-value distance golf balls and the brand's latest edition, the Rush, is no exception. Its high-energy core drives the performance of this golf ball, which generates faster ball speeds with every club. When testing, we found that this ball delivered high-quality distance straight away with both our drivers and our iron shots into the greens. It ball offers a nice high flight and doesn't feel clicky or loud as you might expect an out-and-out distance ball to feel.
An icosahedral dimple design, comprising 332 dimples in a durable ionomer cover, promises a consistent, powerful ball flight with more than a hint of feel. It is quite firm on the clubface and won't dazzle on approach shots or around the greens, but that isn't this ball's MO. You know what to expect and it produces exactly that - in spades.
How we test golf balls
Here at Golf Monthly, our highly experienced team of testers play a lot of golf in different conditions throughout the year. While our Digital Editor Neil Tappin (opens in new tab) heads up golf ball reviews on our site, most of the Golf Monthly team have been working in the golf industry for more years than they care to remember, so have a wealth of experience to offer. Through our rigorous testing procedures (opens in new tab), our collective goal is to test every golf ball model on the market as soon as it becomes available to us, putting in the hours in all weathers out on the golf course, the practice ground, the short-game area, the practice bunker and the putting green.
We want to get an idea of how each ball performs in all areas of the game so we can tell you what its strengths and weaknesses are, allowing you to make an informed choice about your next golf ball purchase. Whenever possible, we will also seek to acquire launch monitor data for a more detailed analysis of each ball model's performance. Specifically, when it comes to high-distance golf balls, we put each ball through its paces on the range and out on the course. We try and assess the difference between these golf balls compared to other types golf balls on the market, with a view to ensuring that these balls can provide great value and have as many performance-enhancing features as possible.
What to consider when buying golf balls
Perhaps the most technical piece of equipment in golf is the golf ball. Brands are innovating all the time to see how they can make their golf balls carry further, spin more and help the modern-day golfer shoot lower cards. For that reason, there is an awful lot of technology crammed into your average ball, whether that's in terms of the ball's dimpled casing or its construction. That means there are a lot of things to consider when purchasing your next box of golf balls and that can sometimes be quite overwhelming for players who are relatively new to the game. To help you purchase the best golf ball for your game, we've set out a few points below that you should bear in mind when you head down to your local golf shop.
1. Soft or firm?
The best premium golf balls (opens in new tab) come in alternative versions that spin slightly less for players who prefer a firmer feel or more control off the tee. We recommend you try both kinds of feel from various distances to find your preferred feel.
2. Cover material
Urethane-covered balls offer the best spin control and feel but do cost more. Experiment with each to see if you notice enough of a difference to justify the extra cost, or whether the best mid-price golf balls (opens in new tab) might be an option.
3. Long game or short game?
Which aspect of the game is most important to you? Are you looking for maximum distance or something that allows your short game to shine around the greens? If you put a real premium on feel, perhaps our best soft feel golf balls (opens in new tab) guide might be a good next step.
4. Color/visuals
Are you very much a classic white ball player, or someone open to playing something a little different as the golf ball world evolves? There's more choice than ever in this regard and if you're planning on outdriving the course, there's a strong chance that you will want your golf ball to have a bit of color on it, to help you see where it falls on the course.
5. Price
No buying guide would be complete without at least mentioning price. Thankfully most brands make models at different price points and you can rest assured there is decent performance on offer across the price spectrum. It is also worth considering that personalized balls cost a little more money.
For more advice on buying golf balls, we have a ton of information on our website that will help you make the right choice for you. If you're after colored balls in particular, take a look at our guide on the best-personalized golf balls (opens in new tab) and our guide on the best 10 golf balls with matte finishes that offer high performance (opens in new tab).
FAQs
What is the best golf ball for distance?
The best golf ball for distance will be the design specifically designed o fly the furthest. We traditionally see this golf ball offer a firm feel and simple design in terms of being a two, or three-piece construction. It will also have some kind of aerodynamic dimple design to help the golf ball stay in the air longer, and spin less as well.
How far do Tour professionals strike the golf ball with their driver?
Depending on who it is, Tour pros can strike the golf ball an average of 295 yards with their driver. But some can hit the ball even further, with Rory McIlroy and Cameron Champ leading the way on the PGA Tour this season with long drives of 321 yards each!
Do distance golf balls go further?
Yes distance golf balls fly further because they have been designed as such with two or three-piece constructions, firm feel, low spin and aerodynamic dimple designs. Premium golf balls like the Titleist Pro V1, have been designed to offer feel and control, as well as a degree of distance so will not fly as far as a Srixon Distance golf ball because the latter has been created purely for distance.
A golfer for most of his life, Sam is a Senior Staff Writer for Golf Monthly.
Working with golf gear and equipment over the last five years, Sam has quickly built outstanding knowledge and expertise on golf products ranging from drivers, to balls, to shoes.
He also loves to test golf apparel especially if it a piece that can be used just about anywhere!
As a result he has always been the one family and friends come to for buying advice and tips.

He is a graduate of Swansea University where he studied History and American Studies, and he has been a part of the Golf Monthly team since December 2017. He also previously worked for World Soccer and Rugby World magazines.
Sam now spends most of his time testing and looking after golf gear content for the website. He also oversees all Tour player content as well.
Unfortunately, Sam is not a member of any club at the moment but regularly gets out on the golf course to keep up the facade of having a handicap of five.