Best Distance Golf Balls
If you want extra yards, check out our guide to the best distance golf balls on the market...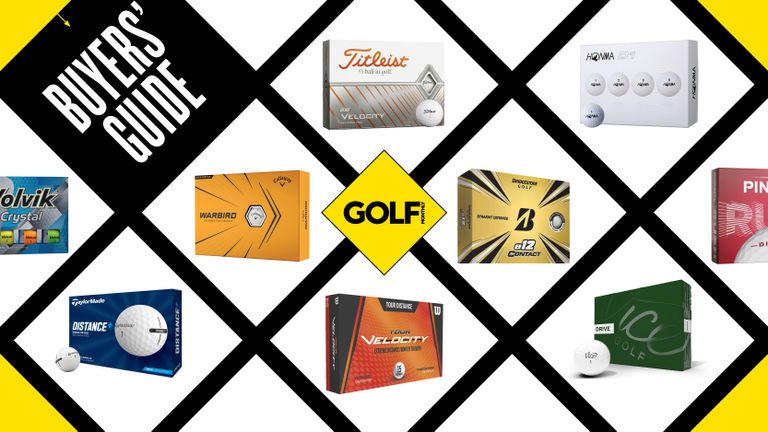 (Image credit: Golf Monthly)
By Dan Parker
Best Distance Golf Balls
There are lots of things we all wish our golf balls would do, but there's one thing that almost always tops the priority list - more distance.
Thankfully, from the best premium golf balls all the way down to the budget packs, there's barely a product on the market nowadays where this isn't a major consideration for the manufacturer.
But while tour-calibre models are just as concerned about spin, control and feel, our focus here is on the sole quest for extra yards.
That does mean that there are sacrifices you will have to make elsewhere - although perhaps not as many as was once the case. More and more, manufacturers are finding ways to cram an element of feel and control into balls designed with extra yards in mind.
Brands are also adding better alignment aids and more colour options to the latest distance balls on the market too, so there are plenty of great options to choose from.
While they will inevitably feel firmer around and on the green, it's important to remember that the best distance golf balls are often the cheapest as well. So, if you're new to the game or tend to lose more than your fair share, one of these could be perfect.
Alternatively, we also have a guide to the best value golf balls on the market, meaning you won't have to shell out too much cash for a batch of ammo.
Most distance balls usually feature a two-piece design comprising merely a cover and a core, rather than the multi-layer constructions used in the best golf balls. It is this simple production method that makes them a great blend of all-out distance and affordability.
So, if price and distance are more important than all-round performance, these are the makes and models you should be checking out.
Also make sure you have a look at our other golf ball guides, such as the best golf balls for high handicappers or the best mid price golf balls.
Best Distance Golf Balls
Our pick
Reasons to buy
+Ideal for 80+mph swing speeds+High penetrating ball flight
Reasons to avoid
-Durable cover is very hard
The latest Srixon Distance model boasts a softer compression than the previous version. It delivers optimum distance via greater initial velocity and a higher launch angle for a penetrating ball flight.
The dimple count is down significantly too (108 fewer), which Srixon says will reduce drag and increase lift for better performance in all wind conditions. The durable cover is engineered for greater cut-proof durability.
RELATED: Srixon Distance golf ball review
Best for speed off the face
Reasons to buy
+Highly compressible core unlocks greater distance potential at any swing speed+HEX aerodynamics in the cover reduce drag for added hang time and distance
Reasons to avoid
-May launch too high for those who struggle to keep their flight down
Callaway has used the Warbird name for several decades now, and it has become synonymous with distance and speed in its ball range.
The latest model uses a two-piece construction with an extra-large, high-energy core to promote distance with a high launch at different swing speeds.
The ionomer cover adds feel and control around the greens, with its HEX Aerodynamics design reducing drag to generate more speed, greater hang time and added distance.
RELATED: Callaway Warbird golf ball review
Titleist Velocity Golf Ball
High launch
Reasons to buy
+Latest cover design brings added feel+Colour options to suit all tastes+High launch
Reasons to avoid
-Feels especially firm off the putter
The latest Titleist Velocity model features a larger, higher-speed LSX core that boosts ball speed on all full shots while keeping spin down for optimum distance. The updated cover retains the Velocity's renowned distance attributes, while adding a greater element of feel for more greenside playability.
Aerodynamics have been improved via a dimple design that promotes a high-flying trajectory for greater stopping power with your irons. Available in white or matte pink, green and orange.
To take a full in-depth look at the rest of the Titleist range, have a read of our best Titleist golf balls guide.
Bridgestone e12 Contact Golf Ball
Available in matte colours
Reasons to buy
+New Contact dimples allow for better energy transfer at impact+Slightly lower-spinning than previous e12 models so less sidespin+Cover feels soft
Reasons to avoid
-It's all about straightness so won't be as workable as some balls
For 2021, Bridgestone has replaced its e12 Soft and e12 Speed balls with one new model – the Bridgestone e12 Contact.
It's a three-piece ball with an ionomer cover that feels nice and soft at impact. The key to performance is a new and distinctive Contact Force dimple, which features a visible raised area in the centre.
This raised area allows for 38% more contact between clubface and ball at impact than traditional dimples, improving core activation for more efficient energy transfer.
The end result is improved ball speed, distance and accuracy with every club, plus a little more grip and spin around the green thanks to the increased levels of contact.
Available in white, matte green, matte red, and matte yellow.
TaylorMade Distance + Golf Ball
Best for alignment
Reasons to buy
+REACT Speed Core and aerodynamic cover design boost ball speeds+New 'plus' alignment helps you line up and aim better on the greens
Reasons to avoid
-As with any distance ball, feel and control are not its primary attributes
The TaylorMade Distance+ ball is about speed and distance, with its REACT Speed Core and aerodynamic 342-dimple pattern promoting low-drag, high-velocity performance.
The soft ionomer cover not only provides decent greenside feel, but also boosts the ball's scuff- and shear-resistant properties for greater durability.
The final part of the package is a new cross-shaped 'plus' alignment stamp to help you line up and aim properly with the putter.
Honma D1 Golf Ball
Distance with a soft feel
Reasons to buy
+Feels soft but still performs for distance+Great value when buying a multipack
Reasons to avoid
-Not many alignment aids
This two piece ball from Honma is up there with the very best when it comes to adding pure distance on to your shots.
The Honma D1 golf ball is constructed with a combination high-repulsion rubber core and mid ionomer cover to provide a soft feel with the performance of a harder ball. It is without a doubt the softest of the distance balls we've tried.
We did find this ball a bit plain to look down at though. If you prefer this clean look at address, great, but we'd recommend using a tool to draw some alignment aids on.
Wilson Tour Velocity Tour Distance Golf Ball
Best value
Reasons to buy
+Excellent value for those starting out+Dimple pattern enhances power from the tee
Reasons to avoid
-Cover may feel too hard on putts
This low-compression Wilson ball promises extreme distance via a hard ionomer cover material that optimises trajectory for maximum distance and roll - and it delivers. The enhanced aerodynamic dimple pattern really does adds to the power potential from the tee.
Although a low-compression ball overall, its mid-compression core introduces an element of greenside playability too.
Pinnacle Rush Golf Ball
Best for all abilities
Reasons to buy
+Longer with both driver and irons+Suitable for all abilities+Perfect starter ball for beginners
Reasons to avoid
-Slightly softer than previous generations which may not appeal to all
The Pinnacle name has long been associated with good-value distance golf balls and the latest Rush is no exception.
It's the high-energy core that drives performance, generating faster ball speeds with every club. An icosahedral dimple design, comprising 332 dimples in a soft, durable ionomer cover, promises a consistent, powerful ball flight with more than a hint of feel.
It won't dazzle on approach shots or around the greens, but that isn't this ball's MO. You know what to expect and it produces exactly that - in spades.
Vice Drive Golf Ball
Best for slower swingers
Reasons to buy
+One of the lowest-priced branded balls on the market+Extremely cut-resistant cover for durability
Reasons to avoid
-Not suitable for faster swing speeds
It is the Vice Drive's soft Energy Speed Core that generates extra distance for beginners and those with low to medium swing speeds.
The durable Surlyn cover is highly cut-resistant on mishits or misadventures, with 312 large dimples keeping air resistance to a minimum for a stable ball flight. This latest Drive model offers higher wedge spin rates for greater control close to the green.
Vice may be relatively unknown compared to other brands in this list, but for more information, take a look at our best Vice golf balls piece.
Volvik Crystal Golf Ball
No. 1 for colour choice
Reasons to buy
+Very durable ball+Great colour choice+Arrow on side great for alignment
Reasons to avoid
-No proper white option-Shiny finish might annoy some golfers
Blink and you might not even miss this colourful ball from Volvik. The Crystal offers maximum visibility in seven different colours for those who need all the help they can get when searching for an errant shot.
But there's more to this offering than a splash of illumination. This three-piecer delivers in the distance stakes thanks to the soft power core, and not only that, it's one of the most durable balls we've ever tested.
Maybe it's our eyes playing tricks on us with the semi-transparent cover, but we had to go some to produce a scuff mark. For those looking for distance and to add some colour to their game, don't overlook this consistent performer.