Best Golf Trolley Bags 2022
Check out the best golf trolley bags that are available on the market right now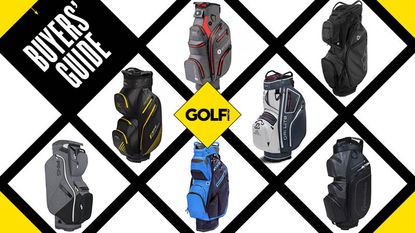 (Image credit: Golf Monthly)
Golf Monthly Newsletter
Golf tips and expert instruction, golf club reviews and the latest golf equipment.
Thank you for signing up to . You will receive a verification email shortly.
There was a problem. Please refresh the page and try again.
Best Golf Trolley Bags
Finding the right golf bag could help you make the difference when it comes to organising and planning your game. If your equipment is well protected and efficiently stored, you can focus on what really matters – playing your round of golf.
Whether you use a push or electric trolley, you'll likely be looking for one of the best golf trolley bags on the market - a design that is robust and stable, easy to lift and sits well on its back and base. Other features to consider will be, the level of storage, the ease of access to clubs and accessory/apparel pockets. Additionally, the best golf bags often provide water resistance and extra protection for valuables.
You also want a bag that is super-stable on the trolley, will not cause the trolley to pull to one direction, or to topple in any way. There's nothing more annoying than having to constantly re-arrange a bag on a trolley so a perfect fit is what you're after.
What then are the best golf trolley bags? We've reviewed and tested them and have selected our favourites below to help you prepare and manage your golf game in the most effective way.
We also recommend taking a look at some of our other gear guides too - such as the best golf push cart bags (opens in new tab), best golf stand bags (opens in new tab), or the best lightweight golf bags (opens in new tab).
Best Golf Trolley Bags
Specifications
Pockets: 7
Weight: 5.1 pounds
Colors: 5
Dividers: 14
Waterproof: Yes
Reasons to buy
+
100% fully waterproof construction
+
Key lock system for secure trolley fitting
Reasons to avoid
-
Functional rather than super stylish
The PowaKaddy Dri Tech Cart Bag will keep your clubs and belongings dry in the most extreme weather conditions. Made from a lightweight Nylon fabric, it is waterproof to an impressive hydrostatic rating of over 10,000mm. If you're not sure what that means – it's a lot! As such, it should come as no surprise that this bag made our list of the best waterproof golf bags too.
For those who like ultimate club organization, the Dri Tech has you covered, as a 14-way top divider also makes way for a spacious putter well. The pockets are vast, meaning you'll have room to store all your necessities, with the bag being incredibly lightweight.
It may not be the most striking in terms of design, but the PowaKaddy Dri Tech has a sleek sophistication and looks great sitting on a trolley. It also features PowaKaddy's Key Lock anti-twist system, which ensures the bag stays firmly in place throughout the round. Nobody likes to be fiddling with bag placement and straps when they should be focusing on their next shot.
Specifications
Pockets: 9
Weight : 5 pounds
Colors: 6
Dividers : 14
Waterproof: Yes
Reasons to buy
+
Impressive aesthetically
+
Ample storage capacity
+
Highly functional design
Big Max is a brand that offers a wide range of excellent options, but the model which made our 2022 Editors Choice list is the Dri Lite Tour Cart Bag. The zips are fully waterproof, while the rest of the fabric used in construction is water repellent. In testing, we experienced no leaks when we put it through its paces on a wet day and you also get a handy five-year warranty too, which puts the mind at ease.
It is a very smart design, almost Tour-like, and the space provided would rival the top professional bags as well. Nine large pockets provide more space than we could ever need, but we have no doubt some people will find a way to fill it.
Specifications
Pockets: 9
Weight: 6 pounds
Colors: 4
Dividers : 14
Waterproof: Yes
Reasons to buy
+
Extremely lightweight for this category
+
User-friendly design
+
Excels in wet conditions
Reasons to avoid
-
Not the most exciting color options
In 2022, the Dry Series received a revamp by Motocaddy. Now, it is undoubtedly at the upper end of the product line-up as you get a stylish design that is waterproof and extremely user-friendly. It also comes packed with features that golfers can take advantage of.
Weighing around six pounds, which is nothing at all when you consider it is fully waterproof, it features a rain hood and can be easily maneuvered from the car to the cart. It also comes with 14 full-length dividers, nine spacious pockets, including a substantial food and beverage pocket that is insulated. Motocaddy truly has thought about every little detail here.
Specifications
Pockets: 13
Weight: 7 pounds
Colors: 11
Dividers: 14
Waterproof: No
Reasons to buy
+
Utility handles make it easy to maneuver
+
Wide array of colors to choose from
Reasons to avoid
-
On the heavier side in this category
For two decades the C-130 from Sun Mountain has been the companies best seller. Not only has it been the most successful model of the range, but it's also one of the best-selling cart bags of all-time. Developed specifically for golfers who ride when they play, it also fits perfectly on a trolley.
Highlighting the features of the C-130 are 14 individual club dividers, including a separate compartment that will accommodate oversized putters. The C-130 also has tremendous storage capacity, providing golfers with 13 pockets, two of which have been dedicated for apparel. It also has a ventilated cooler pocket, a pocket with a magnetic closure that was incorporated specifically for rangefinders, and two velour-lined pockets for valuables, including one that is water-resistant.
The C-130 also features three utility handles that make it easy to get in and out of a car, as well as on and off of a golf cart or push cart. Additionally, Sun Mountain's Smart Strap system keeps the bag secure during use while also enabling players to access each pocket with ease.
A matching waterproof hood is also included with each C-130 bag and there are 11 different colors for golfers to choose from. This makes it one of the best Sun Mountain golf bags on the market.
Specifications
Pockets: 13
Weight: 5.5 pounds
Colors: 6
Dividers : 14
Waterproof: No
Reasons to buy
+
Among the lighter trolley bag options
+
Outstanding storage space
Reasons to avoid
-
Not as sleek as others in its category
Ping's Traverse cart bag has been redesigned for 2022 and is now even lighter at just 5.5 pounds. This puts it amongst the lightest cart bags on the market. Featuring a 14-way top to help the organization of your clubs, there are also two putter wells to choose from, depending on where you want to position your putter in the bag.
The Traverse also excels from a storage standpoint as it has 11 total pockets, including full-length apparel pockets, a velour-lined valuables pocket, an insulated cooler pocket, and a rangefinder pocket.
The Traverse's strap-thru pass also keeps the bag securely on a cart without blocking access to any of the pockets, and there are six new color patterns for golfers to choose from. As a result, it is one of the best Ping golf bags money can buy.
TaylorMade Storm Dry Cart Bag
Specifications
Pockets: 7
Weight: 5.1 pounds
Colors: 5
Dividers: 14
Waterproof: Yes
Reasons to buy
+
One-year guarantee on waterproofing
+
Sleek looks
TaylorMade has used a very lightweight waterproof material to make its Storm Dry cart bag and that makes this a great option for a bag you can easily transport to and from the golf club, even when full of gear.
As well as the 14-way top with three full-length dividers, this bag has its own dedicated putter well to keep your putter protected away from other clubs.
Sun Mountain Eco-Lite Trolley Bag
Specifications
Pockets: 8
Weight: 5.5 pounds
Colors: 5
Dividers: 14
Waterproof: Yes
Reasons to buy
+
Fully waterproof
+
Made from recycled materials
Reasons to avoid
-
Colors might not be to everyone's taste
The first of its kind to come to market, the Eco Lite cart bag incorporates water-resistant fabric that has been made from 25-30 recycled plastic bottles in a bid to reduce harmful waste.
The bag incorporates a 10 inch top with 14 full-length dividers and 11 pockets with two sturdy and well placed grab handles for carrying the bag in and out of the car and onto trolleys or buggies.
The 11 pockets include a velour-lined valuables pocket; rangefinder compartment; ventilated cooler pocket; apparel pocket; plus multiple accessory pockets. The environmentally friendly option is available in five quite bold colours, a Sun Mountain staple.
Specifications
Pockets: 9
Weight: 7 pounds
Colors: 3
Dividers: 14
Waterproof: Yes
Reasons to buy
+
Premium, sturdy materials used throughout
+
Looks great with three colour trims available
+
Easilock system works brilliantly on Motocaddy carts
Reasons to avoid
-
Particularly heavy even before adding clubs
It's only natural that the manufacturers of some of the best golf carts on the market also make some of the best cart bags on the market too. Featuring a 14-way divider, as well as a separate 'jumbo' putting well for optimal club organisation, we found there to be no issue with clubs crossing over and becoming stuck in the bag when testing.
Constructed with premium materials, the Pro Series uses a combination of PU and nylon fabrics that make for a premium looking and feeling bag. The zips also feel very sturdy, with the material used over the club dividers not causing any wear on your club shafts either.
This bag looks the part on any golf cart too and the three colour options - red, blue and lime - will allow you to match the Pro Series accordingly.
Specifications
Pockets: 9
Weight : 4.4 pounds
Colors: 4
Dividers: 15
Waterproof: Yes
Reasons to buy
+
Lightweight and easy to get in and out of the car.
+
Pockets all face forward
+
Comfortable enough to carry
Reasons to avoid
-
Doesn't stand upright so well when fully loaded.
-
Lack of colors
Although there are more eye-catching cart bags on the market, the MacGregor 15-Series Water Resistant Cart Bag is certainly one of the more practical, with the bag being lightweight and easy to manoeuvre.
Thanks to two over-moulded handles on the top of the bag, it means it can be easily adjusted once in the cupboard or on the trolley. As well as the ease and comfort, the lightweight design is also shower proof, with the nine excellently placed pockets featuring water resistant zippers to keep your personal items dry in sharp downpours.
The last point of interest are the 15 full length dividers that allow for easy club access. These dividers are lined and cushioned as well, so any graphite shafts are well nurtured as you roll over on the bumpiest of fairways or paths. We especially liked the "putter pit," which is rubberised and houses the putter brilliantly.
Specifications
Pockets: 7
Weight: 5.1 pounds
Colors: 3
Dividers: 14
Waterproof: No
Reasons to buy
+
Streamlined and lightweight
+
Offers decent storage options
+
Good value for money
The PowaKaddy X-Lite is the streamlined, least expensive option within the brand's impressive 2022 cart bag range, although it shares many of the same features as the hero Dri Tech model.
Notably, they come in at the same weight (5.1 pounds/2.3kg), with both featuring seven pockets and a 14-way divider top. The crucial difference is that that X-Lite is not 100 percent waterproof and lacks a couple of other features but that aside, there is a lot to like about what the X-Lite has to offer.
Specifications
Pockets: 7
Weight: 10.8 pounds
Colors: 6
Dividers: 14
Waterproof: Yes
Reasons to buy
+
Lightweight
+
Waterproof
+
Large storage pocket
+
Big handle on front
Reasons to avoid
-
Accessory loops could be better
The Big Max Dri Lite Sport 2 golf bag features a wide range of features in a waterproof design that will tick a lot of boxes. Along with the waterproof protection, there is plenty of space in there for gear as the two side pockets are very generous, even if they aren't the full length of the bag. Easily enough room for two sets of waterproofs and everything else you need.
One thing we did like about the Big Max Dri Lite Sport 2 golf bag is the handles, especially the large padded one on the front for lifting out of the car on to the trolley. It's strong and comfortable and so much better than having one on the underside that turns the bag upside down when you are carrying it.
Compared to the best golf bags, the Big Max Dri Lite Sport 2 Golf bag is a very good trolley bag and the 14 way divider plus additional putter well provides easy access to your clubs in a lightweight bag that will keep your clubs dry. When comparing the best golf cart bags, this model comes out favorably.
Wilson Exo II Trolley Bag
Specifications
Pockets: 7
Weight: 3 pounds
Colors: 6
Dividers: 14
Waterproof: Yes
Reasons to buy
+
Two well placed grab handles and large putter well
+
Clever pocket organisation for easy access
Reasons to avoid
-
Only available in a few colors
The Wilson Exo II cart bag is a lightweight and feature-packed bag that is well built and reasonably priced for cart bags of this size.
The two integrated grab handles at the top of the bag make it very practical and easy to lift on and off trolleys and in and out of cars. The 14-way top and 14 full-length dividers leaves plenty of space for a full set of clubs and we love the attention to detail of the larger putter well, which will accommodate all putters including those with larger grips on.
A seam sealed, waterproof valuables pocket is just one of a host of pockets for apparel, drinks, balls and tees and there are even some exterior straps to keep tees on for easy and quick access on the course. A well thought out, practical and lightweight cart bag for all year round use.
Specifications
Pockets: 13
Weight: 5.3 pounds
Colors: 6
Dividers: 14
Waterproof: No
Reasons to buy
+
Easy access pockets
+
14-way divider
We were impressed with the pass-through channel for a cart strap on the Cobra Golf Ultralight Trolley Bag. It means the bag can be secured strongly to a trolley without compromising access to any of the 13 pockets.
Those pockets are ample and allow for excellent levels of organisation and equipment separation. Two large apparel pockets provide buckets of room while two fleece-lined valuables pockets and an insulated cooler pocket provide innovative storage solutions.
The 14-way top with full length dividers and oversized putter well protect clubs and allow for easy access. As the name would suggest, it's a lightweight bag at just 2.4kg and the top grab handles make it easy to lift and move around. If you're looking for maximum storage and easy access to all your kit, this is one to consider.
Titleist Tour Bag
Specifications
Pockets: 10
Weight: 10.6 pounds
Colors: 2
Dividers: 5
Waterproof: Yes
Reasons to buy
+
Ultimate in storage and durability
+
Tour proven with looks to match
The ultimate golf bag is a Tour bag and you can't do better than the Tour proven Titleist Tour Bag. Designed with input and feedback from Titleist's stable of elite professionals, this bag has been constructed to meet the requirements of the best players in the game.
It's bigger than a standard cart or stand bag, but it's actually pretty lightweight at just over 4kg. It's also been ergonomically engineered and, with the three-point shoulder strap, it's easy to carry.
The Titleist Tour bag is highly durable and hard wearing and the five-way top cuff has been shaped to deliver maximum protection to club heads and shafts. For other tour bag models, be sure to check out our list of the best tour golf bags (opens in new tab) too.
How we test the best golf trolley bags
Our testing process for all golf gear, let alone golf trolley bags, is rigorous and comprehensive.
As far as our methodology goes, if we say we have reviewed a product, that means we have used it out on the golf course, and put it through its paces in different conditions. We also endeavour to use all the features on the golf bag, for example if the valuables pocket claims to be waterproof, we pour water on it to find out.
We should also say that manufacturers cannot pay for a good review because we tell things how we see it.
As far as the testing team goes, the Golf Monthly team is a mixture of ages and handicaps, and most are members at golf clubs so regularly put golf gear to the test in fun rounds as well as competitions.
What to look out for when buying a trolley bag
What are some of the factors you need to consider when picking out a good trolley bag? Well we have taken a look below.
Trolley/Cart - It sounds like an obvious thing to say but if you want to invest in a good trolley bag then you should also have a good trolley to use too. A lot of the bags designed these days, including the models above, will only work best on well designed trolleys, not the basic ones you can rent from golf clubs. Therefore take a look at our best electric golf trolleys (opens in new tab), and best push carts guides.
Features - Next up you should think about the features that are important to you. Do you want the bag to have 14-way dividers, or lots of storage, or little details like valuables pockets? It is worth thinking about what you find important during your golf experiences because many different models offer varying types of feature.
Ease of Use - This is a big one, how easy is the bag to use? Here we find one of the most important things is how easy is it to move around, from the car boot, to the trolley and vice-versa. Thankfully many of the models above have been designed to be incredibly lightweight and therefore easy to manoeuvre. Additionally how simple is it to lock into the trolley, and how how simple is it to access the storage pockets? All things to think about.
Waterproofing - Given how much golf we all play, chances are we will get caught in the rain every now and again, which makes waterproofing very important. Some models, like the Motocaddy Dry Series, and TaylorMade Storm Dry, have been specifically designed for this and some models are better than others so be aware of this before you buy.
Price - Last but not least price is a factor to consider. If you want to go for an ultra-premium design, there are models out there, but if you want a bag at a cheaper price point then there are also models for that too.
If you enjoyed this guide on the best golf trolley bags, check out the Golf Monthly website.
FAQs
Can you put any bag on a golf trolley?
Technically, yes. However, a cart and tour bag will always fit more snug on a trolley than a golf stand bag for example. This is because cart and tour bags are designed to be more bulkier, therefore they fit more securely on a trolley. There is nothing wrong with having a stand bag on a trolley, but be wary it is more likely to twist and cause irritation.
What is the difference between a stand bag and a trolley bag?
Stand bags look similar to trolley bags, but they come with built-in legs that allow them to stand upright on the green. They also come with shoulder straps, so you can carry it around the course as you play. If you're using electric or push carts, then a trolley bag fits more comfortably.