Best Black Friday Golf Cart Deals
Check out some of the best Black Friday golf cart deals available now...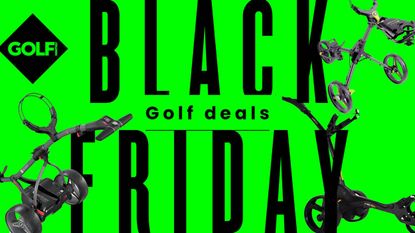 (Image credit: Golf Monthly)
Golf carts can be an expensive investment so any time they're in the sale it's a good chance to bag a bargain and pick up some new wheels. Luckily during the Black Friday sales period we've seen some big discounts on carts and trolleys so if you're looking for a new ride then you'll be sure to find a model for you in the best Black Friday golf deals (opens in new tab).
This time of year can be a great time to pick up a golf cart of any kind, with many retailers including accessories like umbrella holders, drinks holders and winter wheels as part of the price. But, which sort of trolley should you get? Electric? Push?This entirely depends on your budget and how much you play golf. If you don't play much and are just looking for something to take the strain off your back when you play once or twice a month (or less!), then a push cart will do the job while also being a lesser investment than electric. Entry level push trolleys can be well under £100/$100 with more compact and sleeker models coming in around £200/$200.
However, if you play a lot of golf or are looking to treat yourself, then an electric trolley is a great and enjoyable option to have out on course. Entry level electric trolleys will come in around £500/$500 and will allow you to roam the golf course freely, leaving you feeling fresher and less tired at the end of a round.
When you're looking to invest in an electric trolley, think about the size of the battery (either 18 or 36 hole charges) as well as how much space you have in your car/garage to store it when you're not using it. From the best electric golf carts (opens in new tab) to the best push carts (opens in new tab), these deals will make the investment much more affordable and should set you up for years of enjoyment on the golf course.
Best Black Friday Golf Cart Deals - Quick Links
US Links
UK Links
Golf Cart Deals US
Golf Trolley Deals UK
Should I buy a new golf trolley Black Friday?
One of the great things about golf push carts is that they allow you to really focus on your game. Many players like to carry their bags around the course, which does have its benefits. But over 18 holes, carrying your bag can sometimes be a fatiguing exercise that can take your mind away from playing your best golf. For that reason, it's sometimes better to play with a golf trolley or even an electric golf cart, which can help you preserve your energy.
Golf trolleys don't always come cheap though, and while you can pick yourself up a handy trolley for under £100/$100, it can be difficult to find a top quality model for a good price. That's why it is very worthwhile keeping a look out for some of the excellent deals coming out during black Friday. There are a wide range of high-quality golf trolleys on the market right now that can be bought for a superb discount on Black Friday.
In the US, some of the best golf retailers include Dick's Sporting Goods (opens in new tab), Golf Galaxy (opens in new tab), Rock Bottom Golf (opens in new tab), Walmart (opens in new tab) and, of course, Amazon (opens in new tab). In the UK, the best golf retailers include American Golf (opens in new tab), Scottsdale Golf (opens in new tab), Sports Direct (opens in new tab), Click Golf (opens in new tab) and Amazon (opens in new tab). Amazon can be tricky to navigate (check out our best Amazon Black Friday golf deals (opens in new tab)) but they're a fantastic retailer for golf watches, lasers and balls in particular. Other retailers to keep an eye on are the brands themselves so Nike (opens in new tab), adidas (opens in new tab) , Puma (opens in new tab) and Under Armour (opens in new tab).
What to look out for when buying golf trolleys on Black Friday
What factors should you consider when thinking about buying a golf cart during Black Friday?

Electric/Push
Obviously the first thing you want to think about is whether you want an electric model, or a push cart. Electric designs are obviously more expensive but come with a lot more features and require less effort to maneuver. Push carts are cheaper, usually lighter and very easy to use.
Features
As we mentioned above lots of different models come with a wide range of features, and some look to simply perform as a trolley. For example some electric models come with GPS functionality, remote controls (opens in new tab), shot-tracking and large LCD screens. Push carts also come with features like storage compartments, drinks holder, adjustable handle and so on. Therefore you should think about what extra features would be important to you when using a golf cart.
Ease of use
The whole point of a golf cart is to make life easier on the golf course when moving from shot to shot, so a cart that isn't easy to use is pointless. They have to be easy to maneuver on the course and getting it out of the car, and most designs fold away too so this foldable process has to be simple to put up and fold away as well.
Storage
Us golfers accumulate a lot of stuff whether it be tees, balls, scorecard, phone, wallet and so on and so forth. Sure it is easy to store this in the golf bag on the cart but for ease of access it is good to store things in the trolley too. As a result pretty much all trolleys come with storage compartments these days with some being larger than others.
Durability
A golf cart can be a large investment so it has to be able to last a long time, as well as deal with the rain, mud, and whatever general use gets thrown at it on the golf course. As such we recommend looking at models that are made from strong materials like aluminum.
Price
With so many brands making golf carts (opens in new tab) these days there is a model for everyone at every price point. If you want to go for the cheapest option which will just act as a cart, you can. Or if you want all the bells and whistles on an electric design, you can do that too. It is all a question of how much you want to spend.