Best Golf Clubs 2022 - We Select Our Favorites
We select our favorite golf clubs currently on the market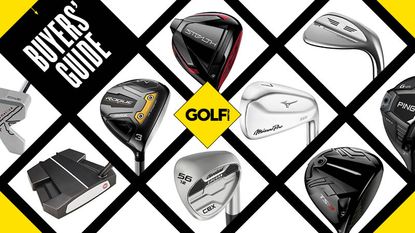 (Image credit: Golf Monthly)
Golf Monthly Newsletter
Golf tips and expert instruction, golf club reviews and the latest golf equipment.
Thank you for signing up to . You will receive a verification email shortly.
There was a problem. Please refresh the page and try again.
Best Golf Clubs
What are the best golf clubs this year? Well, whereas in many sports you use just one implement for every shot, in golf you get to choose your different clubs to get you from tee to green on every hole. Finding those best clubs for your game will take a bit of time and thought as you work out the line-up that will give you your very best chance of shooting your very best scores.
At Golf Monthly, we test and review hundreds of clubs every year from manufacturers right across the spectrum to pick out what we believe are the best golf drivers, to the best golf irons (opens in new tab), to the best putters (opens in new tab).
This year, a raft of cracking new golf clubs has been launched and so we thought it would help to pick out some of our favorites should you be looking to upgrade. You'll also find links through to reviews, videos and other buyer's guides in which we highlight more of the best golf clubs out there.
Best Golf Clubs
Drivers
The driver is one of the hardest clubs to hit in the bag and getting the right one can install confidence on the tee that can filter down to the rest of your game. When it comes to drivers, brands have showed no sign of slowing down when it comes to innovation. So perhaps a new big stick could be just what you need to get your season off to a flier.
A big focus with the best golf drivers this year has been placed on forgiveness – making sure your mishits don't stray too far offline while also limiting the amount of distance you lose.
Below, we have picked three of our favorite drivers from 2022 but if you're looking for something more specific, check out our list of the most forgiving drivers, the best drivers for beginners and the best drivers for distance.
Reasons to buy
+
Softer-looking toe enhances the visuals over TS3
+
New crown design improves aerodynamics for more ball speed
Reasons to avoid
-
Some may find it a little tricky to line up
One of the best Titleist drivers (opens in new tab) ever made and one of the best golf clubs out there right now, the TSi3 is an absolute rocket ship. The 'i' in the TSi3 driver stands for impact, innovation and inertia, with important design changes helping to increase club speed, ball speed and forgiveness compared to TS3
The crown has a new shape that reduces aerodynamic drag by up to 15 per cent versus the TS drivers to help increase clubhead speed. The clubface inserts are made of ATI 425, an aerospace grade titanium with a very high strength-to-weight ratio plus enhanced elasticity and durability.
To fine-tune set-up, there's a new SureFit CG Track around the rear skirt of the driver, with five positions for the 8g weight to slot into to manipulate shot shape and launch characteristics. We found this driver to be long, forgiving and versatile, which made it a no brainer to be included in this guide.
Reasons to buy
+
Very impressive overall driving performance
+
Strong ball flight consistency, especially in the wind
+
Outstanding shelf appeal
Reasons to avoid
-
Stealthy aesthetics create a compact look at address that are less confidence-inspiring than the previous generation SIM2
Over the last few years, golfers have become used to seeing TaylorMade introduce new driver technologies in a bid to unlock more distance off the tee. For 2022, this promise comes in the shape of an all new carbon fibre face. To highlight this new technology, the face of the Stealth driver is red. Whilst this might not be to everyone's taste, the chosen color is not too bright and down behind the ball is fairly recessive. We liked it.
Don't be concerned about the new carbon face sounding or feeling dull. Impressively, the engineers at TaylorMade have managed to create the Stealth with a powerful feel and good sound at the point of contact. While it may be a little more high pitched than the outgoing SIM2 driver, it still sounds great in our opinion. During our testing, we managed to deliver an extra three miles per hour in clubhead speed with the Stealth compared to the SIM2. As you'd expect, this (along with a reduction in spin versus the original SIM) translated into more distance.
The model to make this guide is the regular model but there is also a Stealth Plus (opens in new tab) and Stealth HD (opens in new tab) version. We think the standard head will suit the broadest range of golfers however and were seriously impressed with the aesthetics, performance and feel of this revolutionary new driver.
Reasons to buy
+
More forgiveness than previous model
+
Better suited to wider range of players
Reasons to avoid
-
No real distance gains on G410
To achieve the new performance levels in the G425 Max, Ping has implemented a new 26-gram tungsten movable weight called a CG Shifter, which is made possible by weight savings from advancements in the driver's dragonfly crown design. The weight can be secured in one of three settings – neutral, draw or fade – to influence forgiveness and shot shape. The average MOI increase is 14 per cent across the three weight positions compared to the G410 Plus.
Indeed, when comparing to the older model, down at address, the G425 Max certainly has a more rounded profile than the G410 Plus, which to some people will look more user friendly. That isn't to say performance has gone down though, because the Max still feels just as powerful and has the same sound we loved in the G410.
Overall, in our testing we think the Max, along with the other models with the G425 name, is a range of drivers that will work for every player type to maintain distance while finding more fairways.
Reasons to buy
+
More premium, elegant look
+
Better sound and feel than Mavrik
+
Produces a very stable ball flight
Reasons to avoid
-
Clock-style graphic on the crown are unnecessary
The Rogue ST family was introduced replace the outgoing Mavrik range. The Rogue ST range will be sold alongside the Epic Speed range and comes in four different heads: Rogue ST Max, Rogue ST Max D (draw bias), Rogue ST LS (low spin) and Rogue ST Triple Diamond LS.
We're starting this guide with the Rogue ST Max head here as this is the option we think will suit the broadest range of golfers. For 2022, Callaway's new driver range has extended its use of A.I. to optimise its Flash Face for launch and spin as well as ball speed. During the testing, we noticed a quieter, more dense 'thud' sound of the Rogue ST Max and we enjoyed the stability of the ball flight as well.
Down at address, the Rogue ST Max has a new matte crown which we really liked, although we didn't care much for the clock-style graphics at the rear. The face looks flatter and is lighter in color, making it more visible and therefore easier to align.
Reasons to buy
+
Smart, modern, aspirational aesthetics
+
Improved sound and feel
+
Good value for money
Reasons to avoid
-
Limited performance gains over previous generation
Launched right at the start of 2022 to replace the Radspeed range of the clubs, the new LTDx range from Cobra features three heads: the standard LTDx we've featured here as well as the LTDx Max and LTDx LS, both draw bias and lower spinning models respectively.
The standard version will suit a wide range of golfers which is why we've included it here. The aesthetics have become more refined - this year's LTDx features a very similar-looking matte black carbon crown to last year's Radspeed (why change it - for us it was one of the best looking drivers of 2021).
The LTDx has a much lower pitched, quieter impact sound than the Radspeed. For us, it was significantly better - creating a satisfying 'crack' through impact that felt very powerful. As tends to be the case with Cobra drivers, the RRP is a decent chunk lower than the competitors from TaylorMade and Callaway, all with very little difference in performance between the three brands.
Fairway Woods
The fairway wood has evolved in recent years to be one of the most versatile clubs you can buy. With enhanced materials and technologies, the best fairway woods can help you find distance and consistency from the tee, they are also playable from the short grass and can even be effective from the rough or around the greens.
This is often the toughest part of the bag to fill. We know what type of driver we like the look and sound of and irons can soon be fitted into position but, if you're able to find some insurance off the tee (and some of these might outpace your current driver) and/or some more lofted woods, then you can look at your home course through new eyes.
We've selected our favorites from 2022 here. You can check out our full list of the best fairway woods or, if you are after something more specific, we have guides on the best fairway woods for high handicappers, most forgiving fairway woods and best fairway woods for mid handicappers.
Reasons to buy
+
Serious distance with impressive accuracy
+
Very forgiving on off-centre hits
+
Versatile from different lies and situations
Reasons to avoid
-
Non-adjustable for loft
-
Headcover is tight and awkward to pull on and off
In 2022, TaylorMade introduced the eye-catching Stealth and Stealth Plus, with the 190cc Stealth Head featuring in five options from 3-wood through to 9-wood. Ranked as one of the best fairway woods (opens in new tab) on the market, the first thing you'll notice at address is the premium looks, with the red and black head featuring a Fujikura Ventus shaft which leads to a striking carbon coated head.
Along with the looks, you'll find all the trusted TaylorMade tech, including V Steel sole, Twist Face and the Speed Pocket, with the striking 3D carbon coated head featuring a new laser-etched alignment aid on the clubface which makes it easy to line up.
The head looks great at address and a new laser-etched alignment aid on the clubface makes it easy to line up. The Stealth model was a clear winner in our testing, even outperforming Stealth Plus. It led several data categories on average, including clubhead speed (103.7 mph), ball speed (150.9) and spin rate (3780 avg). It was also forgiving on mishits and had the tightest dispersion of all new 2022 fairway releases.
Ping G425 Max Fairway Wood
Reasons to buy
+
One of the best golf clubs for all-round forgiveness
+
Three models to suit different player types
Reasons to avoid
-
Dot system on the crown won't suit everyone's eye
Unlike its predecessor, the Ping G425 fairway wood has a one-piece face, rather than a steel face insert, which has increased ball speeds on the G425 by up to 1.5mph. This has translated into one of the most forgiving woods on the market gaining a decent amount of distance. This year's lineup again features three different heads, the Max, LST and SFT, meaning there is a head for every golfer.
The Max head is the all-rounder and Ping have removed the turbulators from the crown, making for a much cleaner, matte aesthetic. The LST, Low Spin, and SFT, Straight Flight, heads are a great option for the golfer who wants a lower spinning head or a draw-bias head respectively. The adjustable hosel with eight settings allows you to change both loft and lie, meaning you can tweak the G425 to more precise specifications.
Reasons to buy
+
Attractive premium looks
+
Offset face and slight draw bias for greater forgiveness
+
Best-in-class ball speed
Reasons to avoid
-
Speedometer graphics on crown aren't needed
Callaway has released its Rogue ST Max Fairway to appeal to a wide range of golfers looking for distance, forgiveness and all-around performance. Available in 3-wood to 11-wood heads, it marks the largest selection in the brand's history.
One of three Rogue ST fairways, the trio of fairway woods replace the Mavrik range, with the ST standing for Speed Tuned, in reference to Callaway using A.I (artificial intelligence) to optimise its Flash Face designs for the best possible launch, spin and ball speed. There's also a redeveloped Jailbreak system in the ST heads, where the dual 'batwings' have been pushed further out to the perimeter of the face, creating more face flex for better ball speeds, as well as making it one of the most forgiving fairway woods on the market.
The sound of the Rogue ST Max is rather deeper and muted compared to the metallic ting of the Mavrik which feels energetic and punchy. On test, the Rogue ST Max's average ball speed was 152.7 mph, with a total average distance of 247.3 yards. Even better, dispersion and accuracy were outstanding, with the combination of length, accuracy and speed making the Rogue ST Max one of the most forgiving fairway woods (opens in new tab) on the market today.
Reasons to buy
+
Classic, traditional shape and aesthetics
+
Excellent all-round performance
Reasons to avoid
-
More compact look may be intimidating for some
Simplicity is key with the Titleist TSi2 fairway wood. A classic, clean black look at address is accompanied by a nice size head that inspires plenty of confidence off a tee or off a fairway lie.
It launches nice and high and is super forgiving across the face, thanks to the deeper and lower CG. This makes it a thoroughly playable fairway wood for golfers up and down the handicap range. Plenty of adjustment in the hosel and five different lofts mean it's easy to find the right fit. For the slower swinger, we would recommend the Titleist TSi1 as a great option.
Hybrids
Matching the correct hybrid to your game can transform your scoring – but there is a lot to consider before committing to a purchase. A hybrid, or rescue, is often more appealing than a long iron thanks to the extra forgiveness on offer and a more confidence-inspiring head.
They can provide a superb option on long par 3s, can be great to hit low shots out the trees and can even help around the greens from bare lies. In short, a hybrid is the most versatile club you can carry and one of the best golf clubs you'll have in the bag.
Below, we've picked out three of our favorite hybrids currently on the market and you can also check out our full list of the best golf hybrids (opens in new tab). If you're after something a bit different in the hybrid market, check out our guides on the most forgiving hybrids (opens in new tab), the best hybrids for high handicappers (opens in new tab) and the best hybrids for seniors (opens in new tab).
Reasons to buy
+
Can do the job of a higher lofted fairway wood and a strong hybrid
+
Longer than a five wood, easier to hit than a 2-iron or utility iron
Reasons to avoid
-
Looks are plain for such a high-tech club
A 2022 Editor's Choice (opens in new tab) pick, there is an awful lot to like about this Callaway Apex UW Hybrid, with the unbelievable performance making way for a gigantic amount of technology.
Sitting flush and square on the turf at address, it gives the user a lot of confidence. This was noticeable at testing where, dispersion wise in launch monitor testing, it was among the most accurate when compared with other hybrids, with the shots being solidly grouped around the centre line with more misses going right than left.
Callaway states that the Apex UW delivered 17% tighter dispersion in testing, our launch monitor test results support that, as well as its claim to reduce draw bias. Therefore, it is one of the best hybrids that money can buy.
Reasons to buy
+
Great looking golf club
+
High shelf appeal
+
Stable, powerful flight and good stopping power
Reasons to avoid
-
Less forgiving on off-centre strikes
-
Lack of adjustability
All the tried and tested TaylorMade hybrid technology is here again, from the V Steel sole to Twist Face and the Speed Pocket. What's different in the Stealth Rescue is a new carbon crown construction. The lighter head lets engineers shift seven grams of weight lower in the head for a better CG (centre of gravity), easy launch and optimal forgiveness.
The sleek top line and carbon head do inspire confidence at address which, for most golfers, leads to a freer swing. We also found the Stealth Rescue easy to hit with a firmer feel off the high strength C300 steel face. This lead to great acoustics at impact and a stable penetrating trajectory.
Indoors on TrackMan, results were good compared to other leading brand hybrids, especially in terms of accuracy and dispersion. The Stealth Rescue wasn't as long as other leading hybrids, but this didn't worry us, especially as their is an excellent range of custom shaft options available so you can fine tune the set-up for distance gains.
Reasons to buy
+
Exceptional forgiveness
+
Fast ball speeds and strong, towering flight
Reasons to avoid
-
Glossy crown does produce glare from the sun in certain angles
Featuring the fastest hybrid face Titleist has ever made, the TSi2 delivers faster ball speeds and excellent forgiveness. The head is bigger than the lower spinning TSi3 but smaller than the TSi1, making it an extremely versatile hybrid suitable for golfers of all levels. A lower CG means that not only will golfers enjoy greater speed off the face, but they'll have no trouble getting the ball in the air.
It comes in three different lofts – 18°, 21° and 24° – but thanks to Titleist's patented SureFit hosel, golfers can take advantage of the 16 individual loft and lie settings available, something we found very useful when testing from round to round in ever-changing conditions.
While the other two models offer something different, the TSi2 was the most consistent and easiest to hit, delivering excellent feel and inspiring loads of confidence.
Irons
Getting the best golf irons to suit your game could make all the difference to your on-course performance. Good iron play will give you scoring opportunities and the potential to knock strokes off your handicap. Whatever style you're looking for, you want to feel comfortable and confident with the irons you choose. A set of irons is one of the most expensive purchases in golf and it can be a minefield trying to make the right decision.
We've picked out three of our favorites from 2022 but you can also check out our full guide of the best golf irons (opens in new tab) from this year. If you're an improving player, you should probably look towards the best game improvement irons (opens in new tab), or some of the most forgiving irons (opens in new tab) on the market to help your iron play.
Alternatively if you have a slightly lower handicap then the best compact mid-handicap irons (opens in new tab) might give you a variety of models to consider because they give a blend of consistency and feel.
Reasons to buy
+
Significantly improvement over prior model
+
Visually appealing from all angles
+
Fast and forgiving
Reasons to avoid
-
Some may want to look down on a larger head
As underwhelming as the previous version of this club was, Mizuno has really stepped up the performance with Pro 225 iron. It feels infinitely hotter off the face and will really suit those mid-to-low handicappers that want to play a slim, players-looking iron without giving up distance.
The hollow head provides the spring in the step of this club while tungsten weighting provides the off-centre stability and it does it from a chassis that looks like a blade and sits compactly behind the ball. Manufacturers are able to cram in an awful lot of forgiveness into small iron heads these days and the Pro 225 is arguably one of the very best Mizuno irons ever made, and definitely one of the best compact mid-handicap irons (opens in new tab) on the market right now.
Reasons to buy
+
Great distance
+
Exceptional forgiveness
Reasons to avoid
-
Sound and feel is a little odd