Most Forgiving Fairway Woods 2023
Forgiving fairway woods to help you play better from the tee and short grass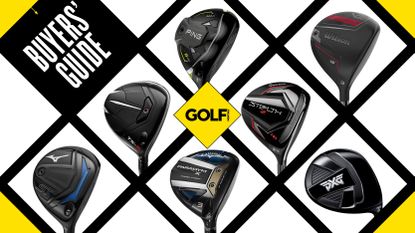 (Image credit: Future)
Most Forgiving Fairway Woods: Quick Menu
Hitting a well struck fairway wood requires skill and precision. The modern trend among club designers is to make fairway woods that are as forgiving and playable as possible for the widest cross section of golfers. The best fairway woods for forgiveness help players in specific ways using innovative technologies, from multi-material crown and face constructions to moveable weighting and loft/shaft adjustability. Club manufacturers know that most recreational golfers hit it left to right, attack steeply without enough loft on the face and struggle to get these longer clubs airborne.
Their solution is to design fairway woods with a draw bias, slight offset and weighting technology designed to create higher launch angles. The most forgiving fairway woods tend to have larger heads than compact better player models. This gives players more confidence at address when looking down at the ball. Larger heads increase the strike zone and help with quality of contact.
Watch us put the leading fairway woods of 2023 to the test
Even if you're a better and stronger player, you find useful benefits by testing some of our selection of the most forgiving fairway woods on the market today. After all, why make the game harder for ourselves? Additionally, take a look at our other guides on the best fairway woods for high handicappers or the best fairway woods for mid handicappers.
The Quick List
Top pick
TaylorMade Stealth 2 HD Fairway
The Stealth 2 HD fairway wood is one of the most forgiving fairway woods we have tested, producing consistently fast ball speeds and a high draw that will benefit slicers.
Best looking
The Mizuno ST-Z 230 fairway looks stunning at address and inspires confidence. For the majority of golfers it offers enough speed while being very forgiving on off-center strikes.
Best wide appeal
The Ping G430 Max is a long yet easy-to-use fairway wood and will be many golfers favorite thanks to its versatility and high launch characteristics.
Best value
Its forgiving head and high launch will benefit mid-high handicappers, but when fitted properly will act as a loyal servant in the bag of the better player.
Best off the tee
A worthy addition to the Titleist TSR range of metalwoods. Designed to offer players extra yardage off the tee, we thought it was also easy to launch and very consistent.
Best high launch
The Paradym is forgiving across the face while producing fast ball speeds. High launch and mid spin characteristics make it a great option from the tee and fairway.
Best for slicers
Wilson Launch Pad Fairway
The Launch Pad is one of the easiest fairway woods to hit, making it deal for higher handicappers looking for playability and value for money.
Best for simplicity
The Srixon ZX Mk II fairway was really easy to hit from a variety of lies and the generous sized head inspires confidence. Visually the step down design of the crown may not appeal to all.
Best lower flight
A powerful fairway wood with an excellent feel off the face. Toe and heel strikes perform much better thanks to the updated H.O.T face we like the adjustability as well.
Most Forgiving Fairway Woods
Why you can trust Golf Monthly Our expert reviewers spend hours testing and comparing products and services so you can choose the best for you. Find out more about how we test.
Top pick
Excellent versatility with extreme power
Reasons to buy
+
Clean modern looks
+
Consistent distance and carry
+
Superb launch off the tee and deck
Perhaps the most forgiving of the new Stealth 2 range of fairway woods, the HD is an excellent club that delivers stability, consistently fast ball speeds and excellent forgiveness on off-center hits. Taylormade hasn't changed a lot in terms of the visuals that were on offer in the original Stealth fairway woods, with this club boasting the classic red and black colorways that give the HD an excellent shelf appeal. The main difference is this club comes with a glossy finish on its crown compared to its predecessor, which may not appeal to every golfer, but still gives it a premium feel behind the ball.
It also comes with a large, low-profile sole that sits flush on the ground as though you're going to strike upwards on the golf ball. I found this gave us a lot of confidence at address, and promoted a nice launch angle and even a little bit of draw bias when striking through the ball. During my testing sessions, the club delivered superb turf interaction and performed exceptionally well out of lies from the fairway, the rough and even off the tee. Due to these characteristics, I found the ball flew high and jumped out of some nasty lies very well on the golf course, making it extremely versatile and something that will appeal to higher handicapp players.
Its playability continued off the tee too, with the Thru-Slot Speed Pocket helping to deliver faster and more consistent ball speeds even on miss-hits, helping to make this club feel very powerful. That combined with its larger footprint, its reliability around the course and its visuals, this club is a great choice for any mid-handicap player looking for a reliable fairway wood, that can help them reach the greens on longer par fours and par fives.
Best looking
One of the best looking fairway woods on the market
Specifications
Lofts: 13º, 15º, 17º, 20º
Reasons to buy
+
Extremely forgiving across the face
+
Pleasing, classic looks
+
Adjustable hosel for customization
Reasons to avoid
-
Didn't quite produce the distance expected
Aesthetics and performance combined, the Mizuno ST-Z 230 fairway wood goes a long way in proving that Mizuno are one of the best club manufacturers on the market. Their reputation developing some of the best golf irons proceeds itself, and the brand are now showing that their game in the metalwoods market game is just as strong with this stunning offering. The ST-Z 230 fairways boast a very cool glossy black clubhead which is contrasted by an icy blue Coretech Chamber on the club's sole. While it boasts a very premium aesthetic, that chamber is an impressive piece of technology that holds a stainless steel weight that alleviates stress on the face of the club, helping to deliver an extra source of energy when you strike through on the ball.
That helps to launch the ball high but also deliver lower spin rates to, which makes it a great option for higher-handicap players looking for a reliable and consistent fairway wood. During testing, it was one of the fastest Mizuno fairways we've played with and it delivered pretty solid yardages too. The club was very also versatile off a variety of lies and was an excellent replacement off the tee when things aren't going so well with your driver.
Where it really impressed was on off-center strikes. Even on miss-hits, the club accommodated for poor shots and the ball still traveled with a strong flight, rarely deviating from my desired target. Overall, the Mizuno ST-Z 230 is an excellent club that will suit a range of golfers, and offers excellent shelf appeal too thanks to its brilliant visuals.
Best wide appeal
Stunning visuals combine well with excellent forgiveness
Specifications
Lofts: 15°, 18°, 21°, 24°
Reasons to buy
+
Exceptional forgiveness
+
Versatile from different lies
+
Consistently fast ball speeds
Reasons to avoid
-
Not the easiest to flight low into the wind
A favorite among many golfers, the G425 fairway wood is a fantastic club that has been a staple in the bag for many players over the past two years. And after a long wait, Ping are back again with an upgrade on their previous range of clubs, producing the excellent G430 Max and SFT fairway woods. Offering an upgraded design and new performance features, the G430 will appeal to a broad range of players. It comes with a new Carbonfly Wrap that firstly helps to save 10g of weight in the club, but also gives it a premium finish that looks stunning at address.
The matte black crown on the club boasts a sleek design at address but turning the club over will reveal the equally impressive sole plate that has some very cool green and white detailing. You'll also notice at the heel of the clubhead, Ping have added an adjustable weight, which is designed to push the club's center of gravity lower and further back, to help improve the forgiveness of the club and help players produce more favorable launch angles when they strike through the ball.
Combine that with the G430's new Facewrap Technology and when I took it out for a spin, I found the club delivered strong ball flights and had a very stable connection on each shot. That technology also provided a lot of flexibility across the face of the club, delivering faster ball speeds and solid flights on shots that were not struck out of its center. The club felt responsive too and shots hit through the middle were rewarded with impressive distances. Ultimately, this club is certainly one of the best fairway woods available right now. Delivering excellent forgiveness and strong ball speeds, it will cater to the needs of golfers of all abilities.
Best value
A high-launching fairway wood with plenty of forgiveness
Reasons to buy
+
Produces exceptional launch
+
Performed well from a variety of lies
+
Clean classic looks
Reasons to avoid
-
Lacks adjustability through a bonded head
The Wilson Dynapwr fairway woods combine excellent visuals with solid performance and excellent playability to deliver a well rounded club that offers versatility around the course. Akin to the design on the Wilson Dynapwr drivers, the Dynapwr fairway woods come with a brilliant matte clubhead that is lit up by pops of red detailing on its head and sole. Wilson have refined the head on the club to give it a generously sized pear-shape that will inspire confidence to golfers of all abilities when they rest the club behind the golf ball.
On the back of the sole, Wilson have added a 12g adjustable weight that is built to deliver greater stability and a higher MOI to help players push through the golf ball and put higher, more favorable launch angles on each shot. It was very easy to get the ball up into the air with this club when I took it out for a spin on the course, and the turf interaction it offered was also excellent. It cut through thicker lies very easily and I enjoyed the feel it delivered, producing a muted 'thud' sound - great for those who don't like a metallic feel on impact.
I found there was a lot of forgiveness on the Dynapwr, which may be down to the face on the club. That has been crafted using A.I. Technology to make. PKR2 face, which in layman's terms, means this club has varying layers of thickness across its face that results in faster and more consistent speeds on off-center hits.
Best off the tee