Best Golf Blade Irons 2022
In this best golf blade irons guide, we run through the best musclebacks on the market for those seeking the ultimate in feel and workablity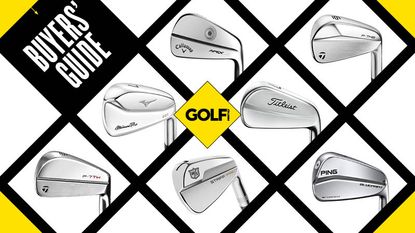 (Image credit: Golf Monthly)
Golf Monthly Newsletter
Golf tips and expert instruction, golf club reviews and the latest golf equipment.
Thank you for signing up to . You will receive a verification email shortly.
There was a problem. Please refresh the page and try again.
Best Golf Blade Irons
For the golfing purist, there's nothing like a pristine set of elegant new blades. Not only do they look fantastic, but they are also the best golf irons (opens in new tab) for feel and control. Many of the top players choose to play blades as they offer the greatest level of workability of any iron. With a blade, you can shape the ball in either direction and flight it to suit the wind conditions.
With modern club technology as advanced as it is, a beautiful looking blade is no longer one that only professionals can aspire to use. On today's market there are sleek and stylish looking blades that are playable for a broader range of competent ball strikers. The best golf blade irons will make you feel like a player and could well inspire you to perform like one. Here we look at some of the very best models on the market this season.
However if you are a player that needs a little bit more help, check out some of our other irons guides - such as the best compact mid-handicap irons (opens in new tab), the best irons for low handicappers (opens in new tab), or the best distance irons (opens in new tab).
Best Golf Blade Irons
Titleist 620 MB Irons
As used by Justin Thomas for the ultimate in shot shaping
Reasons to buy
+
Beautiful looking club
+
Ultimate for feel and shot-making
Titleist's real players' iron, the 620MB is a one-piece forged muscleback that delivers sleek and simple looks as well as tremendous feel and feedback. The muscleback design produces a tour-proven flight that is workable and controllable. The Centre of Gravity locations have been designed to allow for shot-making and to deliver responsive feedback.
We found the feel off the face to be supremely smooth and we enjoyed the penetrating ball flight from good strikes. It has to be said, this is really only a club for better golfers, but those with the necessary ball-striking skills will get a great deal out of it. Without doubt, one of the best Titleist irons in the range in terms of feel.
TaylorMade's muscleback offering popular out on tour
Reasons to buy
+
Beautiful looking iron
+
Great workability
Reasons to avoid
-
Sharp leading edge places premium on ball striking.
The sleek TaylorMade P7MB irons is a true muscleback that boasts a thin top line, narrow sole and minimal offset. It is forged from 1025 carbon steel with a machine-milled face comprised of the most aggressive score lines in TaylorMade iron for the ultimate in shot making and control.
A mirrored surface across the backbar allows light to reflect in multiple dimensions while the geometrical positioning of the backbar also delivers precise CG placement and mass properties for optimal performance. As used by Rory McIlroy this iron has proved popular with Tour players.
We found the P7MB to be surprisingly forgiving in testing. One of the most playable blades/musclebacks we've tried. The feel off the face is buttery soft and looks are stunning. If you love TaylorMade equipment also take a look at our comprehensive guide on the best TaylorMade irons (opens in new tab).
One of the best feeling irons on the market right now - period
Reasons to buy
+
Exceptional feel
+
High levels of ball flight manipulation
+
More solid than the old MP20
Reasons to avoid
-
Not overly forgiving off center
It doesn't get much more traditional than a Mizuno MP blade, rich in heritage and with the addition of the 'Mizuno Pro' scripting first used back in 1981 and reserved solely for use in Japan up until now. Given how it looks, you'd be forgiven for thinking that this iron is more about image and perception over performance.
But Mizuno is keen to dispel this myth - blades naturally aren't packed full of features or technology, but the taller pad behind the hitting area and copper underlay beneath the chrome finish should enhance both feel and consistency.
The purist will enjoy everything about this club, comfortably slotting in as one of the best Mizuno irons ever. The way it looks, feels but also how it has a little more oomph behind it compared to most other blades we've tested, testament to the Grain Flow Forging process and the evolution of the head shape. All things being equal, from the sweet spot it's one of the most satisfying irons you could hit, but the target market remains relatively niche given the limited distance and forgiveness on offer.
PXG 0211 ST Irons
A blade with a bias towards extra distance and a more lively feel
Reasons to buy
+
Has a soft yet springy feel
+
Strong trajectory
+
Above average distance
Reasons to avoid
-
Stronger lofts than most other blades
The PXG 0211 ST blades are triple forged, solid-body irons that provide exceptional feel and workability. The 7-iron loft comes in at 32°, which is stronger than most other blades you'll read about in this guide. As a result, this iron offers above-average distance without sacrificing that soft, solid feel.
It's very consistent too - our testing showed that the distances repeated themselves and only the worst strikes saw significant drop offs in carry. The ball flight is quite flat, which suggests that faster swingers will get the most out of these irons and golfers looking for a little more speed and assistance off center can opt for the equally impressive 0211 DC model.
Ping's only blade designed for the very best ball strikers
Reasons to buy
+
Exceptional Feel
+
Highly workable
The Ping Blueprint is a very attractive, blade-style iron that's been fully forged from 8620 carbon steel. In fact, we think this might be Ping's most aesthetically pleasing club. With shorter blade length, less offset and narrower sole widths than any other Ping iron, this is really a club for the best ball strikers.
The one-piece forging involved in constructing the Ping Blueprint makes for very tight tolerance control and that means maximum consistency when it comes to distance control. The machined tungsten toe screw weight and internal heel weight allow for precise swing weight tuning while the hydropearl finish reduces glare on sunny days.
In testing we found, once you find a rhythm, even though the hitting area is relatively small, the results are pleasing and it's extremely easy to shape the ball and manipulate flight. It's a true blade that will suit the best players only, but for those seeking a great looking club and maximum workability, it's well worth considering. One of the best Ping irons out there for the better player.
Wilson Staff Model Blade Irons
As used by Tour players for shot making precision
Reasons to buy
+
Thin and crisp top line
+
Classic shape and feel inspired by Tour professionals
Reasons to avoid
-
Only for the best of the best ball strikers
The Wilson Staff Model irons have been inspired by its successful V6 iron to provide players with Tour-like performance and control. These irons come with Tour inspiration from Wilson Staff Tour players such as Gary Woodland and Brendan Steele and are the closest production iron Wilson produce that mirror what we see on tour. You can certainly see and feel their input across the iron with individually milled face and score lines allowing for precise control.
The best part of this club is the 8620 carbon steel face that provides a classic muscleback feel and feedback ideal for the traditional players. It is a great looking iron at address and another great addition to the Wilson range of iron for the lower handicap golfer. Perhaps not one of the best Wilson golf clubs in terms of all-round appeal, but an impressive option for the skilled golfer.
TaylorMade P7TW Irons
Inspired by Tiger Woods but popular among many other tour players
Reasons to buy
+
Beautifully designed and crafted
+
Incredible feel
Reasons to avoid
-
Not the most forgiveness
Designed in collaboration with Tiger Woods, the TaylorMade P7TW irons have been created with the finest ball strikers in mind. The milled grind sole is one of the standout features. It's incredibly precise to ensure the ultimate in consistency and precision, and thereby the best possible turf interaction.
Precise tungsten weight placement has been engineered to improve trajectory control and to promote a deeper feel at impact. Supremely workable and delivering incredible feedback, these irons will suit the best players looking for the ultimate in control and precision.
Callaway's soft-feeling option within the impressive Apex range
Reasons to buy
+
Great looks
+
Workability and feel
We love how these irons look, striking a great balance between a modern, technology-packed iron and a classic looking blade-like club. Behind the ball, it is quite compact from heel-to-toe with a lovely rounded shape that the best Callaway irons are famous for. The top line is thin and this will appeal to the eye of the very best ball strikers.
Striking these irons, the ball gets up into the air nicely, but this doesn't mean these irons don't go far. The generous loft across the set is aimed at very low handicappers who want as much control and workability as possible from an iron. The Apex MB irons perform fairly traditionally from a distance point of view, but this is ideal if you are a good ball striker looking for a 7-iron to fly between 150 and 160 yards.
Indeed if you are after a less bladed club from Callaway, there are some great distance options in the rest of the Apex 21 family (opens in new tab). It is the control, flight and playability that makes the Apex MB stand out and it is a great iron for the ball striking golfer who is after style and feel from a classy iron head.
A mightily impressive one-piece forging offering excellent trajectory control
Reasons to buy
+
Very high quality finish
+
Handcrafted
Reasons to avoid
-
On the more expensive side, even for blades
This classic muscleback club delivers Tour-like performance with a handcrafted head shape and modern topline and is one of the best golf blades currently on the market. Honma, the storied Japanese club manufacturer, have created this iron to most mimic Tour-performance and provide a bladed iron that is both beautiful and playable.
A progressive blade length from the short irons into the long irons provides you with Tour-preferred appearance and confidence in each iron and progressive bounce up the set, with less bounce in the long irons, provides precise turf interaction. These irons are undeniably stunning and, even with its price tag, the Honma TR20 B irons are some of the best looking and performing blades on the market.
How we test golf irons
Our testing for golf irons (opens in new tab) is built upon a comprehensive process combined with the knowledge and expertise of the Golf Monthly test team. As far as the specific procedure goes, before testing, the team will usually attend product launches and meet with the manufacturer's R&D experts to understand the new technology.
When it comes to testing, we often head indoors first to try the irons in a controlled environment. This usually takes place on an indoor simulator at Foresight Sports, with premium balls and the GCQuad launch monitor. Our outside testing normally takes place at West Hill Golf Club, a course with top-notch practice facilities.
We think it is vitally important to do both and continue to test the irons so they have been comprehensively put to the test in different conditions. It should also be mentioned that manufacturers cannot pay for a good review and we make our conclusions from the testing and our experiences. This is because we strive to give the best reviews possible so you can get a greater understanding of the irons themselves.
What to consider when buying blade irons
The first thing you need to consider when looking at blade irons are whether they are the best iron design for you. Only the best ball-strikers who can consistently find the middle of the clubface should even think about putting a set in the bag - a case in point being not even some of the best players in the world play blades. But if you do want to go a set, then there are a few factors to consider.
Feel
With a blade, this is arguably the most important factor and this will differ for every single player. To gain an understanding of how a club feels in your hands and when striking the ball, we would always recommend trying a few models out and seeing which ones you like.
Workability
If you are on this guide then chances are you are a good player who likes to work the ball both ways. The blade is the iron of choice when it comes to workability so to see which model you can move the ball with, once again we would recommend hitting shots with some models. If you find it hard to move the ball with a particular model, then it might not perform the best for you.
Forgiveness
Blades don't offer a lot of forgiveness however there are some models which are better than others, the TaylorMade P7MB for example. Therefore if you want a blade that offers a little bit of help, you need to hit some and see how the ball reacts when you do mishit it.
Looks
We are sure you agree, all the models above look fantastic but each have their own distinct looks at address and in the bag. Therefore it is finding a model you like the look of in both ways.
Price
As you would expect, blades aren't cheap however they do come at different price points as the guide above shows. As a result you should have an idea of how much you want to spend on a set
FAQ's
What blades do most pros use?
Of course there are many professional golfers who use blades but given many are signed to different equipment contracts, this means they use a variety of models, most of which have been included in the guide above.
Which blades are most forgiving?
In our testing we were pleasantly surprised with the forgiveness on offer from the TaylorMade P7MB and Mizuno Pro 221 irons. However these are still blades so the forgiveness is relative to other blades on the market and in this guide, not when compared with game improvement irons or distance irons.
Does Tiger Woods use blade irons?
Yes Tiger Woods uses blade irons and has done for pretty much all of his career. Currently he uses the TaylorMade P7TW blade irons, which he helped design. These go from 3-iron down to the pitching wedge and as you would expect are only for the finest of ball-strikers.
We hope you enjoyed this guide on the best golf blade irons.