Best Hybrid Golf Clubs For High Handicappers 2023
We take a closer look at the best hybrid golf clubs for high handicappers.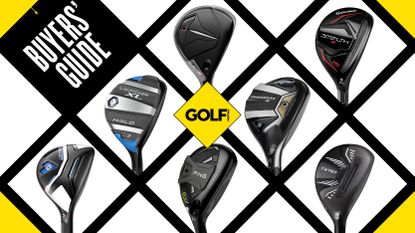 (Image credit: Future)
Best Hybrid Golf Clubs For High Handicappers
You should never be too proud to accept a bit of help because golf can be very, very hard. Manufacturers are well aware of this, of course, which is why they design clubs for golfers of all levels. If clubs are easier to hit, it stands to reason that you'll enjoy the game more, and who doesn't want to enjoy playing golf more?! For that reason, we have put together a definitive list on the game's best hybrid golf clubs (opens in new tab), and have narrowed it down, in this guide, to the models that will appeal more to the high handicap player or beginner golfers.
Typically, hybrids are designed to help golfers hit better approach shots from long range. They are also used to help you dig the ball out from difficult lies, as they can be a more forgiving option to use, compared to a 4 or 5-iron. Many top professionals carry a hybrid with them during tournament weeks over a long iron because they too can also benefit from the forgiving advantages hybrids offer. If you're a high handicap golfer, you're more likely to reap the rewards of from using a hybrid, as these clubs deliver forgiviness and inspire confidence when you look down the shaft, which you might not get when holding a scary looking 3-iron.
The good news is that you have plenty of options available to you - so let's take a closer look at the best hybrid golf clubs for high handicappers. Alternatively also take a look at our guides on the most forgiving hybrids (opens in new tab) and the best hybrid golf clubs for seniors (opens in new tab) as well.
Best Hybrid Golf Clubs For High Handicappers
2023 Models
The new Callaway Paradym X is one of the most forgiving hybrids (opens in new tab) on the market right now. It boasts a ton of new features that make it a fantastic buy for any mid-to-high handicap golfer. Compared to the standard Paradym Hybrid (opens in new tab), the X is designed to launch the ball a little higher, helping slower swinging players carry each shot a little further, while still delivering punchy ball flights off a very forgiving club face.
It is certainly more of a full-sized wood shape than the standard Paradym, which does give a little more confidence when you come to address the ball. While the new Callaway hybrids don't come with the same carbon blue aesthetic that is seen on the stunning Paradym Drivers, the X still boasts a very sleek design that comes with a glossy black finish on its head. That is contrasted by an excellent looking sole that features pops of gold on the club's weight system, that give it a similar aesthetic to the Rogue ST Max OS Hybrid (opens in new tab).
Speaking of the sole, Callaway have also added a new Cutwave Sole Design to the Paradym X, which is one of the coolest new innovations on this club. The shape of its sole is designed to help players cut through thick and wet rough, to get a better connection on the ball and pop it up into the air easier. Ultimately, we were very impressed with the playability of this club, with the Paradym X offering excellent distances and forgiveness on shots from across the club face. During testing, we noticed it didn't carry quite as far as the Max OS, but it delivered a lower spin rate and stronger ball flight which we also enjoyed. If you're looking for a versatile club that can deliver a lot of power from a variety of lies, then the Paradym X might be an excellent option to consider putting into your bag.
The TaylorMade Stealth 2 HD Hybrid is a fantastic long-iron replacement for those who might struggle to get optimal launch on their clubs. It forms a part of the versatile Stealth 2 range of hybrids, the Stealth 2 and the Stealth 2 Plus Rescue Hybrid (opens in new tab), and is perhaps the best club for high-handicap golfers, thanks to how forgiving it is. Akin to the other Stealth 2 hybrids, the HD delivers a sleek design thanks to its glossy black carbon crown. The club head sits flush on the turf and has a slightly off-set position behind the ball which will appeal to many less experienced players. Keeping with the theme seen on the new Stealth 2 range (opens in new tab), the club boasts the trademark red and black colorway which looks fantastic at address.
As with many of the best golf hybrids (opens in new tab), the Stealth 2 HD provides excellent movement through the turf thanks to the club's V Steel Design on the club's sole. We found it easy to pick the ball out from a variety of lies, and the Twist Face technology also helped to neutralise miss-hits, helping us find more fairways and greens. The HD is also an excellent option for higher-handicap players thanks to its lower center of gravity. The weighting of the club is pulled backwards, which enables the HD to launch the ball a lot higher, while also adding a slight draw bias to each shot, which is fantastic if you're the kind of golfer who regularly misses to the right. Overall, this was a very reliable club to play with, offering high launches and excellent forgiveness.
The Aerojet is one of two new hybrid clubs released by Cobra in 2023 and promises fast ball speeds and excellent forgiveness off a variety of lies. It is an upgrade on the very popular Cobra LTDx Hybrid (opens in new tab), with the Aerojet being a fantastic option for players of all abilities, looking for a reliable club they can pull out of their bag when things aren't going so well with the big sticks.
It boasts a stunning aesthetic, with this hybrid featuring a glossy black crown contrasted with a blue and red colorway on the sole of the club that is similar to the cosmetics on the Cobra Aerojet drivers (opens in new tab). At address, the Aerojet seems to put more weight behind the toe, which is a very innovative design feature that helps to fight against slices. Equally, Cobra have also installed what they are calling a H.O.T Face Design to this club. This face insert is meant to limit inconsistent spin rates wherever you strike the ball across the face. During testing, we noticed that this helped to pop the ball up out of deep lies in the rough, with the ball also feeling very fast off the new insert.
Ball flights and distances were very consistent too and we were highly impressed with the flexibility the face and sole offered through impact. That is largely thanks to the new PWR-Bridge Cobra have installed to the club, which helps to add more speed on the ball. Ultimately, this is a very reliable hybrid that is perfect for any slow swinging golfer looking for a playable long-iron replacement that can also help them punch the ball out of tougher lies.
The G430 Hybrid is one of the most exciting products in Ping's latest range of clubs (opens in new tab). It offers several upgrades on the G425 Hybrid (opens in new tab) and is a fantastic option for golfers of all levels, looking for a reliable rescue club that can replace their long irons. While its predecessor was a very smart looking hybrid, Ping have improved the visuals of the G430 by adding some new white and green detailing to the sole of the club, which delivers a very premium feel. At address, its sleek matte black head looks very sharp sat behind the ball, and despite its compact looks, it inspires confidence - thanks to the club's shallow pitch that helps to open up the face.
The source of its cool matte finish is the new Carbonwrap technology that Ping have implemented to this club to make it more forgiving. Essentially, this new innovation works by reducing the weight that sits in the crown of the club to lower its center of gravity. Ping say that then helps to produce better launch angles and forgiveness. On testing, we enjoyed the performance that the Carbonwrap head on the G430 delivered, finding that distance was not a problem, with the ball feeling particularly fast off the club face.
While we're on the subject of feel, Ping has listened to past criticism of the G425 clubs and have tuned down the metallic sound the hybrid delivers on impact, with the G430 providing a much more satisfying crunch as you make contact on the golf ball. On miss-hits, the club still provided strong and powerful flights which was another impressive point to note about this excellent hybrid. But the true playability of this club became evident when we came to hitting the ball out of the rough. We found it easy to use from thicker lies, with the ball jumping off the face as the club tore through longer cuts of grass. It is by far one of the best hybrid clubs (opens in new tab) we have played with, and is a very attractive piece of equipment for any high-handicap golfer.
Compared with the TSR2 (opens in new tab) and TSR3 hybrid models from the same family, TSR1 is designed to suit players with a more moderate swing speed of less than 90mph to promote increased speed and launch.
At address, it has a confidence-inspiring look, with the aesthetics particularly tidy and sleek. What really sets this hybrid apart from other models though is the ultra-lightweight design which, in testing, we thought was really nicely weighted. It wasn't so light that we felt we might lose control when making a swing, but not so heavy that it was difficult to build momentum.
Performance-wise, the deep center of gravity placement helped forgiveness and also delivered on ball speed. What impressed us most was the towering ball flight that was created on impact. Each shot felt very solid off the clubface and the ball generally flew straight with notable distance.
Delivering a very sleek aesthetic thanks to its matte black finish, the Wilson Dynapwr hybrid is one of the most forgiving hybrids (opens in new tab) on the market right now. Featuring pops of red on its sole, it comes with a very premium aesthetic, but the club's profile really does deliver confidence behind the golf ball. Performance-wise, the club offers very pleasing ball flights if you're looking to target the greens from distance. And the built-in draw bias on this club makes it an excellent option for players struggling with their accuracy on the fairways.
It also comes with a very forgiving clubface that boasts a PKR2 design that helps off-center hits fly more consistently and keep ball speeds relatively high on misshits. We had no issues striking it out of the first cut, due to the high launch on this club and even hit one out of a fairway bunker on a par 5, perhaps a shot we wouldn't have tried with our regular 4-iron. Ultimately, this club is seriously forgiving and produces an effortless launch that many golfers will definitely enjoy.
Boasting a cool glossy black design that features pops of blue and silver, this is a very nice looking club that is built for high handicap players. It comes with a well sized clubhead that looks inviting behind the golf ball akin to the equally impressive Yonex Ezone Elite 4 Fairway Wood (opens in new tab). From a performance standpoint, the Ezone Elite 4 hybrid holds its own and produces the kind of data we were expecting from a club designed for low handicap players. It felt soft yet powerful off the face which is in part due to its In-Core groove technology which is placed around the perimeter of the face to allow for greater flexibility and faster ball speeds.
Stability was not an issue either with the weight of the head lowering the center of gravity to improve the launch angle and make it easier to pick the ball up out of thicker cuts of rough. During our on-course testing sessions, the club was particularly helpful out of trickier lies, which less-experienced players will certainly enjoy.
2021/2022 Models
The Cleveland Launcher XL Halo Hybrid ranks as one of the most forgiving hybrids (opens in new tab) on the market and hence earnt a spot in our Editor's Choice Awards in 2022. (opens in new tab)
Featuring an incredible amount of technology, the Launcher XL gives you the confidence to save you from a magnitude of disaster in various on-course predicaments: The specific focus in the design process was to help golfers escape poor lies with power and accuracy.
The Halo features Cleveland's XL head design which is larger than most hybrids. As well as the large head design, the hybrid has an MOI of 2,961 - the most ever in a Cleveland Golf hybrid. The Launcher XL Halo also features great stability and resistance at the moment of impact, with three Glide Rails on the sole helping keep the clubface straight for better strikes, regardless of lie quality.
Appearing on our list of the most forgiving hybrids (opens in new tab), the Honma Tw 757 is a fantastic club for any high handicap golfer. It is sleek, elegant and inspires confidence when you address the ball. It boasts a clean black carbon crown that gives off a premium feel, but it doesn't seem oversized at all, like many other forgiving hybrids.
Internal weights situated low in the head and it features a sole slot for that helps to generate faster ball speeds, making it perfect for those who have a slower swing. The club launched nicely for us in testing and it was very easy to flight the ball, but also felt excellent off the clubface. It did deliver quite a high-pitched sound off the face though, which was something we were not wholly impressed by, but that was only a small drawback from what is an excellent club.
This hybrid from PXG features clean and modern aesthetics that will appeal to the high handicapper. What will also appeal is how long it is from toe-to-heel, whilst not being too bulky. Because of the design, it is quite shallow, which again will provide the user with a versatile option that can be hit powerfully off the tee without being too big to use effectively from the rough.
Where this hybrid excels is out on the course, performing superbly in windy conditions. Because it is so powerful to strike, you can use it from an array of different lies without sacrificing distance and, importantly, accuracy, making it perfect for high handicappers.
Building on the success of the Mavrik Max, which remains a great option for high handicappers, the new Callaway Apex Hybrid has some new features, making it an ideal club for those who struggle with their long irons. With the brand's updated Jailbreak Velocity Blades and Face Cup technology, this is one of the most forgiving hybrids on the market and will allow golfers to maximise their ball speed.
The technology that has gone into this club is superb, with artificial intelligence helping Callaway process thousands of different face designs before they concluded this was the best to use. Off-centre hits travel far with this club, but the low CG and adjustability options in the hosel also mean it can be easily tailored to aid those who need help launching the ball. Combine it with some of the irons found on our best Callaway irons (opens in new tab) guide and you'll be hitting low scores in no time.
All the tried and tested TaylorMade hybrid technology is here again, from the V Steel sole to Twist Face and the Speed Pocket. What's different in the Stealth Rescue is a new carbon crown construction. The lighter head lets engineers shift seven grams of weight lower in the head for a better CG (centre of gravity), easy launch and optimal forgiveness.
The sleek top line and carbon head do inspire confidence at address which, for most golfers, leads to a freer swing. We also found the Stealth Rescue easy to hit with a firmer feel off the high strength C300 steel face. This lead to great acoustics at impact and a stable penetrating trajectory. So, how did it perform? Well, it certainly dampened down our tendency to miss left and overdraw shots, with the flight of the ball being at a good height with plenty of control into greens.
Indoors on TrackMan (opens in new tab), results were good compared to other leading brand hybrids, especially in terms of accuracy and dispersion. Forming part of TaylorMade's exceptional range of golf clubs (opens in new tab), the Stealth Rescue wasn't as long as other leading hybrids, but this didn't worry us, especially as their is an excellent range of custom shaft options available so you can fine tune the set-up for distance gains.
In 2014, Callaway opened up a whole new market by introducing a long and forgiving forged iron for better players. Now, Callaway is attempting to create a new gear niche with the launch of its Apex UW (Utility Wood), a club that looks and flies like a fairway wood but offers the versatility and precision of the best hybrids.
Comprised of old-school looks, it is perhaps not obvious where the tech is until you reach the silver-grey soleplate that has a composite carbon-like appearance. Featuring a MIM'D Tungsten weight (18g per club) which sits behind two Jailbreak A.I. Velocity Blades in a neutral forward position close to the face, Callaway says this weight creates a neutral CG (centre of gravity) configuration for higher launch, steeper landing angles and better stopping power.
On test, it was exceptionally long, around 25 yards past similarly struck shots with other leading brand hybrids tested the same round. No matter the wind conditions, the Apex UW could even rival the best fairway woods (opens in new tab) on the market and was recently chosen for our 2022 Editor's Choice Awards. (opens in new tab)
As soon as you set the Wilson D9 hybrid behind the ball, it inspires confidence. That makes it an attractive option for all golfers, but especially high handicappers. Forming part of Wilson's excellent range of clubs (opens in new tab) the D9 hybrid is a fantastic value option for any high handicap players looking for a game-improvement club.
On the technical side, it delivers too. The variable face technology provides high ball speeds and makes it really easy to get in the air, something that can't be said for all clubs of this type. Engineered using the same premium steel that Titleist uses, you know you're getting quality but at a fraction of the price.
The Srixon ZX hybrid has a stepped crown that lowers the centre of gravity to optimise launch and increase MOI as well as helping with alignment. Its looks are almost a throwback to the original TaylorMade rescue clubs. Anyway, as Srixon says, it's a 'true player's hybrid', featuring a smaller head shape and square toe to provide more confidence at address. We really noticed this when looking down from up high.
Another thing we liked was the all-black face. It's not uncommon among hybrids or clubs in general, but it did make it just that little bit more appealing than the more traditional silver-faced models. Featuring Srixon's Rebound Frame Technology, the ZX provides increased ball speed and distance from a variety of lies.
One thing we would point out is that it is only available as a 2H, 3H or 4H and doesn't come with the option to adjust the hosel. However, if you find yourself in the market for a 16°, 19° or 22° club that you want in the bag to replace a long-iron, then you could do far worse than the Srixon ZX.
How we test hybrids
When it comes to Golf Monthly's testing procedure (opens in new tab), we use the same ethos and methodology for all golf products to make sure they are as insightful, honest and comprehensive as possible. When it comes to golf clubs, we usually attend product launches so we can meet with the manufacturer's R&D experts to understand the new technology.
After we have an understanding here, our first port of call when hitting clubs is usually the indoor simulator at Foresight Sports, where the team can test in a controlled environment using premium balls and the GCQuad launch monitor. We also use TrackMan at golf facilities across the UK. Specifically for hybrids, product testing is headed up by Matthew Moore, supported by technical editor Joel Tadman. Both are competitive low handicap golfers, able to efficiently test the biggest product releases and successfully communicate equipment technology and product features to a wide golfing audience.
How to choose the right hybrid
It's one thing knowing what the best golf hybrid clubs on the market are, and something else entirely choosing which model to add to your bag. So, how do you make such a decision?
In an ideal world, a properly executed club fitting will provide the answers - the amount of data available covering things like swing speed, club path, ball speed, angle of attack, and distance is quite staggering. One of these will definitely get the right make and model in your hands. However, if this isn't possible for whatever reason, we have a few tips.
1. Performance
How a hybrid performs is the most important factor. You are looking for versatility that will improve your scores and help you out of trouble in a range of on-course situations. We would recommend trying out hybrids off the tee, from the rough, fairway, around the green and even from the middle of low-lipped fairway bunkers. You need to gauge how well they perform for you and a demo day is an ideal opportunity to do the kind of testing you need to be sure a hybrid is right for you.
2. Feel
A thorough test can inform how some clubs feel during the golf swing and most importantly at impact. Some models sound loud at impact, others are more muted. Some will feel like the contact is a dense thud, others will feel hot and energetic off the face. Feel is entirely subjective and personal to the player. Again, we recommend hitting some models indoors and outdoors, so you can have an idea of what you like and dislike.
3. Looks
With all golf clubs you need to like how they look, especially at address, because you don't want to be distracted by a club you really don't enjoy looking at. Take some time to shop around, feel the club in your hands and see if you like the way it looks and feels at address. Does it match the rest of your set-up, will you feel completely comfortable putting it in the bag? As much as it may seem vain to judge a club on looks, it can increase your confidence on-course if you love the look of your hybrid when you pull the headcover.
Not every hybrid is the same. Some are more wood-like in appearance, whilst others have a higher toe and are designed to look more like an iron.
4. Budget
The penultimate factor you should consider is budget. Given the number of hybrids available on the market, you can find a quality club at most price points and to suit almost any budget. If you want a premium brand model then you can get one, or if you want to save money, there is usually value for money to be found if you are happy not to own a club by a marquee manufacturer.
5. Testing
We hate to sound like a broken record but go to a range and try some out. Most places still tape clubs up and let you conduct your own range test. It won't be as thorough as a custom fit but you can draw some conclusions. For example, you'll be able to get a sense for the weight and looks of the club and whether the shaft suits the way you swing it.
Hitting some shots, even with tape on the face, will also give you an idea of how easy each hybrid is to hit and get airborne. For higher handicappers, this will likely be very helpful. Better golfers may be in the market for something that's more workable and therefore would be suited to something with plenty of hosel adjustability. Ultimately, it depends on what aspect(s) of performance you value above all else and which hybrid is able to tick the most boxes for your game.
For more advice on buying your next rescue club, check out our guides on the most forgiving golf hybrids (opens in new tab) and the best hybrids for senior golfers (opens in new tab) for more excellent options.
FAQs
When should I use my hybrid?
Hybrids are excellent clubs to use if you find yourself in a difficult lie on the course and need a bit of extra punch to get the ball out of the long stuff. They can also be great off the fairway, in the rough, or even for those tricky small shots around the greens.
How many hybrids should I carry?
Commonly, most golfers carry one or two hybrids to replace any club between a 3-iron and a 5-iron.
What iron corresponds to what hybrid?
Typically a 3-iron is replaced in the bag by a 19º hybrid. A 4-iron would correspond to a 22º-24º hybrid. And a 5-iron would correspond to a 27º hybrid.
Coupon Discount Codes
Dan is a Staff Writer and has been with the Golf Monthly team since 2021. Dan graduated with a Masters in International Journalism from the University of Sussex and primarily looks after equipment reviews and buyer's guides, specializing in golf shoe and golf cart reviews. Dan has now tested and reviewed over 30 pairs of golf shoes for the website and magazine with his current favorite pair being the Ecco Biom C4. A left-handed golfer, his handicap index is currently 8.5 and he plays at Fulford Heath Golf Club in the West Midlands. His best day in golf so far was shooting 76 at Essendon Golf Club on his first-ever round with his Golf Monthly colleagues. Dan also runs his own cricket podcast and website in his spare time.
Dan is currently playing:
Driver: Ping G425 Max
Fairway: Ping G425 Max
Hybrid: Ping G425
Irons: Ping i59 (4-PW)
Wedges: Ping Glide Forged Pro
Putter: Wilson Staff Infinite Buckingham
Ball: TaylorMade TP5 Pix