Adam Scott What's In The Bag?
What does the Australian former World No.1 carry in his bag? We take a look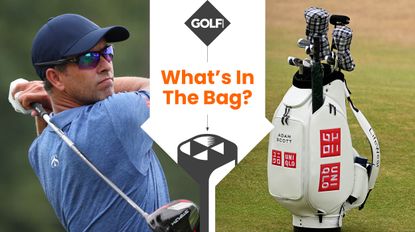 (Image credit: Golf Monthly)
Golf Monthly Newsletter
Golf tips and expert instruction, golf club reviews and the latest golf equipment.
Thank you for signing up to . You will receive a verification email shortly.
There was a problem. Please refresh the page and try again.
Adam Scott What's In The Bag?
One of the most successful golfers in the world, Adam Scott has 31 wins worldwide and is best remembered for his 2013 Masters (opens in new tab) win in a playoff over Angel Cabrera. Scott had been signed with Titleist for most of his career but at the start of 2022 it was announced he no longer had a full bag deal with the brand. It looks like he is a free agent right now so let's take a look in the bag of the Australian....
Adam Scott What's In The Bag?
Driver
TaylorMade Stealth Plus
Starting with the driver, Scott had played several different models through the years from Titleist but right now he has put a TaylorMade Stealth Plus driver in the bag which came into his setup around the 2022 Players Championship. A model also used by Tiger Woods (opens in new tab) and Rory McIlroy, the Stealth Plus produced brilliant results during our testing. It produced impressive ball speeds and plenty of distance, whilst also looking outstanding. The compact profile will suit the better player which explains why so many Tour professionals have put it in the bag.
Fairways
TaylorMade Stealth
Scott has also changed his fairway wood as well, moving away from Titleist models, to a TaylorMade Stealth wood. It is a model we put in our Editors Choice list for 2022 because of the combination of serious distance, impressive accuracy, forgiveness, and stunning looks.
Irons
Mizuno Pro Fli-Hi, Custom Adam Scott Miura Blades
His irons are a developing situation at the moment. He had been using Titleist irons for most of his career but right now he has put two Mizuno Pro Fli-Hi utility irons in the bag which act as his two and three-irons. He then transitions into a set of custom Miura blades which came into the bag around The Memorial Tournament in 2022 which even surprised Miura reps.
"The text said he was going to play them in a practice round [at the Memorial]," Miura Golf's vice president of sale Kevin O'Connell told GOLF.com. "This totally surprised us. He spilled the bean a lot more than we expected him to. We've been working with him on these irons and sent them to Muirfield with the expectation that he'd not mess with them this week, play the Memorial and then test at home. That's been his process. We've sent stuff to him in the past and he's taken his time to test them. He's a very precise player and knows what he's looking for."
"Adam would show us pictures of irons from the 90s and point out features he really liked," O'Connell said. "I was taking a lot of that info and going back with the team at the Miura factory to match up what they could do with what he wanted — within the boundaries of our blade model."
"The ones he's testing are definitely similar to our MB-101, but they still have some major differences," O'Connell said. "They have some noticeable offset and that sharper, flatter Miura sole. The MB-101 didn't have the offset — that's something we added in — but the Nicklaus irons did."
Wedges
Titleist Vokey SM8, Titleist Vokey Wedgeworks
The Australian carries two Titleist Vokey SM8 wedges with 50 and 54 degrees of loft. His 60 degree model is a Titleist Vokey WedgeWorks Prototype. Interestingly this is a move away from the four wedge setup he used earlier this year.
"That was really based on statistics and how golf courses are playing," Scott explained to Golfweek (opens in new tab). "When there were over a certain number of wedges into greens, it was better to have four and have the gapping be a little easier to manage than three. TPC (Sawgrass) was an example of one where I was at a disadvantage because I was hitting a lot of half wedges."
However as we have mentioned he has now gone to a three wedge setup.
Putter
L.A.B. Golf "Mezz.1 Proto"
Scott appeared to change his putter at the tail-end of 2021. He was using a Scotty Cameron Xperimental Rev X11 putter with the long shaft, or a LAB Directed Force putter but the current model is a L.A.B. Golf "Mezz.1 Proto".
Ball
Titleist Pro V1
Finally Scott uses a Titleist Pro V1 ball (opens in new tab) and has done for some time because of the control, spin characteristics and overall performance. Speaking to Titleist Scott said; "When you have some speed and some power, which I'm fortunate to have, you have to balance that with control, and you get that through spin. I mean, going back to a balata, that spun a lot. It was hard to get that driver under 3000 rpm with a balata ball and I taught myself and was coached to swing that way. Because I naturally produce very low spin, I need a bit more high spin in the ball. And I think Pro V1 complements that.
"And I do believe that to perform consistently well at the biggest events, the majors – which are generally the toughest and have the firmest ground conditions – that control really plays a big factor in your performance. So I definitely gear some of my equipment set up to those events. I only have one major so far, but my performance over the last decade in the majors is as consistent and as anybody else's on a tour across maybe about 40 events."
Full Specs
Driver: TaylorMade Stealth Plus, with Graphite Design Tour AD DI-7x
3-Wood: TaylorMade Stealth, with Graphite Design Tour AD DI-9x shaft
Utility: Mizuno Pro Fli-Hi (2-3) with KBS Tour 130X shafts
Irons: Custom Adam Scott Miura Blades (4-9) with KBS Tour 130X shafts
Wedges: Titleist Vokey SM8 (48°, 54°), Titleist Vokey Wedgeworks (60°) all with True Temper Dynamic Gold AMT Tour Issue X100 shafts
Putter: L.A.B. Golf "Mezz.1 Proto"
Ball: Titleist Pro V1
Shoes: FootJoy