Best Putters For Beginners 2023
If you are a beginner to the game of golf, these putters might suit you best.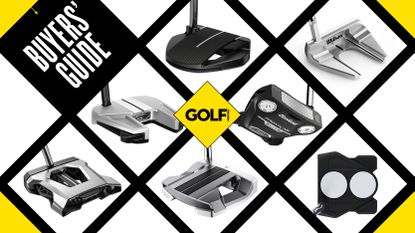 (Image credit: Future)
Get the Golf Monthly Newsletter
Thank you for signing up to Golf Monthly. You will receive a verification email shortly.
There was a problem. Please refresh the page and try again.
Best Putters For Beginners
The putter is perhaps one of the most important clubs in your bag. Not just for beginner players, but for every golfer from the very top level, right down to those playing at club level. Let's face it, three-putting is one of the banes of any golfers game. Countless shots can be saved on the greens and when you have a putter that inspires confidence and consistency, you're bound save yourself countless shots off your round.
Beginners, in particular, can benefit from ensuring they have a flat stick that is right for them. Putters come in all shapes and sizes. Some offer more forgiveness than others, while others are built for a certain swing shape. Ultimately, getting the right club for your needs as a golfer can go a very long way in helping you improve. But what are the best putters for beginner golfers?
WATCH: Joel Tadman tests and compares the best putters in 2023
If you're new to the game, one of the biggest things to bear in mind when buying a new putter is forgiveness. Beginners often struggle to consistently strike the ball in the middle of the face and usually, they need help maintaining the clubface through the stroke, and not twisting it. As such mallet putters are the best way to go because they offer forgiveness on off-center strikes, have weight that can be distributed around the clubhead to help minimize twisting. They also tend to offer clear alignment benefits that can help you improve your accuracy on the greens.
So, in this guide, we'll be walking you through some of the top models that we think will benefit those who are relatively new to the game. Each club has been tried and tested by one of our Golf Monthly writers and we've also included some general buying advice lower down that'll help you in your buying decision. While there are plenty of excellent putters on this guide, why not also make sure the rest of your bag is fully stocked by checking out our guides to the best golf drivers for beginners, best wedges for beginners and best golf balls for beginners.
Best Putters For Beginners
As putters go, this is by far one of the coolest designs on the market right now. Akin to many of the best TaylorMade putters the brand have once again outdone themselves with this exceptional model that oozes class and performance. We loved the sci-fi aesthetic this club offers and that instils bags of confidence as you stand over each shot. It is an update on its winged predecessor, the Spider GT that comes in a similar mallet design that is optimised to push the weight of the club to its extremities. That works to improve the MOI of the putter and helps you hit the golf ball flush with a square face, making it a great flat stick for any beginner looking to strike the ball more fluidly.
During our testing sessions, we loved the feel the putter offered which uses the same Pure Roll 2 insert, found in the equally impressive Spider GTX. That offers up an excellent putting sensation as well as plenty of responsivity through impact - something we really enjoyed with this putter. Behind the face, you'll notice the very clear black and white alignment line that works to frame the ball behind the club, allowing you to hit the sweet-spot on the clubface more consistently.
Perhaps the biggest highlight here is the intuitive weighting system that you'll find in its sole. We had a great time fiddling with this and adjusting the weight for our swing arc. Ultimately, it allows players to change the center of gravity and toe hang on the club through two 40g sliding tungsten weights that move up and down the wings of the club. The resulting variations to the head performance are quite subtle, but thanks to the consistency of shots the Spider GT Max can help you produce, it matches up nicely with some of the most forgiving putters we've tested of late.
An excellent putter that comes with a face-balanced head that delivers plenty of stability, the Inesis High MOI Putter is a brilliant option for any beginner player looking for more forgiveness around the greens. It comes in a very futuristic design with the stainless steel mallet boasting a very cool metal design that has a very handy alignment line on its crown. Beginner players will certainly enjoy the accuracy that it'll give them as well as the larger footprint it has on the green. And at just $180, this is one of the best cheap putters on the market right now!
But one of the things we loved about this club was its deep weighting system that pushes its mass out to the back and the corners of the club to help increase the club's MOI. That helped deliver a stable and fluid feeling when putting, which was something we really enjoyed with this club. Another big highlight of this club was the feel of the golf ball at impact. The semi-rigid TPU face really helped to improve the roll on the ball when we made contact. It felt really solid when struck and we were very impressed by the quality on offer here, despite it being one of the better value options on this list. For that reason, we'd also rank it as one of the best putters for high handicappers and if you're after more gear from Inesis and Decathlon, why not check out some of the excellent lasers they produce in our best golf rangefinders guide.
One of the new mallet putter shapes in the Frontline range from Cleveland, this is a very forgiving flat stick that offers a lot of support for those looking for a little bit of help keeping the clubface open at impact. Akin to many of the best mallet putters, this club pushes the weight to the extremities of its head thanks to its winged design and two tungsten inserts that sit behind the face. Interestingly, while most putters would tend to sit these further away from the face, these adjustable weights sit close to the insert and prevent the face from rotating on impact. That makes it one of the most forgiving putters on the market.
Visually, the Rho's sole has a lovely contoured look to it and allows the Rho to sit very well at address as long as you get your hands in the right position as the weighting means it does want to sit back on its tail. The other great thing here is it comes in a number of different shaft options to help you maintain your rhythm and a fluid swing. The single bend shaft is great straight-arc putters, while the slant-neck shaft is better for arced putting strokes.
It does feel a little heavy in your hands, which for some beginners is a great way to help steady your stroke. But overall, this putter, rather cleverly if we may say so, has packed a lot of technology into a decent mid-sized head to maximise forgiveness for those struggling to hit the sweet spot on their flat stick consistently.
The TM22 boasts some excellent features which make it one of the best mallet putters on the market. We feel that Wilson has surpassed themselves here, employing a clever use of milling lines to create visual differences for alignments and a putter that comes with some very classy looks. It is made from a 304 block of stainless steel and looks fantastic at the address, framing the ball against the club face thanks to the fangs and different milling patterns you'll see on the club.
The subtle alignment lines improve the overall aesthetic of this putter, making it a great tool to use if you're looking for more accuracy around the greens. It's also great for those who have a small arc in their swing, thanks to the slight overhang the club's hosel boasts. Combine that with the milling pattern on the club's 3º lofted face and you'll really feel the premium feedback it delivers, even when you hit your shot slightly off center.
Compared to other putters of this style the head looks a little on the compact side behind the ball, but played a little bigger than it looks. Not shown above is the premium leather pistol handle that also comes with the club which has some smart contouring around the upper part of the handle which will complement whatever grip style you employ. It is ultimately, one of the best Wilson golf clubs on the market right now.
Off the face, TaylorMade TP Hydro Blast Bandon 3 feels solid and offers up a surprisingly firm and loud sound at impact given the deep grooves on the face insert. We loved the responsive feel it delivered and helped us produce a nice roll on the golf ball. This remained consistent across its length, though, and the speed was enough to impart a short, controlled stroke and still get the ball to the hole. For that reason we'd also rank it amongst some of the best Putters for High Handicappers, helping players consistently produce true and fluid rolls on the golf ball.
The Bandon 3 has more of a toe hang so is ideal for players who want to have the forgiveness of a mallet and are perhaps moving towwards using a blade. If you are one of those players, then why not also check out our guide to the best blade putters here. The sandstone finish on Bandon 3's head is absolutely stunning. For something that looks so raw, it still manages to be elegant and premium, although it does reflect the sun more than we'd have liked when putting in a certain direction.
Ping are well known for their brilliance producing some of the best putters on the market. While the Anser is one of the best and most highly regarded putters on the market, the Ping Mundy is one of the new shapes in their range of putters that helps to deliver more forgiveness than some of the blade putters they produce, with a similar feel. It is an excellent putter for any high-handicap golfer looking to sink more putts and boasts a fantastic, sleek black and silver colorway, topped by the fantastic 3D embroidered headcover, that adds to the premium design this club offers.
With its upright nature and low camber base helping players deliver a consistent roll on the golf ball. Combine that with the club's Pebax face insert, and we loved the sound and feel the club offers on impact. It may look small but it is actually very hard to miss the golf ball with this face.
As mallet putters go, we like to feel a little bit of weight in the clubhead and this putter certainly delivered that. Made from a 304 stainless steel, Ping has moved the club's center of gravity towards the back of its clubhead. That helps to improve your putting consistency, making this a very forgiving mallet putter. Interestingly, Ping has also added a synthetic Pebax material on the face of the club. This material is milled with grooves and we loved the sound and feel it created on impact, which was much better than many other aluminum faces.
Odyssey's 2-Ball Ten has added some incredibly useful alignment tools to a putter that is surprisingly lightweight, easy to roll and forgiving across the face. The new 2-Ball Ten comes with Odyssey's famous 2-Ball alignment and it really helped us to make sure sure the ball was lined up correctly and the face came in square at impact. It is a very useful tool for those who tend to push or pull lots of putts and we found it's weighting system helped to deliver a favorable roll on the golf ball.
Being a mallet, the club is a very forgiving putter and mishits aren't too punishing, making it ideal for the golfer who struggles with consistent strikes. The feel off the face is nice and soft too and that feel is mirrored in the sound it makes. The 2-Ball Ten is also available with Odyssey's Triple-Track alignment and this works very well with Callaway's Triple Track balls if you're looking for even more help with alignment. If you're interested in finding out more about what putters Odyssey have on sale, take a look at our guide on the best Odyssey putters on the market.
The extended version of the ER11v putter, the Evnroll ER11vx comprises of a large mallet head with additional 303 stainless steel weights in the rear corners of each side. This therefore increases the MOI further, making it more stable and forgiving on off-center hits. On the green, we loved how this club performed during our testing sessions. It is a very forgiving and large head for a mallet putter and the thick white alignment line that goes the full depth of the crown draws your eyes to the face to ensure that the putter is aiming in the direction where you want the ball to go.
Like all Evnroll putters, there is a choice of hosel options, with the latest addition of a short slant hosel creating 15° of toe hang which, combined with the head that is made from black anodized 6061 aluminum, has one of the highest MOIs on the market. In the sole is a hollow circle that not only helps with the MOI by moving weight to the sides. It's a way to pick up the ball without bending down, hopefully after your putt has been conceded. It is a good feature and you can hear it too, as the round void in the sole does create a slightly hollow and higher pitched sound at impact than most putters, but nothing that should put you off choosing it.
The Evnroll ER11vx putter is ideal for those who like big mallets with bold alignment lines. It's not only a good looking putter in a high MOI design, but also brings the technology as the Sweet Face grooves will help you putt more consistently and accurately.Such was the performance, it secured a spot in our Editor's Choice Awards for 2022.
Continuing the mallet theme to this guide, another model to mention is the Agera from Cobra. As you can see above, it has a large footprint which is a key part of the design because it has been created to offer the highest MOI possible. It does this in part because of the 3D-printed inset and tungsten weights.
It is unquestionably one of the most forgiving putters on the market and this is further aided by SIK Face Technology which uses descending loft technology to produce consistent stroke through the ball. And we've found that technology to be a genuine asset in our testing. It is also surprisingly lightweight although the sound was fairly loud on the green but it was particularly effective over long distances.
It certainly looks very futuristic with all the different components adding something unique to the design. At address, the shape is very square and there's an awful lot going on - you can see the 3D Printed lattice structure poking out the sides. We think it could take a bit of time to get used to but there are very few putters out there that help players as much as this model does.
Perhaps one of the best putters for beginners if you are looking for a decent putter to get you started on the greens. We've tested the #4 model but the #3 has a similar design and performance characteristics and comes with a very handy winged-mallet design that gives you additional stability through each stroke. We loved how forgiving it felt in our hands and really offered excellent stability and support through our backswing and follow through. That makes this one of the best putters for high handicappers.
The 'fang' design is a very popular head shape across some premium brands and it works to great effect here with a useful white line to help alignment. The #3 model also is very easy to align because it has three white lines on the head, something we particularly loved in our testing sessions. The large footprint on offer here also inspires a lot of confidence and the lie was a little flatter than my usual putter, but the big difference was the weight of the all steel head, which was a little heavier. Ultimately, there is a decent level of forgiveness and feel on offer here, which relative to the putter's price, is excellent.
How we test putters
When it comes to product testing, our reviews and buyers' guides are built upon a rigorous testing procedure as well as the knowledge and experience of the test team. The putter section is headed up by Martin Hopley, one of the foremost UK equipment reviewers with over 20 years of experience. Other members of the Golf Monthly team contribute to the putter tests as well, and all writers are able to efficiently test the vast majority of the biggest product releases and convey the pros and cons eloquently.
Getting into specifics, we test the putters outdoors on real greens with premium golf balls to get a thorough understanding of design features, feel, sound and looks. Ultimately, we aim to be as insightful and honest as possible in our reviews so it is important to acknowledge that no manufacturer can buy a good review. This is because our team tells it how it is. To learn more about our methodology, see how Golf Monthly tests products in our guide.
What to consider when buying a putter
As a newcomer to the game, the different putters available to a beginner golfer can be a tad overwhelming. Golf technology, particularly when it comes to putters, can be a little complicated and when trying to pick a putter that will help you improve as a beginner, there are some things you will want to avoid and others you will want to consider when purchasing your new putter. For that reason, we have set out below a list of five considerations you need to keep in mind when purchasing your next putter.
1. Head Design
Putters come in lots of different head designs whether that be blade, mallet, or mid-mallet and all have their positives and negatives. For beginner golfers, we recommend using a mallet putter because they tend to be much larger which helps to improve the forgiveness of the club. That is done through redistribution of the club's weight to the extremities of the clubhead, which stabilizes the club and increases its MOI.
MOI stands for 'moment of inertia' and the higher the MOI, the less your club head will turn through impact, creating a more smooth and even stroke. For that reason, mallet putters typically offer better balance compared to blade putters and are therefore more suitable for less experienced players or those looking for more forgiveness in their club. Additionally, because of this size, mallet putters tend to offer larger sweet spots which are beneficial for players who may struggle to consistently strike the ball.
2. Feel
This is a very important factor to consider because when putting, feel is everything. Some putters offer a firmer feel off the face whilst others are soft, some are heavier than others too so you need to find a model that fits well in your hands. The putter grip plays a huge part in the confidence you feel with a putter. Get a putter with a grip that feels right and sits comfortably in your hands while allowing you to return the putter back to the ball squarely and consistently. You may also want to think about the shaft too and how much vibration you get from the shaft whether you like the feel of the ball reverberating along the shaft, or prefer that to be nerfed.
3. Looks
You have to like what you are putting with because this will give you confidence when you're standing over the ball. In terms of mallets, there are loads of classic and futuristic designs above so it is purely a case of finding a model you like the look of.
4. Alignment tools
It's also worth thinking about the alignment tools the putter can offer you. While some golfers may not prefer to have any aiming guides on the back of their putters, most players can seriously benefit from having an aiming line on the back of their putter which can also help to improve your focus on the ball and help you strike through the shot more square.
5. Price
Our final tip is to think about price because while there are some premium designs out there, there are also some models which offer excellent value, as the selections above show. Sometimes less experienced players should steer clear of the more expensive offerings currently on the market which may actually not be very forgiving and may not be suitable for your swing style.
If you're a beginner golfer looking at purchasing more equipment along with your putter, take a look at our guides on the best golf balls for beginners, the best golf club sets for beginners and the best golf irons for beginners.
FAQs
What type of putter should a beginner use?
Beginners should use a putter that offers a high degree of forgiveness and stability. For that reason mallet putters are generally the best putters for beginners as the offer higher MOI's and have larger sweet spots on their club face.
Can beginners use blade putters?
Yes, beginners can use blade putters, but they will typically find a blade putter harder to use than a mallet putter. While blade putters are a great club to use, they are typically less forgiving and are thus harder to use so are not as suitable for beginner golfers.
Why should I buy a new putter?
Generally, the greens are where golfers lose the most shots during their rounds. Three-putting is the bane of every golfer and it is the one area on every player's scorecard where they can save shots. For that reason it's important to have the right equipment that can help you hit sweeter, much more accurate putting strokes. That's why it may be more beneficial for a golfer to invest in a new putter over any other type of club.
Get the Golf Monthly Newsletter
Tips on how to play better, latest equipment reviews, interviews with the biggest names and more.