Best Irons For Low Handicappers 2022
The best irons on the market that offer precision, control, feel and feedback for low single-figure golfers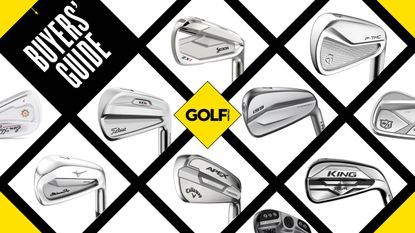 (Image credit: Future)
Golf Monthly Newsletter
Golf tips and expert instruction, golf club reviews and the latest golf equipment.
Thank you for signing up to . You will receive a verification email shortly.
There was a problem. Please refresh the page and try again.
Best Irons For Low Handicappers
Regardless of handicap, every single golfer needs to have the best irons for them. Low handicappers seeking to make improvements in their games will look for opportunities to make adjustments of fine tuning to maximize their potential. When it comes to iron play, improving distance control and reducing dispersion could help a low handicapper produce better and more consistent scoring.
For the golfing purist, there's nothing like a shiny set of elegant new blades. Not only do they look fantastic, but they also deliver the ultimate in feel and control. Many low handicappers choose to play blades as they offer the greatest level of workability. With a blade, you can shape the ball in either direction, and control ball flight to suit the wind conditions.
Alternatively, a compact iron with a little more forgiveness might just offer the perfect blend of control and consistency. So what are the best golf irons (opens in new tab) for low handicappers currently on the market? Well we have created a list below for you to enjoy. We have also created guides on the best golf blade irons and best compact mid-handicap irons so check those out too for more knowledge.
Best Irons For Low Handicappers
A hollow body iron that provides speed and assistance off center
Reasons to buy
+
Stunning looking from all angles
+
Traditional lofts with no loss in distance

Reasons to avoid
-
Some may view them as too chunky
The TaylorMade P770 irons will appeal to the ball striking golfer who is after distance and a bit of added forgiveness in a compact head. Aesthetically, they are very similar to the popular P790 iron but with a slightly weaker loft to appeal to those who want control over all-out distance. It feels fairly lively off the face and when we tested it we found distances over the 170 yard mark easy to achieve with the 7-iron.
This club launches nice and high too despite the lower spin when compared to the sister P7MB and P7MC irons. With those irons in mind, there is a lot of scope to mix and match with these irons if you are a good ball striker. The more forgiving and stronger P770s would be very useful in the longer irons and then the more bladed P7MBs can be used for control and playability below the 7-iron.
From every angle this is a stunning golf club and will look like the part sat in your bag while giving you great performance and feel when striking the ball. Without a doubt, one of the best TaylorMade irons in the range in terms of all round appeal.
A compact, traditional iron with modern-day forgiveness
Reasons to buy
+
Classic shape and look
+
Great blend of attributes

Reasons to avoid
-
Won't suit purists or high handicappers
One of the best Titleist irons in the T-Series range, the T100 has been designed to appeal to better players seeking a classic compact shape whilst still benefiting from a degree of forgiveness. They feature traditional players' iron lofts in a forged cavity construction. The face is thin and responsive, while the use of tungsten weighting in the 3-7 irons boosts off-centre strike forgiveness.
It looks like the old Titleist 718 CB model at address thanks to being a bit more compact on the top rail, but has even more forgiveness on offer to rescue a poor strike. It feels noticeably solid and soft at impact and the extra camber on the sole helps it glide through the turf a little more easily.
We enjoyed the T100 in testing and particularly found the longer irons easy to hit with good launch, consistent ball speeds and tight dispersion. This is a good, compact iron for better players looking for a blend of control and consistency.
A compact, traditional-looking iron for the better player
Reasons to buy
+
Surprisingly forgiving for its size
+
Delivers a controlled, consistent ball flight
Reasons to avoid
-
Some may want a softer feel
The i59 replaces the iBlade and the design has evolved significantly - we're now seeing a hollow head with an aluminum core that improves feel and moves more weight to the edges for added forgiveness.
With the i59, Ping has created a faster feeling and more playable better player iron over iBlade that delivers improved consistency across the face that in testing produced more accurate approach shots. Shot making is still encouraged with a greater margin for error that will be received by all.
A playable, compact cavity back iron with Mizuno's signature forged feel
Reasons to buy
+
Soft and pure feel
+
Tour shape
Reasons to avoid
-
Not as forgiving as JPX921
Undoubtedly one of the best Mizuno irons in the current range, these Tour inspired irons have been designed to provide precise distance control for the better player. The JPX921 Tour maintains its predecessor's fusion of precision with stability from off-centre strikes. Mizuno's Stability Frame with toe bias weighting promotes a longer, straighter and more consistent ball flight while the pearl brush finish reduces glare.
Grain Flow Forged HD from 1025E Pure Select Mild Carbon steel, the JPX921 Tour delivers an identifiable and classic Mizuno feel. The shorter irons feature a narrower sole for improved turf interaction while a thicker cavity pad throughout the set, evolving from Mizuno's study of vibration patterns, produces a harmonic impact that can be felt for a fraction longer. Better players will enjoy the workability on offer with these irons.
A stunning looking iron that provides a solid, powerful feel
Reasons to buy
+
Good workability
+
Aesthetically appealing

Reasons to avoid
-
Not as forgiving as Apex or Apex DCB
We love how these irons look, striking a great balance between a modern, technology-packed iron and a classic looking blade-like club. Behind the ball, it is quite compact from heel-to-toe with a lovely rounded shape that Callaway are famous for. The top line is thin, but not too thin so as it is intimidating, meaning these irons appeal to a wide range of handicappers, not just those in single figures.
Striking these irons, the ball gets up into the air nice and easy – thanks to the more traditional lofts – but this doesn't mean these irons don't go far. The generous loft on the 7-iron inspires plenty of confidence at address despite the relatively thin top line and compact head. The Apex Pro irons perform fairly traditionally from a distance point of view, but this is ideal if you are a good ball striker looking for a 7-iron to fly between 150 and 160 yards.
Indeed if you are after distance, there are some great distance options in the Apex 21 family (opens in new tab). It is the control, flight and playability that makes the Apex Pro stand out and it is a great iron for the ball striking golfer who is after style and feel from a classy iron head. It's one of the best golf irons 2021 has to offer and one of the best Callaway irons.
Reasons to buy
+
Sensational feel
+
Consistently long
+
Near faultless looks
Reasons to avoid
-
Nervy players may not appreciate the slimmed down size
The previous King Tec irons were an impressive addition to the Cobra brand, offering excellent distance, stopping power and control. Their latest edition, the Cobra 2022 King Forged Tec Irons are an upgrade on that, and while they are a more streamlined offering, we loved the user experience we had with these clubs.
Visually, this is one of the best-looking clubs on the market. With a crisp and elegant finish, it looks like a club that can add a lot of distance to your game. We were amazed at the power this iron offered, giving a metallic sound on impact and seemed to be more gentle compared to other brands. That also felt like it helped with club stability through impact, with your hands feeling fewer vibrations on the club, resulting in better ball flights and fuller shots. Ultimately this is a fantastic, five-star golf club that we think will benefit any low handicapper looking for more distance, control and power on their golf shots.
Stunning from every angle, this is aimed at the very best ball strikers
Reasons to buy
+
Appealing blend of feel and distance
+
Surprisingly playable given the compact size
Reasons to avoid
-
Limited gains over prior model
This iron could best be described as a more compact version of the JPX921 Forged (opens in new tab), especially in the short irons, appealing slightly more towards the better player that favors feel and workability over out and out distance.
Not only does this iron look fantastic from every angle, but it satisfies the demand for a blade-like club that provides a little more distance, especially off centre. Some better players might hit this iron further than they want to, which is where a fitting is key to dial in the lofts and shaft model to produce the optimum carry distances for you that won't effect gapping at either end of the bag.
Left-handers will be pleased too as the Mizuno Pro 223 is available in a full set rather than just a blended set comprising all three models, as was available on the MP20.
A forgiving, playable iron for the low handicapper with great value
Reasons to buy
+
Soft, solid feel and ample workability
+
More distance than most other forged clubs
Reasons to avoid
-
Updated Tour V.T. Sole design is arguably too aggressive
The Srixon ZX7 irons offer the more accomplished golfer a beautiful, compact head as well as great playability across the set. It feels very soft when striking the ball, giving you lots of feedback when you strike the ball off centre. They also have a quiet impact sound, another desirable feature in an iron aimed at lower handicappers.
The lofts of the ZX7 aren't especially traditional (32° in the 7-iron) so these irons will likely go further than most other forged irons on the market. There is certainly scope to create a mixed set with the ZX5 model in the longer irons for forgiveness, given the precision and consistency the ZX7 irons provide on well-struck shots more commonly associated with mid and short iron shots.
Honma TW757 B Iron
One of the best feeling irons in the category
Reasons to buy
+
Super soft feel
+
Excellent workability
+
Compact, refined looks
Reasons to avoid
-
Not much help off center
Honma's newest blade features a Tungsten weight with built-in resin components across the 3-7 irons in the set. This extends the CG to improve dispersion and absorb vibrations at impact. The removal of weight from the heel of the club head moves the CG closer to the toe and enlarges the sweet spot for unparalleled flight control and distance performance.
This iron looks the part and for those that don't miss the middle all that much, the reward will be a low, consistent flight that provides shot-making precision and excellent stopping power. It may not fly as far as the TW757 Vx iron, but this will suit the high-speed player it is designed for.
A one-piece forged iron suitable for the low handicap player
Reasons to buy
+
Good blend of feel and workability
+
Excellent turf interaction
The TaylorMade P7MC iron featuring a classic shape and minimal offset has proven popular among Tour players. The muscle cavity design delivers control and precision, while perimeter weighting offers just the right level of forgiveness.
In creating the new backbar geometry designed to elevate feel, engineers moved mass up behind the face to support the point of impact. We particularly enjoyed the turf interaction of the P7MC, with its more rounded sole gliding through the turf with minimal snagging. We found that it produced an impressive combination of distance and accuracy. Although it's aimed at the lower handicapper, improving players looking for a transitional club to give them more chance to manipulate ball flight might want to consider the P7MC.
Combines pleasing looks with a consistent flight and good distance
Reasons to buy
+
Excellent looks from all angles
+
Great feedback on the strike
+
Reasonably forgiving

Reasons to avoid
-
Mirror chrome finish won't please everyone's eye
The Wilson Staff Model CB irons have been inspired by its successful V6 iron to provide players with Tour-like performance and control. There is a tungsten weight positioned in the toe of the long and mid irons to enhance stability and lower the centre of gravity. Whilst it probably isn't the most aesthetically pleasing addition to the club, it definitely helps when using the traditionally more difficult longer irons in the bag.
The best part of this club is the 8620 carbon steel face that provides a solid muscleback feel but with the cavity back consistency and feel on all types of shot. It is a great looking iron at address and another great addition to the Wilson range of iron for the lower handicap golfer.
How we test golf irons
Our testing for golf irons is built upon a comprehensive process combined with the knowledge and expertise of the Golf Monthly test team. As far as the specific procedure goes, before testing, the team will usually attend product launches and meet with the manufacturer's R&D experts to understand the new technology.
When it comes to testing, we often head indoors first to try the irons in a controlled environment. This usually takes place on an indoor simulator at Foresight Sports, with premium balls and the GCQuad launch monitor.
Our outside testing normally takes place at West Hill Golf Club, a course with top-notch practice facilities. We think it is vitally important to do both and continue to test the irons so they have been comprehensively put to the test in different conditions.
It should also be mentioned that manufacturers cannot pay for a good review and we make our conclusions from the testing and our experiences. This is because we strive to give the best reviews possible so you can get a greater understanding of the irons themselves.
What to consider when buying irons
As you have seen, the market for golf irons is crowded and confusing and being sure you're getting the most suitable iron for your game can be a minefield. Hopefully, this piece has given you an idea of what the best options are out there right now, but here is some more advice to help you in your quest to find the best golf iron for your game in this crowded and dense marketplace.
Your Handicap And Ability
This is probably the most important first step: knowing which type of iron best suits your game. Obviously if you are reading this guide you are probably a low handicap player so that means you probably aren't looking for game improvement models (opens in new tab), but instead irons built upon precision, workability, feel and control. But there is still a question to ask yourself - blades or cavity back irons? We have included several models that fit into both of those sections above and the best way of finding out which is best for you would be to get a custom fitting. Additionally you should think about what kind of iron configuration would be best for you, because it might be best to have a blended set of more forgiving irons (opens in new tab) at the top end of the bag, and transition into blades.
You'll know how good or perhaps not so good your ball striking tends to be, so make sure you invest in a set of irons that matches where your game is out now, not where you'd ideally want it to be.
Price
This will be a major factor in anyone's decision of what irons to go for. As you'll have seen in this list, the price can vary dramatically between irons. This obviously can fluctuate between brands, and we've highlighted in this list the ones we think give the best value for money in this category. The price jumps quite significantly when looking at the forged and bladed options - up to and above $1000 - but this is par for the course and you'll be getting a high quality, premium product in return.
Custom Fit
This is probably the most essential part of the iron buying process, no matter the irons you're after or how good you are at the game. A custom fit session will make sure you get the right flex and length of shaft, correct lie angle and correct iron head for your game, meaning you'll finish with the best golf clubs (opens in new tab) that are as suitable as possible for you out on course.
Custom fits can be a daunting process but they're a vital part of the club buying process. We recommend having a shortlist of three or four iron heads you like the look of before entering a custom fit and then whittling them down to the best for your game during the custom fit process. Custom fits are provided by a number of golf retailers or club professionals at your local golf club.
FAQ's
What is considered a low handicap in golf?
Any handicap index in single figures in considered to be low although the old category one system grouped together golfers with a handicap of 5 or below as the lowest group.
Can a low handicap play game improvement irons?
Absolutely, especially given the fact that we're seeing game improvement irons become smaller and more refined today. This is because through use of high density tungsten weighting, manufacturers are able to cram in higher levels of forgiveness into a smaller chassis. As long as the lofts remain relatively traditional, using a game improvement iron is certainly doable for a low handicapper, although feel and workability may somewhat be sacrificed.