Best Sand Wedges 2023
Find the right model from our picks of the best sand wedges help you master your short game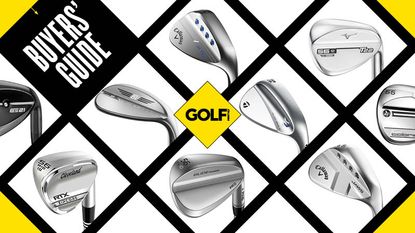 (Image credit: Golf Monthly)
Best Sand Wedges

One avenue of short game that the best golf wedges have to be able to deal with is the sand. As most golfers know, playing from bunkers can be one of the most challenging parts of any players game. Bunker shots factor in a variety of different considerations, from the tricky lie off the sand to the height of the bunker. Plus, you also have to judge your swing speed to get the ball up into the air but get enough spin on the shot to land it comfortably on the green.
That means finding the right sand wedge for your swing type is vital to help give you confidence around the greens and out of bunkers. That can really help change your mindset on the course and lead to making more ups and downs. As the name would suggest, the sand wedge, a club with a loft typically between 54° and 58°, was created to help golfers escape from bunkers. The best sand wedges use design and technology to help make this as easy as possible for a wide range of abilities.
Additionally, we don't just use sand wedges to pop the ball out of the sand, they are more versatile than that. Often it's the best, or only, choice of club when you need to hack it out of thick rough; it's the club you'll go to from 80 yards, and for many, it's the club they'll reach for immediately whenever greenside. So for that reason, the sand wedge is one of the most important clubs to have in your bag. For that reason, in this guide, we'll be walking you through some of the best sand wedges that you can buy right now. But if you're in the market for a set of new wedges, then why not also check out our guides on some of the best wedges for chipping, most forgiving wedges (opens in new tab) and best wedges for beginners (opens in new tab).
Best Sand Wedges
Why you can trust Golf Monthly Our expert reviewers spend hours testing and comparing products and services so you can choose the best for you. Find out more about how we test.
Specifications
Lofts: 48º-60º
Grinds: 4 (Standard, Low, High, TW)
Finishes: 2 (Chrome, Chrome/Black)
Reasons to buy
+
High level of spin
+
Traditional shaping
Reasons to avoid
-
Lacks versatility for the more creative golfer
TaylorMade's Raw face technology means their Milled Grind 3 wedges have an un-plated surface material that rusts over time to generate consistently high spin speeds in wet conditions.TaylorMade has also added raised micro ribs between the grooves to aid spin and precision around the greens by further enhancing the friction between the ball and the clubface.
TaylorMade provides three different soles with this club that offer three different bounce options - low standard and high - for versatility with a more aggressive TW (Tiger Woods) grind available in the 56° club. One great feature for those who sometimes get a little nervous over their chips is the milled design of the sole. This helps the bottom edge of the club skid along the ground and provides great forgiveness, stopping you from hitting your shot fat or catching the turf before you hit your shot.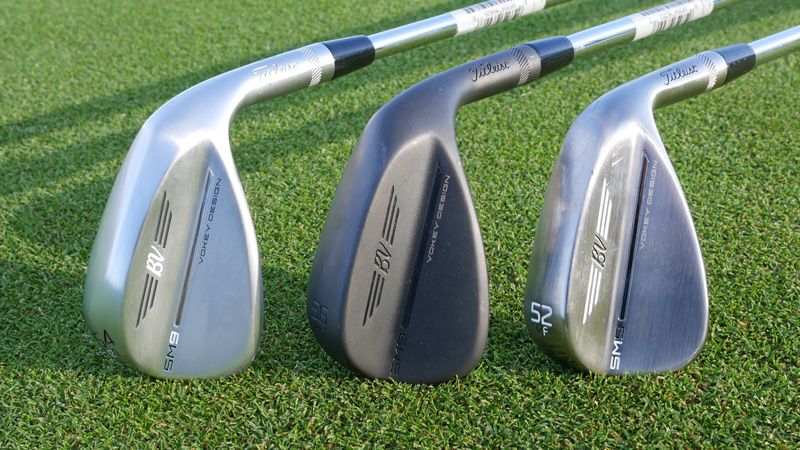 Specifications
Lofts : 46º-62º
Grinds: 6 (F, M, S, D, L, K)
Finishes: 5 (Tour Chrome, Brushed Steel, Jet Black, Raw, Slate Blue)
Reasons to buy
+
Brilliant levels of spin
+
Great trajectory control
+
Lots of bounce and grind options available
+
Unrivalled looks
The first thing to note about the SM9 is that it has kept the classic Vokey look seen in the SM8 wedge. With six grinds and 23 different loft and bounce options to choose from, the SM9 is a very versatile club that can be tailored to suit your swing. For that reason, if you're looking to pick up an SM9 sand wedge, we highly recommend attending a club fitting session to ascertain which is the best grind and bounce for you.
Titleist say that the most popular grind for hitting out of bunkers or fluffier lies is their F-grind, with a higher bounce rate between 10º-14º. When testing this club, we found this wedge offered great control over the ball flight and shallowed out the strike considerably. It is a very forgiving club and gave us a lot of confidence when it came to controlling the distance and ball flight.
Spin is also not an issue with this club and we averaged over 10,000 RPM with the 54º SM9, compared to around 8,700 with the 52º SM6 on testing. From bunkers with a lot of sand, we found the 54º was less likely to dig into the terrain and that allowed us to swing through with a more fluid stroke. We also found the 58º with 8º of bounce was great from bare lies and bunkers with slightly less sand. While the updates from the SM8 are not drastic, the SM9 is comprehensively one of the best golf wedges (opens in new tab) on the market right now.
Specifications
Loft: 50° to 60°
Grind: 3 (Standard, Low, High)
Finishes: 1 (Aged copper)
Reasons to buy
+
High level of spin control
+
Incredible looks from every angle
+
Ample versatility from the four-way cambered sole
Reasons to avoid
-
Only one bounce option available in the low and mid lofts
This brilliantly balanced wedge offers excellent control around the greens for those who struggle with distance from the sand. The Hi-Toe 3 wedge from TaylorMade has a very low centre of gravity and a wide back that provides extra forgiveness and bounce on much shorter shots. This is the third generation of the Hi-Toe design and we found it performs brilliantly on the course. Aesthetically, this wedge looks incredible, with its aged copper finish giving a rustic, yet sophisticated look.
Akin to many of the best wedges for chipping (opens in new tab), this club excels when it comes to adding spin to the golf ball. We think that is partly due to the micro-ribs added to the face of the club that give extra traction between the grooves, giving the face of the club additional friction. And you can really feel this work when you strike low, spinny chips onto the greens.
In the sand wedge editions of this club, you'll also find the Hi-Toe comes with full-face grooves, that give extra forgiveness on off-center strikes. The only drawback we can think of is that it won't suit players who tend to get a steep in their downswing, but that being said, it is a great wedge for golfers of all abilities. Plus you also get a lot of high-bounce forgiveness, meaning it is fantastic for digging shots out of deep lying bunkers and heavy rough.
Specifications
Loft : 50º- 60º
Grind: 4 (Z; S; X; W)
Finnishes: 2 (Silver; Black)
Reasons to buy
+
Incredible levels of spin
+
Inspiring looks
+
Easy to flight
Reasons to avoid
-
Feel off the face quite firm
-
Swing weight a little light
The latest addition to the Callaway Jaws wedge line-up is the new Raw wedge, designed by Roger Cleveland and supposedly boasts the most aggressive grooves in golf. We put that to the test at the Royal Troon golf club and were not disappointed. The wedge comes in two finishes; a classic chrome finish and a sleek black plasma color. Those look stunning against the four weights that we have become a staple of the Jaws wedge over the years.
They also boast a classic profile with a straight leading edge and minimal offset, which gave us confidence over the ball. Performance-wise, we were seriously impressed with the level of spin on offer from the micro-milled grooves on the face of the Raw. On shorter chips, the level of control was exceptional and we were amazed at how well the club performed over a variety of different shots, from bump and runs to floated flop shots.
That is helped by the introduction of the new Z Grind that skids across the turf rather than digs into it. That was particularly helpful when playing on firm ground and when escaping from bunkers that had minimal sand. But there were a few drawbacks with this club, the sounds being one of them, which at impact is very firm. But the level of customization that is on offer here makes this one of the most versatile wedges on the market, with 17 loft and bounce combinations available per finish. It's clear that Callaway have put a lot of thought into designing this club, which is without a doubt one of the best wedges (opens in new tab) on the market.
Specifications
Lofts : 46°-60°
Grinds: 4 (Eye2, SS, WS, TS)
Finishes: 1 (Chrome)
Reasons to buy
+
High levels of spin
+
Inviting address look
+
Excellent club from the sand
Reasons to avoid
-
Feel off the face is a little firm
Perhaps one of the best-looking wedges on the market, the Ping Glide 4.0 takes a more traditional teardrop shape that matches the brand's original iconic Eye2 profile. It also features the classic Ping Hydropearl 2.0 chrome finish, that reduces glare and adds a touch of style to the aesthetics.
Ping describes this wedge as the ultimate bunker club and we thought that it was one of the best performing wedges out of the sand due to its forgiveness from tougher lies. Shots that we struck a little firmer and lower than expected still checked a lot faster than other wedges thanks to the club's new Emery face blast which adds more friction onto the clubface.
With four sole options to choose from, we had the most success in the sand from the wide sole variation of the club. The interaction with the terrain and the 14º of bounce that the club gave made us feel more confident over the ball, particularly in softer conditions. The performance of this wedge was so good that it has been included in Golf Monthly's Editor's Choice Awards for 2022 (opens in new tab).
Specifications
Lofts: 44°-60º
Grinds: 3 (V, S, C)
Finishes: 1 (Chrome)
Reasons to buy
+
Excellent feel
+
Lots of spin on offer
+
Forgiving club
The Cleveland CBX ZipCore wedge is a cavity-backed wedge that is visually a very nice golf club that comes with a black Catalyst Spinner graphite shaft, something that is rarely seen in a wedge. On testing, it was relatively easy to hit and to flight and that is due to its low-density ZipCore that sits at the heart of the wedge and raises its MOI for greater forgiveness. That makes it a great sand wedge for those golfers who might get a little nervy over their chips and are prone to hitting a shot slightly fat.
Plus, with its cavity-backed club head, you'll find this a much more forgiving wedge (opens in new tab) that will reduce the number of times you'll hit those costly chunks around the greens. While we found the club to weigh a lot less than the Cleveland RTX because of its graphite shaft, the balance and fluidity the CBX gives on longer shots is excellent. And thanks to its sharp UltiZip grooves, the clubface provided plenty of spin, but did feel slightly clicky, giving the impression that the club is quite firm. Overall, it is a very impressive piece of kit that ticks boxes in all key performance areas.
Specifications
Lofts: 46°-64°
Grinds: 5 (S, W, C, X, L-W)
Finishes: 3 (Platinum Chrome, Tour Grey, Custom)
Reasons to buy
+
Great design
+
Variety of loft and grind options available
+
Micro-ridges improve spin traction
Reasons to avoid
-
Some golfers may prefer less taper in the hosel area
Callaway has been making some of the best sand wedges in the game for a while now. These MD5 wedges continue that trend and feature new Jaws grooves, designed with a 37º wall angle to make them sharper for maximum grip and spin from all types of lie. In addition, three raised micro-ridges between the grooves increase the number of contact points with the ball to 84, which creates additional spin off the clubface.
We were most impressed with the spin this wedge created on longer pitch shots (opens in new tab) and full shots. After switching between Callaway's different offerings of this club they all felt very smooth through impact, which is largely due to the clubhead's mild carbon steel and its muscle back design. If you're not comfortable with your current sand wedge, we recommend trying the high-bounce W-Grind which provides the most forgiveness.
Specifications
Lofts: 50°-62°
Grinds: 2 (C, BP)
Finishes: 2 (Chrome, Xtreme Dark)
Reasons to buy
+
Extremely well balanced
+
Easy to flight and spin
+
Very forgiving
+
Unique levels of adjustability
Reasons to avoid
-
High-toe design won't be for everyone
-
Feel is a little firm
After the success of the original PXG Sugar Daddy wedges, PXG has launched the second iteration of the wedge and there's no doubt that this is a definite improvement on their previous model. The visuals are the first thing to note and they are very striking, to say the least. The club features six adjustable weights on its back which can be altered to help you alter the center of gravity on the club to your taste.
Plus, they help to add more consistency to your shots, with the correct adjustments allowing golfers to hit the same quality and distance of shots with almost every chip. The club now also features CNC milled full-faced groves and PXG have done away with the teardrop shape seen on the original Sugar Daddy, replacing it with a high-toe design. While that does make the wedge seem a little more lofted, it is one of the most forgiving wedges (opens in new tab) on the market.
The club is also available in two different soles, a 13º BP-Grind and a 10º C-Grind. Depending on the turf you're playing from, both are invaluable to have with a higher-bounce wedge like the BP-Grind giving greater spin in a sandy bunker or softer turf. On firmer ground, the 10º option is more appropriate and helps golfers get better traction on their chips.
Specifications
Lofts: 46°-62°
Grinds: 3 (Low, Mid, Full)
Finishes: 3 (Tour Satin, Black Satin, Tour Raw)
Reasons to buy
+
Wonderful soft feel
+
Tour satin finish looks stunning
+
Excellent design
+
Great levels of spin
Reasons to avoid
-
Some may prefer to see a straighter leading edge
This wedge will catch the attention of low handicap players, with a beautiful muscle back design offering a soft feel. A unique core at the heart of this plays it part in creating a larger sweet spot that is aligned with the impact location.
We tested a couple of different options on the Foresight Sports GCQuad against other current wedges, and from a variety of distances, the RTX ZipCore proved to be one of the highest-spinning wedges on the market. Despite the high spin levels, we didn't suffer from balls ballooning through the air and distance control was very consistent, even on shots that were not struck from the sweet spot.
The RTX ZipCore is one of the most comprehensive wedge offerings right now and represents excellent value for money. Used by PGA Tour pros like Brooks Koepka, Matt Kuchar and Shane Lowry, this is a high-performance wedge and as such, features in our guides on the best lob wedges (opens in new tab).
Specifications
Lofts: 50°-62°
Grinds: 2 (S, T)
Finishes: 1 (Chrome)
Reasons to buy
+
Compact shape frames the ball well
+
Exceptionally soft feel
+
Great for generating more spin
Reasons to avoid
-
Lacks forgiveness off center
Another Ping model to make it onto this list is the Forged Pro. This tour-inspired, high-spinning club is designed in two different grind profiles and multiple loft options. That means it can really help players who rely on precision and control to hit lower scores. The smaller heel-to-toe head, forged from 8620 carbon steel, creates a captured look at address, giving players the confidence to manipulate the head to help execute any type of shot they are facing.
In combination with the precision-milled face and grooves, the new Emery face blast adds more texture to the hitting surface, creating a higher level of friction and more interaction between the club and ball for more spin and a lower launch. The 50° and 52° lofts feature wheel-cut grooves with a 20° sidewall to optimise performance on full shots commonly associated with gap wedges.
Meanwhile, the 54° to 62° options are milled with a 28° sidewall and tighter radius to provide more spin and precision on the finesse shots around the green and from the sand. Two grind options in multiple lofts expand the offering to ensure a wedge choice is available for a wide range of golfers to match specific playing conditions and angle of attack.
Specifications
Lofts: 45°-62°
Grinds: 4 (X, C, S, D)
Finishes: 3 (Denim Copper, Satin Chrome, Raw)
Reasons to buy
+
High level of spin control
+
Wide range of finishes available
+
Great in wet weather
Reasons to avoid
-
Raw finish scuffs up quickly
The T22 wedges feature a microlayer of copper beneath the nickel chrome, just like on the MP20 irons (opens in new tab), to improve the feel of the club at impact. They feature a slightly more compact, 'modified teardrop,' profile with an extensively bevelled top edge to make it appear thinner. The spin-weighted blade design, created by tapering the upper portion of the blade, helps create more consistent spin and a more penetrating trajectory.
Mizuno's HydroFlow Micro Grooves deliver great wet weather performance as the club is laser etched to release moisture and reduce spin drop-off, while the Quad Cut milled, and loft specific, grooves are cut into Boron infused steel to offer a longer effective lifespan. Three finishes are available - Denim Copper, Satin Chrome and Raw. The Raw finish comes without the copper underlay, but it will rust over time for a look requested by many of the Mizuno tour players (opens in new tab).
Specifications
Lofts : 48º-60º
Grinds : 2 (I, C)
Finishes : 1 (Gray)
Reasons to buy
+
Looks and feels great
+
Variety of sole shapes available
+
Very forgiving
Reasons to avoid
-
Compact shape may be intimidating for some
One of the finest-looking wedges on the market, Honma's T//World wedges, pack a compact look at address which will suit the better golfers looking for a thinner top line. The thinner top line is not to say these wedges are unforgiving, in fact Honma have added aluminium back inserts to improve the CG location and make these wedges more forgiving from off-centre hits.
When we tested the T//World wedge, we loved how consistent the ball flights were with the 52° wedge akin to very forgiving Honma T//World irons (opens in new tab). There are three sole shapes available too, allowing you to custom fit these to suit your swing or turf conditions you most commonly play on. The C-SOLE, which is across the 56°, 58° and 60° wedges, has a thicker design on the upper portion of the head for greater versatility - a great option for your sand wedge.
Cobra King Snakebite Wedge
Specifications
Lofts : 48º-60º
Grinds : 3 (Versatile, Classic, Wide Low)
Finishes: 2 (Gray, One Length)
Reasons to buy
+
Full face grooves are ideal for a sand wedge
+
Three grinds on offer make these a great option to get custom fit for
Reasons to avoid
-
Fairly similar to the MIM wedges
What makes the Cobra King Snakebite one of the best sand wedges are its full-face grooves. On the 56°, 58° and 60° wedges, the grooves are full face and are wider and shallower than the lower lofts to create more spin on the wedges you'd be using with an open blade around the green.
There are three grind options so there is plenty of scope to get the sand wedge that most suits your swing and the turf conditions you most commonly play on. It is also a friendly wedge to look down on and will really appeal to the mid-high handicapper looking for a sand wedge that closely mirrors a cavity back iron set. It is by far one of the best-looking wedges on this list keeping in the theme that Cobra have adopted with many of their clubs, including the best cobra drivers (opens in new tab).
Specifications
Lofts: 66º
Grinds: 1
Finishes: 1 (Steel)
Reasons to buy
+
Helps to reduce fat and thin chips
+
Promotes straighter shots
+
Confidence-inducing
This Wide Sole, 66º model from MacGregor is one of the most forgiving wedges (opens in new tab) on the market. The wide sole is designed to reduce miss-hits, by eradicating thin and fat shots, helping players to strike the ball off the center of the clubface. It also makes it harder for the club to dig into the turf; instead, causing the club to glide over the ground and scoop the ball into the air.
We found it was very adept from bunker shots but really came into its own when we were faced with shots we would normally use a lob wedge for. The loft of the MacGregor V Foil Wide Sole Sand Wedge is higher than a standard lob wedge, and it proved great at tackling shots such as the chip over a bunker to a narrow strip of green.
How we test
When it comes to sand wedges, we conduct a very rigorous testing process. Whether we are sent a product or buy it ourselves, we put everything we review through its paces to ensure we can provide reliable feedback and advice on how each wedge performs. Every member of the Golf Monthly team is an avid golfer and knows what does and does not make for a good sand wedge.
When testing wedges, we play with the clubs during multiple rounds and also use them in practice to assess how each club perform. If a wedge has a particular characteristic or if it claims to be the ultimate bunker club, we'll put that theory to the test and use that club across a variety of different lies.
Specifically, when reviewing sand wedges, we assess a number of different factors on the club. For example, we will look at how forgiving that wedge is, how easy it is to generate spin with that club, how the club feels, how much control the wedge provides and the overall aesthetics of the club. For more information on how Golf Monthly tests products, take a look at our methodology here (opens in new tab). Wedge testing is headed up by Golf Monthly Staff Writer Andrew Wright (opens in new tab) who is currently using a set of Titleist Vokey SM9 wedges.
What you need to consider when buying a sand wedge
1. Forgiveness
Every golfer knows the pain of hitting an immaculate drive down the fairway, only to chunk your approach shot into the green. Wedges are perhaps one of the hardest clubs to use when it comes to consistently hitting sweet golf shots on different lies. But you can save yourself a lot of shots, by using a wedge that provides greater forgiveness.
Particularly if you are a beginner or a high-handicapper, a more forgiving sand wedge can help you become much more clinical around the greens. When looking for more forgiving wedges, look out for clubs that have cavity-backed heads, wedges that have a center of gravity closer to the sole and wedges that have a higher MOI to improve the quality and consistency of shots your hitting. For more information on wedges that can help you hit consistently sweeter golf shots, take a look at our guide on the most forgiving wedges (opens in new tab) .
2. Bounce
The degree of bounce that a golf club has is an important factor to consider when you're buying your next sand wedge. Low bounce wedges are more suited to firmer terrain or bunkers with minimal sand. High bounce wedges are more suited to fluffier lies and bunkers filled with a lot of sand. For that reason, it is perhaps best to seek a wedge with a slightly higher bounce degree of around 14º when purchasing your next sand wedge. The more bounce a club has, the less chance that its face will dig into the turf or sand under the ball. That can help you get under the ball and strike more fluidly through your shot and even add more spin to the ball.
3. Grooves
As it can be quite hard to get any spin on the ball from a bunker shot, any extra friction or spin you can get from the grooves on your clubface is a bonus. That is why it is important to consider looking for a wedge that has a ground clubface with plenty of grooves to add traction between the clubhead and the ball. That allows you to stop the ball on the green much easier and attack the pin from longer distances.
4. Control
Precision around the greens directly feeds back to how much control you have with your wedge on the ball. The more control you have over the ball flight, the spin and the direction of the shot, then the closer you're going to be able to get the ball to the flag. For that reason, you should look to use clubs you believe provide you with the best feel and authority over your shots.
5. Test
One thing we really recommend doing if you're considering purchasing a new sand wedge is attending a testing session. As sand wedges come in a variety of lofts, grinds and bounce degrees, it is important to trial a few different models to help you determine which club provides the best results for your swing.
Bearing all of these important factors in mind, we have tested the latest models to give you an idea of the best sand wedges on the market right now and how they vary from brand to brand. If you're looking to find a wedge that will help you in another facet of your game, take a look at our guides on the best wedges for chipping (opens in new tab), best gap wedges (opens in new tab), or if you are new to the game, the best golf wedges for beginners (opens in new tab).
When should I use a sand wedge?
Sand wedges are primarily used for getting out of bunkers, but they can also be used on the fairway or from the rough. Sand wedges typically have the widest soles that allow the club to cut through fluffier terrains that clubs with much narrower soles might catch.
FAQs
How far should I hit my sand wedge?
Depending on your ability and strength, an average golfer should hit a 56º sand wedge approximately 80 yards. Professional golfers will typically hit their sand wedge around 110 yards.
What degree of loft is a sand wedge?
Sand wedges usually range between 54º and 58º in loft. You may want to trial a range of lofts before you purchase your sand wedge to find the club that best compliments your swing from the bunker.
A golfer for most of his life, Sam is a Senior Staff Writer for Golf Monthly.
Working with golf gear and equipment over the last five years, Sam has quickly built outstanding knowledge and expertise on golf products ranging from drivers, to balls, to shoes.
He also loves to test golf apparel especially if it a piece that can be used just about anywhere!
As a result he has always been the one family and friends come to for buying advice and tips.

He is a graduate of Swansea University where he studied History and American Studies, and he has been a part of the Golf Monthly team since December 2017. He also previously worked for World Soccer and Rugby World magazines.
Sam now spends most of his time testing and looking after golf gear content for the website. He also oversees all Tour player content as well.
Unfortunately, Sam is not a member of any club at the moment but regularly gets out on the golf course to keep up the facade of having a handicap of five.