Best Women's Golf Sets 2023
Here we take a look at some of the best women's golf sets currently on the market.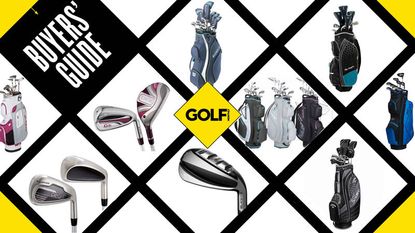 Best Women's Golf Sets: Quick Menu
Best Women's Golf Sets
As we all know, mastering the game of golf is not easy, so for women just starting out it is important to get the best golf club sets possible, clubs that provide every opportunity to improve and enjoy the experience. Golf sets for beginners or women on their way to lowering their scores generally include clubs that are manufactured with a lightweight graphite shaft, large heads, low and deep weighting to make them easy to flight and a face with a large sweet spot.
There are great value sets on offer and after putting a number of sets to the test out on the golf course over several rounds, we think the selections below are the top models on the market. For more women's golf gear, you should also narrow your focus and take a look at our guides on the best golf drivers for women, best golf irons for women, and best women's putters.
Before we list the models for this guide, Cyber Monday is here and there are lots of deals on equipment like this. As such, check out all of the best Cyber Monday golf deals as selected by our experts.
The Quick List
Want to cut to the chase and find out what the best women's golf sets are? Below, you'll find a roundup of our choices, and you can jump to a more detailed review of every pick, along with our price comparison tool to help you find the best deals.
Best overall
Strata Ultimate Titanium Women's Set
This all-encompassing 16-piece Strata Ultimate package set is perfect for beginners or lady golfers wanting something more user friendly.
Best ultra premium set
Callaway REVA 11-Piece Complete Set
The Reva is arguably the Aston Martin of women's sets, engineered for premium performance, luxurious looks and made from high-quality components.
Best beginner set
Cleveland Bloom Ladies Package Set
This set is aimed at beginner golfers and the clubs do exactly what they say on the tin - designed to easily get the ball airborne with forgiveness.
Best forgiveness
Ram Golf Accubar Plus Ladies Set
For beginners or recreational golfers this is an impressive 11-piece set. The clubs have a smart aesthetic, and overall they perform exceptionally well.
Best looking
Wilson Magnolia Women's Package Set
A near-perfect introduction to the game for the beginner and keen improver, the Magnolia has everything you need from tee-to-green plus a complimenting trolley bag in a stylish blue.
Best value
Ben Sayers Ladies M8 Package Set
The Ben Sayers Ladies M8 package set is perfect to enable beginner golfers to play the game. The value plays a big part in why we like this package set.
Best Women's Golf Sets
Why you can trust Golf Monthly Our expert reviewers spend hours testing and comparing products and services so you can choose the best for you. Find out more about how we test.
Best overall
Our top pick
Specifications
Clubs included`: 11 (Driver, 3W, 4-5 Hybrid, 6-SW, Putter)
Reasons to buy
+
Attractive purple, black and white color scheme
+
Easy to hit
+
Comes in a stylish, practical stand bag
Reasons to avoid
-
Not customizable and no left-hand option
-
Irons feel a little head heavy to swing
This 16-piece package set is an all-encompassing offering from a brand that have a rich history producing golf equipment. In this set, we got to try out a fantastic 12° driver, fairway wood, 4 and 5 hybrid, 6-9 iron, PW, SW and a putter, all held together in a tidy stand bag. We found the clubs deliver excellent distance and forgiveness off the ground, but also helps to make tee shots fly straight. Aesthetically, they look fantastic, with a glossy chrome finish across the irons that reminded us of the Callaway Big Bertha Irons.
As for the putter, it does come in a blade orientation, and while some beginners may prefer to use a mallet putter, it boasts a very sleek aesthetic and handy alignment line on its top line, that will help with your accuracy. As this set costs a little more than some drivers do alone, there is excellent value to be had here, in what is easily one of the best golf sets for beginners out there.
Best ultra premium set
The Aston Martin of women's package sets
Specifications
Clubs: 10 (Driver, 3W, 5-6 Hybrid, 7-SW, Putter)
Reasons to buy
+
Premium quality clubs and bag
+
Impressive performance through the bag
+
Even distance gapping
Reasons to avoid
-
Wedges lack versatility
-
Irons feel firm
Another top women's set worthy of inclusion in this list is the REVA set from Callaway. This set includes a driver, three wood, 5 and 6 hybrids, 7-9 irons, a pitching and sand wedge and a putter as well as a snazzy cart bag and five headcovers. Our tester loved the driver performance, with it providing a high launch and ball flight, powerful feel, and the big circular target-style sweet spot on the face looks impossible to miss. The three-wood and hybrids continued this theme as well.
Moving to the irons, the large, oversized cavity back irons are designed to help on mishits and our testing seemed to prove this. They felt effortlessly light to swing and easy to use thanks to the stability and forgiveness on offer. We would've maybe preferred specialist wedges but the clubs included in this set do the job of a simple pitch or chip shot well enough.
What makes this one of the best women's golf sets is that the included putter includes the Stroke Lab shaft. The fang design, coupled with the Stroke Lab technology, is aimed to help you with tempo and consistency and our tested loved it, especially in the blue finish. Overall this is certainly a set worth considering if you want to make the game seem easier. You can buy individual Reva clubs as well, like the Callaway Big Bertha Reva Women's driver, and even Callaway Reva golf balls.
Best beginner set
Ideal for those beginning their golf journey
Specifications
Clubs Included: 10 (Driver, 3W, 5-6 Hybrid, 7-SW, Putter)
Reasons to buy
+
Good quality at a reasonable price
+
Suitable set for beginner golfers
+
Attractive design
Reasons to avoid
-
No left-handed option
-
Need to force the irons slightly as head heavy
The Cleveland Bloom ladies package set is designed for the beginner golfer or for women on their way to taking their game to the next level. This set has every club in the bag that a player needs to take them from tee to green including a driver, 5-wood, hybrid, SW-7 iron, putter and a sturdy cart bag.
Coming in at around $600, it is certainly great value for money, with each club providing plenty of loft to help get the airborne. They also have plenty of forgiveness and a confidence inspiring look. The irons for example, feature a cavity-back design with a thick sole and a large clubhead, thus allowing the user to get the ball in the air as quickly as possible. Completing the set is a mallet-shaped putter, and compared with some of the huge mallet putter heads on the market, this neat design is not too overwhelming and immediately felt comfortable.
Whether you like the color scheme or not, it's also worth mentioning the stylish cart bag, which is an excellent bonus. It has ample pockets, 8 in total, as well as a detachable pouch that is perfect for carrying valuables.
Best forgiveness
Excellent value for money, these clubs offer great forgiveness for those new to the game
Specifications
Clubs included: 10 (Driver, 3 wood, 24º and 27º hybrids, 6-, 7-, 8-, 9- irons, PW, SW, putter)
Reasons to buy
+
Great quality for the price
+
Easy to launch with forgiveness
+
Spacious and lightweight carry bag
Reasons to avoid
-
Woods lack power
-
Sound won't be to everyone's taste
-
Unsuitable for better golfers
Ram are a pretty well-known golf club manufacturer in the sports industry, and while they've kitted out big name players like Tom Watson and Nancy Lopez in the past, nowadays Ram have been focusing their energies into producing affordable and good quality clubs for the everyday player. That's certainly what we found with the Accubar Plus Ladies set, an excellent set for any beginner golfer starting out on their golfing journey. On first impressions, it was very difficult to find any fault with this set of clubs because of its outstanding value.
In the pack you'll get 10 clubs, including a driver that boasts a large and forgiving shaped head, in what was a very uncomplicated design. There is a silver and green colorway that extends through the range of sticks, which all deliver a similar inviting aesthetic at address. While it may lack a lot in the performance department compared to some of the best drivers on the market, the Accubar driver does a fantastic job of delivering everything a beginner player might need.
Down the order, we enjoyed using the hybrids, irons and wedges in this pack, which all delivered excellent playability and were very easy to use when getting the ball in the air. The pack also comes with a mallet-shaped putter that compliments what you'd expect from some of the best putters for beginner golfers. The bag comes with a seven-way divider top and was really comfortable to carry, making it a great set for any older players who may be looking for an easy to use set of clubs that is easy to transport around the course.
Best looking
An excellent package that doesn't break the bank
Specifications
Clubs: 11 (Driver, 3W, 4-6 Hybrid, 7-SW, Putter)
Reasons to buy
+
Ideal set for lady beginners
+
Noticeable forgiveness off centre
+
Stylish accompanying cart bag
Reasons to avoid
-
Not suited to stronger lady players
The Wilson Magnolia set is excellent value. Women have a choice of a cart or carry bag to hold a driver, 3-wood, 4, 5, 6 hybrids and a full iron set (7-SW), plus a putter.
A high-lofted driver with an oversized head profile is designed to instill confidence, forgiveness and maximum distance off the tee, whilst the fairway wood and hybrids feature a large sweet spot and low weighting to make shots easier to play from a variety of lies. The irons are easy to launch due to the oversized head and clever weighting, and consistency is enhanced on the greens thanks to the putter's alignment aid.
Best value
Ben Sayers Ladies M8 Package Set
One of the best affordable options
Specifications
Clubs: 12 (Driver, 3W, 5W, 5 Hybrid, 5-SW, Putter)
Reasons to buy
+
Price point is very attractive
+
Irons in particular are easy to hit
Reasons to avoid
-
Doesn't feel as premium as other models
The Ben Sayers Ladies' M8 package set is perfect to enable beginner golfers to take their first steps into the game. The 12-club set comes in a high-quality cart bag and includes a driver, 3-wood, and 5-wood, all of which are designed with an aerodynamic crown to promote a lower centre of gravity and higher launch for increased distance and maximum forgiveness.
An easy-to-hit hybrid, 7 cavity-backed irons (5-SW) with a wide sole and top line encourage confident ball striking, and a mallet-style putter completes the set.
Cobra Women's Fly-XL Complete Set
Cobra Women's Fly-XL Complete Set
A highly durable set that ticks a lot of boxes
Specifications
Clubs: 12 (Driver, 3W, 5W, 7W, 5 Hybrid, 6-SW, Putter)
Reasons to buy
+
Cool bag design
+
Ticks a lot of boxes with clubs and bag
Reasons to avoid
-
14-way bag divider seems unnecessary
The women's Cobra FLY-XL complete set includes a full bag of lightweight and forgiving clubs that deliver easy launch and distance for the beginner or aspiring golfer. The 13 piece set includes a driver, fairway woods, hybrid, mallet putter, and a cart bag. The metal woods in this set feature a graphite shaft designed to inject speed and power into each swing, with a draw-biased driver that straightens out a slice. The fairway wood and hybrid offer excellent turf interaction, resulting in easy, high launches that land accurately with minimized roll.
The irons are perimeter weighted for maximum forgiveness, while the cavity backs offer the ideal blend of launch, distance, and tactile feedback on each strike. This extends into both the pitching wedge and sand wedge, both of which are designed to easily escape hazards and encourage attacking the pin. The blade putter offers easy alignment, with smooth roll and soft feedback, allowing you to dial in distances easily.
The cart bag itself is 14-way divided for easy club organization, with seven zipped pockets offering a large volume of storage. An included rain hood protects clubs when the rain sweeps in. Factor all of this in and this set makes for an appealing prospect for female golfers looking to improve or for those just starting out.
MacGregor Ladies DCT3000 Golf Package Set
MacGregor Ladies DCT3000 Golf Package Set
Both men's and women's DCT3000 sets are excellent
Specifications
Clubs: 12 (Driver, 3W, 3-4 Hybrid, 6-SW, Putter)
Reasons to buy
+
Big-headed driver ideal for beginners
+
Exceptional value
+
Really liked the pop of color on clubs and bag
Reasons to avoid
-
Limited short game options
The MacGregor DCT3000 set is a good option for those women who are just starting out in the game or beginning to improve. The striking black/aqua cart bag includes a 460cc titanium driver, designed with a 13° loft and a high MOI for better stability at impact and greater forgiveness on off-centre hits, and the driver is complimented by a fairway wood and two hybrids. Irons from 6-SW have an over-sized head design and perimeter weighting to encourage faster ball speeds for increased distance, whilst the putter has an easy alignment aid to help women hole more putts.
Callaway Solaire Ladies Package Set