Most Forgiving Irons 2022
Do you struggle to hit greens? Here's our guide on the most forgiving irons on the market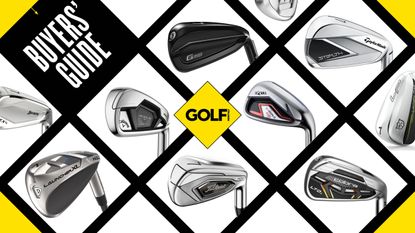 (Image credit: Future)
Most Forgiving Irons
For many, iron play is one of the most difficult elements of the golfing test. Making a clean contact with the ball and achieving a consistent strike and distance can be quite a challenge. But some of the best golf irons on the market have been specifically designed to make the task considerably easier. The most forgiving irons all look to help you achieve greater consistency and swing more confidently when hitting approach shots from different lies.
VIDEO: A look at some of the most forgiving irons this year
But what exactly makes an iron forgiving? Well these clubs have designs and technology created to minimize the effects of a poor swing or a poor contact. For example, many of these clubs have larger heads and weighting allocated around the perimeter. Some brands implement hybrid-style technology into irons too to help players make better contact and get the ball into the air easier. Most have cavity backs and also feature thicker toplines and wider soles to assist with launch.
If you are the type of player who values something else over forgiveness, you might want to take a look at our posts on the best distance irons, best golf blade irons, or even the best compact mid-handicap irons.
Most Forgiving Irons
Why you can trust Golf Monthly Our expert reviewers spend hours testing and comparing products and services so you can choose the best for you. Find out more about how we test.
A hybrid-style design that offers the most forgiveness in the Titleist range
Reasons to buy
+
Long and effortless to hit
+
Gets the ball in the air easily
Reasons to avoid
-
Not the best looking iron out there
The Titleist T400 is one of the most forgiving irons on the market let alone in Titleist's popular T series. It has the strongest lofts in the Titleist iron range (opens in new tab), but the launch is not compromised with a strong, high ball flight produced.
The split sole design delivers smooth turf interaction, while super-thin face and hollow head are fortified by high-density tungsten weighting making this a powerful and supremely forgiving iron. The set is progressive with blade lengths, sole widths and hosel lengths decreasing towards the shorter irons. Overall, we think the T400 is a top-performing iron that could really help higher handicappers get the most from their games.
A stunning game-improvement iron that offers unparalleled accuracy
Reasons to buy
+
Incredibly accurate
+
Noticeably longer than outgoing SIM2 Max
+
Lively but pleasant sound and feel
Reasons to avoid
-
Considerably low spin limits stopping power
The Stealth iron become the single game-improvement iron option in 2022, which simplifies the TaylorMade iron range nicely for golfers that want even more distance and forgiveness than what is on offer in the P790 model. While the enclosed cavity concept continues, the Cap Back design has evolved to where the mid section of the toe has been completely removed to lower the CG of the iron, assisting with both ball speed and launch.
TaylorMade has made across-the-board improvements in Stealth as its game-improvement offering for 2022 over the SIM2 irons. Golfers should notice the extra forgiveness at play while being drawn in by the premium, elegant look on the shelf. The low spin might be a concern but should be able to be managed via a custom fitting. We love the accuracy and distance this club provides, which should help mid and high handicappers find more greens.
A stable, strong-lofted iron that is consistently fast across the face
Reasons to buy
+
Long and consistently so
+
Very user friendly for golfers that utilize a lot of the face area
Reasons to avoid
-
Flat ball flight and low spin limits stopping power
The design of the LTDx looks similarly complex. In fact, it has a floating steel bar completely separate from the body and face suspended in a lightweight polymer to get the centre of gravity right behind the preferred striking area. This is said to encourage the face to flex more while also aiding the feel and sound.
Down at address, you'll notice the cut out section from the topline we saw in Radspeed has gone, which will please the traditionalists. It certainly looks inviting to hit although the rear of the sole is visible in the playing position from 7-iron and down, which we'd rather not see. This is likely a product of the fact the lofts have got even stronger here - the 7-iron is 26.5°.
For golfers that want to hit longer, straighter iron shots, the LTDx from Cobra delivers. The number on the bottom of irons has never meant so little, with lofts here getting even stronger to produce a penetrating flight, which could limit playability for those golfers that struggle to launch the ball. Comes with Arccos Smart Sensors and is available in One Length.
Reasons to buy
+
Appealing looks all round
+
A fast but controlled feel
+
Excellent stopping power
+
More forgiving through the turf
Reasons to avoid
-
Limited gains over prior model
A playable and forgiving iron that delivers excellent distance on long shots, the JPX923 Hot Metal Iron that is perfect iron for any mid-handicapper looking to add more yards to their game. And coming in at $157.50 (£135) per club, you'll be getting a bargain for the performance on offer here.Having recently taken these clubs for a spin ourselves, we were very impressed with the feel these clubs offer. They don't have that explosive metal-wood feel you'd often get from game improvement irons (opens in new tab) but what they do have is a dense, forged-like feel that is great for anyone looking to progress their game to a more powerful set of clubs.
Aesthetically, they look very similar to the JPX923, but deliver a sleek look thanks to their 4335 Nickel Chromoly, which is a stronger material that allows a thinner face. Plus, we also enjoyed the interaction with the turf that these irons provided, with there being more resistance compared to the JPX923. The changes in the sole make it noticeably more user friendly, with the iron cutting much shallower divots helping you cleanly hit through each shot.
Callaway's most forgiving iron of 2022
Reasons to buy
+
Powerful distance
+
Offers gentle draw bias
Reasons to avoid
-
Not especially refined visually
The Rogue ST Max OS irons are slightly larger than the Rogue ST Max iron and offer higher launch, wider soles and enhanced offset in a very forgiving design for mid-to-high handicap golfers.They also come in a Lite version for seniors and lady golfers with a graphite shaft to help maximize swing speed.
The lofts aren't quite as strong as on the Rogue ST Max, which is an unusual quirk within the Rogue ST iron range, but if you are looking for a blend of high levels of distance and forgiveness in a confidence-inspiring package, then the Rogue ST Max OS iron is well worth trying this year. They're certainly one of the best Callaway irons around right now.
A game improvement model that is excellent for beginners and high-handicappers
Reasons to buy
+
Feel easy to swing fast
+
Inviting looks at address
+
Forgiving off center
Reasons to avoid
-
Not available in One Length
Perhaps one of the best game-improvement irons (opens in new tab) on this list, the Cobra Air-X irons are an impressive and lightweight offering that provides excellent forgiveness for off-centre shots. Having tested these clubs, we found them an absolute pleasure to hit and can help players looking for greater consistency in their golf game should certainly look to use these clubs. These irons also really impress on their looks, with their red and black colorways contrasting nicely with the silver sheen of the golf club to give off a very professional look.
If you've been struggling to get good ball flights in your approach play, you'll be glad to hear that this club really can offer stability off the clubface. That again makes it great for improving your consistency. You'll find its deep undercut design helps to make miss-hit shots, struck low on the face, still rise to ample launch angles. What's even better about this set of clubs is that they are very affordable too! That makes them a great option for beginner golfers (opens in new tab) and high handicappers (opens in new tab).
Delivers exceptional game-improvement performance with great feel
Reasons to buy
+
Impressive results on poorly struck shots
+
Feel better than many game-improvement irons
Reasons to avoid
-
Expansive profile won't suit everyone's eye
Tour Edge believes its Exotics E722 iron is as good as it gets in the game-improvement category and there is certainly a lot to like about what this iron has to offer. First and foremost, it's incredibly forgiving. The E722 features extreme toe weighting to create a larger sweet spot and its 360 undercut design allows the face to flex more at impact to not only promote naturally high launch but also protect ball speed on low-face strikes.
The E722 irons also were designed with the Diamond Face VFT face technology that the Exotics 722 driver lineup utilizes so successfully. More specifically, 103 diamond-shaped sections are positioned in varying degrees of thickness across the clubface to promote faster ball speeds from all impact locations. Tour Edge has also utilized TPU in the E722's cavity to dampen sound and reduce vibration to give golfers acoustics and feel that are softer than might be expected.
It should be noted for those who are interested in the E722 irons that this set features extremely strong lofts. The pitching wedge is 42 degrees and the 7-iron is 27.5 degrees, so golfers who decide on the E722 as their iron of choice will want to make sure they get their gapping right at the top and low end of the bag.
A hybrid-style iron aimed at the mid-to-high handicapper
Reasons to buy
+
Top turf interaction
+
Clean looks
Reasons to avoid
-
Hollow construction not the best for feel
To go along with the ZX5 and ZX7 irons, Srixon has also introduced the more forgiving ZX4. It has a fully hollow construction which is designed to aid forgiveness whilst also maintaining the clean look and forged feel that has become synonymous with Srixon irons.
Srixon's new MainFrame technology is also part of the design. This technology is a variable thickness pattern made up of grooves, channels and cavities, and is milled into the backside of each ZX4 face. The result is an iron offering increased ball speed and therefore good distance - this technology also features on the ZX Utility which made our best driving irons (opens in new tab) guide as well).
Another particular piece of technology to note is the Tour V.T. Sole. All too often higher handicap players strike shots heavy because they make contact with the ground too soon. Well the sole design helps improve turf interaction by helping the club glide through turf rather than dig down.
An inviting, forgiving iron that well help amateur golfers find more greens
Reasons to buy
+
High level of forgiveness
+
Classy, neutral styling
+
Arccos sensors track performance
The G425 has an altogether more premium look and the overall size of the blade is slightly smaller than the G410, creating a slightly more compact look at address, but the shape has pretty much stayed the same. Off the face, the G425 feels fast, making a nice loud sound without being too clicky. It is very stable off the face too, with toe and heel strikes maintaining a strong line through the air. The strong descent angle through most of the set also means it's nice and easy to control these irons when approaching greens.
Arccos sensors are now embedded in the grips throughout the G425 family and the premium shot tracking technology is another way these irons can directly improve your game. By resisting changing the lofts for even more distance, Ping has evolved the G425 into a forgiving, controllable and classy looking iron suited to a wide-range of golfers.
A classic looking iron packed full of modern technology
Reasons to buy
+
Fast ball speed
+
Greater consistency from off-centre strikes
Reasons to avoid
-
Not as workable as Pro option
The JPX921 Hot Metal is the longest iron in the JPX range, and definitely fits into that 'best Mizuno irons (opens in new tab)' category, which is praise indeed given the brands history of high quality irons. Thanks to the use of Chromoly 4140M and a re-engineered Cortech face, now 0.2mm thinner across the centre point, creating faster ball speeds.
These are assisted by a Seamless Cup Face featuring a variable thickness sole design that allows the leading edge to act as a hinge, generating more face flex. Three additional sound ribs produce a more solid sensation at impact while extreme perimeter weighting and toe bias in Mizuno's Stability Frame help to deliver greater consistency from off-centre strikes.
Ideal for senior golfers or beginners
Reasons to buy
+
Large chassis inspires confidence at address
+
Effortless launch through the set
Reasons to avoid
-
Wide sole design won't fit everyone
When it comes to the best golf irons for beginners, the Wilson Launch Pad 2022 is among the leading contenders. Certainly there will be those who can't get past the unusual look of the Launch Pad irons, which in many ways are more hybrid-like than iron-like. But the reality is that for higher-handicap golfers who need help when it comes to distance, launch, forgiveness, and consistency, the 2022 Launch Pads warrant serious consideration.
As for what makes the Launch Pad irons so playable, it's a variety of factors. Their hollow-body design enables a thinner clubface, a combination that promotes speed and naturally higher launch conditions. Additionally, the rounded, wide soles that each iron in the set features improves turf interaction for golfers with steep angles of attack, a frequent issue for high-handicappers and those who are new to the game.
Discretionary weight has also been distributed lower and deeper in the 2022 Launch Pads to further enhance launch while also reducing twisting of the clubhead at impact on mis-hits, which will keep poorly struck shots from straying too far offline.
Ample distance combined with good looks and impressive forgiveness
Reasons to buy
+
Long performance on offer
+
Subtle, good-looking irons
Reasons to avoid
-
Perhaps not as forgiving as other models on this list
The Honma T//World GS irons are all about gaining speed across the face to create more distance with less effort. They certainly provide that and with decent forgiveness too, they are an ideal iron for the golfer looking for as much help as possible when it comes to striking the golf ball.
The irons feature an L-Cup structured face which helps enlarge the sweet spot whilst a deep cavity and wide soles help inspire greater confidence at address. Overall we think there are clear performance gains to be had here and we are also fans of the look of these irons because they are not hugely chunky, and the red and black accents in the cavity look good in the bag too.
A user-friendly iron ideal for golfers that struggle with a slice
Reasons to buy
+
Looks inviting to hit
+
Strong, high draw bias trajectory
Reasons to avoid
-
Offset look won't please all tastes
The Callaway Big Bertha B21 irons are the first Big Bertha irons to be designed using Artificial Intelligence. The irons feature a generous offset, wide soles and a thick topline to inspire confidence. Flash face technology delivers high ball speeds and a strong ball flight and tungsten toe weighting moves the centre of gravity to the middle of the score-lines for extra forgiveness.
Callaway's urethane microspheres provide a soft feel. These are over one million tiny air pockets that absorb unwanted vibration without slowing the face. Overall, after testing, we thought the Big Bertha B21 iron to be ideal for high-handicap golfers who struggle with launch and strike. There is a good deal of technology to help you get the ball up with more speed, while the feel off the face is also pleasing on the senses.
How we test golf irons
Our testing for golf irons is built upon a comprehensive process combined with the knowledge and expertise of the Golf Monthly test team, headed up by technical editor Joel Tadman. As far as the specific procedure goes, before testing, the team will usually attend product launches and meet with the manufacturer's R&D experts to understand the new technology.
When it comes to testing, we often head indoors first to try the irons in a controlled environment. This usually takes place on an indoor simulator using a premium, reputable launch monitor with premium balls. Our outside testing normally takes place at West Hill Golf Club, a course with top-notch practice facilities, both on the range and on course.
We think it is vitally important to do both and continue to test the irons so they have been comprehensively put to the test in different conditions. It should also be mentioned that manufacturers cannot pay for a good review and we make our conclusions from the testing and our experiences. This is because we strive to give the best reviews possible so you can get a greater understanding of the irons themselves.
Things To Consider
There are several things to consider when looking at getting the most forgiving irons for you and your game, and many of these factors can be ticked off by going to test different models.
Your Handicap And Ability
When hitting, try and take note of where you are striking the golf ball with the face of the club and see if there is any performance drops. Many forgiving irons these days are designed to perform regardless of where you strike them off the face and you being able to see and understand that in person will help you be more confident with one model over another.
Next have a think about what you want in terms of feel and looks. If you want out and out forgiveness then the hybrid-like models above will suit you well whereas if you want a more classic iron that still offers good forgiveness, then other models are available. Additionally many forgiving irons these days are made from materials that make different noises so hitting shots will tell you which ones you like the sound of, and which you don't.
Price
Additionally price is another factor. You can quite easily go down the premium route but there are still performance gains to be had with models which come in at lower price points. Most forgiving irons do the same job - offer forgiveness across the face in a larger, more offset iron head. While all the irons in this list do that in their own way, they ultimately have the same goal for the golfer.
With that in mind, the price differences in these forgiving irons are mostly because bigger brands can charge a bigger premium for clubs with its logo on. The lesser known brands in this list still make high quality, forgiving golf irons, so there's good value to be had here.
Shap
As you have seen in this list, forgiving golf irons come in a number of different, slightly unconventional shapes. When deciding which you want to go for, think about how much forgiveness and help launching the ball you need. If you're after lots of both, we'd recommend going for the hybrid-like irons such as the Wilson Launch Pad, Cobra T-Rail or Cleveland Launcher HB Turbo irons.
These type of irons look a lot different to conventional irons - by being chunkier at the back and resembling a hybrid club - but offer heaps and forgiveness and a higher launch. It's worth testing a club like this out first before committing to one, as they take a bit of getting used to. If you're not after masses of extra launch, a more conventional iron shape in this list will give you all the forgiveness you need from your irons.
Custom Fit
This is probably the most essential part of the iron buying process, no matter the irons you're after or how good you are at the game. A custom fit session will make sure you get the right flex and length of shaft, correct lie angle and correct iron head for your game, meaning you'll finish with a set of irons that will be as suitable as possible for you out on course.
Custom fits can be a daunting process if you're a true beginner or you aren't that confident hitting golf balls in front of people, but they're a vital part of the club buying process. We recommend having a shortlist of three or four iron heads you like the look of before entering a custom fit and then whittling them down to the best for your game during the custom fit process. Custom fits are provided by a number of golf retailers or club professionals at your local golf club.
FAQs
What are the most forgiving irons?
Nearly every brand will offer a forgiving or 'game-improvement' option within its range but irons that stand out as being especially forgiving this year are the Ping G710, Cobra King LTDx and the TaylorMade Stealth. When we say forgiveness, we're referring to the consistency of the ball speed when the strike deviates away from the centre of the clubface, as well as the ability to control direction through resistance to twisting, otherwise known as having high MOI (Moment Of Inertia).