Best Titleist Golf Balls 2022
We review the best Titleist golf balls to find just the right one for your game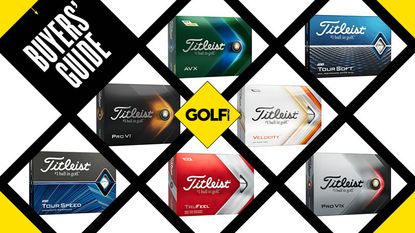 (Image credit: Golf Monthly)
Golf Monthly Newsletter
Golf tips and expert instruction, golf club reviews and the latest golf equipment.
Thank you for signing up to . You will receive a verification email shortly.
There was a problem. Please refresh the page and try again.
Best Titleist Golf Balls
The best Titleist golf balls have led tour ball counts the world over for decades now and that popularity is replicated among club golfers too. The flagship Pro V1 model first appeared in 2000, since when it has undergone constant refinements along with the sister Pro V1x golf ball, which first appeared in 2003.
But these premium-priced, tour-endorsed models aren't the only ones in a comprehensive range that caters for the performance requirements of golfers of all abilities and budgets.
Given how the golf ball is the only piece of equipment you use for every shot, it pays to find a ball that's just right for you. As such we hope that our golf ball reviews of the brand's current range will help direct you to the best Titleist golf balls for your game.
Alternatively, if you prefer a different brand to Titleist, then take a look at our guides to the best TaylorMade golf balls (opens in new tab), best Vice golf balls (opens in new tab) and best Bridgestone golf balls (opens in new tab).
Reasons to buy
+
Greater longevity and tour-validation than any other premium golf ball
+
Reformulated core and new 388 dimple count enhance distance and consistency
Reasons to avoid
-
Hard to track down bargain prices for golf's No.1 premium ball model
The 2021 Titleist Pro V1 golf ball features an all-new design that promises more greenside spin, a softer feel and a higher, more consistent flight via changes to every layer. The 2.0 ZG Process Core has been reformulated with greater distance in mind but the most eye-catching change is to the cover.
Available in white and high optic yellow, the dimple count has increased from 352 to 388 following extensive trials and testing to maximise distance and flight consistency. A new softer, cast urethane elastomer cover promises added green side spin and short-game control. The Pro V1 maintains a penetrating trajectory and a softer feel than the sister Pro V1x.
Read our full Titleist 2021 Pro V1 golf balls review
Read our Titleist Pro V1 v Titleist Pro V1x comparison review
Reasons to buy
+
New softer urethane cover for more short-game spin and control
+
Flies higher than the previous generation Pro V1x model
Reasons to avoid
-
Slightly firmer feel compared to Pro V1 may not be right for some golfers
The 2021 Titleist Pro V1x features the same reformulated 2.0 ZG Process Core and softer cover as the Pro V1 for enhanced distance plus improved feel and control. In the four-layer Pro V1x, the dual core is now surrounded by a faster, low-spinning casing layer previously used in the Pro V1x Left Dash option. This helps to add speed while lowering long-game spin.
The Pro V1x dimple count has increased from 328 to 348 for a more consistent flight that will also be higher than in the previous Pro V1x model. The Pro V1x is ideal for those seeking tour-level, all-round performance with a slightly firmer feel and higher flight than the Pro V1.
Read our full Titleist 2021 Pro V1x Ball Review
Read our Titleist Pro V1x v TaylorMade TP5x comparison review (opens in new tab)
Titleist Pro V1x Left Dash golf ball
Reasons to buy
+
Perfect for golfers with a high launch and swing speed
+
Still a high ball flight but just slightly lower than the standard Pro V1x
Reasons to avoid
-
Won't generate enough long-game spin for many golfers
The Pro V1x Left Dash was originally developed as an option for PGA Tour pros seeking a consistent flight and exceptional distance. It differs from the standard Pro V1x by providing dramatically lower full-swing spin, a slightly lower ball flight and a firmer feel. Available via special order.
Reasons to buy
+
Softer feel compared to the Pro V1 models will appeal to some
+
Scores highly in the durability stakes
Reasons to avoid
-
Lower launch and spin on full shots won't stop as quickly
The Titleist AVX is an alternative premium ball to the ever-popular Pro V1 models. Indeed, the name AVX hails from it being an 'alternative to Pro V1 and Pro V1x'. Where it differs from the Pro V1 models is that it offers a lower spin and launch as well as a softer feel.
This makes it the ideal premium Titleist ball for those whose launch errs a little on the high side, or who perhaps spin their irons and wedges too much. The AVX's unique catenary aerodynamic design (the dimples do look very different) delivers a piercing, low trajectory and a consistent flight on all shots.
Read our full Titleist AVX 2022 golf ball review
Read our Titleist AVX v Titleist Pro V1 comparison review
Specifications
Construction: Three-piece
Colors: 2 (white, yellow)
Reasons to buy
+
Excellent all-round performer
+
Sub-premium price point
+
Similar feel to tour-quality balls
+
Excellent distance from drivers and irons
Reasons to avoid
-
Doesn't provide as much spin as Tour quality models
Titleist's second-generation Tour Speed golf ball is an impressive update to an already high-performing mid-priced golf ball. The Tour Speed delivers in all areas of the bag, but in the long game, it can really help improve performance for those looking to gain more distance. It costs around $10 to $15 less per dozen than Titleist's Pro V1 golf ball (opens in new tab) and provides very similar levels of performance and feel to the Tour models.
The Tour Speed features a high flex casing layer and reformulated core that gives high speed and low spin on longer shots. We gained an extra 2 mph of ball speed over the previous Tour Speed model, with the ball also launching a lot higher than its previous model. The difference was even more noticeable when we tested it with our 7-iron, with the ball speed going to 7 mph faster while spinning around 1000 rpm more than the 2020 model. Well-struck shots were rewarded with strong ball flights that hung in the air and the ball didn't feel too soft off the clubface in comparison to other mid-priced urethane golf balls.
The only drawback this ball has compared to some of the best premium golf balls (opens in new tab) is the amount of spin on offer. Short pitch shots will grab but don't check quite as much compared to Titleist's Pro V1 or Pro V1x (opens in new tab) offerings. But it did offer greater levels of spin compared to the slightly less expensive Tour Soft (opens in new tab)model. Overall, it is a high-performing golf ball that is a great year-round golf ball that can help golfers looking to improve their performance without stretching to a more premium price. For that reason, the Titleist Tour Speed is one of the best value golf balls (opens in new tab) on the market.
Specifications
Construction: Two-piece
Colors: 2 (white, yellow)
Reasons to buy
+
Impressive hang time and strong ball flights
+
The T-shape side stamp helps with alignment
+
Provides excellent distances
Reasons to avoid
-
Doesn't offer the short-game spin of Pro V1
From tee-to-green, there is a lot to like about the Titleist 2022 Tour Soft golf ball. It is the third generation in the brand's soft compression offerings and provides impressive distances and a great feel. While golfers who can generate faster clubhead speeds may be skeptical about using a softer golf ball, we were pleasantly surprised at how much control and consistency the Tour Soft offered.
Recent updates to the ball include the addition of a large fast core and thin grafted cover, which are accompanied by a new aerodynamic dimple design on its casing. Titleist say this is designed to help deliver stronger ball flights and we noticed that the ball did not dip out of the air on longer shots, while it traveled distances that were not too far off those of a tour-quality golf ball.
As for its feel, the Tour Soft was very responsive but didn't feel quite as soft as the TaylorMade Soft Response (opens in new tab), something to consider if you're looking for an all-out soft feel. The golf ball also has stamped on its casing a T-shaped alignment tool which is a very useful addition that can help improve your putting accuracy and your accuracy off the tee. We've ranked the Tour Soft as one of the best golf balls for seniors (opens in new tab) that can help to deliver longer distances and more consistent golf shots.
Reasons to buy
+
Excellent for distance
+
Nice firm feel
+
Good value for money
Reasons to avoid
-
Lacks short-game spin versus other models in the range
The 2022 Titleist Velocity golf ball features a firmer higher-speed LSX core that boosts ball speed on all full shots while keeping spin down for optimum distance. The cover has been improved to create a better feel and the aerodynamics updated to provide a higher trajectory.
It is this combination of ball speed, low spin and high flight that makes the Velocity ball the longest in the range. It is available in white or matte blue, green and orange. Overall we think the Velocity is not just one of the best distance golf balls (opens in new tab) out there, but also one of the best golf balls for high handicappers (opens in new tab) too.
Read our full Titleist Velocity 2022 golf ball review
Read our Titleist Velocity v Titleist TruFeel comparison review
Reasons to buy
+
Soft sound and feel
+
Good control for this type of ball
Reasons to avoid
-
Less driver distance at higher swing speeds
The Titleist TruFeel 2022 is the softest ball in the Titleist range and the latest version has a larger core to maximise the speed at launch using a new material called TruTouch core.
The cover is now thinner for better feel and more spin control and the TruFeel will suit mid to low swing speed players who want less spin or a softer feel. The new, improved TruFeel represents a very good Titleist all-rounder at an affordable price, and also one of the best golf balls for beginners (opens in new tab) too.
Read our full Titleist TruFeel 2022 golf ball review
Read our Titleist TruFeel v Srixon Soft Feel comparison review
How We Test Golf Balls
In our golf ball testing we use launch monitor data from devices such as Trackman to see the spin, speed and distance performance of golf balls with irons and drivers. This enables us to evaluate the type of golfer that each ball will suit.
We then test the balls on the golf course and around the greens to review the spin, control and feel characteristics of the ball with wedges and putters in order to give you the complete picture of the Titleist Golf Ball range.
How To Choose A Titleist Golf Ball
The best way to choose a Titleist Golf ball is to head along to a Titleist golf ball fitting day where you can try all the balls on the range and get an expert fitting. They will fit the ball to your 7-iron swing and then you should fit your driver to the ball.
If that is not possible then you can do the second part of the fitting yourself by taking a selection of Titleist golf balls to the practice green and chip and pitch on to the green to see which ball gives you the best results. This is because the different ball constructions and covers will produce different results.
Finally take you two best choices and putt with them to select the one that feels the best as usually there is a firm and a soft option for a given level of ball performance in the Titleist range.
Remember you will get what you pay for so make sure you check out all the balls in the range as a a premium ball with a better cover may mean lower scores.
Titleist Golf Ball FAQ
What Is The Most Popular Titleist Golf Ball?
The most popular Titleist golf ball is the Pro V1 and its sister Pro V1x which are regularly the number one ball on tour and at the major championships.
Which Titleist Golf Ball Goes The Farthest?
Most Titleist golf balls go a similar distance but inevitably one will be longer and in our testing it is usually the Titleist Velocity. That is because it is one of the lowest spinning and highest flying balls. It may go the longest but it may not stop the quickest so test all the Titleist balls to get the right one for you.
What's The Difference Between Titleist Pro V1 and Pro V1x?
The difference between Titleist Pro V1 and Pro V1x is that the Pro V1 feels softer and spins less than the Pro V1x. The both go around the same distance so it just depends which profile of ball bst suits your game. Find out more in our Titleist Pro V1 v Titleist Pro V1x comparison review.