Best Golf Drivers For Distance 2023
In this piece, we review and compare a number of the best golf drivers for distance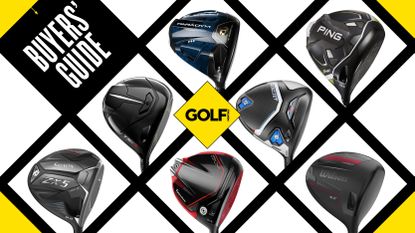 (Image credit: Future)
Get the Golf Monthly Newsletter
Thank you for signing up to Golf Monthly. You will receive a verification email shortly.
There was a problem. Please refresh the page and try again.
Best Golf Drivers For Distance
Every golfer wants more distance off the tee and, one easy way to do that is by looking for a new driver that can go in your bag. In today's market, many brands are introducing new technology to maximise the performance from their drivers and, in this guide, we have taken a look through what drivers will suit your game in the distance department.
Firstly, what exactly makes a driver ideal for distance? Well, this can vary depending on the level of golfer but a common theme is getting the best optimization of launch possible and making sure the spin characteristics are where they should be because, if your driver spin rate is too high, it will balloon in the air.
In this guide we've tested the best golf drivers for distance to give you an idea of how they could perform for you. The video below provides an overview of the best all-round drivers on the market this year.
As we've mentioned, lower spin is often the key ingredient for longer drivers, so we've highlighted some of the models that offer this through head shape and weighting. However, this sort of set up won't suit every golfer, and the lower spinning, more compact heads in the drivers listed below are mostly aimed at better ball-strikers. As such, they are much less forgiving than the most forgiving drivers or best drivers for beginners.
Because of this, we have also added models that will suit those looking for distance, but have a slower swing speed. In this department, it is spin that will benefit the user, as it will carry further in the air if the optimal amount of spin is available.
Our expert club testers have personally tested every model we list below, so be sure to read the full reviews if you want to take a deeper dive into any of the models we've chosen. Our reviews include comparisons to older models as well as other models in the currents ranges to help you decide which driver will best suit your game. Also be sure to check out our other guides - such as the best golf drivers for mid handicappers, or the best high handicap drivers.
The Quick List
Best Golf Drivers For Distance
Slow Swing Speeds
The TSR1 driver from Titleist is specifically designed for players who have slow swing speeds, with the TSR1 featuring an ultra-lightweight design that is roughly 40 grams lighter than the TSR2.
An interesting aspect, which not many would notice, is that the TSR1 driver is quarter of an inch longer than the standard TSR2, TSR3 and TSR4 models. This, combined with its lightweight feel, is designed to help moderate swing speed players deliver greater distance and spin, which will help keep the ball airborne.
In testing, we could really feel the aerodynamics at work and, what's more, we also noticed the speed of the ball off the clubface through impact. As for carry and distance, compared with other drivers, we achieved a significant yardage gain of approximately 20 yards. This is also to do with the deep center of gravity that the TSR1 possesses.
The Max model of the Aerojet is predominantly aimed at those golfers searching for one of the most forgiving drivers on the market that will also help to straighten up a slice and increase your distance from the tee box.
For 2023, the main technology change comes in the form of the shape of the clubhead and, as the name suggests, it's speed where the main focus has been put. Cobra's engineers have created a more aerodynamic design to give golfers more speed. There's also a bigger sweet spot to help improve performance, especially when the strike point is not in the centre of the clubface.
If you are in search of a confidence-inspiring clubhead at address then this is one to try as it's nicely stretched back and has that same gloss finish to the crown with a grey carbon effect. Along with the looks, the added spin in the head will suit those with slow swing speeds because it will keep the ball in the air longer.
The original Stealth range was one of the best distance drivers on the market for 2022 and, for this year, TaylorMade have refined their offering in the form of an inverted cone variable face thickness on the back of the driver. Consequently, this has allowed the brand to increase the size of the sweet spot by 20%.
TaylorMade have given the Stealth 2 HD a 0.25 inch shorter shaft at 45.5 inches, a 2° upright lie as standard and a deeper more rounded head which, when struck, will create more launch and height with a slight right-to-left flight.
It is worth noting that if you hit the driver straight you probably won't need this driver and, if you have a full on slice, then the TaylorMade Stealth 2 HD will work in conjunction with a series of lessons. Either way, this is one of the best TaylorMade drivers in its range.
The Ping G430 range features three models for 2023, with the G430 Max, G430 LST and G430 SFT all carrying on the tradition of user-friendly clubs from the brand. All three provide incredible performance and, if you are a faster swinger of the club, then the Max and LST would be the ones to check out.
Here though, it's the SFT which we are focused on as it provides users with the most spin of the three, which will help the ball travel further in the air for slow swing speeds, while it is also easier to get in the air with hint of draw.
Despite our tester having a quick swing speed that is north of 110mph, we were still able to eke out a sufficient amount of distance with the SFT the draw-bias choice of driver for 2023. Also, because the head is slightly stretched out and neutral, it will provide a lot of confidence when addressed to the golf ball.
The new Dynapower driver is one of the most adjustable drivers ever created by Wilson and is available in both Carbon and Titanium head options. The reason why we have included it in this guide is because of how easy it is to hit with full commitment.
As mentioned earlier, it is extremely adjustable, which is something that will benefit those with slow swing speeds because you can change the settings to suit your ball flight and shape.
There really is a lot to like about the driver and it's comfortably among the best Wilson golf clubs you can buy. As is the case with any driver, if you were to get fitted for it, it will be competitive and even come close to the more premium models listed above.
For 2023, Srixon has released the ZX5 MK II, ZX5 MK II LS and the ZX7 MK II, with the ZX5 our choice for this guide. In our testing, we felt it was one of the best high handicap drivers of 2023 because of how easy it was to launch in the air. This comes down to the weight that is saved by the crown being repositioned to improve the launch.
There is also a variable face thickness pattern behind the face, which has been improved for 2023, with Srixon claiming that the ZX5 MK II provides an extra 2mph ball speed at impact as the face flexing on that more rigid structure brings the power. The trailing edge is also a little higher to get the CG in the right position and the head shape is a little less toe heavy and gives a pleasing look at address.
Faster Swing Speeds
If you look at the TSR range, you will find three premium models that prove superb performance. However, the one designed for distance is the TSR4, which is billed by the brand as the 'ultimate low spin driver'. Primarily, it's aimed at those who are looking to keep their spin rates under control and maximise their distance off the tee.
First and foremost, it features a 430cc head, not the traditional 460cc, with the driver also have a much smaller footprint at address than others on the market. It is also far more compact from heel to toe and it doesn't extend as far from front to back.
It still has the beautiful, classic Titleist shape, with moveable weights on the sole and back of the head allowing golfers to dial in their spin rates and distances. In testing, it produced superb and, despite the smaller head, the work the brand has done on the new multi-plateau variable thickness face seems to help guard against any major drop off in ball speed when you don't strike it perfectly.
If you're a confident ball-striker and looking for a workable driver that will help you control your spin, then Callaway has a new offering for you in 2023. It's called Paradym, and this specific model, Paradym Triple Diamond (TD), is the low spin version that you'll likely see being used regularly on Tour.
There are more forgiving versions of this driver, such as the standard Paradym and the Paradym X but, if you are a fast swinger of the golf club and looking to maximise your distance, this is the model for you as the new 360˚ carbon chassis and 14g back weight combine beautifully for lower spin and maximum workability.
In testing, it was the longest Paradym model of the three, with our tester producing a swing speed of around 113mph on average. A notable point is that the clubhead speed and ball speed were similar, but because there was a reduction in spin – 500rpm less compared to the previous generation – there was significant extra carry.
The primary difference between the LST and the other two models is that the low spin version of the new driver is the only one that features a carbon crown. Eight layers of carbon wrap across the entire crown and into the heel and toe of the driver, saving weight that, the designers say, can then be used elsewhere to boost the overall performance on offer.
In testing, we found it one of the fastest drivers in 2023, as an increase in ball speed and a reduction in spin delivered ample distance. One thing we noticed was that despite the speed, the compact look and low spin, the G430 LST was still extremely user-friendly.
Arguably the biggest change from its predecessor is the new rib structure within the head which has improved the sound. To us, the change has resulted in a more powerful sensation through impact. It isn't as muted through the ball as, for instance the new TaylorMade Stealth 2 driver, but it strikes a good balance of feeling powerful yet easy to launch.
As you might expect, the LS in the Cobra LTDx name stands for low spin and as such, this driver is aimed squarely at those faster swinging players looking to control their flight and shape. Whilst we gained 3 yards through the air with the standard head, the lower flight of the LS version actually delivered one extra yard of overall distance.
Down behind the ball, this has a traditional shape and sleek aesthetic. The matte black crown that we saw in the Radspeed LS driver is back and to be honest the differences in terms of the visuals at address are minimal at best. We also like the small pops of orange around the head as well.
The forgiveness was also impressive for a lower spinning model and as such there is plenty of distance and consistency on offer here.
Over the last few years, golfers have become used to seeing TaylorMade introduce new driver technologies in a bid to unlock more distance off the tee. For 2022, this promise comes in the shape of an all new carbon fibre face. To highlight this new technology, the face of the Stealth driver is red. Whilst this might not be to everyone's taste, the chosen color is not too bright and down behind the ball is fairly recessive. We liked it.
For the better player searching for a low-spin option off the tee, TaylorMade has produced the Stealth Plus. Returning after a year away from the SIM2 range is the moveable weight positioned just behind the face of the driver which can encourage a certain type of shot shape. This driver is aimed at those faster swinging golfers or those looking for a driver set-up to promote a certain shot shape.
In the same loft and shaft set up, the Stealth Plus was the lowest launching and spinning of the three new TaylorMade heads. For us, it was also the longest, producing outstanding ball speed, carry and total distance performance. So if you like the look of the Stealth range and are looking for pure distance from your driver, look no further.
Designed to offer low spin within a high MOI head for greater forgiveness, the Rogue ST Max LS features many of the same technologies as the Callaway Rogue ST Max while being aimed at those confident, fast-swinging golfers off the tee.
The number that really stood out during our testing was the raw ball speed. At 168mph, it would be fair to say this was one of the fastest drivers we have ever hit. Interestingly, we did hit some shots off centre, but they didn't cause a huge drop-off in ball speed.
We think that this is a very playable but, also, a very long driver. It offers hugely impressive distance and comes in a shape that will attract those in search of a classic, compact look down behind the ball.
Although we weren't huge fans of the clock face graphics on the head, others may well be and, consequently, this Callaway driver is definitely worth considering if you want a model for out and out distance.
The "C" in Tour Edge Exotics C722 driver name stands for a compact 445cc clubhead – which nicely complements the deep face with minimal offset. This is aimed at better players who are looking for premium performance, but without paying the premium price of some other top brands.
Like its sibling Tour Edge Exotics E722 driver model, this sports a thin "Ridgeback" spine acting as a brace that runs from the clubface center through the crown and connecting with a new sole plate rail, that produces a powerful impact sound.
An adjustable hosel also allows you to alter the base 9.5- and 10.5-degree lofts by +/- 2 degrees, and lie angle through a range of 3 degrees. What's more, the shaft is scientifically paired for every flex.
In our testing, we loved the ball flight. Hit it on the money and your drive goes far. Miss it a little high or low, and it seems to provide plenty of forgiveness in two ways – it gets close to your desired trajectory and it still seems to want to eke out some extra distance.
Srixon is a brand that goes under the radar but actually makes some impressive products competing with the very best in multiple categories, including drivers. The ZX7 represents a big improvement over the Z 785 model, thanks in part to the stock shaft, but also from the redesign of the clubhead.
It's designed for the slightly lower handicapper, who will like the smaller, more rounded profile. It has a simple, no frills look on top with a glossy carbon crown and a very subtle alignment mark to minimize distractions over the ball.
The numbers were impressive, as we topped out at 280 yards. The flight was also strong but reducing spin through further tweaks during a fitting could almost certainly eek out some extra yards, especially when you consider the complexity of the adjustable hosel system.
How we test drivers
When it comes to product testing, our reviews and buyers' guides are built upon a rigorous testing procedure as well as the knowledge and experience of the test team. Headed up by Neil Tappin, and assisted by Joel Tadman, both have been testing golf clubs for years and both play to a handicap of 5. Both are also able to efficiently test the vast majority of the biggest product releases and convey the pros and cons eloquently.
Getting into specifics for drivers, we first attend product launches and speak to manufacturer's to understand the technology. We then hit the golf clubs indoors, usually at Foresight Sports and test the products with premium golf balls on a launch monitor.
Outdoor testing is the next port of call and this usually takes place at West Hill Golf Club, a course in Surrey with top-notch practice facilities. Ultimately, we aim to be as insightful and honest as possible in our reviews so it is important to acknowledge that no manufacturer can buy a good review. This is because our team tells it how it is.
What to consider when buying a driver
You've probably already asked yourself whether you need to buy a new driver, but there's a few key things to consider when investing in a new driver. Hopefully answering these questions will narrow your search down slightly and make comparing between various models much easier.
What is your priority? - Have a think about what is the most important thing for you when it comes to the driver. If accuracy is what you're after, go for something with a high MOI or adjustable weights to help alter spin and flight characteristics.
If distance is key to you, which is probably why you are on this guide, look at a low-spinning driver to help ensure your ball doesn't balloon too much. Or if you want forgiveness, then a larger head will probably suit you the best. Many brands make different models for different levels of player, this explains why Cobra has three different LTDx heads, and Titleist has the TSi1 to TSi4 range.
Adjustability - Most models these days come with a degree of adjustability whether it be loft, weight movement, shaft and so on. Therefore have a think about how important adjustability is to you because you can change the characteristics of a club if you want to. Alternatively you can just keep things simple with other models as well.
Looks - You have to like how a golf club looks especially when looking down on the golf ball. So make sure you go and take a look at how different models look in your hands and down by the golf ball.
Budget - Finally be aware of your budget. You can go for more premium models, such as the TaylorMade Stealth, or you can go for cheaper designs from Cobra instead. Wherever you fall in terms of price point, there is something for everyone.
Custom fitting - This is probably the most essential part of the driver buying process, no matter the driver you're after or how good you are at the game. A custom fit session will make sure you get the right flex and length of shaft, correct loft and correct head for your game, meaning you'll finish with a driver that will be as suitable as possible for you out on course.
FAQ's
Which driver gets the most distance?
There is no one simple answer to this question because it will vary for every single golfer. But we have found there are specific models that do go further in our testing and they are included in our specific best drivers for distance guide.
How do I get more distance from my driver?
Again, it will depend on many factors including set-up of your driver, as well as your swing. When it comes to the latter, it's best to check with your pro but, when it comes to the driver, the optimal set-up for distance is best experimented with so you can find that balance of flight and length.
Coupon Discount Codes