Most Forgiving Drivers 2022
Check out our rundown of the most forgiving drivers on the market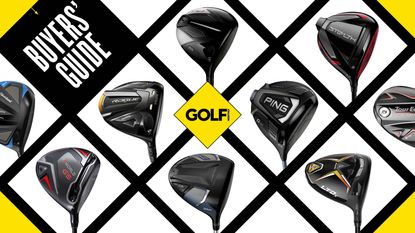 (Image credit: Future)
Most Forgiving Drivers
Getting a new driver that gives you five extra yards of distance sounds great, but what good is that to you if your second shots consist of hacking out from the rough or chipping out sideways from the trees?
You need a driver that's going to keep the ball in play while still sending it out there a good distance. To do that, you need to prioritize the most forgiving drivers on the market. We tested 21 different models and the video below offers some detailed insight into how they performed in five key categories - including consistency.
The best golf drivers these days are much more user friendly than those from say five years ago, but your choice in a particular model within a brand's latest range can make a big difference to the performance. A custom fitting will naturally provide greater insight into how each driver works for you, but we would always suggest favoring forgiveness and accuracy slightly over out-and-out yardage.
You may hit that one shot out of the middle with high launch and low spin that seemingly stays in the air forever, but let's face it - more often than not we're not striking the sweetspot of the driver. This is why a driver that can combat the effect of mishits in terms of limiting drops in ball speed and reducing curvature through the air is worth its weight in gold. All the drivers in this list will have very high MOI and large heads in order to maximize forgiveness across the face.
So what are the most forgiving drivers on the market in 2022? Well, we've tested them all and picked out our favorites below to help you find the short grass, which should ultimately help lower your scores.
Additionally, if you are looking for distance off the tee, then we recommend you check out our best golf drivers for distance guide.
Most Forgiving Drivers
Why you can trust Golf Monthly Our expert reviewers spend hours testing and comparing products and services so you can choose the best for you. Find out more about how we test.
Best For Consistency In 2022
Specifications
Lofts : 9°, 10.5° & 12°
Adjustable Hosel: Yes
Stock Shaft : 6 options
Left Handed Option: Yes, in all available lofts
Reasons to buy
+
Increased forgiveness and accuracy over G410
+
Better fitting options across three models
Reasons to avoid
-
No obvious gains in distance over G410 on centred hits.
To achieve the new performance levels in the G425 Max, Ping has implemented a new 26-gram tungsten movable weight called a CG Shifter, which is made possible by weight savings from advancements in the driver's dragonfly crown design.
The weight can be secured in one of three settings – neutral, draw or fade – to influence forgiveness and shot shape, with the average MOI increase being 14 per cent across the three weight positions compared to the older G410 Plus. If we are honest, the whole G425 range is generally quite forgiving, but we'd say the Max is the most forgiving of the three heads.
Indeed when comparing to the older model, down at address, the G425 Max certainly has a more rounded profile than the G410 Plus which, to some people, will look more user friendly.That isn't to say performance has gone down though, because the Max still feels just as powerful and has the same sound we loved in the G410.
Overall, in our testing we think the Max, along with the other models with the G425 name, is a range of drivers that will work for every player type to maintain distance while finding more fairways.
Consistent Flight and Distance
Specifications
Lofts : 8°, 9°, 10° & 12°
Adjustable Hosel: Yes
Stock Shafts: HZRDUS RED CB, Tensei AV Blue With Xlink Tech, HZRDUS Black 4G, Tensei 1K Black, Premium Tour AD UB, Premium Tour AD DI, Premium Tour AD IZ
Left Handed Options: 9°, 10° & 11°
Reasons to buy
+
Impressively long
+
Consistent flight and distance
+
Aspirational aesthetics are classic and confidence-inspiring
Reasons to avoid
-
Not a huge upgrade over the previous generation
The Titleist TSR2 performs superbly in a number of key areas, but it's the consistency and forgiveness where you will see the big difference in the TSR2, which we believe is one of the best Titleist drivers out there.
Many golfers will see a jump in speed but, with the TSR2 in particular, it was the all round playability of the head that impressed us most. During our testing, off-centre strikes were more-or-less keeping up with clean impacts, as the aerodynamic design and forgiveness shone through.
It's the combination of user-friendly playability and classic, aspirational looks that really makes this one of the most forgiving drivers out there. The TSR2 might come with a promise of extra distance but it is the overall benefit of greater consistency that could make the biggest difference.
Best Looking Driver For 2022
Specifications
Lofts : 9°, 10.5° & 12°
Adjustable: Yes
Stock Shaft : Fujikura Ventus Red 5
Left Handed Option: Yes, only in 9° and 10.5°
Reasons to buy
+
Very strong overall performance
+
Outstanding shelf appeal
+
Consistent ball flights, especially in the wind
Reasons to avoid
-
Less confidence inspiring than outgoing SIM2
Next up is the TaylorMade (opens in new tab) Stealth driver, which features a new red carbon fibre face to help players get more distance. Of course the red color does stand out and may put some off, but we actually liked it mainly because down behind the ball it is fairly recessive.
But what was it like to hit? Well during our testing, we managed to deliver an extra three miles per hour in clubhead speed with the Stealth compared to the SIM2. As you'd expect, this (along with a reduction in spin versus the original SIM) translated into more distance.
Additionally the Stealth has a powerful feel and good sound at impact, a little more high-pitched than the outgoing SIM2, but still a great sounding driver in our opinion.
We should also mention there is the draw bias Stealth HD, which is one of the best drivers for slicers on the market. However, we think the standard head will suit the broadest range of golfers looking for a forgiving driver.
Our Choice For Best Overall Driver In 2022
Specifications
Lofts: 9°, 10.5° & 12°
Adjustable Hosel: Yes
Stock Shaft: Project X HZRDUS RDX Blue 60, HZRDUS Smoke iM1060 & UST Helium Nanocore.
Left Handed Options: Yes, in all available lofts
Reasons to buy
+
More refined aesthetics versus the last generation
+
Improved sound
+
Impressive forgiveness and consistency
Reasons to avoid
-
Marginal gains versus last year's Radspeed range
Launched to replace the Radspeed range of the clubs, the new Cobra drivers features three heads: the LTDx Max we've featured here as well as the standard LTDx and LTDx LS, both draw bias and lower spinning models respectively.
We've highlighted the Max here as the most forgiving model in the range, which makes it one of the best drivers for mid handicappers. Featuring a 3g weight positioned toward the heel of the head, it help encourages a draw shape so, if you're looking for a forgiving driver without draw bias, the standard head will be a better fit.
The LTDx Max sits less closed behind the ball than some other draw-biased drivers you'll find this year. For us, that meant we were able to swing confidently at the ball without worrying about hitting a hook and, ultimately, we were pleased by how consistent the Cobra LTDx Max was. If you're a beginner golfer who doesn't slice the ball too much, we think you'll find the standard LTDx head as useful so it's worth trying both.
We also like what Cobra has done to the aesthetics of this driver, more refined than the Radspeed despite having very similar matte-black crowns. Finally the LTDx has a much lower pitched, quieter impact sound than the Radspeed. We felt that it was significantly better - creating a satisfying 'crack' through impact that felt very powerful.
Best Sound And Feel In 2022
Specifications
Lofts: 9°, 10.5° & 12°
Adjustable Hosel: Yes
Stock Shaft: 3 options (Mitsubishi Chemical Tensei AV Blue, Project X Cypher Black 50 & Fujikura Ventus Blue)
Left Handed Option: Yes, in all available lofts
Reasons to buy
+
More premium look versus Mavrik
+
Better sound and feel than Mavrik
+
Produces very stable ball flight
Reasons to avoid
-
Unnecessary clock graphic design on the crown
The Rogue ST family has been introduced to replace the outgoing Mavrik range and it features four different heads: Rogue ST Max, Rogue ST Max D (draw bias), Rogue ST LS (low spin) and Rogue ST Triple Diamond LS. All of these models feature an extended use of A.I. to optimize its Flash Face for launch and spin as well as ball speed.
We're highlighting the Rogue ST Max head here as this is the option we think will suit the broadest range of golfers. Down at address, the Rogue ST Max has a new matte crown which we really liked, although we didn't care much for the clock-style graphics at the rear. The face looks flatter and is lighter in color, making it more visible and therefore easier to align. The Rogue ST Max also has the longest profile of the range from front to back to inspire maximum confidence while the Rogue ST LS and Triple Diamond LS have taller faces.
When hitting we noticed a quieter, more dense 'thud' sound of the Rogue ST Max versus the louder, more metallic acoustics of the Epic Max and we really liked this change. It also provided us with a neutral and stable ball flight which we enjoyed. If you are a fan of Callaway make sure you have a read of our best Callaway drivers guide by the way.
Best For All Playing Levels
Specifications
Lofts: 9°, 10° & 11°
Adjustable Hosel: Yes
Stock Shaft : Kuro Kage Black DC 5G, Tensei AV Blue, HZRDUS Smoke Black RDX, Tensei AV White Raw
Left Handed Options: Yes, in all available lofts
Reasons to buy
+
Excellent off-centre forgiveness
+
Suitable for a wide range of player types
Reasons to avoid
-
No moveable weight on the sole
The TSi2 is perfect for anyone looking for a forgiving driver from one of golf's most famous brands.
At address, we found the TSi2 to look generous in size but not too big that it looks chunky and unwieldy. It also has a more rounded toe compared to the previous TS2 which really adds to the inviting aesthetics. We also noticed how good it sounded through impact - a powerful acoustic thanks to the appealing 'thud' sound.
As an overall package, it neatly balances distance with forgiveness and consistency, making the Titleist TSi2 truly impressive. If you aren't fussed about having moveable weight and want a higher ball flight but still with low spin, it could be a good driver to explore further - especially if you already know your specs.
Modern Yet Classic Design
Specifications
Lofts: 9.5°, 10.5° & 11.5°
Adjustable: Yes
Stock Shaft : Honma Speedtuned
Reasons to buy
+
Stunning looks from every angle
+
Noticeably forgiving on off-centre hits
Reasons to avoid
-
Expensive compared to others on this list
The T//World GS driver is aimed at golfers across the handicap spectrum, with the emphasis on forgiveness and control over outright speed and distance. The driver looks really appealing behind the ball, with a classic looking shape and subtle alignment marks that help with lining up the ball at address.
Our immediate first impression during testing was how stable this driver is. The excellent stock shaft on offer feels light and flexible, but we never lost control of the ball flight in our testing. The variable thickness of the face helps to reduce spin on strikes low and out of the toe, both of which are common amongst mid and high handicap players.
Along with the variable thickness, it also features a Non-Rotating System in the hosel that promotes consistency of strike and flight by ensuring the spine of the shaft remains in the six o'clock position when loft and lie are adjusted. Whilst it's a less recognized brand in the driver space, the T//World GS is certainly a model to consider in the forgiving sector of the driver market.
Best For Simplicity
Specifications
Lofts: 9°, 10.5° & 13°
Adjustable Hosel: No
Stock Shaft: Mitsubishi Tensei CK Blue A (50g), R (50g), S (60g)
Left Handed Option: Yes, 10.5° only
Reasons to buy
+
Satisfying impact sound
+
Ample off-centre forgiveness
The design of the D9 driver comes from computer modeling software used to simulate hundreds of different club head variations to find the most effective design. It also features a three-layer composite crown which helps deal with vibration and reduce the weight of the club.
A 10-gram sole weight comes as standard or a super-lightweight 3-gram weight giving the player the option of adjusting and fine-tuning the moment of inertia and forgiveness on offer.
The impact noise was a pleasingly dull thud and the look at address was clean and unfussy. The sole is also understated, but modern when it comes to appearance. The conclusion we made from testing was, if you want more forgiveness from your driver at a decent price point (opens in new tab), then it is definitely a model to consider.
It will also suit those players with below average swing speeds who want more consistent results too, whereas faster swingers who want as much distance as possible will perhaps best be suited to look elsewhere.
Supreme Forgiveness, Great Value
Specifications
Lofts: 9.5°, 10.5° & 12°
Adjustable Hosel: Yes
Adjustable Weights : Yes (available separately)
Stock Shaft : Fujikura Ventus Blue, Fujikura Ventus Red & Mitsubishi Tensei AV Raw Blue 65
Left Handed Option: Yes, in 10.5°
Reasons to buy
+
The sleek look invites you to take a super-aggressive cut at the ball
+
Impressively forgiving
+
Impact sounds mighty
Reasons to avoid
-
Misses high on the clubface tend to rocket skyward and go short
Best known for selling "value" clubs, Tour Edge's Exotics premium line aims to compete with the major brands. For this driver, the company got feedback from its Champions Tour pros – including Bernhard Langer – while creating the design. The 460cc E722 (Extreme) offers high MOI via a 30-gram back weight, higher launch and maximum forgiveness, with more spin and slightly more offset.
The Tour Edge Exotics E722 driver also has a 30-gram weight at the extreme trailing edge of the sole for an extreme low-rearward CG that increases stability at impact and tightens dispersion - ideal for high handicap golfers looking for the most forgiveness possible. Additional weights are available in 20, 25 and 35 grams – individually or in a weight kit.
Lightweight And Forgiving
Specifications
Lofts : 9°, 10° & 12°
Adjustable Hosel: Yes
Stock Shaft: Aldila Ascent UL
Left Handed Option: Yes, only in 10°
Reasons to buy
+
Designed to be as forgiving and light as possible
+
Will help slicers
Reasons to avoid
-
Only designed for slower swingers
The Titleist TSi1, similar to what we saw with the previous TS1 driver, is the lightweight option engineered for the moderate (less than 90 mph) swing speed player seeking increased club and ball speed with control off the tee. This driver ranks as one of the best golf drivers for seniors, as it is designed for those with a slower swing speed with their driver.
The 460cc TSi1 is almost 40g lighter than standard drivers. It is high launching with mid spin and is the most draw-biased Titleist driver available through its CG positioning. By reshaping the head, engineers were able to move the CG closer to the centre of the face, which results in more ball speed versus the outgoing TS1. It's one of the most lightweight drivers we've tested in years and it really is worth getting one in your hands to feel how truly light it is.
Suits A Broad Range Of Golfers
Specifications
Lofts: 9°, 10.5° & 12°
Adjustable Hosel: Yes
Stock Shaft : Project X Cypher 50
Left Handed Option: Yes, in all available lofts
Reasons to buy
+
Very generous head size inspires confidence
+
Modern, premium finish
Reasons to avoid
-
Quite high pitched through impact
The Cleveland Launcher XL successfully replaces the popular Launcher HB model that was released in 2020. Aimed at mid to higher handicap golfers, the Launcher XL benefits from a larger driver head and an incredibly confidence inspiring look at address.
Confidence is inspired further, with the length of the head, from front to back, being increased by 6%, with the contrasting crown and face finishes mean you can see all of the loft from address. Performance wise, the Launcher XL gave solid carry distance on an easy swing. For the wide range of players this driver is aimed at, the spin rates created with this driver will help keep the ball in the air and provide good carry distance.
Great Value Performance
Specifications
Lofts : 9.5° & 10.5°
Adjustable Hosel: Yes
Stock Shaft: 23 options in custom fit
Left Handed Option: Yes, only in 9.5°
Reasons to buy
+
Easy to launch
+
Stable ball flight
+
Good value
Reasons to avoid
-
Minimal difference on the previous generation
Alongside the ST-Z 220, Mizuno has released the ST-X 220, a draw bias model for those struggling with a slice off the tee. The Z is a lower spinning model that blends both power and forgiveness and, as such, is aimed at the largest cross section of golfers. The Mizuno ST-X 220 driver is mid spinning and has a draw bias.
During our testing, we found the ball speed is up there with the likes of Callaway, TaylorMade, Ping and Titleist and, with a good fitting, we think this driver should help most golfers find some extra yardage. The other thing that struck us as we hit the ST-Z 220 was how easy it was to get in the air. It isn't as low spinning as we were expecting, or as some other, similar drivers on the market.
All in all, during our testing, we really enjoyed hitting this Mizuno driver. In all the key categories - from looks to forgiveness - it performs well. What's more, price wise it is positioned alongside the Cobra LTDx and Cleveland Launcher XL drivers so we would definitely recommend trying all three to see which you like best if you don't want to go down the premium price route.
Why A Forgiving Driver?
So what exactly are the benefits of a forgiving driver? Well, the main thing is forgiving drivers usually have larger heads and have been specifically designed to help players maintain a degree of distance and accuracy despite being inaccurate and possibly inconsistent when it comes to strike.
They allow players to optimize as much distance as possible which then allows players to hit shorter clubs on their next shots which often leads to better scores. All the above models have been designed to do this by limiting the effect of mishits on ball speed, and reducing curvature through the air so the ball can stay within the confines of the fairway for longer.
How we test the most forgiving drivers
The first thing we should mention is our overall testing ethos at Golf Monthly which is to put all products through a rigorous testing procedure to give you crucial insights into how they perform, how they compare to their predecessors and where they stack up in relation to the competition.
As such, we regularly attend product launches and meet with the manufacturer's R&D experts to understand the new technology. Then, the first port of call to test golf clubs is usually the indoor simulator at Foresight Sports, where the team can test in a controlled environment using premium balls and the GCQuad launch monitor.
We then do outdoor testing mainly at West Hill Golf Club, a course in Surrey with excellent practice facilities. Getting more specific, our equipment specialists have hit most drivers out on the market, in testing, practice and competition play, and deduced the above models are the most forgiving models out right now.
What do I need to consider?
You've probably already asked yourself whether you need to buy a new driver in 2022, but there's a few key things to consider when investing in a new driver. Hopefully answering these questions will narrow your search down slightly and make comparing between various models much easier.
When purchasing a new big stick, it is crucial to ask yourself just what you need from it.
Size
Forgiving drivers tend to be slightly larger than other models for the basic reason of giving them a larger clubface and larger footprint.
When hitting, try and take note of where you are striking the golf ball with the face of the club and see if there is any performance drops. Many forgiving drivers these days are designed to perform regardless of where you strike them off the face and you being able to see and understand that in person will help you be more confident with one model over another.
The other thing to acknowledge when looking at the size is also the looks. It is important you get a driver that suits your eye especially when it is down behind the golf ball. If it is too big, that may put you off, but if it is too small this may dampen confidence. Finding the right balance is key. You also need to make sure you like the shape too because some drivers have a more rounded look, or more pear-shaped. Some also have a draw-bias too.
Draw-biased?
Speaking of draw bias, if you are a slicer of the golf ball then a forgiving, draw-biased driver could be the way to go to eradicate the big slices.
Weight
Weight has become a big factor when it comes to forgiving drivers, with most brands making models that have a weight towards the back of the head to aid forgiveness and launch. When it comes to whether you want a forgiving driver, it is worth acknowledging whether this is important to you because if not then manufacturers usually make a model without a weight there.
Adjustability
Often this weight is moveable too and adjustability has become a huge part of modern golf. Being able to tinker and change loft, lie, and many other factors, has become all the rage and if you like to try new things then plenty of the models above, like the Titleist TSi2, will cater to that. However if that doesn't interest you one bit, there are also models which keep things more simple, like the Ping G425 Max.
Shaft
Some shafts have been designed to help players get as much distance as possible so it is worth thinking about which models will help you achieve those extra yards. Also check out our guide on the best driver shafts too.
Price
Price is obviously an important factor and thankfully there are lots of drivers coming in at different price points. This means you can go down the premium route if you want, but there is good value to be had too.
Therefore it is about working out what you want to pay, what you can afford, and to some extent, which brand you want. Some people remain loyal to the same brand for a long time because they have had performance gains in the past, and as such this could mean paying slightly more, or slightly less on a certain model.
FAQs
What is MOI?
MOI stands for Moment Of Inertia. It is a measurement to show how much resistance a clubhead has to twisting. The higher the MOI, the more resistance it has to twisting on the strike. Higher handicap golfers, or golfers who struggle to strike their driver consistency, should opt for a driver with more MOI and therefore more forgiveness.
What is the best driver for high handicappers?
All of the drivers in this guide will suit high handicap golfer as they have high MOI, large heads and perimeter weighting that will make it easy to launch. Check out our full guide on best high handicap drivers for a more in-depth look.