Most Forgiving Drivers 2023
Looking for a driver that will offer forgiveness on off-centre strikes? Here, we take a look at the best currently on the market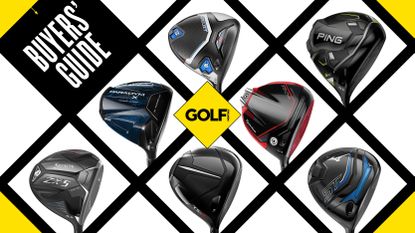 (Image credit: Future)
Most Forgiving Drivers: Quick Menu
A driver is arguably the most important golf club in the bag, as it's crucial that you get the ball in play off the tee to secure the best score possible. Put it this way, you don't want to be hacking out from the rough or bunker, do you? However, not even the professionals find the centre of the clubface every single time so, in the case of the amateur, weekend golfer, it's imperative that you find a driver that will offer forgiveness. This means finding a driver which will still provide distance and accuracy, even when the centre of the face hasn't been struck. Thankfully, in this day and age, the best golf drivers are much more user friendly than those of five years ago. But, there's a slight issue that arises here due to amount of drivers available from different manufacturers.
Obviously, a custom fitting will help greatly, because it can provide a greater insight into how each driver works and which one is better suited for you. However, in this guide, we are interested in what models are the most forgiving and, after testing each and every one of them, we have picked out our favorites below for you to check over.
However, if it's not forgiveness you are after, and you want a driver which will help in other ways, then why not check out our guides on the best golf drivers for distance, best golf drivers for slicers, or even the best golf drivers for slow swing speeds.
The Quick List
Best overall
For anyone who wants to take the right side of the course out of play, this driver has the technology to help. It strikes a good balance between being aspirational and user friendly. Not as eye-catching as other Cobra drivers but still has a premium look.
Most forgiving
There's a lot to like about the Ping G430 SFT driver - it's easy to launch, forgiving and surprisingly long. It's a model that will have broad appeal, and is especially worth trying if you struggle with a slice.
Most accurate
TaylorMade Stealth 2 HD Driver
The TaylorMade Stealth 2 HD driver is probably the most forgiving of the three models with wider appeal. The draw bias is subtle and the extra weight in the rear makes this a very easy driver to launch and a joy to hit.
Best lightweight
Callaway Paradym X Driver
A beautiful-looking driver that has the performance to match. Fast, forgiving and consistent, this lightweight driver has the wow factor golfers crave along with the slice-correcting ball flight.
Most improved
We were expecting big things from the new 0311 XF Gen6 driver and it delivered. We saw big ball speed and distance gains over Gen5 and were wowed by the forgiveness and playability achieved through the weighting system dialled in during a fitting.
Best from 2022
A classic-looking driver that delivers impressively fast ball speeds. The consistency of flight and distance comes from a generous 460cc clubhead that is up there with the most aspirational drivers on the market.
Best for feel
An excellent all rounder that provides a good blend of distance and forgiveness. Add to that the aspirational aesthetics and powerful feel and you have another strong contender within the 2023 driver market.
Best for looks
The Srixon ZX5 Mk II driver combines a lot of forgiveness in a no-nonsense design that offers very good performance in a good looking head. Ideal for mid to slower swing speed players, the ZX5 Mk II also sounds better with the all titanium head.
Best for beginners
Wilson Launch Pad 2022 Driver
One of the easiest-to-launch drivers we've hit this year, this delivers impressively on its promise of making the game easier for people off the tee. The simple, sleek aesthetics make this a very desirable option.
Best budget
Cleveland Launcher XL Driver
A driver that stands out for its feel, the Launcher XL will suit a wide range of golfers looking for a combination of forgiveness and carry distance off the tee. The high pitched noise won't suit everyone though.
Most Forgiving Drivers
Why you can trust Golf Monthly Our expert reviewers spend hours testing and comparing products and services so you can choose the best for you. Find out more about how we test.
Best overall
Specifications
Lofts: 9.0°, 10.5°, 12°
Adjustable Hosel: Yes
Stock Shafts: 2 options (MCA Kai'li Blue 60, UST Helium Nanocore 4)
Left Handed Option: Yes, in all available lofts - 12° is custom only
Reasons to buy
+
Effective in helping to straighten a slice
+
Confidence-inspiring profile at address
+
Surprisingly long
Reasons to avoid
-
Offset design won't suit everyone
Aerojet is an all-new family from Cobra for 2023, and is comprised of three different models: the standard Cobra Aerojet driver, the Cobra Aerojet LS, and the Cobra Aerojet Max. In this guide, we've included the Max as it has a really generous profile down behind the ball and there's also a bigger sweet spot.
Technologically, the company has created a more aerodynamic design to give golfers more speed and, because of the bigger sweet spot, the strike point is a lot larger. This means that it was extremely forgiving on off-centre strikes, with the enhanced sweet spot allowing for more margin of error.
Aesthetically, it is does sit slightly toed in and there is a small amount of offset which will most likely suit those whose common miss is to the right. Looks-wise though, we thought that it was similar to the other models, with our performance showing that it does indeed help straighten up a slice, with the draw bias and weight in the heel aiding a right-to-left ball flight.
Most forgiving
Specifications
Lofts: 10.5°
Adjustable Hosel: Yes
Stock Shaft: Ping Alta CB Black 55 (5 other options available at no upcharge)
Left Handed Option: Yes, available in all lofts
Reasons to buy
+
Very broad appeal
+
Head sits fairly square at address
+
Surprisingly long

Reasons to avoid
-
Some fighting a slice may prefer more of a closed look at address
Not only is the Ping G430 SFT one of the most forgiving drivers on the market, but it is also one of the best drivers for slicers released in 2023. The driver is adjustable and Ping are also promising extra distance, something the engineers have achieved through a shallower face that is 6% thinner.
Featuring Variable Face Thickness, the SFT delivers more face flexing, which helped produce more ball speed on shots struck across the entire face and, in our testing, it certainly showed as it produced more-or-less the same clubhead speed numbers as the LST, but with 300rpm more spin. This is something that aided forgiveness.
Because of the aspirational aesthetics, impressive distance and consistency, the Ping G430 SFT is one of the best golf drivers that money can buy and one that will benefit a number of golfers out on the course.
Most accurate
Specifications
Lofts: 9°, 10.5°, 12°
Adjustable Hosel: Yes
Stock Shafts: Fujikura Speeder NX Red
Left Handed Option: Yes, available in all lofts
Reasons to buy
+
Easy to launch
+
High level of forgiveness
+
Rounded head best looking of Stealth 2 models
Reasons to avoid
-
Not for those who already hit a draw
We were big fans of the original TaylorMade Stealth range and, for 2023, it has been refined as the inverted cone variable face thickness on the back has been modified to increase the sweet spot by 20 percent. It is worth noting that the majority of this gain is towards the heel side of centre which makes it very forgiving, especially for those who mis-hit low and to the inside of centre.
There are further changes and benefits made to the back of the head, with TaylorMade's engineers saving weight to further the forgiveness. In testing, it produced a consistently higher flight than the other Stealth 2 models and, depending on your current shot preference, it certainly straightened out a fade, with a slight draw bias of 5 to 10 yards.
Rather interestingly, the Stealth 2 HD has a 0.25 inch shorter shaft and a 2° upright lie as standard with a deeper, more rounded head. Although this won't make it one of the best golf drivers for distance, it is certainly one of the best drivers for forgiveness.
Best lightweight