Best Hybrid Golf Clubs For Seniors 2023
In this guide we review the best hybrid golf clubs for seniors, helping you to find the right model for your game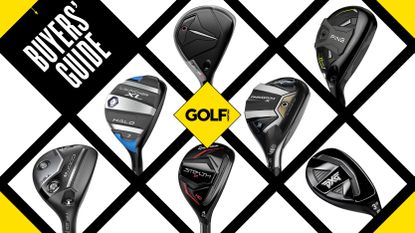 (Image credit: Future)
Best Hybrid Golf Clubs For Seniors: Quick Menu
Hybrids can help golfers of all abilities, and the best hybrid golf clubs for seniors are on hand to help older golfers with slower swing speeds maximize overall distance and make it easier to launch the golf ball too. Much like the best fairways woods and best golf drivers, different models in the hybrid category will suit certain swing types more than others. There's no longer such a stigma associated with playing hybrids or even replacing mid irons with hybrid clubs.
The best golf hybrid clubs make scoring easier, and, as a result, give us more enjoyment too. So why wouldn't you at least consider putting a hybrid in your setup, especially if you are a senior player?
As you get older, your swing speed tends to drop off and it can be harder to get the right elevation - which means you're often going to find yourself in a distance battle. If you are a senior golfer looking to invest in one or more hybrid clubs to help you game, think about the weight of the club - a lightweight club will help maximise swing speed - as well as the size of the head as the larger the head, the more forgiving the hybrid will be on off-centre hits. Also, if you are looking to add more than one hybrid to your bag, check the amount of lofts each manufacturer offers as some go down to a high-lofted 7 or 8-hybrid.
So, what are the best hybrid golf clubs for seniors? Below we have taken a look at some of the best options and we also recommend checking out our guides on the most forgiving hybrids, or the best hybrid golf clubs for high handicappers.
The Quick List
Top pick
Cleveland Launcher XL Halo Hybrid
The Halo scores high marks for the versatility. It's easy to hit out of any lie, performs exceptionally well on mis-hits, and gets the ball up in the air quickly.
Best from rough
Callaway Paradym X Hybrid
A highly-forgiving hybrid option that will suit the mid-to-high handicap golfer. Thanks to multiple loft options and hosel adjustability, this can be tailored to your bag.
Best for any level
The Ping G430 hybrid is a club that combines performance with immaculate looks. It's forgiving and produces consistent ball flights even out of more tricky lies.
Best adjustability
Cobra King Tec 2023 Hybrid
The King Tec hybrid impressed with both its performance and appearance. A classy looking hybrid that provided exceptional distance without sacrificing much forgiveness.
Best high launch
TaylorMade Stealth 2 HD Hybrid
The profile and low centre of gravity means stopping power into greens and coming out the rough has never been easier. A superb combination of distance and forgiveness.
Best looking
If you are a moderate swinging player, it's difficult to fault this lightweight hybrid that looks and plays like a fairway wood and generates effortless speed for easy launch.
Most fairway like
Callaway tapped into its Tour roster to build a high-performance utility wood with fairway wood distance and hybrid precision.
Best Hybrid Golf Clubs For Seniors
Why you can trust Golf Monthly Our expert reviewers spend hours testing and comparing products and services so you can choose the best for you. Find out more about how we test.
Top pick
Maximum forgiveness
Specifications
Lofts: 19°, 21°, 24°, 27°
Reasons to buy
+
Easy to hit from any type of lie
+
Provides naturally high launch conditions
+
Forgiving on off-centre strikes
Reasons to avoid
-
Impact sound is on the louder side
The Cleveland Launcher XL Halo Hybrid ranks as one of the most forgiving hybrids on the market and hence earnt a spot in our Editor's Choice Awards in 2022. Featuring an incredible amount of technology, the Launcher XL gives you the confidence to save you from a magnitude of disaster in various on-course predicaments: The specific focus in the design process was to help golfers escape poor lies with power and accuracy.
The Halo features Cleveland's XL head design which is larger than most hybrids. As well as the large head design, the hybrid has an MOI of 2,961 - the most ever in a Cleveland Golf hybrid. The Launcher XL Halo also features great stability and resistance at the moment of impact, with three Glide Rails on the sole helping keep the clubface straight for better strikes, regardless of lie quality.
Best from the rough
A forgiving yet powerful hybrid
Specifications
Lofts: 18º, 21º, 24º, 27º
Reasons to buy
+
Impressive forgiveness across the face
+
Strong, powerful flight
+
Fully adjustable hosel
Reasons to avoid
-
Minimal gains over Rogue ST Max
-
Large club footprint may not suit everyone
An upgrade on the very popular Rogue ST Max OS Hybrid, the new Paradym X hybrid from Callaway fine tunes some of the things we loved about its predecessor, to produce one of the most forgiving hybrids on the market. Aesthetically, the Paradym X boasts a very sleek black and gold colorway which will catch the eye of many golfers. Compared to the standard Paradym, this club takes a more full-sized wood shape, that gives a little more confidence when you come to address the golf ball which again makes this a fantastic hybrid for mid-to-high handicap players.
It delivers the perfect blend of forgiveness and distance and provides an excellent long-iron supplement at the top end of your golf bag. That playability is helped by the new Cutwave Sole Design Callaway have added to the Paradym hybrids. Here, they have reshaped the sole to help players cut through thick and wet rough to get a better connection on the golf ball. That means this clubs is excellent from a variety of lies, offering excellent distances and a lower spin rate than the Rogue ST Max OS. That lower spin also helps it to deliver some very satisfying ball flights. Overall, the Paradym X is one of the most playable hybrids on the market that is a great option for senior golfers looking for a rescue club that offers excellent distances from a variety of lies.
Best for any level
A fantastic golf club for any ability level
Specifications
Lofts: 17º, 19º, 22º, 26º, 30º, 34º
Reasons to buy
+
Plenty of forgiveness across the face
+
Clean aesthetics
+
Produced surprisingly fast ball speeds
Reasons to avoid
-
Fairly challenging to shape shots
Perhaps one of the most exciting products in the latest range of Ping clubs to drop in 2023, the G430 hybrid is an excellent option for any senior golfer. Having tested this both on the course and on the range, we found the G430 hybrid delivers excellent performance and is a very forgiving club that we loved playing with. It delivers several upgrades on the G425 Hybrid, the main being its new and improved visuals. Maintaining the same grey and matte black base colors, Ping has added some very cool white and green detailing to its sole and crown which adds to the premium feel the hybrid delivers.
While it does look like quite a compact rescue club, there is a lot of technology packed into this hybrid, including the a Carbonwrap head material that makes this club much lighter and more forgiving. This works to reduce the weight in the crown of the club, pushing its center of gravity lower, helping players to produce higher launch angles on each shot. That will certainly appeal to less experienced golfers who may be looking for a rescue club that'll help them dig the golf ball out from tougher lies.
Equally, we were also very impressed with the level of spin on offer here, with it consistently hovering around the 3000rpm mark. That allowing us to utilise the accuracy this club offered to find fairways from difficult spots on the course. Combine that with the tungsten weight and modified roll profile in the club head, and the stability on offer here is excellent. Ping have also upgraded the feel that was present on the G425, which delivered a 'metallic' sound and sensation on impact. But in the G430, the brand have toned down that sound to create a much more satisfying 'crunch' noise on impact. That again makes the G430 a great option for any kind of golfer looking for responsive feedback from their club. And while it may not carry as far as some of the best golf hybrids on the market, the G430 makes up for that in its consistency and simply how reliable it is as a long-iron replacement.
Best adjustability
A very lightweight hybrid
Specifications
Lofts: 16º, 18º, 20º, 23º
Reasons to buy
+
Produced extremely fast ball speeds
+
Very forgiving on off-centre shots
+
Moveable weights provide easy customization
Reasons to avoid
-
Fairly large footprint may not appeal to better golfers
The Cobra King Tec Hybrid is a fantastic club for any senior player, delivering classy looks and exceptional performance around the course. It is the second generation in the King Tec Hybrid range, and supplements the fantastic Aerojet hybrid released in 2023. This hybrid comes with a very cool one-tone matte black carbon finish which makes the head look more compact making this model very appealing to golfers of all experience level. Being made of a carbon crown, this is a very light club that has its weight distributed away from the face of the club to aid speed and forgiveness. That makes it one of the most forgiving hybrids we have tested.
This club also comes with some great adjustability settings which we enjoyed playing around with. As standard, it comes with two 12g weights, while 10g and 14g weights are also available on custom orders. You can swap each weight out to help you adjust your ball flight and how you hit the ball. If you're missing to the right or to the left, you can add more weight to the heel or toe and straighten out your ball flight.
We were also very impressed with how fast the ball felt off the face of this club. The distance on offer outperformed the previous King Tec Hybrid, but also shot longer than many of the best hybrids on the market right now. While it offers a lot of distance, which will be a great asset in the bag of many senior players looking to reach the green from further out, it is also a very versatile club given its playability from a variety of different cuts of grass. Playing from thick rough was not a problem with the new King Tec, and that was perhaps one of the biggest highlights of this fantastic hybrid.
Best high launch
Twist Face technology helps to neutralise miss-hits
Specifications
Lofts: 18º, 21º, 24º, 27º
Reasons to buy
+
Inviting design at address
+
Effortless in producing high launch
+
Superb out of tricky lies
Reasons to avoid
-
Those who turn the ball over may struggle
The TaylorMade Stealth 2 HD is an excellent club for any senior players or those with a slower swing speed. Boasting a similar red and black colorway to the Stealth 2 driver, this hybrid looks smart at address and its glossy black crown will fill you with a lot of confidence from whatever lie you're playing from. The club head sits flush on the turf and has a slightly off-set position behind the ball which will appeal to many less-experienced players.
Having put this club to the test on the course, we think it is a great long-iron replacement for any player who struggles to get the optimal launch on their hybrids. It comes with TaylorMade's patented Twist Face Technology, which neutralises miss-hits but also delivers a lot of speed off the tee and from the ground. The slightly larger head size on this club helps to lower the HD's center of gravity, which makes this a very forgiving club that launches the ball higher, helping to improve your carry distances, even on off-center hits.
While it delivers excellent ball flights, we also really enjoyed how easy this club was to use from thicker lies. That was largely down to the club's V Steel Design on its sole which quite literally picks the ball up when it's buried in the turf. So if you're a slower swinging player, who regularly finds themselves in the second or third cut, this hybrid provides an excellent get-out-of-jail card that'll help you get back on the fairway.
Best looking