Best Golf Drivers For Beginners 2023
We take a closer look at some of the best golf drivers for beginners that offer all-round performance and value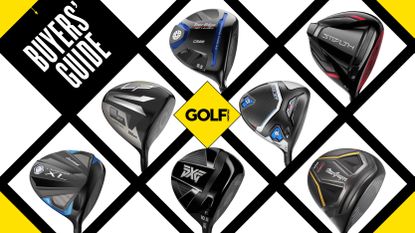 (Image credit: Future)
Best Golf Drivers For Beginners
If you're new to golf...welcome, you're going to have a great time. By now you've probably realized that the golf equipment market is vast with a huge array of different brands and full dictionary of technical jargon to wade through. We're here to help though and this guide on the best golf drivers for beginners aims to be a helpful, jargon-less guide to point you in the right direction of which driver is best for your game.
The golf driver is probably one of the most fun clubs in the bag to use, but it is also one of the most difficult to master consistently. If you've borrowed a friends or rented one at the driving range you'll know how much fun they are to hit when it goes right, but how frustrating it can be to strike well.
Beginners, especially, will take some time to learn how to master the longest club in the bag. It's also one of the most expensive single clubs you can buy, so finding one at the right price is key too. Price doesn't mean exclusivity though, and even the more expensive drivers in this list are made with beginners in mind, not just lower handicap golfers. In short, even the most expensive drivers can suit your game and this list covers an array of drivers from across all price points.
Most new golfers have a tendency to slice the ball - that's a shot shape that goes left-to-right if you're right handed. Beginners, too, will often struggle to to get enough launch angle to maximize distance. These models - which vary in price but are mostly towards the lower end - won't save the poorest of swings, but they are designed to help; they will certainly give you a little more margin for error - plus a confidence boost standing on the tee.
Look out for drivers with adjustable hosels too. The hosel is the part of the club that connects the shaft to the head and drivers have developed over time to allow this part of the club to be adjusted. This functionality allows you to adjust the loft of your club higher or lower. Having this means you can tinker to find just the right set up for your swing while also increasing the lifespan of your driver as you get better.
So without further ado let's take a look at some of the best golf drivers for beginners. We also recommend taking a look at our guides on the most forgiving drivers (opens in new tab), best high handicap drivers (opens in new tab), and the best golf drivers for distance (opens in new tab).
Best Golf Drivers For Beginners
Along with being one of the most forgiving drivers (opens in new tab) on the market, the Cobra Aerojet Max will also help straighten up a slice, something which beginners to the game of golf will tend to produce when they first pick up the driver.
Technologically, the company has created a more aerodynamic design to give golfers more speed, which will also provide more distance and, because of the bigger sweet spot, the strike point is a lot larger which, in turn, means more forgiveness.
Not only does it look extremely generous at address, but the slightly toed-in look will suit an array of beginner golfers, with the stretched back profile making way for a gloss finish to the crown with a grey carbon effect underneath. This gives it a premium look.
Despite PXG's notoriously premium prices when it comes to its product line, the 0211 2022 driver seems to buck that trend, making it one of the best budget drivers (opens in new tab) on the market right now. This is something which will appeal to beginners, because you can purchase a premium-performing driver which won't break the bank.
In testing, we were impressed with its all-round playability and how similar it was to models that are more than double the price. It still had sufficient distance, but the amount of control on offer was superb and the strong and stable ball flight will help beginners in an array of weather conditions.
The Yonex Ezone Elite 4 driver is an impressive value-option for golfers in 2023. To begin with, there is improved forgiveness from the repositioned weighting within the head, with Yonex adding its new InCore Groove Technology that helps the face flex for faster ball speeds.
In our testing, the club and ball speed really stood out. We weren't sure what to expect - given the price point - but the Yonex Ezone Elite 4 kept up with many of the premium drivers for 2023. We tested it with one of the Yonex stock shaft offerings and were also impressed by the stability this provided.
One of the standout features is the blue finish on the crown. It makes for a good point of difference to what you will find elsewhere on the market and it emphasises the generous, confidence-inspiring footprint of the club down behind the ball. We thought the blue effect on the crown was smart and modern, but appreciate it may not be for everyone.
This Wilson Launch Pad 2022 driver is designed to be an all-out game-improvement offering, with the first point to mention being the face design. Through research, Wilson says that average handicap players hit 68% of their shots out of the toe half of the face. So, in the Launch Pad, they've introduced their PKR face geometry that actually makes the striking area 5% bigger than the previous Launch Pad.
What will benefit beginners is that the lie angle is two degrees upright to help golfers square up the face at impact and, the face itself, also sits quite closed and you can definitely see that as soon as you set it down behind the ball. There is also some heel side weighting within the head to help promote more of a draw shape.
One of the best drivers for slow swing speeds (opens in new tab), it has a lightweight head and shaft that should help players swing a little faster for more distance. Above all, the Wilson Launch Pad 2022 driver felt very friendly to hit. During our range testing, we were able to hit shot after shot that was very easy to launch and we didn't lose any shots to the right.
Aimed at mid-handicap golfers and higher, the Launcher XL will definitely suit the true beginner golfer. The driver benefits from a larger head and an incredibly confidence inspiring look at address.
The length of the head from front to back has increased by 6% and the contrasting crown and face finishes mean you can see all of the loft from address. Performance wise, the Launcher XL gave solid carry distance on an easy swing. For the wide range of players this driver is aimed at, the spin rates created with this club will help keep the ball in the air and provide good carry distance.
With a recommended retail price that is significantly lower than the likes of Callaway, TaylorMade and Titleist this year, the Launcher XL offers significant value for money and extreme forgiveness.
For 2023, Ping has introduced its new range of G430 drivers (opens in new tab) but, although they are some of the best golf drivers (opens in new tab) money can buy, they may prove a tad costly to those looking to start the game of golf. This is where the previous range comes in, the G425, which can be picked up at a fraction of the cost.
To achieve the performance levels in the G425 Max, Ping has implemented a 26-gram tungsten movable weight called a CG Shifter, which is made possible by weight savings from advancements in the driver's dragonfly crown design. The weight can be secured in one of three settings – neutral, draw or fade – to influence forgiveness and shot shape, with the average MOI increase being 14 per cent across the three weight positions.
There are two other heads available in the range alongside the Max. The LST head will no doubt slightly suit better drivers of the ball looking for a low spin option, whist the SFT head will undoubtedly suit a beginner golfer who tends to slice the ball off the tee. So, while we'd recommend either the Max or SFT head for beginners, Ping has created a range of drivers that can fit every player type to maintain distance while finding more fairways. Ask yourself what is more important to you - distance or accuracy - and the G425 will likely become an enticing prospect.
The Tour Edge (opens in new tab) C522 driver has been one of our biggest surprises in testing. It's available at an incredibly competitive price point but delivers all of the performance that golfers would expect from more expensive drivers. Most notably, in our testing, it proved to be highly forgiving on off-center strikes but also long and consistent in terms of ball flight.
The C522 also looks very good at address, with a profile that inspires confidence without sacrificing the traditional shape that most golfers want to see. Its aesthetics also offer more of a premium look than one might expect at this cost. The C522's impact sound is a bit on the loud side, but in an explosive way, as opposed to being off putting.
It is worth noting that the C522 does not have an adjustable loft sleeve and is only offered with one stock shaft option; however, for a retail price of around $200 - $250, that shouldn't come as much of a surprise. That said, while the C522 won't fit everyone for those reasons, it will suit the vast majority of golfers just fine and, at its price, it should be a consideration for any golfer who's looking for a solid all-round driver without having to break the bank.
Sporting a stylish matte black 460cc full titanium head with elegant lines, the V Foil Speed sits perfectly behind the ball, inspiring confidence at address. The ultra-thin face delivers significant ball speed and distance gains while the expanded sweet spot, bespoke premium lightweight graphite shaft and high MOI design add in the perfect combination of distance, control and forgiveness off the tee.
Finished off with a soft compound MacGregor grip that has been designed to provide the perfect combination of comfort and secure connection to the club, the V Foil Speed driver is packed with performance features perfectly suited to the beginner golfer.
The Rogue ST range features four different heads: Rogue ST Max, Rogue ST Max D (draw bias), Rogue ST LS (low spin) and Rogue ST Triple Diamond LS. Here, we're highlighting the Rogue ST Max D head as this is the option we think will suit beginner golfers the most, thanks to its in-built draw bias weighting.
Released in 2022, Callaway extended its use of A.I. to optimize its Flash Face for launch and spin as well as ball speed. So, while this is still a forgiving driver, it goes a long way too.
Down at address, the Rogue ST Max D has a new matte crown which we really liked, although we didn't care much for the clock-style graphics at the rear. The face looks flatter and is lighter in color, making it more visible and therefore easier to align. The Rogue ST Max D has the longest profile from front to back to inspire maximum confidence, and the draw bias will help beginners who tend the slice the ball avoid the right side of the course. If you're a beginner who doesn't slice the ball, we'd recommend the Rogue ST Max from this range to get you started.
Over the last few years, golfers have become used to seeing TaylorMade introduce new driver technologies in a bid to unlock more distance off the tee. In 2022, the company introduced an all new carbon fibre face and, to highlight this new technology, the face of the Stealth driver is red.
Like the new TaylorMade Stealth 2 range, which replaced the previous Stealth models, there are three options to choose from, but we have highlighted the Stealth HD, with HD standing for high draw. Beginner golfers have a tendency to slice the ball with their driver, (that's a left to right shot shape if you're right handed and the other way if you're a lefty), so this driver has a built-in draw-bias to help encourage a draw shape off the tee.
During our testing we found that the majority of our shots finished left of target, which is ideal for a right handed golfer struggling with a slice. We also managed to deliver an extra three miles per hour in clubhead speed with the Stealth compared to its predecessor, the SIM2 and, as you'd expect, this (along with a reduction in spin versus the original SIM) translated into more distance. We have also chosen it over the Stealth 2 HD as it offers a significantly cheaper option for a beginner golfer.
Launched right at the start of 2022 to replace the Radspeed range of clubs, the Cobra LTDx also features three heads like the newest Aerojet. These are the LTDx Max, which we've featured here for beginners, as well as the standard LTDx (opens in new tab) and LTDx LS, (opens in new tab) both draw bias and lower spinning models respectively.
We've highlighted the Max as it features a 3g weight positioned toward the heel of the head to help encourage a draw shape. The LTDx Max also sits less closed behind the ball than some other draw-biased drivers you'll find on the market. For us, that meant we were able to swing confidently at the ball without worrying about hitting a hook and, ultimately, we were pleased by how consistent it was.
The aesthetics have become more refined, as the LTDx features a very similar-looking matte black carbon crown to last year's Radspeed (why change it - for us it was one of the best looking drivers of 2021). The LTDx has a much lower pitched, quieter impact sound than the Radspeed which, for us, was significantly better - creating a satisfying 'crack' through impact that felt very powerful.
Wilson's D9 is one of the most forgiving drivers (opens in new tab) for golfers who are looking for more consistency off the tee. It performs very well on off-center strikes while launching the ball high with ease, helping recreational players find more fairways and improve their carry numbers.
The design of the D9 driver comes from computer modeling software used to simulate hundreds of different clubhead variations to find the most effective design. It also features a three-layer composite crown which helps deal with vibration and reduce the weight of the club. A 10-gram sole weight comes as standard or there is the option for a super-lightweight 3-gram weight, giving the player the ability to fine-tune the moment of inertia and forgiveness on offer.
How we test for the best golf drivers
When it comes to product testing (opens in new tab), our reviews and buyers' guides are built upon a rigorous testing procedure as well as the knowledge and experience of the test team. Headed up by Neil Tappin, and assisted by Joel Tadman, both have been testing golf clubs for years and both play to a handicap of around 5. Both are also able to efficiently test the vast majority of the biggest product releases and convey the pros and cons eloquently.
Getting into specifics for drivers, we first attend product launches and speak to manufacturers to understand the technology. We then hit the golf clubs indoors, usually at Foresight Sports and test the products with premium golf balls on a launch monitor.
Outdoor testing is the next port of call and this usually takes place at West Hill Golf Club, a course in Surrey with top-notch practice facilities. Ultimately, we aim to be as insightful and honest as possible in our reviews so it is important to acknowledge that no manufacturer can buy a good review. This is because our team tells it how it is.
What to consider when buying a new golf driver
You've probably already asked yourself whether you need to buy a new driver, but there's a few key things to consider when investing in a new driver, especially as a beginner. Hopefully answering these questions will narrow your search down slightly and make comparing between various models much easier.
When purchasing a new big stick, it is crucial to ask yourself just what you need from it. Is distance your main priority or are you looking for something to help you find more fairways? We'd always recommend a custom fitting with a PGA Pro but, if you know what you're looking for, you can make an informed decision.
As a beginner, we'd recommend going down the forgiving route to start as drivers that are built to produce out-and-out distance can be harder to hit consistency well. Our guide on the most forgiving drivers (opens in new tab) has an extensive list of drivers made for just that and we recommend this because when you first start playing golf consistency of strike is one of the big issues, and a forgiving driver could limit this variety somewhat.
FAQs
What is the best driver for a beginner golfer?
We are confident that all the drivers in our guide will suit a wide range of beginner golfers. The best driver for a beginner golfer will have a large head and face - making them more forgiving - whilst also inspiring confidence at address.
What degree driver should a beginner use?
The driver is one of the hardest clubs for beginners to hit so getting the right loft is essential. The rule of thumb is that more loft means more forgiveness, making the driver a bit easier to hit. With that in mind we recommend a beginner using a 10.5° or 12° driver. Many drivers have adjustable loft sleeves too which will allow you to change the loft as you see fit.
What is the most forgiving driver to hit?
You can find a great selection of forgiving drivers in our most forgiving golf drivers guide, but there are a few key things to look out for. The most forgiving drivers combat the effect of mishits in terms of limiting drops in ball speed and reducing curvature through the air. Additionally they will have very high MOI and large heads in order to maximize forgiveness across the face.
In his current role, Neil is responsible for testing drivers and golf balls. Having been a part of the Golf Monthly team for over 15 years and playing off a handicap of 3, he has the experience to compare performance between models, brands and generations. For 2022 he thinks the main trend in drivers is: "In a word, consistency. Whilst all the brands are talking about ball speed (and the new drivers are certainly long), my biggest finding has been how much more consistent the ball flights are. Mishits don't seem to be causing the same level of drop-off or increase in the spin numbers. This means that more shots seem to be flying the way you want them to!" As far as golf balls are concerned the biggest development is in the, "three piece, non-Tour, urethane-covered section. For regular golfers, these models offer superb performance at both ends of the bag without denting your wallet quite as much as the premium Tour-played options."
Originally working with the best coaches in the UK to produce instruction content, he is now the brand's Digital Editor and covers everything from Tour player interviews to gear reviews. In his time at Golf Monthly, he has covered equipment launches that date back well over a decade. He clearly remembers the launch of the Callaway and Nike square drivers as well as the white TaylorMade driver families, such as the RocketBallz! If you take a look at the Golf Monthly YouTube channel, you'll see his equipment videos dating back over a decade! He has also conducted 'What's In The Bag' interviews with many of the game's best players like Rory McIlroy, Dustin Johnson and Jon Rahm. Over the years, Neil has tested a vast array of products in each category and at drastically different price-points.

Neil is currently playing: Driver: TaylorMade Stealth Plus Fairway Wood: Titleist TSR2 Hybrid: Titleist TS3 Irons (4-9): Mizuno JPX 919 Forged Wedges: Titleist Vokey SM7 46˚, 50˚, 54˚, 60˚ Putter: Odyssey Triple Track Ten Ball: Titleist Pro V1X