Best Mallet Putters 2023
Looking for more help on the greens? Our guide to the best mallet putters is the ideal place to start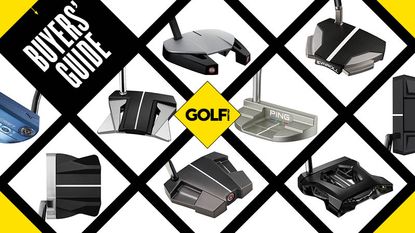 (Image credit: Golf Monthly)
Best Mallet Putters: Quick Menu
Best Mallet Putters
The best mallet putters tend to be much larger than blade putters and they usually come in various shapes and size, which helps in a number of ways. A lot of the time most of the weight in a mallet putter can be found in the club face however because of its design, weight can then be redistributed to other parts of the head to help stabilize and create balance for your stroke. Mallet designs are also the most forgiving putters because they tend to have a larger sweet spot, whilst the weight in the club head also helps diminish twisting throughout the strike. Additionally if you struggle with alignment, a mallet putter could be the way to go. Below we have the best mallets from our putter reviews. Additionally we also recommend checking out our specific guides on the best women's putters and best putters for beginners too.
Watch putter expert Martin Hopley pick his favorite models of 2022
The Quick List
Compared to modern putters it may look quite simple, but if you like mallets with strong alignment lines then the AIT 1 offers quality design at a competitive price.
Mizuno M.Craft OMOI 03 Putter
The Mizuno M.Craft OMOI 03 putter is a premium specialist putter that offers very good adjustability for those who prefer a heavier putter.
TaylorMade TP Hydro Blast Bandon 3 Putter
This performs on all lengths of putt while also providing a more refined look and solid feel. It's no wonder Tour players started to put these in play.
Wilson Staff Infinite Buckingham Putter
An impressive offering given the price point. It's a putter that is easy to align and improves the quality of results regardless of how consistent your stroke is.
The Odyssey Eleven is a very stable high MOI putter with good choice of hosels and alignment lines to create more consistency on off centre strikes.
Cleveland HB Soft Milled 14 Putter
The feel of the HB Soft 14 putter is excellent and the balance and clear alignment aids deliver everything you might want from a quality flatstick.
Scotty Cameron Phantom X 12 2022 Putter
The Scotty Cameron Phantom X 12 putter is a face balanced design that is light to use and provides excellent forgiveness in a high MOI shape.
Wilson Staff Model TM22 Putter
The trusted shape of the TM22 putter is given premium treatment. The clever use of milling lines has created visual differences for alignments in a mallet design.
The Evnroll ER11vx Putter offers plenty of forgiveness with good alignment lines and a grooved Sweet Face that creates a more consistent roll.
Bettinardi Inovai 8 Putter
This putter is a big visual improvement on the previous models and combines functional style with performance in a compact head with a lovely milled face.
With the EV5, Evnroll gives golfers the opportunity to choose the visual cues and hosel design that works for them. It also has excellent stability and feel
Bettinardi Queen B 11 Putter
One of the most impressive mallet head putters of 2023. Its unique finish and milled face provide the performance and the looks of a premium putter.
Odyssey White Hot OG #7 Nano Putter
The #7 Nano putter seems very forgiving and consistent for its size and the toe hang set up should appeal to better golfers who prefer a compact head.
TaylorMade Spider GTX Putter
The stability and forgiveness of the Spider GTX is excellent for a mid-sized mallet putter and we liked the firmer feel as well as the visual aids and colors available.
Odyssey White Hot Versa 12 S Putter
Odyssey's White Hot Versa line has been designed with one primary goal in mind - easy alignment, and it achieves it with its black and white block finish.
Best Mallet Putters
Why you can trust Golf Monthly Our expert reviewers spend hours testing and comparing products and services so you can choose the best for you. Find out more about how we test.
Best Value Mallet Putters
There are some great value mallet putters from the main manufacturers that bring all the benefits of perimeter weighting and the latest face technology to a variety of putter head shapes such as these:
Excellent value for money and a cool crown design
Specifications