Best Fairway Woods For High Handicappers 2023
We take a look at some of the best fairway woods for higher handicap golfers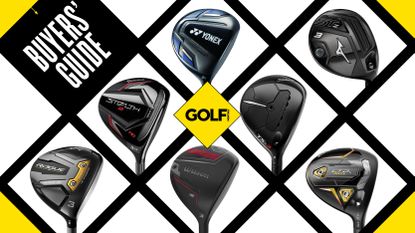 (Image credit: Golf Monthly)
Best Fairway Woods For High Handicappers: Quick Menu
Best Fairway Woods For High Handicappers
Fairway woods are arguably the toughest clubs to hit well. Not only is the sweet spot minimal but, off the fairway, they can be difficult to launch. Therefore, it's important that you can get all the help to hit a high launching shot that keeps straight and on the target. With their being an array of options available for the higher handicapper, it's crucial that you find a model which provides a high level of forgiveness on off-centre strikes. By providing forgiveness, it will increase your confidence at address, as well as improve the consistency of the strike and distance.
We at Golf Monthly have tested a number of the best fairway woods on the market, with the video below picking out some of the high-level performers that would make a great addition to your golf bag. But while you're here, why not also check out our guides to the best Callaway fairway woods, best Ping fairway woods and best TaylorMade fairway woods.
Watch us put the leading fairway woods of 2023 to the test
Importantly, the models listed will help the ball in play more often, which is a common issue for those at the higher end of the handicap spectrum. Acknowledging all of this, here are some of the best fairway woods for high handicappers. Additionally we also recommend checking out our guide on most forgiving fairway woods or best fairway woods for mid handicappers.
The Quick List
For an easy way to check the best fairway woods for high handicappers currently out on the market, we have pulled together this quick list to roundup the best choices. Click to view a more details review of each product, and we also have a price comparison tool to help you make the right purchase.
TaylorMade Stealth 2 HD Fairway
The Stealth 2 Plus will suit high swing speed players who struggle to get standard fairways to launch correctly. The innovative sliding weight varies launch and feel, giving a high degree of adjustability for those who need it.
Yonex Ezone Elite 4 Fairway
The Yonex Ezone Elite 4 performs exceptionally well for who it is targeted for, the higher handicapper or slower swinger, looking for height and forgiveness from a fairway metal.
Titleist TSR3 Fairway Wood
A powerful, adjustable fairway wood that is easy to strike cleanly from the deck and offers useful alignment assistance. The all-round performance will suit a wide range of golfers.
Its forgiving head and high launch will benefit mid-high handicappers, but when fitted properly will act as a loyal servant in the bag of the better player.
The Paradym is forgiving across the face while producing fast ball speeds. High launch and mid spin characteristics make it a great option from the tee and fairway.
The Cobra LTDx Max is a fairway wood packed with forgiveness and playability. Testing showed control, accuracy and good distance, which will appeal to a wide range of golfers that find fairway woods hard to hit.
The Srixon ZX Mk II fairway was really easy to hit from a variety of lies and the generous sized head inspires confidence. Visually the step down design of the crown may not appeal to all.
An excellent all-rounder that looks good and delivers on its performance promises while coming in slightly under many of the mainstream brands in terms of price.
Wilson Launch Pad Fairway
One of the easiest fairway woods to hit. Ideal for higher handicappers looking for playability and value for money.
Best Fairway Woods For High Handicappers
Why you can trust Golf Monthly Our expert reviewers spend hours testing and comparing products and services so you can choose the best for you. Find out more about how we test.
TaylorMade Stealth 2 HD Fairway
A forgiving fairway wood that offers a punch off its face
Reasons to buy
+
Clean modern looks
+
Consistent distance and carry
+
Superb launch off the tee and deck
Like the Stealth 2 HD driver, the Stealth 2 HD fairway is perhaps the most forgiving of TaylorMade's latest fairway woods to be released on the market. It comes with a larger footprint compared to the Stealth 2 and Stealth 2 Plus fairways making it seem very inviting to hit when you address the ball. Visually, TaylorMade hasn't veered too far away from the classic black and red colorway that was seen on the original Stealth fairway woods. It comes with a glossy upgrade this time though with flashes of red and white that really add to the slick look of the club. The HD comes with a low-profile sole that helps the club sit flush on the ground and give more confidence to its user at address.
It is designed for the golfer looking to play more consistent shots and it comes with a draw bias design which we found was really effective in testing when we really tried to slice through each shot. We also noticed the ball flew high and jumped nicely out of thicker cuts around the course, making it very versatile off different lies. It also felt very fast off the face and that is due in part to the Thru-Slot Speed Pocket behind the face. That also helps to improve the consistency of shots struck off the center of the club's face. We were impressed with how powerful it felt and if you're looking for a club that's going to give good responsively, with a thumping feel, this is a great option.
Yonex Ezone Elite 4 Fairway
A versatile club from a variety of lies
Reasons to buy
+
Produced a high towering ball flight
+
Very easy to hit out of rough
+
Spin remained consistent even on miss-hits
Reasons to avoid
-
The blue headed crown may not appeal to traditionalists
-
Diagonal grooves could be off-putting at address
A fantastic club for higher handicap golfers or those with slower swing speeds, the Yonex Ezone Elite 4 is a great club that'll help you lift the golf ball into the air from a variety of lies. It is a great looking club that boasts a premium shaft that is made of 85 percent graphite that has a slightly stiff tip that helps to promote stability and a higher launch that most high handicap golfers like to see. Akin to the Callaway Paradym drivers, one of the standout features of this club is the magnetic glossy blue glow on the crown of the club. All we can say is it looks stunning when framed next to the golf ball.
The profile of the club head is one of the largest ever made by the brand and features a new design that pushes the weight of the club lower to deliver more stability making it one of the most forgiving fairways we have tested. That lower center of gravity produces the launch angle we like to see from a club that is more suitable to high handicap players, averaging around 12.5º, which translates to a high and floaty flight.
It certainly wasn't the fastest model we've tested in recent months, but it delivers excellent consistency thanks to its club head design and diagonal groove patterns on the face of the club that helps to deliver reliable spin rates compared to horizontal club faces. It will please the golfer who doesn't swing it too fast and is looking for height an higher launches that will deliver more carry distance. And while it does come with a large club head, the Ezone Elite 4 sits fairly shallow, allowing it to cut through thicker lies fairly easily. It also comes in at a considerably lower price than some of the best fairway woods on the market, which again makes it a great club for higher handicappers.
Titleist TSR3 Fairway Wood
Five stars out of five
Specifications
Lofts: 13.5°, 15°, 16.5°, 18°
Reasons to buy
+
Full face grooves enhance alignment
+
Faster off the face than prior version
+
More adjustability to alter shot shape
Reasons to avoid
-
Weight track doesn't sit flush to the sole
Titleist have made significant changes to its TSR3 fairway wood, with the ARC (Active Recoil Channel) being removed for 2022. In its place, Titleist have reconfigured the way the hosel enters the clubhead and made significant weight savings. What's more, the sole plate has also been made thicker, which makes the centre of gravity lower and deeper - a key ingredient for fairway wood performance, especially from the deck.
There is also the addition of the new SureFit CG weight track system that now has five positions instead of three, providing more adjustability for golfers seeking greater assistance in managing their ball flight and launch characteristics. It's not just the weighting system that has been improved, with the company introducing full face scorelines that undoubtedly make aligning the club face easier and makes it look more inviting to hit behind the ball.
Despite it's not the largest fairway wood head on the market it will still perform perfectly for higher handicappers who are wanting to launch the ball higher, as well as have help in aligning their tee and second shots.
Wilson Dynapwr Fairway
A high-launching fairway wood, great for mid-high handicappers
Reasons to buy
+
Produces exceptional launch
+
Performed well from a variety of lies
+
Clean classic looks
Reasons to avoid
-
Lacks adjustability through a bonded head
This fairway wood is a standout when it comes to style, feel and performance around the course. Akin to the visually stunning Wilson Dynapwr drivers, the Dynapwr fairway woods boast a brilliant matte clubhead that is lit up by pops of red detailing on its head and sole. Wilson have refined the head on the club to create a generously sized pear-shape design that will inspire confidence to golfers of all abilities.
On the back of the sole, you'll notice the brand have added a 12g weight. That is designed to deliver greater stability and a higher MOI to help players push through the golf ball and put higher launch angles on the club. And in testing we found it was very easy to get the ball up into the air with this club, while turf interaction was also excellent, with the club cutting through thicker lies very easily. We also enjoyed the feel on this club, with it delivering a muted 'thud' which will appeal to those who dislike metallic sounds on impact.
During testing, we found there was a lot of forgiveness on the Dynapwr , thanks a lot to the face of the club which has been crafted using A.I. Technology to create a PKR2 face. In layman's terms, that means the club has varying layers of thickness across its face which results in faster and more consistent speeds on off-center hits.
Callaway Paradym Fairway Wood
A confidence inspiring golf club that with all-round performance
Specifications
Lofts: 15°, 16.5°, 18°, 20°, 21°, 24°, 27°
Reasons to buy
+
High launch off the fairway
+
Easy to align to the target
+
Produced fast ball speeds
Reasons to avoid
-
Color scheme may not suit everyone's eye
The Callaway Paradym continues the brands drive to produce a visually stunning range of clubs, through its excellent looking carbon sole panel. While it doesn't boast the same blue carbon wrap that is found on the Paradym Drivers, this club sparkles in the sun and delivers a lot of confidence at address, thanks to its matte black topline, marked with Callaway's classic 'V' alignment aid.
The new construction model on this club repositions its weight further from the face to increase the MOI of the fairway wood, to deliver greater stability and forgiveness as well as faster ball speeds. What's more is it has the performance to match its visuals, with t