Best Golf Irons For Seniors 2022
The best golf irons for seniors offering high levels of forgiveness and help increasing clubhead speed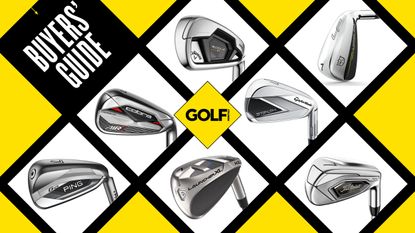 (Image credit: Future)
Best Golf Irons For Seniors
One of the great things about the sport of golf is that you can continue to play, and be competitive, into older age. It's a game of skill as well as strength and, as long as you look after your body, there's no reason you can't keep playing to a good standard well into retirement. That isn't to say doing so is easy, but it makes total sense to look at ways of making the game easier as we grow older.
For example, as we age we of course lose strength and speed but in modern golf equipment and technology can help limit the effect of this. Most manufacturers produce the best golf irons (opens in new tab) that have been specifically designed for players with slower swing speeds and golfers who are looking for a little more forgiveness from their equipment. Many manufacturers will also offer a specific senior flex of shaft that could help you get more speed and power.
So then what are the models we can realistically call the best golf irons for seniors? Well we have taken a look below to inform and guide you. Alternatively we also recommend taking a look at our other guides on the best distance irons (opens in new tab), most forgiving irons (opens in new tab), or the best game improvement irons (opens in new tab) too because most of those models will suit older players too.
Best Golf Irons For Seniors
Why you can trust Golf Monthly Our expert reviewers spend hours testing and comparing products and services so you can choose the best for you. Find out more about how we test.
A stunning game-improvement iron that offers unparalleled accuracy
Reasons to buy
+
Incredibly accurate
+
Noticeably longer than outgoing SIM2 Max
+
Lively but pleasant sound and feel
Reasons to avoid
-
Low spin limits stopping power
The Stealth iron become the single game-improvement iron option in 2022, which simplifies the range nicely for senior golfers that want even more distance and forgiveness than what is on offer in the P790 model. While the enclosed cavity concept continues, the Cap Back design has evolved to where the mid section of the toe has been completely removed to lower the CG of the iron, assisting with both ball speed and launch.
TaylorMade has made across-the-board improvements in Stealth as its game-improvement offering for 2022 over the SIM2 irons. Golfers should notice the extra forgiveness at play while being drawn in by the premium, elegant look on the shelf. The low spin might be a concern but should be able to be managed via a custom fitting. We love the accuracy and distance this club provides, which should help mid and high handicappers find more greens.
- Read our full TaylorMade Stealth iron review
Mizuno JPX923 Hot Metal HL Iron
Reasons to buy
+
Effortless launch for slower swing speeds
+
Very forgiving off center
+
Powerful feel
Reasons to avoid
-
Some may want to look down on a bigger head
Excellent for lower swing speeds, this iron set delivers greater forgiveness for lower handicap golfers (opens in new tab). Helping you produce greater ball flights and extra distance, this is a very forgiving game-improvement iron perfect for force-limited golfers. Plus they deliver a lot of shaft lean at impact that will help you achieve a more optimum ball flight for more distance and better stopping power. Aesthetically this iron looks great and has a wider sole, offering a deeper CG and greater forgiveness compared to the standard Mizuno Hot Metal iron. (opens in new tab) In testing, the ball launched higher compared to other Mizuno JPX923 offerings but is certainly suited less experienced players who are looking for a confidence inspiring iron that will help them play more consistently.
Reasons to buy
+
Senior players will love distance on offer
+
Forgiving design
Reasons to avoid
-
Large club head will put some off
The Titleist T400 iron has been designed to be the most forgiving and longest iron in Titleist's popular T series. It has the strongest lofts in the Titleist iron range, but the launch is not compromised with a strong, high ball flight produced.
The split sole design delivers smooth turf interaction, while super-thin face and hollow head are fortified by high-density tungsten weighting making this a powerful and supremely forgiving iron. The set is progressive with blade lengths, sole widths and hosel lengths decreasing towards the shorter irons. Overall, we think the T400 is a great game improvement iron that could really help senior golfers get the most from their games.
Reasons to buy
+
Easy to swing fast
+
Consistent off center
The Callaway Rogue ST Max OS Lite irons are built with wide soles, enhanced offset, and a thicker topline versus the Rogue ST Max iron. The Lite version features more loft, lighter shafts and lighter swingweights to make them easiest-to-swing model in the family.
Precision tungsten weighting features up to 46g of high-density tungsten, a 188 pervent increase over Mavrik, which provides improved launch conditions and also maximizes speed across the face. Callaway's patented urethane microspheres are now pushed further up the face in Rogue ST irons (up to the 6th groove) to enhance sound and deliver pure feel while maintaining fast ball speeds. During testing, we found this iron to offer easy launch despite the strong lofts while the light feel help increase club speed without losing control of the clubface.
- Read our Callaway Rogue ST Max OS Lite iron review
Reasons to buy
+
Feel easy to swing fast
+
Inviting looks at address
+
Forgiving off center
Reasons to avoid
-
Not available in One Length
Perhaps one of the best game-improvement iron sets on this list, the Cobra Air-X irons are an impressive and lightweight offering that provides excellent forgiveness for off-centre shots. Having tested these clubs, we found them an absolute pleasure to hit and can help players looking for greater consistency in their golf game should certainly look to use these clubs. These irons also really impress on their looks, with their red and black colorways contrasting nicely with the silver sheen of the golf club to give off a very professional look.
If you've been struggling to get good ball flights in your approach play, you'll be glad to hear that this club really can offer stability off the clubface. That again makes it great for improving your consistency. You'll find its deep undercut design helps to make miss-hit shots, struck low on the face, still rise to ample launch angles. What's even better about this set of clubs is that they are very affordable too! That makes them a great option for beginner golfers (opens in new tab) and high handicappers (opens in new tab).
Reasons to buy
+
Explosive distance
+
Exceptional value given performance
Reasons to avoid
-
Lightweight feel may take a bit of time getting used to
We think senior golfers will get brilliant performance out of the Wilson Staff D9 irons, primarily because they were one of the longest irons we've tested. The feel from the centre of the clubface is superb, almost to the point it feels like a wood when you strike it solidly. It's also great on minor mishits with minimal loss of performance. The head is extremely stable, resulting in a very straight ball flight.
Power Hole technology is present which is the main reason behind this performance, and the ultra-thin face also plays its role in incorporating a larger sweet spot for more forgiveness too. Importantly, the irons offer up a clean, traditional look at address, and they inspire confidence too with the generous topline width and wide sole.
Reasons to buy
+
Respected brand in the game-improvement sector
+
Arccos sensors embedded into the grip
Ping G-Series irons are known for being long, straight and reliable. Whilst the G425, with its darker look, is an undeniable improvement from the bolder red colours of the G410, it should be acknowledged that the shape of Ping G irons takes a little bit of time to get used to, especially if you haven't used them before.
During testing we felt these were very fast off the face, and made a nice sound without being too clicky. Importantly for the senior golfer who may struggle with consistently striking the ball, it is also very stable too, with toe and heel strikes still performing well in the air. Arccos sensors are now embedded in the grips throughout the G425 family and the premium shot tracking technology is another way these irons can directly improve your game.
Yonex Ezone Elite 3.0 Iron
Reasons to buy
+
Very forgiving
+
Excellent graphite shaft technology
Reasons to avoid
-
Not a brand with a big reputation in golf
Yonex has long been seen as the iron graphite shaft specialists which is something that will strongly appeal to the senior golfer seeking to swing with less power but without losing distance as a result. Yonex produces its own graphite shafts to match the performance of the head and our testing of this iron in particular showed that you can maintain or even increase distance while being able to control dispersion.
The Ezone Elite 3.0 irons also feature a double undercut cavity which helps shift the weight of the iron further back from the face, lowering the centre of gravity to promote a high ball flight. They certainly get the ball up easily and keep it there. Yonex might not be a mainstream brand but this is a particular area in which it excels so do not discount them on name alone.
Reasons to buy
+
Powerful feel with soft-ish sound
+
Great forgiveness on low face impacts
The Honma T//World GS irons are all about gaining speed across the face to create more distance with less effort. They certainly provide that and with decent forgiveness too, they are an ideal iron for the golfer looking for as much help as possible in improving their game.
Both the men's and women's irons feature L-Cup structured faced which enlarge the sweet spot area. Furthermore, the variable ribs on the inside of the clubface reduce weight, improve ball speed and maintain spin control. Overall, we like the blend of power and forgiveness with a soft sound in a relatively compact package.
Reasons to buy
+
Easy launch
+
Option of a shorter spec for greater accuracy
+
Feels effortless to swing fast
Reasons to avoid
-
Not all will like the chunky looks
Cleveland's Launcher XL Halo irons are said to help develop a better, consistent strike. Gliderails on the long irons deliver excellent turf interaction, while the mid-to-short irons feature V-Shaped Soles to cut through the turf more effectively for cleaner contact. Meanwhile, a new 8g weight placed inside the end of every grip delivers better balance, control, and a smoother swing without extra effort to help square up to the ball at impact.
If precision is what is desired above all else, Cleveland is offering a new Accuracy Build, a custom configuration that is half an inch shorter without counterbalancing to focus on maximum control. Much like the Wilson Launch Pad, this iron is noticeably easy to swing fast and each good distance and accuracy - something beginners crave.
- Read our full Cleveland Launcher XL Halo iron review
Reasons to buy
+
Confidence inspiring looks
+
Easy to launch and swing faster
+
Effective in reducing the impact of heavy strikes
Reasons to avoid
-
Wide soles limit ball striking progression
-
Will look too chunky for some
A recent addition to this best golf irons for beginners guide, the 2022 Launch Pad irons are hollow like a metalwood for speed and boast maximum forgiveness through the turf thanks to the wide sole, helping achieve smaller and shallower divots and rescue a heavy contact by keeping the leading edge up. The back wall of the iron has been thinned out to move more weight lower in the head for added launch.
It's an ideal iron for the beginner and high handicapper that is inconsistent with where they contact the ground and ball. Gets the ball in the air easily, with good distance and a solid, powerful feel. For the golfer that wants an iron that is easy to hit, the Launch Pad delivers. It's a great starting option for those new to the game that can then progress into something more traditional in design once their ability has improved.
- Read our full Wilson Launch Pad 2022 Iron review
How we test senior irons
All golf irons goes through a thorough and comprehensive testing process at Golf Monthly. Before testing, the Golf Monthly team will usually attend product launches and meet with the manufacturers' R&D experts to understand the new technology. Usually, when it comes to hitting the clubs, we use an indoor simulator at Foresight Sports so we can hit in a controlled environment using premium balls and a quality, reputable launch monitor.
We then look to test the clubs outside and this usually takes place at West Hill Golf Club (opens in new tab) because of the excellent practice facilities and golf course. When it comes to actual reviews, we should say that no company can buy a good review because our testers tell it how they see it.
How to choose senior irons
There are some questions to ask yourself when looking for the best golf irons for seniors along with some other key considerations you need to think about before making a purchase.
What level are you? Game improvement irons tend to have larger heads, more offset and are designed to help players who struggle with strike and distance. They tend to have large cavities and different pieces of technology to help in this regard. As such if you are a senior player who values greater feel and workability then we recommend looking elsewhere - at the best golf blade irons (opens in new tab) or best compact mid-handicap irons (opens in new tab) for example.
Feel/sound - This is a subjective factor but how a club feels in your hands is important. Do you want it to feel really powerful off the face, or retain some level of workability and control? Additionally how do you like your irons to sound at impact? Clicky or more muted? The best way of finding out what you like and what suits your game is testing them out for yourself or getting a thorough custom-fitting, both of which we would always recommend.
Looks - How do you want your irons to look? As we are sure you agree, many of the models above look very different from one another not only in the bag but at address and on the rack. Therefore this factor is all about finding a model you like the look of, and has a look that gives you confidence.
Price - This is also an important factor to consider. Most of the models above come in at different price points so there will be a model for everyone. Before finally pulling the trigger on your purchase, be aware of how much you can or want to spend, and adjust accordingly.
FAQs
What is a good set of irons for a senior golfer?
Typically something lightweight and forgiving. Many manufacturers will offer lightweight steel shafts or even graphite shafts to help senior players, that tend to be more force limited, generate more clubhead speed for added distance. The larger, more forgiving heads also tend to have wider soles, which helps increase initial launch angle and the peak height of the ball flight to maximise carry.
What are the easiest irons to hit for seniors?
Our testing has shown the Callaway Rogue ST Max OS Lite, Wilson Launch Pad, TaylorMade Stealth and Ping G425 to be noticeably easy to hit, both in terms of generating speed and distance and maintaining this on off-center strikes.