Best Golf Irons For Seniors 2023
The best golf irons for seniors offering high levels of forgiveness and help increasing clubhead speed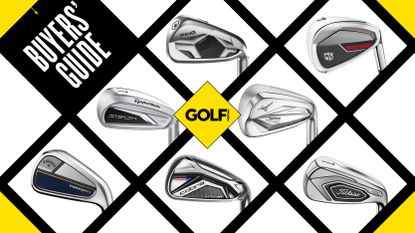 (Image credit: Future)
Best Golf Irons For Seniors: Quick Menu
One of the great things about the sport of golf is that you can continue to play, and be competitive, into your twilight years. It's a game of skill as well as strength and, as long as you look after your body, there's no reason you can't keep playing to a good standard well into retirement. That isn't to say it will be easy, so it makes total sense to invest in equipment that will make the game easier as we grow older.
As we age we tend to lose strength, speed and mobility but modern technology can help limit the effect of this. Most manufacturers produce the best golf irons that have been specifically designed for players with slower swing speeds and golfers who are looking for a little more forgiveness from their equipment. Many manufacturers will also offer a specific senior flex of shaft that could help you get more speed, launch and power.
But what are the best golf irons for seniors? I've compiled a list of the leading options to consider for your bag this year. Alternatively, I also recommend taking a look at our other guides on the best distance irons, most forgiving irons, or the best game improvement irons too because most of those models will suit older players too.
The Quick List
The Ping G430s are notably longer than the G425s and have an impressive stopping power, all with a very consistent off centre - all perfect for forgiveness.
Mizuno JPX923 Hot Metal HL Iron
A considered iron offering that caters for golfers with slower swing speeds in producing a more playable ball flight as well as that signature Mizuno look and feel.
These hybrid-style irons are effortless and we found them extremely long. Good for players looking to get the ball in the air easily, and featuring a forgiving and wide sole design.
We rate this as a stable and solid iron, with a powerful feel that is consistently long. We also found a very forgiving centre, making it a strong choice as a forgiving club.
TaylorMade Stealth HD Irons
The Stealth HD iron undoubtedly delivers on its promise of maximum height and draw bias for the slower swinger, but the looks will divide opinion.
Modern and sleek looks from the Callaway Paradym X irons are combined with exceptional length and a very playable ball flight.
Cleveland Launcher XL Halo Iron
An easy-to-hit iron set that progresses nicely from long to short iron. Shots are easy to launch and the faces feel fast from a wide area. The lightweight feel helps maximize speed.
Wilson Launch Pad 2022 Iron
With a large chassis to offer confidence at the address, the Wilson Launch Pad irons are effortless and can assist reducing the impact of heavier hits.
Best Golf Irons For Seniors
Why you can trust Golf Monthly Our expert reviewers spend hours testing and comparing products and services so you can choose the best for you. Find out more about how we test.
Top pick
All-round performance coupled with excellent forgiveness
Specifications
Construction: Cavity back
Clubs available: 4-LW
Reasons to buy
+
Notably longer than G425
+
Impressive stopping power
+
Very consistent off center
Reasons to avoid
-
Badge appearance will divide opinion
Perhaps one of the most user-friendly irons in the game, the Ping G430 offers all-round performance and an excellent feel as one of the best Ping irons to have been released in recent years. Aesthetically, it boasts a style and design that will appeal to many senior golfers. While the head looks a little more compact in comparison to its predecessor, the G425, the 2023 model comes with a notable offset and a generous topline.
Performance-wise, it packs more ball speed and carry distance than the G245, which many senior players will enjoy, but what's even better is the extra degree of bounce on the sole that makes it a very forgiving club on shots struck fat off the face. Ping has also introduced the G430 High Launch (HL) build program, which allows the set to be configured at a lighter weight for golfers that swing the driver at 85mph or less. This would be a great option for senior golfers to take up.
Best feel
Delivers fantastic launch angles for players with slower swing speeds
Specifications
Construction: Cavity back
Clubs available: 4-LW
Reasons to buy
+
Effortless launch for slower swing speeds
+
Very forgiving off center
+
Powerful feel
Reasons to avoid
-
Some may want to look down on a bigger head
Excellent for lower swing speeds, this iron set delivers a high level of forgiveness. Helping you produce higher ball flights and extra distance, this is a very playable game-improvement iron for golfers that don't have as much speed in the tank as they used to or for those that deliver a lot of shaft lean at impact.
Aesthetically this iron looks great and has a wider sole, offering a deeper CG and greater forgiveness compared to the standard Mizuno JPX932 Hot Metal iron. In testing, the ball launched higher compared to other Mizuno JPX923 offerings but is certainly suited to less experienced players who are looking for a confidence inspiring iron that will help them play more consistently.
Best for confidence
Great difference and excellent forgiveness combined
Specifications
Construction: Hollow
Clubs available: 5-GW
Reasons to buy
+
Senior players will love distance on offer
+
Forgiving design
Reasons to avoid
-
Large club head will put some off
The Titleist T400 iron has been designed to be the most forgiving and longest iron in Titleist's popular T series. It has the strongest lofts in the Titleist iron range, but the launch is not compromised with a strong, high ball flight produced.
The split sole design delivers smooth turf interaction, while super-thin face and hollow head are fortified by high-density tungsten weighting making this a powerful and supremely forgiving iron. The set is progressive with blade lengths, sole widths and hosel lengths decreasing towards the shorter irons. Overall, we think the T400 is a great game improvement iron that could really help senior golfers get the most from their games.
Best for distance
Powerful feel and excellent playability
Specifications
Construction: Cavity back
Clubs available: 4-SW
Reasons to buy
+
Powerful feel
+
Consistently long
+
Very forgiving off center
Reasons to avoid
-
Limited gains over prior model
-
Strong lofts could create set configuration and ball flight issues
One of the best game-improvement irons on the market, the Cobra Aerjoet refines what the brand achieved in previous franchises like the King LTDx irons. Visually the Aerojet packs a cool red and blue colorway on the back of the club which stands against the the chrome silver club head, which looks inviting at address.
You'll also see reference to a PWR Bridge on the back of the club - a fully suspended weight that is separated from the body that gives the Aerojet a slightly more chunky profile. That helps to make the face more flexible and pushes the club's center of gravity a little lower than the Cobra LTDx, in a bid to generate more favorable launch angles and reduce spin.
In testing, we enjoyed the feel off the face on this iron and how consistent it was. They have a lively metalwood-like feel with a more subdued sound, likely caused by the polymer in the cavity behind the face. They felt powerful too, and any harsh vibrations were nerfed on poorly struck shots. Consider the option of One Length too here for even more consistency of ball striking from an identical set up position regardless of the iron in the set you're using.
Best high launch
Forgiving on off-center hits and excellent turf interaction
Specifications
Construction: Hollow
Clubs available: 5-SW
Reasons to buy
+
High launch
+
Plenty of draw bias
+
Forgiving off-center and through the turf
Reasons to avoid
-
Unorthodox looks could deter some
An addition the TaylorMade Stealth iron from 2022, the new Stealth HD irons are built to cater to the needs of slower swinging golfers and that makes them an excellent option for senior golfers. The brand has gone for a very low profile club head here to help increase launch as well as building a wide sole into these irons to make them more forgiving through the turf. You could say the longer irons look like a chipper-style club that you might employ around the greens, which may deter some, but it is a great option for anyone struggling with consistency.
Having tested it on the course, it is safe to say this is one of the most forgiving irons available right now, and while it offers slightly less distance than the original Stealth irons, the club launches better, but also has a built-in draw bias - great for those struggling with a slice. It's also relatively cost-effective as some of the best game improvement irons go, meaning this is a fantastic option for any senior golfer looking to score better on a medium budget.
Best for slow swingers
A strong-lofted, easy-to-hit option ideal for the higher handicap golfer
Specifications