Best Women's Putters 2023
Here we take a look at some of the best golf putters currently on the market designed for women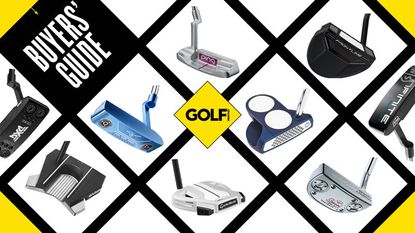 Best Women's Putters
Your success with putter in hand will ultimately determine your score so it is crucial that you think about some of the best putters on the market and then take the time to make sure you get the right model to suit your stroke. And there are many considerations to be made when looking at the best women's putters. For example, if you are a player that swings straight back and through, then opt for a face-balanced putter.
If you have an arc in your putting stroke, you will be better suited to a toe-balanced putter. The blade is the traditional putter shape, but mallet putters have become increasingly popular for professionals and amateurs alike. Their larger-shaped head allows for a deeper center of gravity, which in turn increases their forgiveness. Take a look at our guide on the best mallet putters if you think this might be the right putter for you. A putter is such a personal piece of equipment, so depending on your preferences you must also consider the hosel (where the shaft meets the putter head), the size of grip, and most importantly, find the right length of putter for the way you stand to the ball.
For more information on this, we have created a specific post on how to choose a putter which we definitely recommend checking out. If you are new to the game as well we have also produced a guide on the most forgiving putters and a guide on the best putters for beginner golfers, all of which will help you find the bottom of the cup more often.
Best Women's Putters
Why you can trust Golf Monthly Our expert reviewers spend hours testing and comparing products and services so you can choose the best for you. Find out more about how we test.
A consistent and forgiving putter that delivers superb feel and feedback
Specifications
Face: White Hot insert
Stock shaft: Steel
Stock Grip: Odyssey Pistol
Reasons to buy
+
Very consistent
+
Excellent feel off face
+
Looks inviting behind the ball
Reasons to avoid
-
The soft feel may not suit those that play a soft ball
Packing in a lot of shelf appeal into what is a very forgiving club head, we really enjoyed testing the Odyssey White Hot Versa 3T S putter, which is an excellent all-round flat stick for anyone looking to improve their consistency around the greens. The club boasts a sci-fi design that many will enjoy. The bold black and white stripe system delivers a very distinctive and effective visual guide for aiming and we loved the aesthetics on offer here, that boasts a simple sight line that contrasts nicely against the black top line. That helped us square up the face of the club when hitting through the ball.
Ultimately, our testing sessions revealed that this was one of the best Odyssey putters in the game right now. One of the highlights was the soft feel on the putter that was seriously responsive and delivered a very smooth ball roll. The club retains the excellent White Hot face insert and that certainly helps to add to the excellent feel on offer. The simple mid-mallet shape of the head really appealed to us too. While it feels compact, it comes with a little bit of toe hang that will suit strokes with a slight face rotation and arc. The ruby red Odyssey Stroke Lab shaft completes a feature-packed club design that helps to reduce the weight of the club by seven grams - making it more stable. For that reason we think this is one of the best mallet putters going and is a fantastic option for those looking to reduce the amount of putts their making on the greens.
A stunning looking putter that offers loads of forgiveness
Specifications
Face: TPU Pure Roll Insert
Stock Shaft: kbs CT Tour Stepless Chrome
Stock Grip: Super Stroke GTR
Reasons to buy
+
Excellent forgiveness for size of head
+
Great sound and feel from insert
+
Alignment design flows into golf ball
Reasons to avoid
-
Head can sit back if hands not ahead of ball
TaylorMade has refreshed its incredibly successful Spider X putter with a new colorway and a new finishing process. The Hydro Blast has a smoother and very premium-looking finish that many female players will enjoy. That is thanks to the high-pressure application of water to the aluminum body which gives it its hydroblast name. TaylorMade says a by-product of this process is added durability with the risk of blemishes and scratches being minimized due to the absence of paint. If you carry your clubs in one of the best golf stand bags then you'll know that there is a danger that your clubs can knock against eachother. But the durability of this putter means any chance of it being scratched is largely mitigated.
Meanwhile, TaylorMade have placed two tungsten weights on the rear edges of the putter to increase the MOI this putter provides and help reduce the amount how much the club twists through each putting stroke. The club's face also improves on its stability, with its Pure Roll insert providing a smooth feel and nice sound on impact with the golf ball. It is certainly a very clean and more durable finish than what we saw in 2020 and Hydro Blast itself is one of TaylorMade's most popular clubs of all time. Take a look at our best TaylorMade putters guide for some of the best putters currently on the market.
A putter that has featured on our Editor's Choice awards for 2022
Specifications
Face : Evnroll Sweet Face
Stock Shaft: Steel
Stock Grip: Evnroll Tour Tac Black
Reasons to buy
+
Sweet Face grooves for consistent ball speeds
+
Large clear alignment lines
+
Forgiving head
Reasons to avoid
-
Sound a little on hollow side
An update on the Evnroll ER11v model, the ER11vx putter is designed to increase the MOI of the ER11v, to provide greater stability, and make it more forgiving on off-centered hits. We found this club had one of the best faces on the market, with its 2º of loft providing a solid feel through impact and a smooth roll. That is down to the Evnroll Sweet Face design, which uses variable width and depth of grooves on its clubface, to reduce the dispersion in distance and accuracy that can occur if you don't strike the ball on the sweet spot of the club.
You'll also notice the putter has a hollow circle on its bottom that not only helps to move the weight of the club head to its extremities but is a way to pick up the ball without bending down. For that reason, it would be a great putter for senior golfers or anyone struggling with a sore back to help reduce the amount you're bending over on the course. Ultimately it is one of the best Evnroll putters in the game and is the perfect option for any lady golfers looking for more consistency and forgiveness around the golf course.
A stunning golf club that offers a responsive feel
Specifications
Face: White Hot
Stock Shaft: Stroke Lab steel
Stock Grip: Odyssey Pistol
Reasons to buy
+
Easy to align
+
Super responsive feel
+
Encourages a pendulum-style rocking action
Reasons to avoid
-
Some may want a firmer feel with more speed
The Odyssey White Hot Versa 12 S putter features the brand's patented Versa alignment which has been created following feedback from short game coach, Phil Kenyon, as well as a number of the world's top professionals. Along with the alignment, it also has a bold black and white contrast head, which we felt aimed the face at address and helped keep an eye on where it was pointing throughout the stroke. During our testing sessions, we really enjoyed the feel and roll on the ball this putter delivered.
It has a mid-sized footprint which fills the void between blade and mallet perfectly, although we would personally say it's closer to a mallet style. It's worth noting that the unusual shape won't suit everyone's taste, but the bigger head gave us a greater awareness of where putts were being struck. Aesthetically then the Versa 12 S delivers and, feel wise, it also provides a premium feel, with the urethane material and White Hot insert delivering a pleasing sound and weighty feel that makes the face feel very stable and one of the most forgiving putters in the market.
A premium putter designed specifically for women golfers
Specifications
Face : Pure Roll insert
Stock Shaft: KBS CT Tour putter shaft
Stock Grip: Super Stroke GTR
Reasons to buy
+
Easy alignment
+
Very consistent on the greens
+
Improved our lag putting
Reasons to avoid
-
More length options needed
TaylorMade has put an awful lot of time and investment into designing a brand new Kalea Premier line of clubs for ladies and the Spider Mini putter is the perfect choice for this truly premium set of women's golf clubs. It has beautiful aesthetics, featuring the same eye-catching coloring from the Kalea Premier women's set, including a royal blue sole and pretty tail pocket accents in honeycomb yellow.
It's footprint is 15 percent smaller than the standard Spider putter, which means there's very little compromise in the stability and forgiveness of the head. What's more, it sits very flat and flush to the green which should really encourage golfers to make a smooth, pendulum rocking action with their arms. The putter is fitted with a simple long white sight line on the crown, which makes alignment easy and obvious. Like many of the best putters for high handicappers, this offering boasts tons of forgiveness and a high MOI making it a great option for any golfer looking for more consistency in their putting stroke.
A traditional looking putter that offers great ball rolls
Specifications
Face : White Hot microhinge insert
Stock Shaft: Stroke Lab shaft
Grip: Odyssey Pistol grip
Reasons to buy
+
Very easy to use
+
Stylish blue and white gives it all round appeal
+
Fantastic feel off the face thanks to the iconic White Hot insert
Reasons to avoid
-
The 2-Ball design means no alignment line on the back of the putter, which some may prefer
Featuring Odyssey's revolutionary Stroke Lab technology that continues to dominate on tours around the world, this 2-ball putter, which is one of three models in this collection, is designed specifically for women in a shorter length and with a smaller grip. It feels softer and although is a mallet didn't feel cumbersome at all. It is best suited to a golfer with a fairly straight swing. But it also stabilizes slightly nervy strokes on shorter putts making it a real confidence booster on the greens.
The multi-material shaft saves 40 grams of weight, which is redistributed to the head and grip end of the putter. This rebalances the putter for improved tempo and consistency in your stroke. A White Hot Microhinge Insert, which is commonly used on all of the best Odyssey putters, provides feel and promotes a pleasing forward roll, alignment is also made easy due to the high contrast silver and blue finish. It is one of the most forgiving and best mallet putters on the market right now.
Ping G Le2 Anser Putter
A stylish looking blade putter
Specifications
Face: Pebax face insert
Stock Shaft: Adjustable steel shaft
Stock Grip: Ping Pistol Garnett
Reasons to buy
+
Classic design
+
Impressive modern tech
+
Alignment tool
Reasons to avoid
-
Feel off the face is very soft
There are three putter models in the popular Ping G Le2 women's range of clubs and the Anser needs no introduction as it is one of Ping's most popular models ever with a bold and high MOI design. An easy-to-use adjustable shaft allows self-fitting for length between 31" and 35". The threaded screw mechanism permits accurate incremental adjustments without grip twist and misalignment. This putter would combine very nicely with some of the fantastic options on our best ping irons guide too!
A two-piece elastomer face insert is engineered with Ping's TR (True Roll) Technology that provides a soft layer for precision and feel, and a firmer layer that helps to improve consistency on every distance to eliminate the dreaded three-putt. Why not take a look at some of the other putters Ping have on offer by checking out our best Ping putters guide.
A stunning putter with plenty of forgiveness
Specifications
Face: Preceision milled
Stock Shaft: Steel
Stock Grip: Pistolini Plus
Reasons to buy
+
Beautiful aesthetics
+
Great feel
+
Plenty of forgiveness
Reasons to avoid
-
Comes with a hefty price-tag
Scotty Cameron is renowned for producing high-quality putters and that includes the rounded mid-mallet Fastback 1.5. Not only does it make this list as one of the best women's putters, but it also features in our best Scotty Cameron putters guide because it has a shape extensively tested on the professional golf tours. It has a small slant neck that lays back slightly for a seamless shaft-over set-up, so you have an uninterrupted view of the ball from address.
Aesthetically pleasing, it is milled from a solid block of 303 stainless steel and features a mid-milled face pattern that is hand finished to promote superior feel. More weight is designed into the heel and toe using customisable weights for a high MOI and an enlarged sweet spot to enhance stability, balance and performance. It also comes with a handy black alignment line on the back of the club that we think many female golfers will enjoy!
Wilson Staff Women's Infinite Windy City Putter
A sleek looking putter
Specifications
Face: Double-Milled Face
Stock Shaft: Steel
Stock Grip: Standard grip
Reasons to buy
+
Solid aesthetics
+
Good value
+
Great stability
Reasons to avoid
-
Some players will prefer a traditional (non counter-balanced) feel
Part of the Wilson Staff Infinite line of putters, the women's Windy City blade putter features Counterbalance Technology. This combines a heavier head and grip weights, moving the balance point closer to the hands for a smoother and more controlled putting stroke. That makes it one of the best blade putters for stability and can help you play much more fluid golf shots.
There is no distraction at address, as a dark PVD finish reduces glare and accentuates sight-lines, whilst the face has been double milled to promote consistent impact, roll and distance control. The grip includes an oversize design construction and this helps to relieve tension, provide a stable feel and limit rotation during the stroke. The heavy grip (104 grams) also helps create the counter-balanced putter feel.
A very futuristic-looking putter
Specifications
Face: CNC milled
Stock Shaft: Nippon Original
Stock Grip: Lamkin Deep Etched Full Blue cord
Reasons to buy
+
Beautifully crafted
+
Great feel
+
Perfectly weighted
Reasons to avoid
-
Metallic blue finish will split opinion
M-Craft is a premium range of putters from Mizuno that are forged and CNC Milled from 1025 mild carbon steel for precision and feel, while deep face milling creates a softer feel and pure roll. The best women's putters have to look great which the M-Craft range definitely does. Available in a choice of three finishes, the M-Craft 2 is one of three models in the line-up, which has a classic heel-toe plumber's neck shape and mid-toe hang, designed for golfers that swing with a moderate putting arc.
With an additional weight kit that includes two 3gm weights and two 13gm weights, golfers have the option of interchanging these weights with the 8gm fitted weights so the putter can be adjusted to suit a variety of putting conditions. Why not pair these up with one of the best Mizuno golf irons to complete a stunning set of clubs.
How we test putters
When it comes to product testing, our reviews and buyers' guides are built upon a rigorous testing procedure as well as the knowledge and experience of the test team. The putter section is headed up by Martin Hopley, while Katie Dawkins is our Women's golf gear lead. Other members of the Golf Monthly team contribute to the putter tests as well, and all writers are able to efficiently test the vast majority of the biggest product releases and convey the pros and cons eloquently.
Getting into specifics, we test the putters outdoors on real greens with premium golf balls to get a thorough understanding of design features, feel, sound and looks. Ultimately, we aim to be as insightful and honest as possible in our reviews so it is important to acknowledge that no manufacturer can buy a good review. This is because our team tells it how it is. To learn more about our methodology, see how Golf Monthly tests products in our guide.
What to consider when buying a new putter?
When it comes to arguably the most important golf club in the bag, you need to think about what you want and what you like to use when it comes to the putter. A confidence-inspiring design that suits your eye and suits your stroke can save countless shots on the greens and a good flatstick is often the easiest way to bring your handicap down. So what are the things you need to mull over before purchasing one of the best women's putters?
1. Head Design
Putters come in a traditional blade, mid-mallet or a mallet design. All three styles have positives and negatives to them for every player, and luckily, lots of brands implement technologies across all three.
Mallet putters tend to be much larger than blades and they usually come in various shapes and sizes. This helps in a number of ways. A lot of the time most of the weight in a mallet putter can be found in the club face but because of its design, weight can then be redistributed to other parts of the head which can help stabilize your stroke. The weight of the putter in the perimeter of the clubhead offers better balance than what can be offered from a blade putter.
Mallet putters tend to also have a larger sweet spot which can be beneficial if you are a player who struggles to consistently strike your putts out of the middle of the face. The weight in the head also helps here because it diminishes the twisting of the putter throughout the stroke too. Additionally, if you struggle with alignment, a mallet putter could be the way to go. Alignment plays a crucial part in putting because it is all about accuracy and a mallet putter can be beneficial here by helping your eyes line up the putt.
A blade putter is a lot simpler in terms of design and will suit the traditionalists a lot more than some of the mallet putters pictured above. Blades also tend to suit players with an arc to their stroke because of the toe-weighted nature of the head.
1. Feel
Here, we're talking not just about the feel and sound the ball makes coming off the face but how the putter feels in your hands.
A quieter sound contributes to a softer feel, whereas a louder sound usually translates into a firmer feel. A firmer feel is often the product of shallow grooves or no grooves at all on the face, where sound can't be dissipated as effectively. They work better with the best soft feel golf balls, where as soft-feeling putters work best with firmer golf balls.
You can get putters with adjustable weights in the sole that will alter the feel of the putter. For example, if your stroke is quite smooth and slow, a heavier putter will encourage that more