Most Forgiving Hybrids 2023
We take a look at the most forgiving hybrids currently available on the market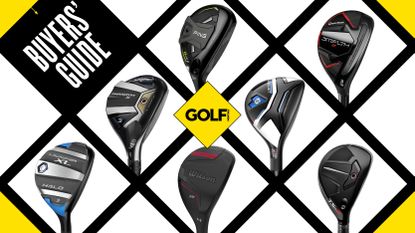 (Image credit: Future)
Most Forgiving Hybrids: Quick Menu
When it comes to a round of golf, players are always looking for ways to make the sport as easy as possible. Let's be honest, it's a hard enough game already and, if you can find ways to lower your score, then you're going to do it, aren't you?
You may be thinking then, how do I make the game easier? Well, one way is to invest in a hybrid, a club which is designed to provide the workability of a long iron, but with the added forgiveness for those who struggle to find the centre of the club face.
Currently, manufacturers produce a wide range of hybrid models, with the majority of the best golf hybrid clubs giving users a larger target and sweet spot than a three or four-iron, for example.
However, it doesn't stop there because not all hybrids are designed to perform exactly the same way. Some golfers prefer a compact head, some want a hybrid that performs like a long iron, and others would rather it felt more like a wood.
One thing that all golfers want from their clubs though is forgiveness. These clubs aren't magic wands, you're still going to play your bad shots and no new technology can save that from happening. However, if your mis-hits travel further and straighter, then you're onto a good thing.
So then, which hybrids are best for forgiveness? Well, if the sheer number of options on the market is a bit daunting then fear not, because we've narrowed it down by identifying the most forgiving hybrids currently available. However, if forgiveness isn't your thing, then perhaps take a look at some of our in-depth guides on the best hybrid golf clubs for seniors and best hybrid golf clubs for high handicappers.
The Quick List
Top pick
Cleveland Launcher XL Halo Hybrid
The Halo scores high marks for the versatility. It's easy to hit out of any lie, performs exceptionally well on mis-hits, and gets the ball up in the air quickly.
Best for any lie
The Aerojet hybrid is extremely forgiving across the face, taking pressure off ball striking while also producing fast ball speeds. It performed well from a variety of lies.
Best for any level
The Ping G430 hybrid is a club that combines performance with immaculate looks. It's forgiving and produces consistent ball flights even out of more tricky lies.
Best high launch
TaylorMade Stealth 2 HD Hybrid
The profile and low centre of gravity means stopping power into greens and coming out the rough has never been easier. A superb combination of distance and forgiveness.
Best looking
A super, versatile hybrid that will suit golfers that prioritize launch off the deck and forgiveness over shot shaping ability. It also has a stable, powerful feel.
Best adjustability
Callaway Paradym X Hybrid
A highly-forgiving hybrid option that will suit the mid-to-high handicap golfer. Thanks to multiple loft options and hosel adjustability, this can be tailored to your bag.
Best for simplicity
The Dynapower could be the dark horse in the hybrid category for 2023. It offers exceptional forgiveness and height, performing well from a multitude of lies.
Best value
Yonex Ezone Elite 4 Hybrid
The Yonex Ezone Elite hybrid is a highly forgiving and easy to hit long iron replacement. Its versatility impressed us, performing well off the fairway as well as the rough.
Most fairway wood like
Callaway tapped into its Tour roster to build a high-performance utility wood with fairway wood distance and hybrid precision.
Most Forgiving Hybrids
Why you can trust Golf Monthly Our expert reviewers spend hours testing and comparing products and services so you can choose the best for you. Find out more about how we test.
Top pick
Specifications
Lofts: 19°, 21°, 24°, 27°
Reasons to buy
+
Easy to hit from any type of lie
+
Provides naturally high launch conditions
+
Forgiving on off-centre strikes
Reasons to avoid
-
Impact sound is on the louder side
Designed for maximum forgiveness, the Cleveland Launcher XL Halo hybrid features some impressive technology which can save you from disaster in various on-course predicaments.
The specific focus in the design process was to help golfers escape poor lies with power and accuracy, with the Halo featuring Cleveland's XL head design which is larger than most hybrids. It also features an MOI of 2,961 - the most ever in a Cleveland Golf hybrid.
All of this combines to provide great stability and resistance at the moment of impact, with three Glide Rails on the sole helping keep the clubface straight for better strikes, regardless of lie quality. It performed so well that we included it in our Editor's Choice awards for 2022.
Best for any lie
Specifications
Lofts: 17º, 19º, 21º, 24º, 28º
Reasons to buy
+
Very Forgiving
+
Superb overall distance
+
Performed strongly from bad lies
Reasons to avoid
-
Bonded head meant a lack of adjustability
Replacing the very popular Cobra LTDx hybrid, the Aerojet hybrid is an extremely forgiving club that delivers fast ball speeds from a variety of lies. When it comes to the metalwood circuit, Cobra are one of the most recognizable brands, with the company producing some of the best fairway woods that money can buy.
Here though, we are focusing on the hybrid, with the Aerojet providing users with a gloss black crown and smart red, white and blue colorway on its sole, similar to the colors seen on the excellent Cobra Aerojet drivers. Having tested this hybrid on both the range and the course, we were very impressed with how it performed from tricky lies, popping the ball up nicely, while cutting through thicker rough to deliver powerful strikes.
The Consistency was also a big bonus, with a new H.O.T Face Design, that limits inconsistent spin rates from wherever you strike the ball on the face, being really noticeable on the course, the ball coming out in a very similar window each time we struck it.
Best for any level
Specifications
Lofts: 17º, 19º, 22º, 26º, 30º, 34º
Reasons to buy
+
Plenty of forgiveness across the face
+
Clean aesthetics
+
Produced surprisingly fast ball speeds
Reasons to avoid
-
Fairly challenging to shape shots
Ping are renowned in the golfing world for producing some of the best and most visually stunning clubs in the game - and the Ping G430 hybrid embodies that. It strikes the balance between being a sleek and aesthetically pleasing golf club, whilst also providing excellent performance and forgiveness.
Aesthetically, it is a compact-looking club head which will, arguably, appeal to the better player, but it still inspires confidence at address. What's more, the brand have also listened to feedback from the golfing world, especially around the metallic sound and feel that was found on the G425 hybrid. On impact, the G430 delivered a very satisfying feel along with a lot of power.
There's yet more positive news, with the yardages performing strongly, as well as the ball flight which, in windy conditions, was still extremely strong. Importantly though, the forgiveness is superb, with mis-hits still delivering strong carry yardages. This comes from the tungsten back-weight on the club, which helps to deliver a lower center of gravity that offers greater forgiveness from difficult lies.
Best high launch
Specifications
Lofts: 20º, 23º, 26º, 29º
Reasons to buy
+
Inviting design at address
+
Effortless in producing high launch
+
Superb out of tricky lies
Reasons to avoid
-
Those who turn the ball over may struggle
The TaylorMade Stealth 2 HD hybrid looks to be the ultimate long iron replacement for those who struggle to get optimal launch as well as golfers who fight a right miss at the top end of the bag. This superbly versatile offering from the company is certainly aimed at the mid-high handicapper looking for complete forgiveness on longer shots into greens, or even an alternative option when the big-stick is misbehaving.
At address, it sits flush to the turf inspiring confidence and, thanks partially to an off-set position behind the ball, it is slightly more draw-bias. What's more, the V Steel Design, which has featured on so many TaylorMade metal woods in the past, continues to provide exceptional movement through the turf, making difficult lies certainly seem more playable.
In testing, we felt that the Stealth 2 HD hybrid was extremely reliable in producing a similar ball flight regardless of lie, as well as providing decent carry distances. The high launch, draw bias character of this club make it perfect for those searching for both distance and forgiveness.
Best looking