Best Compact Mid-Handicap Irons 2023
A look at a selection of the best compact mid-handicap irons, otherwise known as players' distance irons, on the market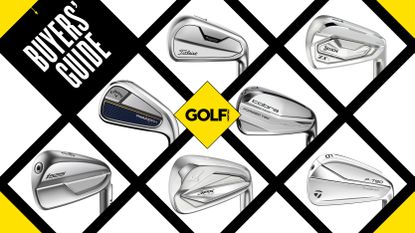 (Image credit: Future)
Best Compact Mid-Handicap Irons: Quick Menu
Buying a new set can be an expensive minefield if you don't know how to choose golf irons. Nowhere is this more true than in the mid-handicap sector, where players can potentially use every option in a brand's range with some degree of success. If you are a golfer within the 8-to-18 handicap index range, getting the best golf irons for you can be difficult but with a little investigation, you will be able a model (or models) to suit your requirements.
Those who are steadily improving will seek a set that offers plenty of feel and control, while those who are perhaps heading the other way, or playing less often, will be more suited to designs that offer higher levels of forgiveness. Whichever models make the grade, you are going to enjoy seeing and feeling the benefits of modern technology. These include the likes of pocket-cavity designs that put forgiveness in smaller head shapes, tungsten weighting that helps reduce twisting on heel and toe mishits, and thinner faces and sole slots that mean you'll find the power normally associated with larger-profile irons.
One particular avenue that can deliver the best of both worlds somewhat, is the compact mid-handicap iron. They tend to have compact heads but still offer forgiveness, feel and control too. But what are some of the best compact mid-handicap irons currently on the market? We've set out below some of our favorite options, but, if you are looking for more advice on some of the best irons on the market take a look at some of our other guides on the best distance irons, best golf blade irons, or the best game improvement irons.
The Quick List
A fast, forgiving and consistent distance iron presented in a visual package that will appeal to the avid golfer. The obvious shelf appeal is backed up by impressive, playable performance
Mizuno JPX923 Forged Iron
This might be as close to the perfect iron ever made for the club golfer. It blends jaw-dropping looks with a soft and solid feel, which translates into consistency.
The ZX5 Mk II iron will inevitably become one of 2023's best compact distance irons because of the power that has been packed into a relatively small chassis.
The i525 offers a lively feel and greater margin for error on mishits as well as a slight increase in distance. As such it will suit a very wide range of players.
Manufacturers are able to cram in a lot of forgiveness into small iron heads these days and the Mizuno Pro 225 is arguably one of the very best examples.
The T200 is an iron that delivers power from a compact footprint. The feel remains firm while the head stability keeps approach shots heading towards the green on a playable flight.
TaylorMade 2023 P790 Iron
TaylorMade has refined the powerful P790 iron without taking away the performance golfers came to admire. This iron packs a punch for its size and is both predictable and consistent.
The Wilson D9 Forged is a mightily impressive iron that performs in every area, offering a tight dispersion with competitive distance and a soft, solid feel.
Cobra 2022 King Forged Tec Iron
The new slimmed down King Forged Tec manages to offer even more firepower for the competent golfer seeking a compact, distance-orientated iron.
Best Compact Mid-Handicap Irons - Best Players Distance Irons
Why you can trust Golf Monthly Our expert reviewers spend hours testing and comparing products and services so you can choose the best for you. Find out more about how we test.
Callaway Paradym Iron
A consistently fast iron off the face in a compact chassis
Specifications
Configuration: 4-GW
Hand: RH/LH
Reasons to buy
+
Fast and consistently so
+
Ample stopping power into greens
+
Stable, powerful feel
Reasons to avoid
-
Mirror chrome finish will divide opinion
-
Short blade length could put off higher handicappers
Fast and consistent off the face, the Callaway Paradym delivers in all aspects as one of the best game-improvement irons around. It is a fantastic upgrade on the equally impressive Rogue ST Max OS irons. And akin to the excellent Paradym drivers, these irons offer a lot of shelf appeal, thanks to their fantastic compact design, that comes with a cool grey and gold coloraway on its back plate.
The Paradym is a fantastic option for mid-handicap players who are looking for something that can help them improve their consistency around the course, while adding more distance and a punch to their game. The construction of the head is unique in many ways, thanks to its hollowed out body, Speed Frame design and A.I. optimised face. That all helps players produce a more speed on shots across the face but also helps to dampen vibrations on miss-hits.
On testing, we enjoyed the distance it offered and it comfortably kept up with the Rogue ST Max OS. The forged face also helps to deliver an explosive and stable feel off the face with a far more appealing sound and feel. It was noticeably quieter than the Rogue ST Max and despite the short blade length, it is really forgiving on shots struck off center.
Mizuno JPX923 Forged Iron
Delivers consistent carries and a powerful feel - a five-star option
Specifications
Configuration: 4-GW
Hand: RH/LH
Reasons to buy
+
Soft yet powerful feel
+
Produces consistent carries
+
Easy to control distance and direction
Reasons to avoid
-
Strong lofts may not suit the better player
The Mizuno JPX923 Forged iron is a compact, mid-sized cavity backed club that is a great iron for a range of golfers from lower handicappers to mid-range handicappers. Its forged design guarantees excellent feel but gives it a fantastic aesthetic, akin to some of the best blade irons on the market. It comes with a clean and classic look which many players who like a traditional iron design will appreciate. It comes with a thinner top line that certainly makes it look more like an iron for a low handicap player.
So how did it perform during testing? We found it was one of the fastest forged irons that we've played with recently and thoroughly enjoyed the hitting experience on offer. That is certainly enhanced by the camber on the sole of the short irons, helping to improve the interaction with the club and the turf. Ball flights were quite low but offered lots of spin, that helped us stop the ball on the greens pretty sharply. But as often the case with the best Mizuno irons, the attribute that really stands out is distance consistency, which allowed us to be aggressive in our approach shots, thanks to the tighter dispersion rates this club affords.
Srixon ZX5 Mk II Irons
A small chassis that offers a satisfying feel at impact
Specifications
Configuration: 3-SW
Hand: RH/LH
Reasons to buy
+
Plenty long enough
+
Compact, refined looks
+
Superb feel
Reasons to avoid
-
Limited gains over prior model
An upgrade on the previous ZX5 iron, which was close to being the perfect all-rounder, the MK II has refined some of the excellent things its predecessor achieved. Bridging the gap between the new ZX4 Mk II and ZX7 Mk II irons, this is billed as a forged iron that promises enhance distance. It is a bit beefier than the ZX7 MK II but does come with a compact aesthetic that'll appeal to better players looking for a little more forgiveness in approach. It's hard to fault the stunning chrome design on this club, too, which inspires a lot of confidence at address.
The ZX5 MK II's performance was also excellent and was probably closer to the ZX4 MK II delivering competitive distances and lots of height, that allowed us to stop shots on the greens when needed. We think mid-handicappers will enjoy the feel on this iron the most. It comes with a hint of softness but provides a lot of zing, producing one of the best impact experiences we've found on a compact mid-handicap iron. Plus if you're looking for a club that offers a lot of forgiveness, the Tour V.T. sole offers outstanding interaction with the turf, that was particularly useful in wet conditions.
Ping i525 Irons
A compact distance iron suitable for a broad spectrum of abilities
Specifications
Configuration: 3-UW
Hand: RH/LH
Reasons to buy
+
Beautiful looking iron
+
Strong ball speeds and distance
Reasons to avoid
-
Not especially easy to align
The i525 iron replaces the i500 occupies the space between the G425 iron and the old i210 as a hollow, distance-orientated iron in a slimline chassis. In i525 this theme continues but Ping claims that changes inside the head should elevate the distance, forgiveness and feel to new heights. Notably, there are tungsten toe and hosel weights, a new maraging steel face for ball speed, four extra grooves to minimize fliers from the rough and an EVA polymer inside the head to provide a softer feel.
It may be one of the best compact mid-handicap irons out there, but it's built for speed and power too. For those seeking a classic looking club with modern performance, this could be the iron for you as its one of the best Ping irons we've tested in recent times.
Mizuno Pro 225 Iron