Best Compact Mid-Handicap Irons 2022
A look at a selection of the best compact mid-handicap irons on the market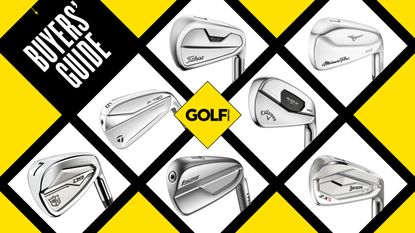 (Image credit: Future)
Best Compact Mid-Handicap Irons
Watch Joel Tadman test nine of the latest compact mid-handicap irons of 2022
Buying a new set of irons can be an expensive minefield if you don't know what you're looking for. Nowhere is this more true than in the mid handicap sector, where players can potentially use every option in a brand's range with some degree of success. If you are a golfer within the 8-to-18 handicap range, getting the best golf irons (opens in new tab) for you can be difficult but with a little investigation, you will be able to find mid-handicap irons to suit your requirements.
Those who are steadily improving will seek a set that offers plenty of feel and control, while those who are perhaps heading the other way, or playing less often, will be more suited to designs that offer higher levels of forgiveness.
Whichever models make the grade, you are going to enjoy seeing and feeling the benefits of modern technology. These include the likes of pocket-cavity designs that put forgiveness in smaller head shapes, tungsten weighting that helps reduce twisting on heel and toe mishits, and thinner faces and sole slots that mean you'll find the power normally associated with larger-profile irons.
One particular avenue that can deliver the best of both worlds somewhat, is the compact mid-handicap iron. They tend to have compact looking heads but still offer forgiveness, feel and control too. But what are some of the best compact mid-handicap irons currently on the market? Below we have taken a look.
Alterntively if you are looking for more buying advice when it comes to irons take a look at some of our other guides on the best distance irons (opens in new tab), best golf blade irons (opens in new tab), or the best game improvement irons (opens in new tab).
Best Compact Mid-Handicap Irons - Best Players Distance Irons
Why you can trust Golf Monthly Our expert reviewers spend hours testing and comparing products and services so you can choose the best for you. Find out more about how we test.
Reasons to buy
+
Solid, stable and lively feel
+
Compact long irons match the set better
+
Consistent carry distances
Reasons to avoid
-
Limited shelf appeal
-
Some may want a softer feel
Perhaps the most complete iron for any low-handicap player, the Ping i230 is a reliable, versatile iron that can strike all the right shots while delivering an extremely low margin for error given its compact shape. Tour pros including Stewart Cink and Tyrrell Hatton use the i230 irons, and if that's anything to go by, then if you're a scratch golfer you should also take a look at these high-performance clubs.
At the address, these clubs boast a very slim profile that will appeal to the eye of the better player and improve your club delivery. The 431 stainless steel body, tungsten toe screw, shaft tip weight and concealed elastomer help the club to deliver a muscle style look, that helps players zip the ball off the clubface. While it looks incredible, the iron also feels great too, combining a lively, stable feel with a muted sound. Even poor swings felt responsive through the turf. Distance is plenty and we loved the trajectory these irons offered. In truth, it was hard to find flaws in these irons which are one of the best irons for low handicappers (opens in new tab).
A compact distance iron suitable for a broad spectrum of abilities
Reasons to buy
+
Beautiful looking iron
+
Strong ball speeds and distance
Reasons to avoid
-
Not especially easy to align
The i525 iron replaces the i500 occupies the space between the G425 iron and the old i210 as a hollow, distance-orientated iron in a slimline chassis. In i525 this theme continues but Ping claims that changes inside the head should elevate the distance, forgiveness and feel to new heights. Notably, there are tungsten toe and hosel weights, a new maraging steel face for ball speed, four extra grooves to minimize fliers from the rough and an EVA polymer inside the head to provide a softer feel.
It may be one of the best compact mid-handicap irons out there, but it's built for speed and power too. For those seeking a classic looking club with modern performance, this could be the iron for you as its one of the best Ping irons we've tested in recent times.
A powerful, hollow iron with that signature Mizuno feel
Reasons to buy
+
Significantly improvement over prior model
+
Visually appealing from all angles
+
Fast and forgiving
Reasons to avoid
-
Some may want to look down on a larger head
As underwhelming as the previous version of this club was, Mizuno has really stepped up the performance with Pro 225 iron. It feels infinitely hotter off the face and will really suit those mid-to-low handicappers that want to play a slim, players-looking iron without giving up distance.
The hollow head provides the spring in the step of this club while tungsten weighting provides the off-centre stability and it does it from a chassis that looks like a blade and sits compactly behind the ball. Manufacturers are able to cram in an awful lot of forgiveness into small iron heads these days and the Pro 225 is arguably one of the very best Mizuno irons ever made.
A compact distance iron that will suit a wide range of handicaps
Reasons to buy
+
Distance in a compact package
+
Good forgiveness
Reasons to avoid
-
Won't suit those looking for max feel and workability
The T200 has been made smaller overall to give a sleeker look - specifically, the blade length has been shortened and the offset reduced to match the new T100. From the back, the cavity has been enclosed by a polymer cap that has a metallic appearance to match the rest of the head, making it look like a hollow head.
For any low handicapper that isn't the best ball striker, or a keen golfer in the low teen handicap range, the T200 would seem to offer the ideal blend of performance attributes - making it one of the best Titleist irons in the range. But better players should certainly consider following the tour players lead and adding the T200 model in the long iron slots in their bag (or as a utility iron too) because of the extra playability it affords versus the T100 irons.
Where this club stands out from the T100s is the more powerful feel but also the forgiveness. It feels a lot more stable overall and the margin for error is certainly a lot greater here, which enhances your confidence over the ball and the dispersion of your shots.
A slimline distance iron that will suit a wide range of abilities
Reasons to buy
+
Great distance
+
Exceptional forgiveness in small package
Reasons to avoid
-
Slightly unusual sound and feel off the face
The P790 will appeal to a broad range of players, making it one of the best TaylorMade irons in terms of all round performance. It offers a great blend of distance and forgiveness in a relatively compact clubhead. The Speed Pocket in the clubhead helps to create greater forgiveness and consistency while the use of SpeedFoam dampens vibration, creating quite an unusual sound and feel at impact.
But the results are impressive with consistently long and straight ball flights. The use of tungsten weighting helps to further assist forgiveness, as does the inverted cone face. The ball is extremely fast off the face of these irons, like you would expect from a hollow club, and we like the slimline compact package. It's definitely one of the best sets of mid-handicap irons on the market due to its all-round performance and will suit most mid-handicap golfers.
A versatile iron that offers playability, good looks, and a soft feel
Reasons to buy
+
Exceptional aesthetics
+
Softer feel than other irons in this category
Reasons to avoid
-
Launch might be an issue for slower swingers
The Wilson D9 Forged irons fall into the players distance iron category and as such will suit a wide array of golfers. The D9 Forged irons, which replaced the D7 Forged irons in Wilson's golf club lineup, offer players the compact, classic shaping and soft, forged feel that they want but with an influx of ball speed and forgiveness that makes them more playable than a traditional blade or smaller forged cavity back.
Keying the quick ball speeds and expanded sweet spot that the D9s offers are power holes that have been positioned along the sole of the club of the long and mid irons to help the face flex more at impact to provide consistently fast speeds from across the face. In terms of their look, the D9 forged irons would qualify as quite compact in the players distance iron category, including a shorter blade length and relatively thin topline, and the 8620 carbon steel that has been used to forge the face provides a soft yet responsive impact sound and feel.
Callaway Rogue ST Pro Iron
A compact, hollow distance iron that boasts improved feel and consistency
Reasons to buy
+
Soft yet powerful feel
+
Surprisingly forgiving for its size
Reasons to avoid
-
Mirror chrome finish will split opinion
The Rogue ST Pro is a beautiful hollow body iron with slightly more traditional lofts than the other Rogue ST models in a compact, players shape. It has Callaway's new A.I. Face Optimization unique for each club in the set to create spin rate consistency across the face. Precision weighting features up to 48g of high-density tungsten, a 188 percent increase over Mavrik, for improved launch conditions and maximized speed across the face. The urethane microspheres have also been pushed further up the face to the 6th groove to enhance sound and deliver pure feel while maintaining fast ball speeds.
With a 7-iron loft of 30.5°, this iron is clearly still built to offer good distance but in a refined, elegant manner that will please the low handicapper. The size is appealing without being clunky and we really enjoyed the ball striking experience on offer. The sound is quiet but the feel is powerful, it's a combination that delivers distance without any harsh acoustics you sometimes get from game improvement irons. For our money, it's the one of the best golf clubs (opens in new tab) within the Rogue ST range.
Reasons to buy
+
Sensational feel
+
Consistently long
+
Near faultless looks
Reasons to avoid
-
Nervy players may not appreciate the slimmed down size
The previous King Tec irons were an impressive addition to the Cobra brand, offering excellent distance, stopping power and control. Their latest edition, the Cobra 2022 King Forged Tec Irons are an upgrade on that, and while they are a more streamlined offering, we loved the user experience we had with these clubs.
Visually, this is one of the best-looking clubs on the market. With a crisp and elegant finish, it looks like a club that can add a lot of distance to your game. We were amazed at the power this iron offered, giving a metallic sound on impact and seemed to be more gentle compared to other brands. That also felt like it helped with club stability through impact, with your hands feeling fewer vibrations on the club, resulting in better ball flights and fuller shots. Ultimately this is a fantastic, five-star golf club that we think will benefit any low handicapper looking for more distance, control and power on their golf shots.
Reasons to buy
+
Compact, refined looks
+
Powerful feel and flight
+
Controllable land angles
Reasons to avoid
-
Some may want a narrower sole
A lively distance iron that is more appropriate to accomplished game improvers, the JPX923 Hot Metal Pro is a stunning golf iron designed to add more distance to your game. While none of the hot metal pro irons are aimed at the better players, per se, this is the model that will be best for lower handicappers looking for a distance iron (opens in new tab). Visually, it has more black detailing on its club head compared to the JPX923 Hot Metal (opens in new tab) but it has a shorter blade length and a thinner topline.
Out of the three JPX923 irons, we hit this one the furthest and had more speed than the standard Hot Metal, delivering a confidence inspiring profile that allowed us to really swing through each shot at full power. It delivered great spin rates and healthy ball flights that meant we had no concerns getting the ball to check on the greens. But while it delivers great distance, it is also up there as one of the most forgiving irons (opens in new tab) around.
An iron aimed at the club golfer seeking a blend of distance, feel and control
Reasons to buy
+
Will suit wide range of players
+
Good looking iron in the bag
Reasons to avoid
-
There are softer feeling models in this list
The Callaway Apex, a model which made our best Callaway irons (opens in new tab) list, is a great all-rounder that will suit a range of players with varying requirements. The new design looks great and has a couple of alternations from the previous generation Apex iron. First the new model is the first forged iron with a Flash Face Cup designed with Artificial Intelligence for faster ball speeds.
It also has a new Tungsten Energy Core, which is five times heavier than the weight in the previous Apex. This is designed to promote higher launch and more spin. Feel is also an important aspect for mid-handicap players and that comes from the forged 1025 steel construction. In testing, we found the Apex to be soft in feel yet powerful, producing good distance. This is a club that really rewards good ball-striking and it will suit aspiring players looking for a blend of power and feel.
Reasons to buy
+
Good blend of power and workability
+
Classic looks
The Honma TR20 P irons are a player's distance iron with game improvement playability. They feature a forged S35C steel body with an L-cup face for increased ball speeds and a tungsten weighted pocket cavity to create speed-enhancing forgiveness on off centre strikes.
The irons also feature a low centre of gravity and high MOI to achieve high launch and longer carries. We found the TR20 P Irons to deliver an impressive blend of distance and workability that should suit the mid-handicap player looking to have a little more control without sacrificing power and forgiveness.
Reasons to buy
+
Good distance and consistency
+
Soft feel and stability
Reasons to avoid
-
Wider sole visible on longer irons
As used by Tour stars Shane Lowry, Srixon's ZX5 mid-handicap irons look like a pure muscle-back and yet still provide forgiveness thanks to the additional mass behind the impact location. Importantly this also helps with shot-shaping ability and versatility.
The ZX5 has a pleasantly thin topline and is slightly offset which inspires confidence at address. The rear of the wider sole is visible at address from 6-iron down, which not everyone will like to see, but it is something to be expected on an iron this forgiving.
This forgiveness comes from the MainFrame technology, a variable thickness pattern made up of grooves, channels, and cavities that increases ball speed on every shot. As such the ZX5 iron offers up a hot and lively feel along with a loud and more metallic sound at impact. It is consistent with other cavity back irons we have tested and it is a compelling package altogether.
How we test golf irons
Our testing for golf irons (opens in new tab) is built upon a comprehensive process combined with the knowledge and expertise of the Golf Monthly test team. Our team usually attend product launches and then when it comes to our actual testing, we first try the irons in a controlled environment. This usually takes place on an indoor simulator at Foresight Sports, with premium balls and the GCQuad launch monitor.
Next up is outdoor testing, which normally takes place at West Hill Golf Club. We think it is vitally important to do both and continue to test the irons so they have been comprehensively put to the test in different conditions. It should also be mentioned that manufacturers cannot pay for a good review and we make our conclusions from the testing and our experiences. This is because we strive to give the best reviews possible so you can get a greater understanding of the irons themselves.
How to choose golf irons
The iron market is very crowded with many brands making top-notch models. So what are some of the things you need to consider to make sure you get the best model for you? Let's take a look.
Your Handicap And Ability
This is probably the most important first step: knowing which type of iron best suits your game. This is by no means gospel, but higher handicappers tend to use cavity back irons that offer maximum forgiveness in a larger iron head, while mid-low handicappers tend to use more bladed irons that are forged, offer more feel and control but less forgiveness. However, as this guide shows, there are mid-handicap models designed to sit between the high and low handicap players too.
Therefore be honest with how good your and consistent your ball-striking is, and then make sure you invest in a set of irons that matches where your game is out now, not where you'd ideally want it to be.
We have great guides that go into more detail on this, so check out our guide on the most forgiving irons (opens in new tab) if you're a higher handicapper and our guide on the best irons for mid-handicappers (opens in new tab).
Price
This will be a major factor in anyone's decision of what irons to go for. As you'll have seen in this list, the price can vary dramatically between irons. This obviously can fluctuate between brands, and it is important for you to have a think about what you can afford and how much you want to spend.
Custom Fit
This is probably the most essential part of the iron buying process, no matter the irons you're after or how good you are at the game. Getting a good custom fitting will give you insight into which model will suit you, along with the right flex, shaft, lie angle and so on and so forth. This process will ensure you finish with a set of irons most suited to your game.
Custom fits can be a daunting process if you're a true beginner or you aren't that confident hitting golf balls in front of people, but they're a vital part of the club buying process. We recommend having a shortlist of three or four iron heads you like the look of before entering a custom fit and then whittling them down to the best for your game during the custom fit process.
FAQs
What iron is best for mid handicaps?
Something that offers a blend of performance attributes - namely good ball speed, a solid feel and ample forgiveness - but in a profile that isn't too chunky so as to be aspirational for the user to progress.
What irons are the most forgiving for mid handicaps?
Stand out models from this guide in terms of forgiveness would be the TaylorMade P790, Mizuno Pro 225 and Callaway Apex 21, translating into excellent consistency of distance from strikes across the face
We hope you liked this guide on the best compact mid-handicap irons and found it informative. For more buying advice check out the Golf Monthly website.