Black Friday Golf Shoe Deals
The Black Friday sales are finally here, with some incredible deals now available on an array of golf shoes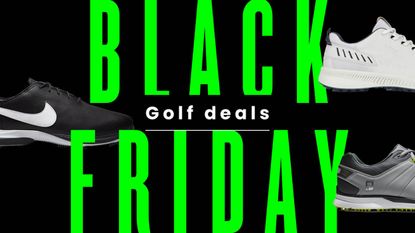 (Image credit: Golf Monthly)
A golf shoe is one of the most underappreciated parts of your golf equipment, as your feet are the only part of your body that keep in contact with the ground throughout your round. Therefore, it is crucial you find a pair that aren't just comfortable, but also provide grip and look good.
With Black Friday approaching, we've found plenty of great offers on some of the best golf shoes from big brands like FootJoy, Nike, adidas and more, to help you get the best deal when you upgrade your footwear.
Some of the best deals feature limited edition shoes that have been released throughout the year, with brands looking to offload before 2023, as well as deals on some of the best spikeless golf shoes and best spiked golf shoes.
Although we are hitting winter time in the Northern Hemisphere, you can still purchase spikeless models in time for spring and summer, or perhaps you are off on a winter golf break soon. What's more, the spiked versions can be worn all year round and are often great performers in the harshest winter conditions.
So, why not check out the best Black Friday golf shoe deals we've spotted so far, which also include some of the best waterproof golf shoes to keep you dry this winter. There's a wide range of great offers to take advantage of this Black Friday, so check them out below...
Black Friday Golf Shoe Deals - Quick Links
In the US:
In the UK:
Best US Shoe Deals
Best UK Shoe Deals
WHERE ARE THE BEST PLACES TO FIND BLACK FRIDAY GOLF DEALS?
In the US, some of the best golf retailers include Dick's Sporting Goods, Golf Galaxy, Rock Bottom Golf, Walmart and, of course, Amazon.
In the UK, the best golf retailers include American Golf, Scottsdale Golf, Sports Direct, Click Golf and Amazon.
Amazon can be tricky to navigate (check out our best Amazon Black Friday golf deals) but they're a fantastic retailer for golf watches, lasers and balls in particular. Other retailers to keep an eye on are the brands themselves so Nike, adidas, Puma and Under Armour.