Best Spikeless Golf Shoes 2022
A selection of the best spikeless golf shoes on the market this season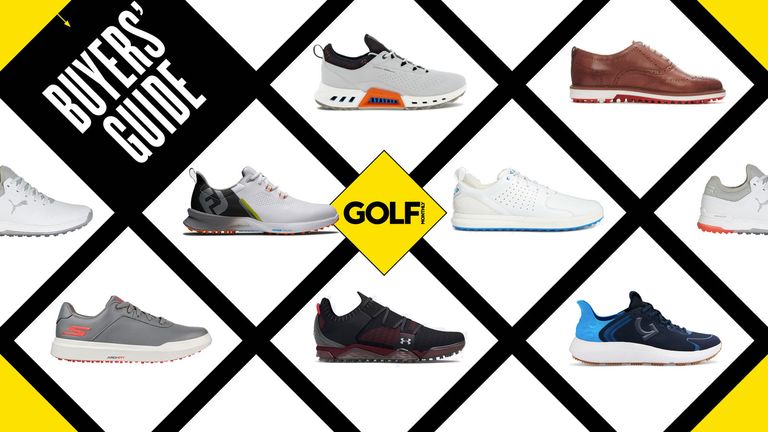 (Image credit: Future)
Contributions from
Golf Monthly Newsletter
Golf tips and expert instruction, golf club reviews and the latest golf equipment.
Thank you for signing up to Golf Monthly. You will receive a verification email shortly.
There was a problem. Please refresh the page and try again.
Best Spikeless Golf Shoes
Thanks to incredible innovation the spikeless shoe market has grown rapidly to the point where the best spikeless golf shoes can more than stand up against the best spiked designs. These golf shoes are one of the most versatile pieces of kit to have come into the mainstream in recent years. Wearable on and off the course, they deliver style and functionality.
In years gone by they would have been scoffed at by the serious golfer for offering far less grip and traction than the best spiked golf shoes (opens in new tab) but, thanks to innovative designs by the major manufacturers, the new generation of spikeless designs provide impressive levels of grip and stability.
So much so that many of the world's top professional golfers now opt to wear spikeless shoes. If you haven't yet tried a pair, you really should, you'll be surprised and might just be converted. Below are some of the best spikeless golf shoes currently on the market. Additionally, if you think comfort or waterproofing are king when it comes to shoes, then make sure you read our guides on the most comfortable golf shoes, and the best waterproof golf shoes too.
Best Spikeless Golf Shoes
Bolder in terms of aesthetics than you will find elsewhere in the range, the FootJoy Fuel golf shoe aims to combine those modern, athletic looks with the high level golf-specific performance you'd expect from one of the best golf shoes of 2022.
The synthetic upper might not have the refined look of the premium leather alternatives like the Premiere Series but the benefit is how hard wearing it is. We tested the white, blue and grey colourway and thought it was an incredibly versatile option that could be worn with trousers and shorts, in all seasons.
One of the most technology-packed spikeless golf shoes we've tested this year, the Ecco Biom C4 seriously impressed us with its overall comfort, grip, style and breathability. It's built nicely on the foundations of the excellent Biom H4, which carries over into 2022, but the new sneaker-style has won our hearts from a style perspective, and the performance is there to match.
The Biom C4 uses Ecco's Exhaust Grid technology that scoops fresh air towards the sole of the foot to keep it cool. This, combined with Gore-Tex surround and breathable Ortholite insole makes this the most breathable shoe we've tested in 2022 by some stretch. Another excellent touch from Ecco is that the insole is removable to allow for more width in the shoe. This will make the Biom C4 suitable for those with wider feet and there was still the same amount of comfort and cushioning with the first insole removed.
I's certainly a step in the more athletic direction for an Ecco shoe, and we think this aesthetic move will attract golfers of all ages into Ecco shoes - we think these are some of the best looking golf shoes this year
The FootJoy Pro/SL Carbon shoe may look similar to the stylish Pro/SL, but in fact it has a carbon fibre inlay integrated into the midsole running along the entire length of the shoe.
It is an extremely comfortable and stable spikeless shoe - making it one of the best and atop the tree when it comes to the best FootJoy golf shoes (opens in new tab). It is a little more rigid in all directions than the Pro/SL, ideal for golfers with overactive lower halves that need even more stability during their swing. Despite that, it still feels supremely comfortable thanks to the extra padding around the ankle and the new Stratofoam in the midsole certainly puts a little more spring in your step.
- Read our full FootJoy Pro SL Carbon 2022 shoe review
G/FORE is a relative newcomer with tons of style and attitude to help you stand out from the crowd. We've seen this with models like the Gallivanter and MG4+, and the brand's flair is evident once again in the new spikeless MG4x2 shoes. This is a cross-trainer shoe, a multi-functional model designed for both on and off the course. A lot of golf shoes struggle to find the balance between on and off course versatility; many end up failing on one or sometimes both tasks with either the style or performance being compromised. Not so with the MG4x2 shoes.
On course, the Sawtooth sole design offers one of the most compelling spikeless outsoles on the market even in wet and soft underfoot conditions. They also feature a moulded heel cup that prevents the heel from slipping, so your feet always feel really secure. Meanwhile, the upper is both breathable and waterproof, meaning your feet will stay dry from rain and not get too hot when temperatures rise
Under Armour's latest flagship model comes in the shape of the HOVR Tour SL, a shoe with a full-knit upper and the backing of bio-mechanist Jean-Jaques Rivet. It's a bold golf shoe with even bolder claims.
The highlight of this shoe is the spikeless outsole. By using a mixture of TPU on the centre of the outsole and rubber nubs on the toe and heel, Under Armour has built a shoe on one of the best spikeless outsoles currently on the market. We had to regularly remind myself I wasn't wearing spikes, such is the grip on offer from this outsole and I truly think this has all year round wearability.
the HOVR Tour SL uses Under Armour's proprietary Intelliknit technology that claims to overcome the performance shortfalls of a knit upper. Using 'stretch' yarns and 'lockdown' yarns combined, the shoe gives you support in the parts of the foot where you need it most, and flexibility elsewhere. There is a tendency in golf to forget that all of our golf swings - no matter where you are on the handicap spectrum - are highly athletic movements, and we need golf shoes to support those movements. This was certainly Under Armour's philosophy when crafting the HOVR Tour SL and it feels like it's been achieved
If ever there was a shoe to be brought out for when you really want to look your best it is the Duca Del Cosma Churchill. These look and feel like a high-end brand and, with the classic brogue style, they will easily transfer to wearing them away from the course. The Churchill comes in either the dapper Cognac or Royal Blue colour combinations. We tried the former that are probably easier to match with trousers and, of all of the impressive Duca range, there's a strong chance that these will be the ones that immediately catch your eye.
Tech wise the Churchill features an Airplay IV outsole which they introduced in 2021. This features strategically-positioned functional nubs that are paired with an EVA cushioning system which provides a sturdy grip along with guaranteed comfort. If your feet are prone to dancing a little bit too much through the swing then these will really appeal as they are particularly solid. Also noteworthy are the recyclable heel and toe cap.
The new Go Golf Drive 5 is a versatile, casual, waterproof, spikeless golf shoe that provides a relaxed fit, with the Arch Fit insole system offering podiatrist-certified arch support. The ample cushioning on offer here, particularly around the heel section, meant that they almost felt like slippers the moment we put them on. We have occasionally in the past had issues with the heel section in Skechers' golf shoes sitting a little too high, but not so here – the Go Golf Drive 5 is supremely comfortable to walk and play in.
The shoe has a full-grain leather upper which is not only waterproof, but it adds a really premium feel to the shoe. The shoes fit excellently and provided a firmer feeling underfoot which we really enjoyed when out on course. It should be said if you want a really soft golf shoe perhaps look elsewhere.
One particular comfortable design feature we liked was the FitFoam Geo element around the heel which protrudes outwards and creates a precise fit around the ankle. It also stopped any rubbing or discomfort in that area as well. Of course there is also Boost midsole cushioning which always performs as it should.
The new Under Armour HOVR Drive 2 SL, put simply, is a spikeless version of the HOVR Drive 2. This shoe stands out thanks to the spikeless outsole. As was the case with the outsole on the HOVR Tour SL, Under Armour has once again nailed this aspect. Using a mixture of plastic and TPU nubs, the brand has created what I think is the most convincing spikeless outsole on the market.
It's another Under Armour from 2022 that creates a brilliant 'locked-in' feeling that is both comfortable and supportive. This is all aided by the moulded heel cup and, while it looks rather large, does a great job of keeping your heel locked into the sole of the shoe when swinging. It's worth noting how lightweight these shoes are though. Combined with the breathable nature of the upper, these are a great shoe to wear when the weather gets hot. It'll still be a great shoe to wear if it's wet too - the fully waterproof upper and excellent outsole will keep you covered.
Three years on from the Biom Hybrid 3, Ecco has introduced the next generation of the hybrid performance model. Not only does the Biom H4 look sportier and more athletic thanks to the new Biom 2.0 last that it has been crafted on, but the traditional areas of performance have also been enhanced.
The leather upper has a premium feel and features a Gore-Tex membrane for breathable, waterproof protection, while a new MTN Grip outsole provides excellent traction. Additionally, Ecco's Fluidform technology creates a moulded midsole that strikes the right balance of cushioning and stability. All in all, this is one of Ecco's best golf shoes (opens in new tab) ever.
Asics' new Gel-Kayano Ace golf shoe is an impressive addition to the spikeless shoe category for 2022. It's a lightweight design that has a modern, athletic look, but the Gel-Kayano Ace also offers stability and support that exceeds what might be expected from such a light shoe. That stability and support comes from a design approach that is often used in high-end running shoes, as a wider toe box and snug-fitting midfoot and heel sections have been utilized.
The Gel-Kayano Ace's sole also excels in terms of the traction it provides, as small rubber spikes and channels have been strategically positioned to maximize a golfer's ability to stay in complete control during the golf swing. The Gel-Kayano Ace is also fully waterproof and available in four different colors for golfers to choose from.
A shoe that was a huge hit when it was released last year, the Codechaos shoes from adidas feature an upper made of multi-layer mesh, giving the shoe a unique texture while enhancing durability and breathability.
This also keeps them extremely lightweight which is perfect for out on the course. The design and look may not be for some, but after thorough testing they are not only one of the best spikeless golf shoes on sale at the moment, but also the best adidas golf shoes (opens in new tab) too.
Another new model for 2021 was the Alphacat. A shoe design that looks very much like a trainer, we recently put the model through its paces. First things first the Adapt Foam, a combination of EVA cushioning and an impact resistant polymer, creates a firm feeling shoe whilst still being comfortable. This shoe does not fall into the trap of being too soft.
Our testing revealed the shoes highlight to be the support it provides around the ankle. Once your foot is in the shoe it feels locked in place, giving you the ability to confidently swing for the hills on an awkward lie without the feeling that your foot might move.
From an aesthetic point of view we think Puma has got it right here. We tested the grey and white model which really looks smart thanks to the the shock of orange that dominates the heel and the faux mesh pattern across the whole shoe. The Alphacat strikes a poised look in the two other colourways too and the grey and black versions have similar, sharp contrasts. We'd also highly recommend getting them half a size up, as they come up a little short around the toe area and we were most comfortable in a half size up from normal.
Whilst G/FORE are synonymous with outlandish designs and colour ways, the MG4+ has a more understated, and yet modern look and appeal.
Lightweight and completely waterproof, the shoe does not compromise in terms of comfort either thanks to ForeFoam cushioning and a triple density footbed which is "the ultimate massage for your soles." When we put the shoes through their paces, they were comfortable from start to finish, and performed about as well as is possible on a debut outing and beyond.
A common thing with spikeless shoes can be less stability and grip than spiked models but there was never a situation in which this came to fruition in these shoes. This is thanks to the non-slip outsole and the stability comes from the heel cup at the back of the shoe that really locks the foot in place without sacrificing any comfort.
Released in 2021, FootJoy's Premiere Series Flint shoe is a throwback to the past. With its classic styling and modern performance, it's the perfect solution for golfers who want to look the part without making any sacrifices on the course.
Despite being a spikeless model, the Flint offers ample grip thanks to a Versa-Trax+ Outsole, while inside, the Ortholite FitBed enhances stability and comfort. The leather upper is fully waterproof and features subtle details that only add to the elegance on offer. You'll struggle to find a shoe better suited for wear off the course as well as on.
The sports footwear performance brand has already turned heads in the golf world, with its shoe that is said to give golfers a competitive advantage thanks to a unique 3D traction system specifically designed to prevent rotational slippage.
There is also a Responsive Power Plate and midsole cavity that make it easier to utilise ground reaction forces, while the underfoot cushioning and PMX foam midsole provide all-day comfort that is breathable and waterproof.Visually, this shoe will turn heads because there are lots of elements to catch your eye such as the color blocks and laces. Overall it is an impressive debut by Payntr in the world of golf but there is one thing to remember – we found these shoes to come out on the small side, so you might want to opt for a half a size bigger than you normally would.
These are an extremely comfortable pair of shoes. As you'd expect from one the best golf shoes, the traction levels are also very impressive, and the premium leather feels as good as it looks and the textured pebble grain finish is eye catching and easier to clean than I thought they'd be.
The cushioned footbed that features lots of small raised 'nubs' provides a wonderful massage – a sensation that takes a little getting used to, but after a short while you really begin to appreciate it. Not everyone will be a fan of the versions with bold outsoles and the in your face Skull and Ts emblem but, for those who like their golf shoes to have premium classic styling and have 'attitude', then the Gallivanter can be beaten.
How we tested the best spikeless golf shoes
When it comes to testing golf shoes Golf Monthly has a strong testing procedure that revolves around putting them to the test over a number of rounds and in a variety of different conditions. That way the golf shoes can be tested for comfort, waterproofing and also in terms of grip and stability too.
In particular, over the course of a few rounds we get ourselves into several odd lies and stances which help give a clear idea of how much traction is on offer.
That being said before testing we will usually attend product launches and meet with the manufacturer's R&D experts to understand the new technology. That isn't to say manufacturers can buy a good review though, because we tell it how it is for all golf product reviews, not just golf shoes.
What to consider when buying spikeless golf shoes
If you are thinking about getting some spikeless golf shoes, here are some factors to think about.
Comfort - As you would expect, comfort is king when it comes to golf shoes. An uncomfortable golf shoe is useless so it is worth trying some models on before you buy so you know what you like the feel of. For example some models have specific foam technologies, or specific sole designs that are designed to house your feet in comfort all day when out on the golf course.
Grip/Stability/Traction - Spikeless shoe design has improved massively in these factors. Previously, spiked models were the only way to ensure grip and stability in difficult lies or when the weather makes ground conditions slippery. This is no longer the case because most of the models above have specifically designed traction patterns and lugs to make sure your feet don't slip.
Looks - This is entirely subjective but you need to make sure you like the look of your golf shoes and there is a model above for all different types of fashion sense. If you want a traditional design then something like the FootJoy Pro/SL will work well, whereas if you want to stand out a bit more, the adidas Codechaos or Spieth 5 from Under Armour are good choices.
Waterproofing - Most golf shoes these days offer a degree of waterproof protection but some are better than others so if you see yourself playing in the rain a lot models like the Inesis, Ecco or G/FORE are perfect for all weather play.
Sizes - Be wary of different sizes because many brands like Payntr and Nike offer shoes that can come up quite small or large if you have got the wrong size. As such it is worth checking out brand websites to see how the shoes convert to size guides from around the world.
Price - The last factor to consider is price. With the models above we have tried to find shoes at all different price points so if you want a cheap model, you can get one. Or if you want to spend more, you can do that too. Importantly there is something for everyone.
FAQs
Do pros wear spikeless golf shoes?
Yes, in fact professional golfers will wear spikeless golf shoes more often than spiked golf shoes.
Can you wear spikeless golf shoes on a golf course?
Yes. Some of the best spikeless golf shoes offer as much grip as spiked golf shoes, while often being comfier to wear.
Can you wear spikeless golf shoes on concrete?
Yes. Another advantage of wearing spikeless golf shoes is that they feel like a normal shoe when on harder surfaces liked concrete. Unlike spiked golf shoes, spikeless golf shoes can be worn easily on or off the golf course.
Dan is a Staff Writer and has been with the Golf Monthly team since early 2021. Dan graduated with a Masters in International Journalism from the University of Sussex and primarily looks after equipment reviews and buyer's guides on the website. Dan was a custom fit specialist at American Golf for two years and has brought his expertise in golf equipment to a huge range of buyer's guides and reviews on the website. A left handed golfer, his handicap index is currently 9.8 and he plays at Fulford Heath Golf Club in the West Midlands. His golfing highlight is shooting 76 at Essendon Golf Club on his first ever round with his Golf Monthly colleagues. Dan also runs his own cricket podcast and website in his spare time.
Dan is currently playing:
Driver: Ping G425 Max
Fairway: Ping G425 Max
Hybrid: TaylorMade Rocketballz
Irons: Ping i59 (4-PW)
Wedges: Ping Glide Forged Pro
Putter: Wilson Staff Infinite Buckingham
Ball: TaylorMade TP5 Pix