Best Casual Golf Shoes 2023
Looking for a golf shoe you can wear on and off the course? Check out some of the best casual golf shoes currently available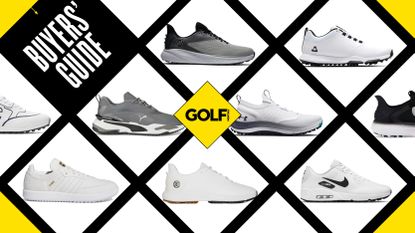 (Image credit: Golf Monthly)
Best Casual Golf Shoes: Quick Menu
Fashion trends in golf are changing rapidly and there are now styles to suit traditional and new golfers looking to enjoy the game. Brands and manufacturers are providing more options than ever to suit the more casual golfer and some of the more casual golf shoes on the market are eye-catching, comfortable and still excellent to use on course. With this is mind, most of the best casual golf shoes are spikeless so as they can support being worn off the course and, what's more, most of the best spikeless shoes still have excellent grip capabilities, but you can also check out out best spiked golf shoes guide if you're looking for the ultimate grip on course.
When going for a casual golf shoe, consider where you might want to wear it off course. Is it just a shoe for a more casual summer look on course? Do you want to also wear them in the gym? Do you want something you can walk straight off the course and onto the patio in? All of the shoes in this list will support that casual look and feel while giving you plenty of performance on course.
The Quick List
Top pick
Nike Air Max 270 G Golf Shoe
An excellent sneaker-style golf shoe that offers the ample comfort and stability. The versatility of the Air Max 270 G golf shoe is hard to beat.
Best looking
Cole Haan GrandPro AM Golf Shoes
A shoe with stunning looks that performs very well on the course. The GrandPro AM is a comfortable wear that delivers good grip and has plenty of off-course versatility.
Best unique design
This performed very well in most areas like comfort and stability. The aesthetics look cool and aid versatility, whilst there are loads of colors to choose from.
Best value
Under Armour Charged Phantom SL Golf Shoe
UA have taken inspiration from the brand's most successful running shoes, while delivering the performance expected from a tour quality golf shoe.
Best sneaker
Blending urban streetwear styles with golf, Puma has developed a versatile golf shoe that provides fantastic comfort and support to your feet and ankles.
Best to use anywhere
True Linkswear FS-01 Golf Shoe
One of the most subtle off course designs on the market right now, the FS-01 is so easily wearable everywhere. Complimented by soft, recycled leather and a cushioned insole.
Most comfortable
Adidas Adicross Retro Golf Shoes
We have been big fans of the Retro shoes for a while because they are fantastic-looking golf shoes that are extremely comfortable to wear and versatile.
Best waterproofing
The G-Style is waterproof and comes with a one-year waterproof warranty. It also provides decent grip and a clean style that will work both on and off the course.
Best color choice
This lives up to its claim of being the ultimate crossover shoe. It takes a lot of the best bits of the MG4+ golf shoe and then really turns up the fashion dial.
Best Casual Golf Shoes
Why you can trust Golf Monthly Our expert reviewers spend hours testing and comparing products and services so you can choose the best for you. Find out more about how we test.
Top pick
Specifications
Sizes: 4-9.5
Waterproof: Water-resistant
BOA option: No
Colors: 3 (White; White/Blue; White/Grey)
Reasons to buy
+
Extreme comfort and stability
+
Sneaker-style aesthetics offer versatility
+
Easy to clean synthetic uppers
Reasons to avoid
-
Snug fit, ordering a half-size up is recommended
Perhaps one of the best golf sneakers in the game, the Air Max 270 G shoe is a sporty and stylish option that can be worn both on and off the course. It comes in three different colorways with each delivering a clean and crisp aesthetic, that looks great paired up with some of the best golf trousers.
The shoe certainly appeals to a younger audience, but there is no mistaking that it is great for those looking for more comfort too. It does fit fairly snug so you may want to order a size up if you want a non-restrictive fit. It is extremely breathable and offers up plenty of ventilation thanks to the mesh covering around the upper, which is water-resistant and easy to clean.
Akin to many of the best spikeless golf shoes out there, the Air Max 270 delivers plenty of traction on the turf thanks to the rubber ridges and bumps on the sole of the shoe. We felt pretty stable in damp conditions and that also adds to the versatility of the shoe, which we felt could be worn in almost any situation, from the course to the shops.
Best looking
Specifications
Sizes: 6-12
Waterproof: Yes
BOA Option: No
Colors: 2 (White; Grey)
Reasons to buy
+
Great looks
+
Versatility for off-course wear
+
Good grip in dry conditions
Reasons to avoid
-
Sizing comes up big - go down at least half a size
-
Low profile not the best for wet courses
As Cole Haan are one of the lesser-known brands in the market, we've had many playing partners asking us what these shoes are when we've been wearing them out on the course. That's how visually stunning these shoes are, and if you're the type of player who likes to wear golf gear that's a little less well known. These are perhaps some of the best golf sneakers in the game, simply for their versatility and stunning aesthetics. We felt really comfortable wearing these both on and off the golf course and they also kept our feet both warm and dry on the golf course thanks to their 100 percent waterproof outer.
Equally, having tested these shoes out on the golf course, we think they are one of the best spikeless golf shoes in the game, offering up ample traction and support on wet ground, thanks to the many rubber lugs that line this shoe's sole. We also really loved how comfortable they were to wear with the padded and thick sole being a great addition and support to your feet during a long day on the golf course. The GrandPro AM comes in three color options and I had it in the white, with the lovely yellow detailing and sole. The all-black also looks superb.
Best unique design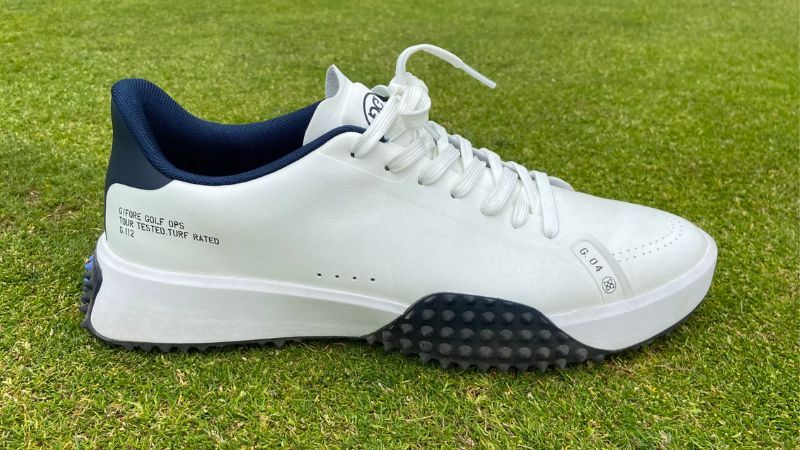 A versatile golf shoe that packs plenty of performance
Specifications
Sizes : 6-14
Waterproof: Yes
BOA Option: No
Colors : 16 (Onyx; Blush; Blue; Charcoal; Violet; Nimbus; Green; Slate; Orange; Stone; Twilight/Snow; Grey; Red; Racer; Knockout Pink; Toast; Twilight)
Reasons to buy
+
Exceptional comfort
+
The sneaker like design offers something a little different
+
Completely waterproof
Reasons to avoid
-
The spike design will put some off
A golf shoe that oozes class and comfort, the G/FORE G.112 shoes are a versatile addition to this list that we think you'll really enjoy wearing both on and off the golf course. Similar to many of the best G/FORE golf shoes, they come with an innovative design that delivers a premium aesthetic thanks to high quality leather upper. That twins nicely with the raised and supportive midsole, to deliver a look and profile that we really enjoyed.
The highlight of this shoe was the comfort it offered, which is up there with many of the best golf shoes in the game. The padded interior wrapped around our feet nicely during our testing sessions, delivering bags of comfort while also mitigating the chance of the G.112'S rubbing your heels and causing a blister. The insoles come with the raised nubs that we've come to know and love in G/FORE golf shoes, and while they might feel a bit odd at first, they work very well to massage your feet during your round.
The grip on the G.112s was also good too. The traction offered by the spiked rubber sole worked really nicely in both dry and wet conditions. While we'd perhaps steer clear of wearing these on a really wet day on the course, opting instead for one of the best waterproof golf shoes, if you do find yourself caught in a downpour, you'll be reassured in the knowledge that these shoes are 100 percent waterproof too!
Best value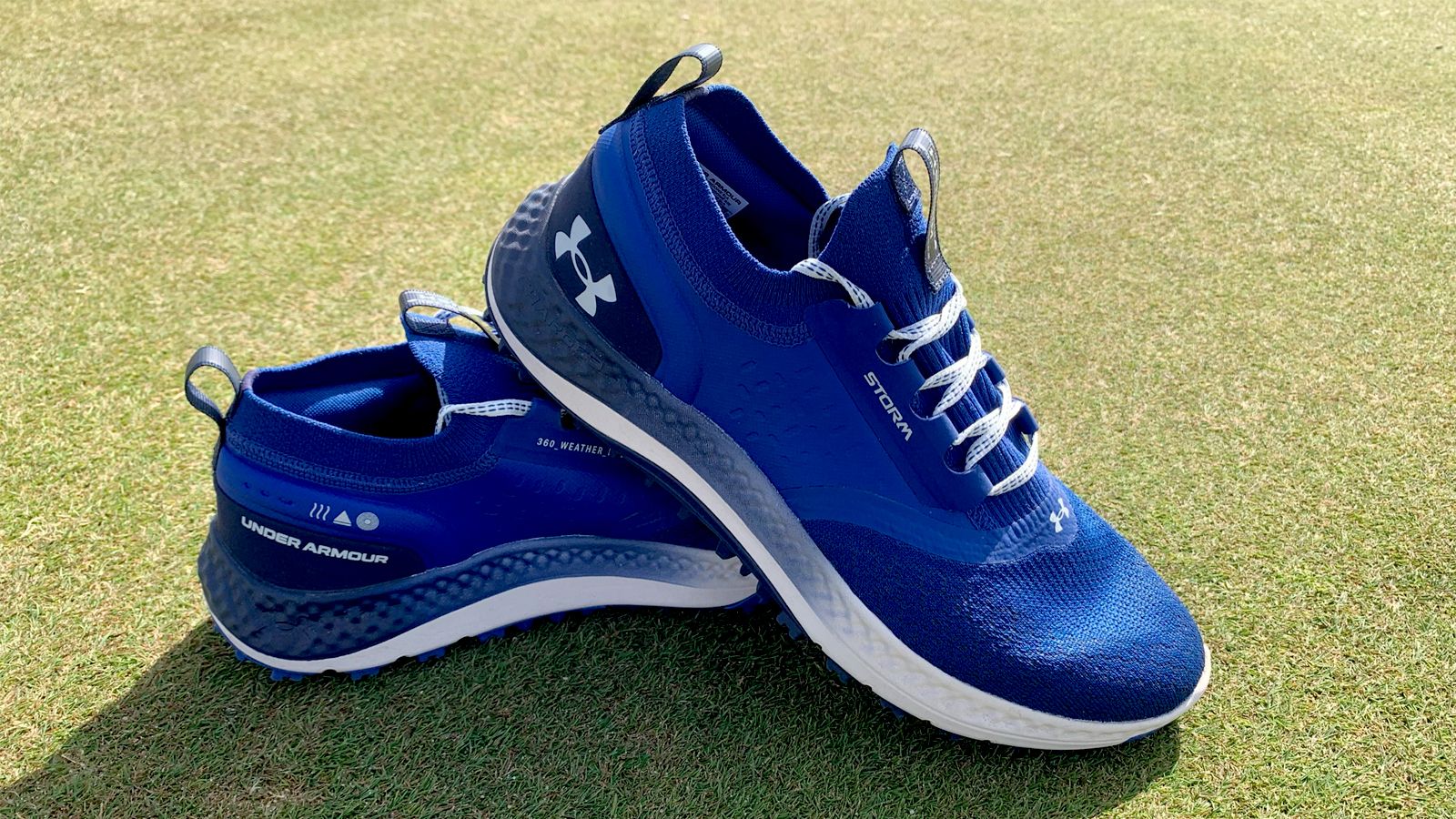 Specifications
Sizes: 7-14
Waterproof: Water-resistant
BOA Option: No
Colors: 4 (Black, White, Blue, Grey)
Reasons to buy
+
Machine Washable
+
Extremely comfortable
+
Multi-purpose shoe
Reasons to avoid
-
Style may not be to everyone's taste
While Under Armour refers to themselves as 'The golf brand for athletes' it's no surprise that the brand has created this outstanding crossover shoe. What we mean here, is in testing we noticed we could easily use this shoe at home, to the gym, walk 18 holes, have a drink in the bar and stop to pick up groceries on the way home.
We enjoyed the sleek athletic style, with the upper really offering breathability and comfort all day. The Storm Flat Knit Collar around the ankle provides a locked-in feel while also being extremely comfortable.
We felt very stable even when swinging hard in the Charged Phantom SL however we should say that whilst the shoe performed really well in dry to damp conditions, we would recommend a spiked model if you play more golf in wetter conditions. Finally style wise we enjoyed the blue color we tested above, but there are three other colors to choose from as well, each of which really look great.
Best sneaker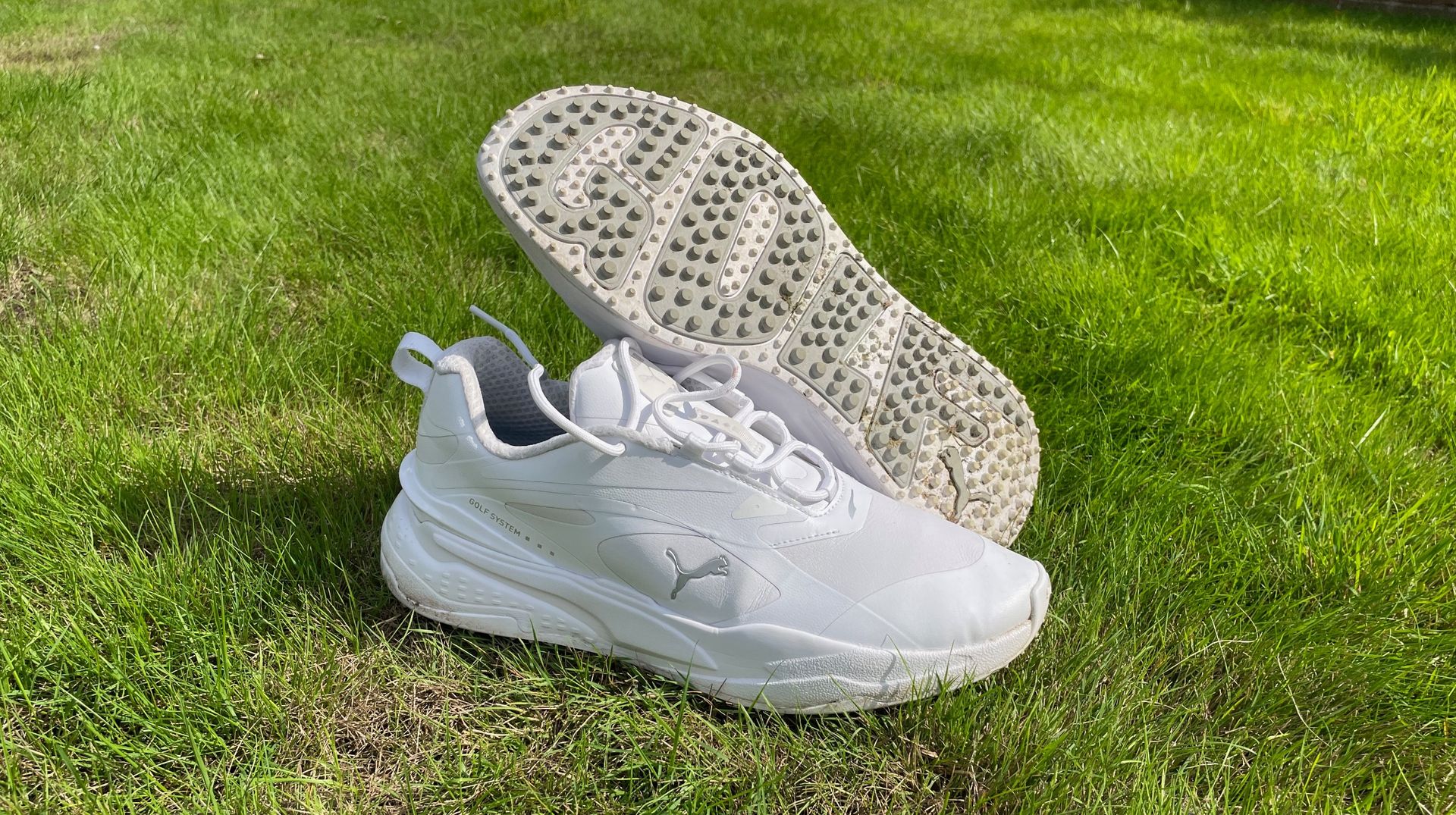 Specifications
Sizes: 7-12
Waterproof: Yes
BOA Option: No
Colors: 8+
Reasons to buy
+
Unique styling
+
Excellent comfort and support
+
Offers decent grip on the ground
Reasons to avoid
-
Style may not be to everyone's tastes
Puma have always been a front runner when pushing the boundaries to design trendy yet functional golf shoes and the GS-Fast, an update on their much talked about RS-G Golf Shoes, certainly continues that trend. These are a statement