Best Black Friday Golf Set Deals
A golf set is one of the best and cheapest ways to introduce someone new to the game. Here, we check out some of the best deals this Black Friday...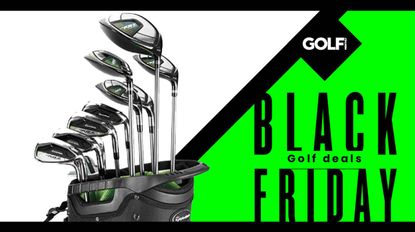 (Image credit: Golf Monthly)
Golf has become hugely popular over the last 18 months, with literally millions taking up the game. As a result of the increase in participation, the need for equipment has sky-rocketed. With that in mind, one of the best golf clubs sets (opens in new tab) is a great route to go down, with it being one of the most cost-effective ways to take up the game of golf.
Featuring the basics like a driver, fairway wood, irons, wedges and a putter, there are some cracking sets out there and, in this piece, we have compiled a list of the ones that are currently on offer. The best Black Friday golf set deals feature some of the best golf club sets for beginners (opens in new tab), with prices ranging from as low as $299 all the way up to more premium $1000 offerings. If you're interested in these discounts then chances are you'll also be interested in our best Black Friday golf deals (opens in new tab) to see all of the biggest savings across different categories. But here let's get to the package sets.
Black Friday Golf Set Deals - Quick Links
US Links
UK Links
US Package Set Deals
UK Package Set Deals
Why should you buy a golf club set during Black Friday?
Black Friday brings plenty of opportunities for beginner golfers and those new to the sport to grab themselves an excellent bargain on a set of new golf clubs. And if you were pondering whether to grab yourself a full set, then there is no better chance to do so. Golf clubs don't come cheap and buying clubs individually can set you back a lot, and may not always be worth it if you've just got into the sport. For that reason, manufacturers offer new players a great way to secure themselves a bag of top quality and forgiving clubs, in the form of a golf package set.
Package sets tend to cost a lot less than buying a set of irons, driver and putter individually. That's because manufacturers know that new golfers don't always want to fork out a fortune on a set of clubs that they may not use as regularly than a low handicap player. And while you may pay a reduced price for your first set of clubs, you can grab yourself an even better bargain in the Black Friday sales on some excellent club sets.
These package sets are significantly cheaper and save your budget for when/if you continue playing and upgrade to some of the best golf drivers (opens in new tab), best golf irons (opens in new tab), best golf wedges (opens in new tab) and best putters (opens in new tab). From our testing, we've found that the majority of package sets offer a decent amount of performance in the sense that you'll be able to get the ball in the air and hit some good shots. If you want to go towards the premium end, like the TaylorMade RBZ SpeedLite set (opens in new tab), then you'll likely get a set of 12 clubs of high quality that can last you a good number of years. Another key thing to consider is do you want your set to come with a stand bag or cart bag. Stand bags are versatile as they can be carried and used on a trolley/cart, whereas cart bags do not really have carry functions, so you would need to buy one of the best golf carts (opens in new tab) (or check our best golf trolley deals (opens in new tab)) to help you wheel it around the course.
Why should you consider when buying a golf club set?
New to the game and looking to get yourself a set of golf clubs? Here are several factors you might want to consider before picking up a set.

What comes in the set
The great thing about golf is if you want to buy single golf clubs for your bag you can, but you can also get entire sets with one purchase too. When doing the latter, it is worth checking which clubs come as part of the set to make sure you have all bases covered, and it is also worth getting a bag with the set too.
Quality
A common problem for beginner sets can be quality. Unlike the models we picked above, many can be poorly made and have issues with the head, shaft or grip, or even all three. Therefore it is definitely worth going for brands that are well-respected in the game of golf because the products will have been made properly and would've been designed to give as much help to beginners as possible. The prevalence of Wilson and Callaway in this area is a case in point.
Forgiveness
The main factor when specifically looking at the clubs themselves is forgiveness. The most common problem for beginner players is mishit shots which limits distance and hinders accuracy. Beginner golf clubs are designed to have larger heads and sweet spots, and therefore more forgiveness to help players still make solid contact with the golf ball.
Budget
Obviously there are different sets at different price points so it is worth thinking about whether you want to spend more or less here. This point also links with what comes in the set because the sets that come with bags, headcovers and so on, usually come with a higher price.
Want more golf Black Friday deals?
Where are the best places to find Black Friday golf deals?
In the US, some of the best golf retailers include Dick's Sporting Goods (opens in new tab), Golf Galaxy (opens in new tab), Rock Bottom Golf (opens in new tab), Walmart (opens in new tab) and, of course, Amazon (opens in new tab). In the UK, the best golf retailers include American Golf (opens in new tab), Scottsdale Golf (opens in new tab), Sports Direct (opens in new tab), Click Golf (opens in new tab) and Amazon (opens in new tab).
Amazon can be tricky to navigate (check out our best Amazon Black Friday golf deals (opens in new tab)) but they're a fantastic retailer for golf watches, lasers and balls in particular. Other retailers to keep an eye on are the brands themselves so Nike (opens in new tab), adidas (opens in new tab), Puma (opens in new tab) and Under Armour (opens in new tab).