Best Golf Shoes For Wide Feet 2023
We take a look at some of the best golf shoes currently available for those with wide feet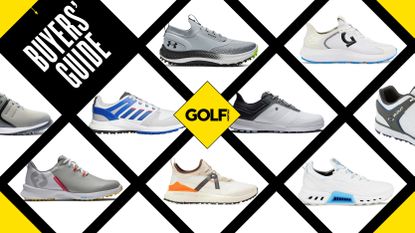 (Image credit: Future)
Best Golf Shoes For Wide Feet
It's no secret that wearing the golf shoe can have a significant impact on your golf game but, did you know that, according to research, wearing the wrong type of golf shoe can cause injury, with it being crucial that you find the right fit for when you head out on to the golf course.
Thankfully, brands have catered to this, with many offering multiple different versions of the models you know and love. One of the versions in question is designed for those with wide feet and there are many different ways for individuals to find the right golf shoe for their game.
VIDEO: Watch Dan Parker's verdict on the 11 of the best golf shoes from 2023
Brands like FootJoy, Adidas, Ecco, and many more, are known for producing some of the best golf shoes on the market and, within their ranges, they also include models specifically designed for those who require a wider fit.
In this guide, we have listed some of the best models that fit that criteria, with other aspects of the shoe also being looked at. These include grip, underfoot comfort, underfoot grip and how they look aesthetically. What's more, we also recommend taking a look at our guides on the best golf shoes for walking, the best golf shoes for plantar fascitiis and the most comfortable golf shoes.
Best Golf Shoes For Wide Feet
Spikeless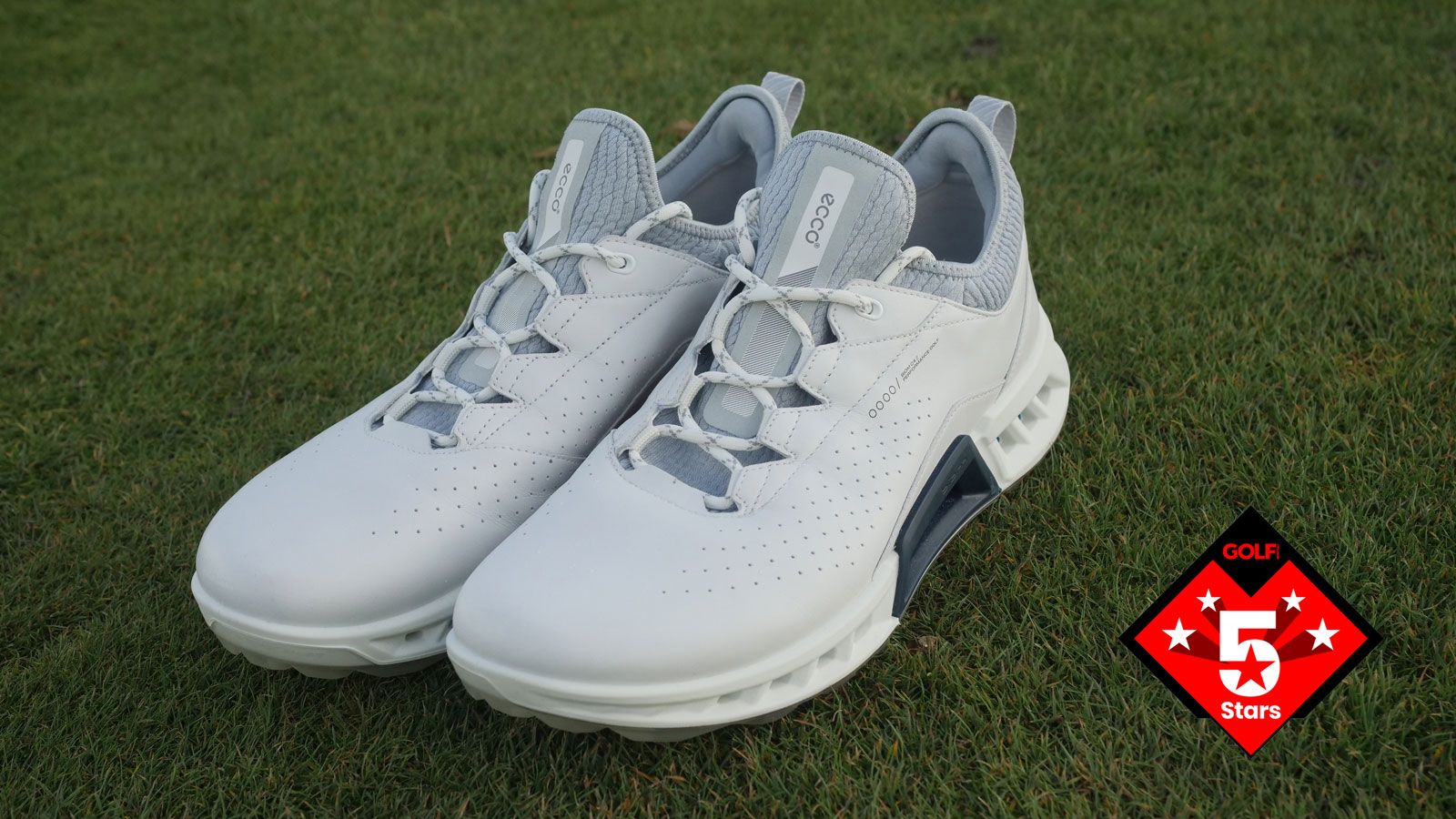 One of the most technology-packed, spikeless golf shoes we've ever tested, the Ecco Biom C4 seriously impressed us with its overall comfort, grip, style and breathability. It's built nicely on the foundations of the excellent Biom H4, but the new sneaker-style has won our hearts from a style perspective, and the performance is there to match.
The Biom C4 uses Ecco's Exhaust Grid technology that scoops fresh air towards the sole of the foot to keep it cool. This, combined with Gore-Tex surround and breathable Ortholite insole, makes this the most breathable shoe we've tested in 2022 by some stretch.
Another excellent touch from Ecco is that the insole is removable to allow for more width in the shoe. This makes the Biom C4 perfect for those with wider feet, as there was still the same amount of comfort and cushioning with the first insole removed.
The strapline for the FootJoy Stratos 2022 shoe boasts of offering the golfer 'luxurious comfort'. This is in no small part down to the use of Pittards NappaLuxe leather for the upper and the brand's StratoFoam under the foot.
When you pick up the shoe, the first thing you will notice is the styling, which is designed to offer a classic look. There are no flashes of bold color or overly aggressive spikeless designs here, it is all very simple and understated.
It's the fit where we are most interested, with the toe section of the shoe fairly rounded. This makes it look more traditional but also offers quite a roomy fit - making it one of the best golf shoes for wide feet.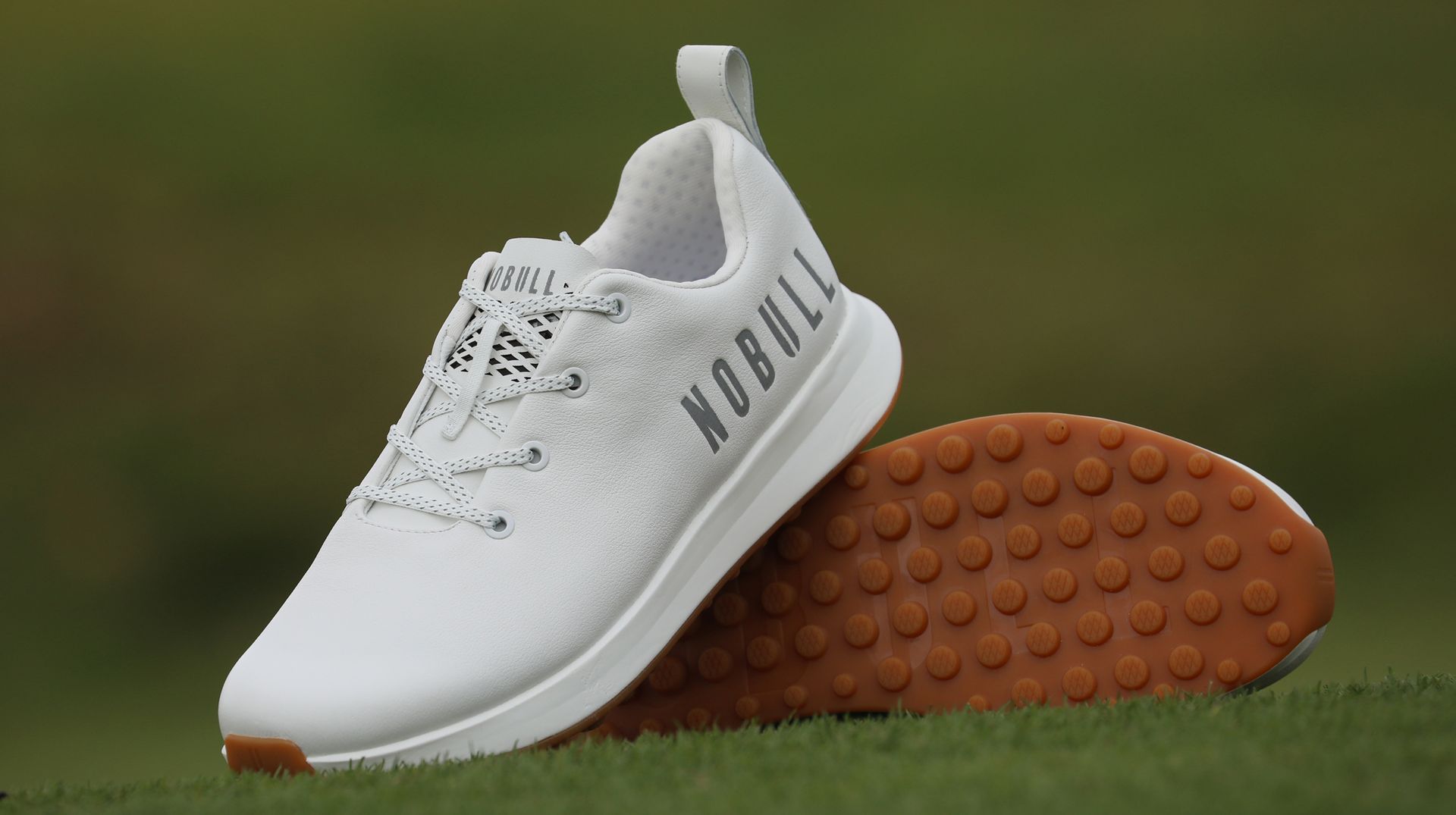 For those not familiar with the brand - and there are still plenty of golfers out there who won't be - NOBULL was founded in 2015 by Reebok veterans, Marcus Wilson and Michael Schaeffer. It has become the dominant brand in CrossFit, a form of high intensity interval training.
Along with CrossFit, the company also produces some of the best casual golf shoes on the market, with these Leather shoes a definite head-turner on the golf course. Featuring a reflective NOBULL logo on the side, their looks back up the performance, with the shoes offering fantastic grip, especially when there's a bit of moisture underfoot.
What makes these shoes great for those with wide feet is the width on the upper. If you're someone looking for more room and comfort then, in our testing, it was extremely noticeable. What's more, the leather is super soft and comfortable, and also easy to clean if you were to wear them on a winter outing.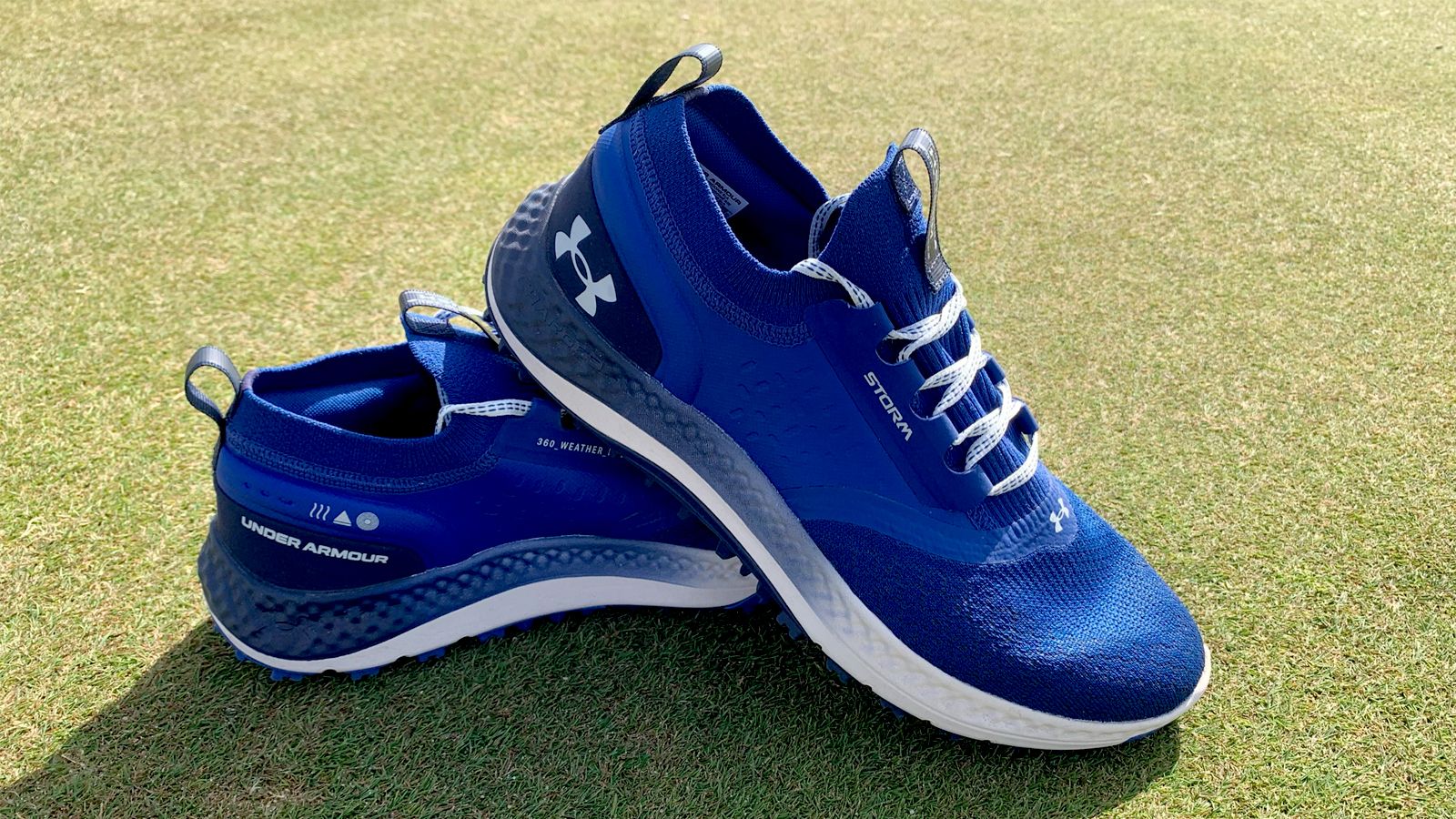 Under Armour are known for their wide range of apparel and footwear, with the new Charged Phantom SL golf shoe providing users with a design that can not only be worn on the golf course, but also off it, with it being one of the best crossover style golf shoes on the market.
In testing, we found that it had a snug fit, with the Storm Flat Knit Collar around the ankle providing a locked-in feel whilst also being extremely comfortable. There is a lot of technology packed into the shoe to make it as comfortable as possible, with a charged midsole separating the footbed and outsole, as well as a TPU infused yarn, which is wrapped around the toe of the shoe to provide a secure feeling.
In damp conditions, they rival any pair of the best spiked golf shoes and, because there are four different color options available, they should suit a wide range of golfers, with there being a style for everyone. These are easily some of the best Under Armour golf shoes on the market and, with an RRP of just over $100, they offer great value too.
adidas decided to celebrate the 30-year anniversary of the launch of its original EQT branding by releasing a special throwback into the golfing world. It's available as a spiked and spikeless shoe and comes in various colours for both men and women, which is a nice touch.
We really enjoyed putting this shoe through its paces, with the Bounce midsole and Boost heel giving us a lightweight and responsive underfoot feeling. Additionally, the upper is waterproof, meaning it's a shoe that can be worn year-round, and it is constructed using no shortage of recycled materials as part of the brand's push to end plastic waste.
The outsole on the spikeless model provides decent grip considering but, for those who want more absolute performance, we would suggest opting for the spiked model instead.
Stuburt are known for making some of the best budget golf shoes on the market, with the Evolve 3.0 Spikeless shoe a prime example of this. Out the box it has a simple but stylish look, with the full grain leather upper providing a clean aesthetic that isn't over the top.
It has a cushioned midsole and rubber outsole and what we noted is that the insole is particularly protected and there's no chance of any unwanted rubbing. In testing, on a relatively hilly course, the shoes proved to be particularly stable, providing no unwanted slippage.
Size-wise, you'll be happy to know that there is plenty of space available to move your foot in and out and, if you are considering a purchase, definitely have a look at Stuburt's size guide and trust that the sizing will be as advertised.
G/FORE is a relative newcomer to the golf shoe market, with the company providing tons of style and attitude to help you stand out from the crowd. Their previous models have certainly caught our eye and, with the new spikeless MG4x2 shoes, it's a similar story, as the attention to detail is superb.
To begin with, the box the shoes come in exudes a style and attitude that we don't see with other brands and, when looking at the sole of the shoe, we see yet more innovation, as the Sawtooth sole design offers one of the most compelling spikeless outsoles on the market, even in wet and soft underfoot conditions.
Like other models listed, you can wear these on and off the golf course and, what is also unique about the MG4x2 shoe, is the insole. Firstly, it's removable and washable, which is a massive bonus that will only help prolong the lifespan of these shoes. Secondly, the insole is uniquely designed to massage your foot as you walk – you truly have to experience the sensation of walking in a G/FORE shoe to understand the comfort on offer.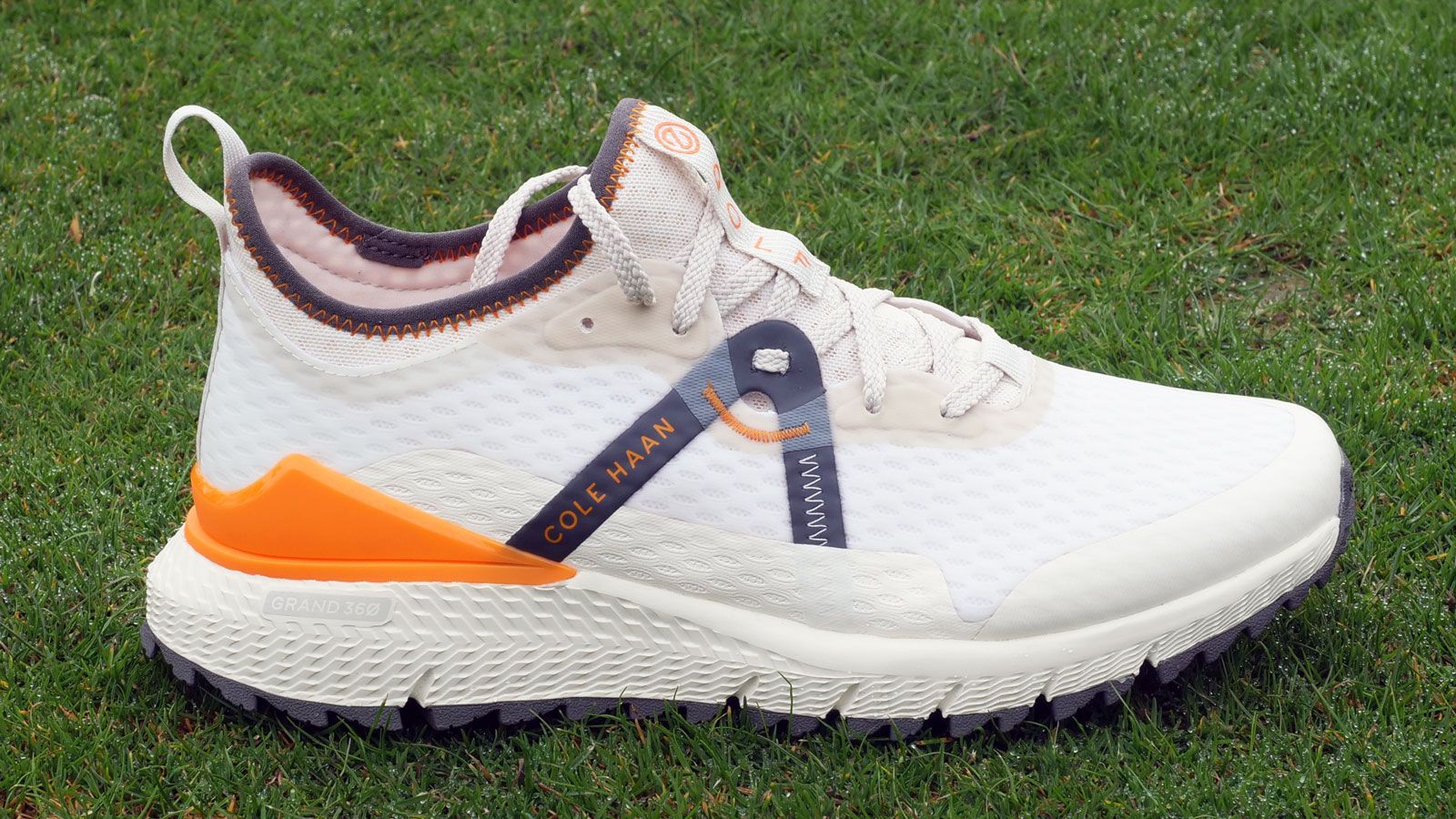 Like some of the other models in this guide, Cole Haan is a company you may not have heard of in the golf shoe market. Starting off making exclusively men's formal footwear, the brand now encompasses sports like running and tennis alongside its comprehensive casual footwear collections, with the ZeroGrand Overtake a sporty, lightweight spikeless golf shoe.
Offering an unbelievably lightweight feel, its overall comfort comes from an impressive GrandFoam midsole, which is soft and full of cushion, almost like a memory foam mattress. It's worth noting that this isn't billed to be a performance shoe but, thanks to a TPU heel cup, we found there to be some real stability when you need it during the swing.
Looks-wise, it is more of a sneaker design and will certainly suit those who want a more casual look but, that being said, the ZeroGrand Overtake shares a lot of the same DNA as the running shoe of the same name made by Cole Haan. We adored this type of silhouette on a golf shoe and think it looks great with shorts or golf joggers when you're playing a casual game in the summer months.
Spiked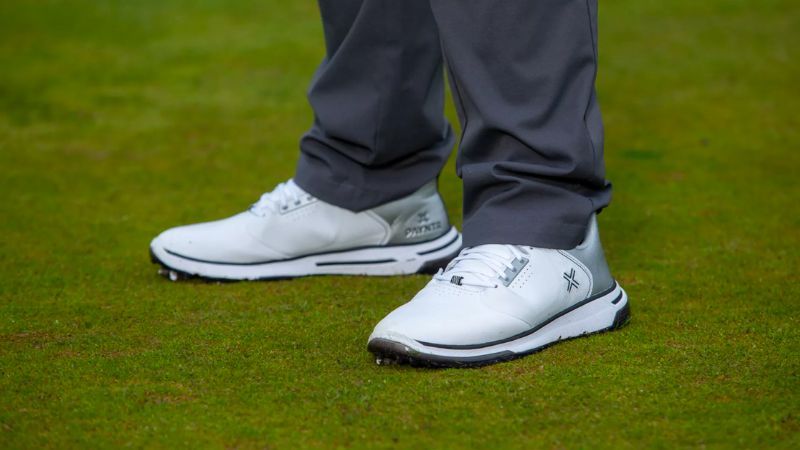 Payntr's golf shoes are some of the best in the market. The British apparel manufacturer is relatively new to the golf market, but are, without-a-doubt, a leader in the golf shoe sector, and their new Payntr X 006 is a testament to that. This shoe comes in a stunning package, that offers up a sporty, yet crisp look that will pair up nicely the best golf pants in the game.
When it comes to comfort, we really enjoyed what the X 006 delivered. They were one of the most breathable golf shoes we've tested recently, delivering plenty of ventilation, while keeping your feet nicely locked into the shoe. The Clarino Tongue offered plenty of stretch support that also cushioned our feet as we walked and committed to our shots. The shoe also moulded itself brilliantly to the shape of our feet, making it a great addition to this list. Meanwhile, having tested it during a very wet day on the golf course, we also found it delivered plenty of waterproof protection, keeping our feet dry throughout our round.
The grip on offer here was also excellent, with the Payntr X 006 boasting a seven cleat sole design that delivered plenty of traction, even on wet ground. That really allowed us to rip through each shot, with the Softspike Tour Flex Pro Spikes and TPU outsole delivering traction in three dimensions. Overall, these are a supremely comfortable and breathable shoe, and the minimalist styling is something that we really loved.
The Gel-Ace Pro M Standard is the golf shoe that Hideki Matsuyama wears on the PGA Tour, with it being an impressive new spiked option from Asics and Srixon. In our testing, the Pro M Standard offered incredible comfort right out of the box and it also proved to be supportive and stable on the course, both while swinging and walking between shots.
It also offers the classic, traditional aesthetics that will appeal to purists and, also of note, is that the Gel-Ace Pro M Standard is fully waterproof and we found that the shoe provided excellent breathability even on extremely hot days. It also cleaned up well after use.
If there's one downside to the Pro M Standard, it's that there are only two color options available, but otherwise it's a great model that is one of the most comfortable golf shoes on the market and one of the best options in the spiked category.
Sqairz makes some bold claims about what its Speed golf shoes have to offer in terms of comfort and stability. Thankfully, in our testing, those claims were backed up, as the Speed shoe offered incredible stability and support during the golf swing, giving players the confidence they need to make aggressive swings and hit better golf shots.
The stability and support that's provided is made possible by a wide, square toe box that enables full range of motion from the toes while better-positioning the base of the shoe under the balls of the feet. The Speed's outsole also has more surface area coverage than any shoe on the market to further promote balance and stability, and six spikes have been positioned under what Sqairz has determined as the most critical pressure point areas.
Sqairz Speed golf shoes also offer exceptional comfort and require virtually no break-in period. They are fully waterproof and, in our testing, there were no issues with moisture penetrating the shoe. The last noteworthy point is that this is a shoe that offers a premium look, and the attention to detail from a design standpoint is exceptional.
While Cole Haan doesn't offer its OriginalGrand Tour golf shoes in dedicated wide sizes, in our testing these shoes did run a bit on the wide side. Combine that with everything else they have to offer golfers and that's why they landed a spot in this guide.
Of course, what stands out about these shoes is their classic style which, by design or not, is an homage to traditional golf shoes of years past, but the OriginalGrand Tour has more to offer than just style, as it also scores high marks in terms of performance.
These shoes offer excellent traction, they're stable, supportive and also waterproof. We did find during our testing that there was a modest break-in period but, after that, they delivered plenty of comfort as well.
Women's
The new FJ Fuel is easily one of the best women's golf shoes on the market, with the main stand-out feature being the special Power Stabiliser outsole. The point of it is to improve your foot's traction with the turf and stability in the swing and, in testing, we found that it did just that!
One thing that we found was, when you first put the Fuel's on, they feel a little rigid, but the synthetic leather uppers soon mould to your feet, giving you the feeling of your foot being very well supported and grounded as you swing. This means you can commit to each shot, whether it be a tee shot or approach.
Rather nicely, they come with a one-year waterproof guarantee and are super easy to wipe clean after you play your round. What's more, the aesthetics are clean and crisp, with there being plenty of color options that should suit a variety of tastes.
The Callaway women's Aurora golf shoe has the distinctive throwback looks with high performance packed into the design. If you have wide feet, then there's nothing more satisfying than finding a wide-fit golf shoe and, with these Auroras, we found a lovely soft fit right from the first wear, very much like a really comfy pair of trainers.
Featuring a sporty, lightweight high-shock absorption design, offering the type of athletic support you'd expect from a really decent pair of running shoes, Callaway even offers a 30-day comfort guarantee, with a special Moulded EVA Opti-Foam footbed certainly giving the user soft underfoot support.
Whilst the Go Golf Elite 4 Hyper shoe can be worn year-round, it is essentially a winter golf shoe with waterproof protection that comes with a one-year warranty.
In testing, we were particularly impressed with the quality of the design, which gives an immediate impression of a robust and highly durable shoe. Even so, the Go Golf Elite 4 Hyper feels as light as a feather, something which works well for when you're tackling the various conditions on the golf course.
Performance-wise, there is a lightweight foam called Hyper Burst, which combines well with a Goga Max insole. Because of this, it provides notable cushioning and allows for a spongy and easy walk, with there also being a soft padding around the ankle.
How we test golf shoes
We test out golf shoes very regularly because each member of the Golf Monthly team plays golf regularly as well. The procedure revolves around using the golf shoes over several rounds and in different conditions to test things like grip, stability, comfort and so on.
We always test shoes for waterproofing too which either means playing in the rain, or pouring some water on the shoes if the weather doesn't deliver some dark clouds! Our ethos is to be as honest and insightful as possible in our reviews and guides so you are more informed. To learn about the products in great detail, we usually attend product launches and meet with the manufacturer's R&D experts to understand the new technology. That isn't to say manufacturers can buy a good review though, because we tell it how it is for all golf product reviews, not just golf shoes.
What to consider when buying golf shoes for wide feet
There are a number of factors to consider when picking out your next pair of golf shoes especially if you have wider feet than others. Let's take a look at them.
Measurements - Obviously, you should start by knowing what size your feet are not just in terms of length but width too. Because shoe sizes often vary from brand to brand, you yourself knowing your feet size is invaluable to knowing which models to go for.
Comfort - Once you know the right size to go for, comfort is the next factor to be aware of. If a shoe isn't comfortable, you aren't going to wear it so we recommend trying on different models before you buy.
When you are trying shoes on, listen for a 'whoosh' sound which should indicate air leaving the shoe which usually suggests a good fit. Walk around in the shoes too so you can feel any pinching and whether your feet are moving around inside them. A correctly fitted shoe should so neither of these things.
This is important because if your feet slide around inside, or you get rubbing and blisters, you won't wear them again and they could damage your feet and performance.
Spiked or spikeless? - Next up is to decide between spiked and spikeless. There is a mix of styles above but you should know that they have pros and cons.
Spiked golf shoes offer better grip and stability but don't sit as low to the ground as spikeless models.
Spikeless golf shoes offer off-course versatility but might not offer as much traction. Have a think about which factor is most important to you here.
Waterproofing - If you have large, small, narrow or wide feet, waterproofing is always important. Us golfers are outside all day sometimes and that means the occasional bit of rain is inevitable sometimes and your shoes need to be able to deal with this. Therefore always check if a model is waterproof.
Styling - We are sure you agree the models above show how golf shoe design is so diverse and different at the moment.
Brands not only create traditional, classic-looking shoes, but also modern styles that can be used off the golf course too.
Therefore it is important to think about what your shoes look like and what style suits you. Whatever you like or dislike, there is something for everyone these days.
Budget - Finally be aware of your budget because you can find a good, comfortable golf shoe for your wide feet at every price point. If you enjoyed this guide on the best golf shoes for wide feet, be sure to take a look at the Golf Monthly website.
FAQs
Is it better for golf shoes to be tighter or looser?
This is a personal preference, but we'd having them as tight as possible without being uncomfortable is the best fit. You want to tightness to be there so your foot is locked in place during the golf swing. But, obviously, you don't want it to be so tight it's uncomfortable. Finding the balance between these two factors is the key to finding the right golf shoe.
How do I make golf shoes wider?
Buying a leather pair of golf shoes will mean they will stretch over time and provide you more room. If you have wide feet, avoid plastic, synthetic or knit golf shoes as these won't give an extra room over time.