Most Comfortable Golf Shoes 2022
Looking for an easy walk on course? Here's a list of the most comfortable golf shoes on the market right now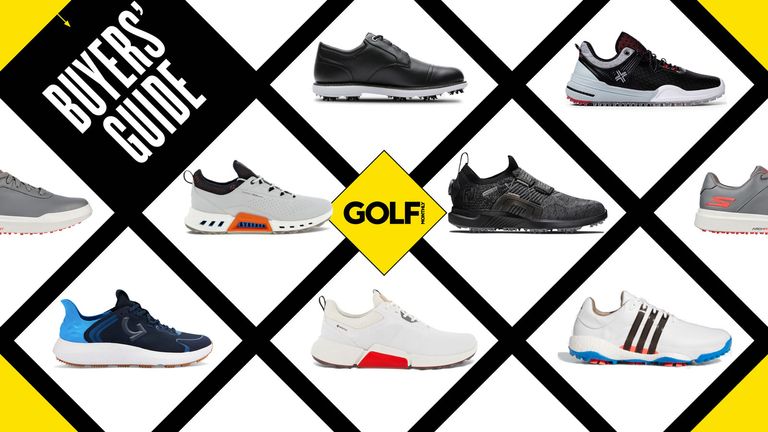 (Image credit: Future)
Golf Monthly Newsletter
Golf tips and expert instruction, golf club reviews and the latest golf equipment.
Thank you for signing up to Golf Monthly. You will receive a verification email shortly.
There was a problem. Please refresh the page and try again.
Most Comfortable Golf Shoes
It sounds like an obvious thing to say that golf shoes have to be comfortable. You want your shoes to offer a nicely cushioned wear and thankfully there's a huge focus on comfort in the golf market as you do an awful lot of walking during a typical 18 hole round. Sometimes you might even stretch to 36 and the best golf shoes (opens in new tab) out there will feel as if you could wear them literally all day. Some will also be as comfortable off the course as they are on it, and some of the best spikeless shoes in this list offer comfort and versatility.
Brands spend a lot of money and research time to make the most comfortable golf shoes possible. Shoes that provide a soft yet stable feel on all different terrains, and make sure they are a joy to wear as well. Some of the shoes in this list offer comfort by creating a 'locked-in' feeling around the ankle and heel, while some will use soft, full-grain leathers and padded midsoles to create comfort - the choice is yours as to how you'd like to experience the comfort.
To help you choose your optimum pair of golf shoes, we've picked out the most comfortable golf shoes on the market, given you some insight into how we test golf equipment and gear, and taken a look at some factors you should consider when buying golf shoes. At least one member of the Golf Monthly team has personally tested these golf shoes on and off course to give you a first hand report of how comfortable they are. Be sure to read our full reviews of each shoe for even more inform.
On one final note, there are lots of other variables to think about too and we have created guides to suit the needs of every type of golf shoe. Check out the best golf shoes for wide feet (opens in new tab), the best waterproof golf shoes (opens in new tab) and best golf shoes for walking (opens in new tab).
Most Comfortable Golf Shoes
One of the most technology-packed spikeless golf shoes we've tested this year, the Ecco Biom C4 seriously impressed us with its overall comfort, grip, style and breathability. It's built nicely on the foundations of the excellent Biom H4, which carries over into 2022, but the new sneaker-style has won our hearts from a style perspective, and the performance is there to match.
The Biom C4 uses Ecco's Exhaust Grid technology that scoops fresh air towards the sole of the foot to keep it cool. This, combined with Gore-Tex surround and breathable Ortholite insole makes this the most breathable shoe we've tested in 2022 by some stretch. Another excellent touch from Ecco is that the insole is removable to allow for more width in the shoe. This will make the Biom C4 suitable for those with wider feet and there was still the same amount of comfort and cushioning with the first insole removed.
I's certainly a step in the more athletic direction for an Ecco shoe, and we think this aesthetic move will attract golfers of all ages into Ecco shoes - we think these are some of the best looking golf shoes this year
The Gel-Ace Pro M Standard is the golf shoe that Hideki Matsuyama wears on Tour, and it's an impressive new option from the collaboration between Asics and Srixon. In our testing, the Pro M Standard offered incredible comfort right out of the box and proved to be among the most comfortable golf shoes we have tested this year. It's also a stable and supportive shoe both during the swing and while walking between shots, and it offers a traditional, premium look that many will find appealing.
The Gel-Ace Pro M Standard is also waterproof and we found during testing that the shoe provided excellent breathability even on some very hot days. It also cleaned up well after use and showed little wear during our on-course testing. One small downside to the Pro M Standard is that there are only two color options available. Otherwise, however, it's a great shoe and definitely one of the best options in the spiked category.
G/FORE is a relative newcomer with tons of style and attitude to help you stand out from the crowd. We've seen this with models like the Gallivanter and MG4+, and the brand's flair is evident once again in the new spikeless MG4x2 shoes. This is a cross-trainer shoe, a multi-functional model designed for both on and off the course. A lot of golf shoes struggle to find the balance between on and off course versatility; many end up failing on one or sometimes both tasks with either the style or performance being compromised. Not so with the MG4x2 shoes.
On course, the Sawtooth sole design offers one of the most compelling spikeless outsoles on the market even in wet and soft underfoot conditions. They also feature a moulded heel cup that prevents the heel from slipping, so your feet always feel really secure. Meanwhile, the upper is both breathable and waterproof, meaning your feet will stay dry from rain and not get too hot when temperatures rise
Worn by PGA Tour players Jon Rahm (opens in new tab) and Sam Burns (opens in new tab), the Cuater Ringer shoes are one of the best-looking and most comfortable golf sneakers money can buy. We loved the sporty and modern design of the Ringer, which isn't plastered with brand logos or text and provides a trendy yet smart look if you're thinking of combining them with shorts or trousers.
The Ringer is also brilliant for comfort and stability and features in our best golf shoes for plantar fasciitis guide (opens in new tab), making these a great pair of shoes for any golfer who struggles with foot pains. The fit is secure from heel to toe and we found the cushioning inside the shoe also very soft.
The one drawback we noticed was that the shoe didn't offer that much breathability. However, that means the shoe is waterproof and its outsole material will keep your feet dry on wetter days. As for its grip, the shoe features Softspikes Pivix cleats which give great traction on the turf, locking into the grass while you play your shots.
Thanks to a combination of excellent fit and almost unrivalled underfoot cushioning, this is easily one of the most comfortable shoes on the market. There are two models available, a laced version, and a BOA option which is the model we tested. The Wrapid BOA fastening system means the pressure is evenly distributed across the entire foot and there's no pinching anywhere.
It's the same when walking as staggered ridges on the outsole allow the shoe to flex with your foot's natural movement.From a looks perspective, we like the modern aesthetic because it is almost trainer-like.
The new Go Golf Drive 5 is a versatile, casual, waterproof, spikeless golf shoe that provides a relaxed fit, with the Arch Fit insole system offering podiatrist-certified arch support. The ample cushioning on offer here, particularly around the heel section, meant that they almost felt like slippers the moment we put them on. We have occasionally in the past had issues with the heel section in Skechers' golf shoes sitting a little too high, but not so here – the Go Golf Drive 5 is supremely comfortable to walk and play in.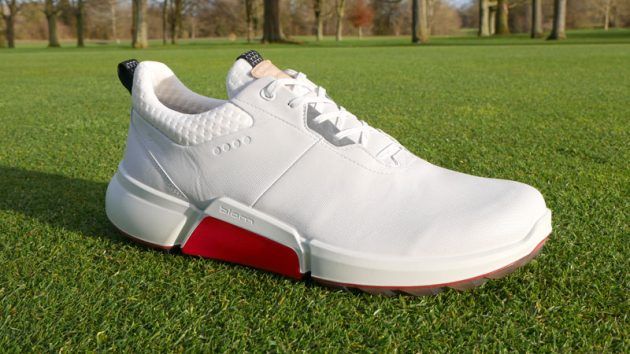 Ecco is well known for producing comfortable golf shoes, and the Biom Hybrid 4 is no different. The comfort comes from the Fluidform Technology which promotes a process by where specialised fluid materials form around the foot to deliver an unparalleled balance of cushioning and rebound. Furthermore, the upper is both breathable and waterproof, while the X-Tensa TPU element enhances the comfort as a result of the midsole stability it provides.
The Asics Gel-Kayano Ace golf shoe is a new, spikeless option for 2022 that offers a lightweight design and modern, athletic look. It also, however, provides stability and support that surpasses what might be expected from such a lightweight shoe. Those performance attributes are made possible by an R&D approach that is often used in developing high-end running shoes, more specifically the utilization of a wide toe box and snug-fitting midfoot and heel sections.
The Gel-Kayano Ace is also incredibly comfortable after what we found in testing to be a very short break-in period. The shoe's insert and footbed are soft and responsive and your feet also recover nicely after play thanks to the support provided. Gel-Kayano Ace golf shoes are also fully waterproof and available in four different colorways for players to choose from.
This shoe is fully waterproof and features a durable grip outsole that provides 236 points of contact with the ground, so is not to be overlooked in this list. Skechers' Go Golf Elite Tour SL shoe also comes with a low-profile sole, meaning golfers will feel close to the ground, but that doesn't come at the cost of comfort, which is provided by the lightweight Ultra Go cushioning and Goga Max insole.
The flexibility of the outsole also makes these very easy to wear and they offer trainer-like comfort but with enough structure to provide you with a stable base to hit from.Admittedly there may be a slight trade-off with breathability here but the positives definitely outweighed the negatives here.
In our opinion one of the best spiked shoes to be released in 2022, the adidas Tour360 22 golf shoes immediately impressed us when we tried them out on course. The upper features a premium rich leather which is 100 percent waterproof and you also get a one-year waterproof warranty as well which gives good peace of mind. adidas has also incorporated recycled materials into the design to continue the brand's goal of ending plastic waste.
The shoe mimics the natural shape of the foot and accommodates the movement of the foot in all directions, even throughout the golf swing. The Tour360 22 also has cleats directly injected into the base of the shoe which provide excellent grip with a low profile look. It also means you won't ever have to worry about losing spikes ever again.
If ever there was a shoe to be brought out for when you really want to look your best it is the Duca Del Cosma Churchill. These look and feel like a high-end brand and, with the classic brogue style, they will easily transfer to wearing them away from the course. The Churchill comes in either the dapper Cognac or Royal Blue colour combinations. We tried the former that are probably easier to match with trousers and, of all of the impressive Duca range, there's a strong chance that these will be the ones that immediately catch your eye.
Tech wise the Churchill features an Airplay IV outsole which they introduced in 2021. This features strategically-positioned functional nubs that are paired with an EVA cushioning system which provides a sturdy grip along with guaranteed comfort. If your feet are prone to dancing a little bit too much through the swing then these will really appeal as they are particularly solid. Also noteworthy are the recyclable heel and toe cap.
Whilst G/FORE are synonymous with outlandish designs and colour ways, the MG4+ has a more understated, and yet modern look and appeal.
Lightweight and completely waterproof, the shoe does not compromise in terms of comfort thanks to ForeFoam cushioning and a triple density footbed which is "the ultimate massage for your soles." When we put the shoes through their paces over two consecutive days of 36 holes, they were comfortable from start to finish, and performed about as well as is possible on a debut outing and beyond.
A new entry to the list this year is the Payntr X001 F shoe. The sports footwear performance brand has already turned heads in the golf world, with its shoe that is said to give golfers a competitive advantage thanks to a unique 3D traction system specifically designed to prevent rotational slippage.
There is also a Responsive Power Plate and midsole cavity that make it easier to utilise ground reaction forces, while the underfoot cushioning and PMX foam midsole provide all-day comfort that is breathable and waterproof. Visually, this shoe will turn heads because there are lots of elements to catch your eye such as the color blocks and laces. Overall it is an impressive debut by Payntr in the world of golf but there is one thing to remember – we found these shoes to come out on the small side, so you might want to opt for a half a size bigger than you normally would.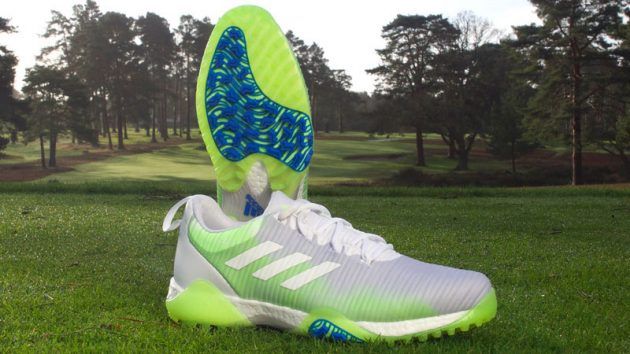 The popular Codechaos shoe has been designed for those looking to differentiate themselves on the golf course and it is seriously comfortable to wear too thanks to full length Boost cushioning across the entire midsole, creating energy rebound and putting a spring in your step.
The upper is made of a multi layer mesh, making it lightweight, flexible and breathable. It also has a thin film on top that provides waterproof protection, durability and it repels water and debris so it doesn't stain and is easy to clean.
Definitely one of the most versatile shoes on the list, the FootJoy Stratos offers no shortage of comfort. The StatoFoam midsole enhances the comfort provided by the PU FitBed that sits above to deliver an extremely soft feel underfoot that rebounds with each step.
There's also plenty of grip available thanks to an outsole that is packed with multi-directional nubs, while the soft leather upper rounds out the shoe in style. Importantly there are also four color choices for both men and women which is good thinking from FootJoy.
One of the best spiked golf shoes out right now, the Puma Ignite Pwradapt Caged Crafted footwear is said to deliver the optimum blend of comfort, style, and locked-in stability no matter how hard a golfer swings.
Comfort comes from the full-length Ignite foam cushioning that makes the underfoot experience very enjoyable. It definitely offers a more roomy fit in the forefoot area yet the design of the caged area ensures your feet are secure when you pull the laces tight, presuming you have the correct size of course.
One of the most traditional golf shoes to be launched in 2021, The Legend by Cuater offers golfers a technology-packed, classic golf shoe that can be worn all year round.
It's got to be said that this simple, clean design isn't seen as often in golf shoes anymore as brands constantly try to find the 'new' look to capture a golfer's eye. Alongside the FootJoy Premiere Series (opens in new tab) line of shoes, we think The Legend is probably the most 'classic' looking brogue you can currently buy.
Premium materials are used throughout and you can feel the quality of The Legend immediately when you pick them out of the box and again as soon they are on your feet. The Legend features what Cuater call its Sweet Spot Technology Cushioning System, which is used in the midsole to great effect.
How we tested the most comfortable golf shoes
When it comes to testing golf shoes Golf Monthly has a strong testing procedure that revolves around putting them to the test over a number of rounds and in a variety of different conditions. We often play multiple rounds in one day in the same shoe too.
That way we have a clear understanding of which shoes are more comfortable than others, whilst also making note ot things like grip, stability, versatility, looks and overall performance.
Before the testing even begins we often attend product launches and have discussions with the manufacturer's R&D experts to understand the new technology. That way we know what the technology is supposed to do, and can test for whether it does so.
The final point to make here is manufacturers cannot buy a good review because we tell it how it is for all golf product reviews, not just golf shoes.
What to consider when buying golf shoes
There are a number of factors to consider when picking out your next pair of golf shoes so to help you narrow down your search and inform your buying decision, below we have put together some key points.
Comfort - Obviously the first place to start is comfort. We all have different sizes and shapes of foot which will therefore mean some models are more comfortable than others. As such going to try on different models is invaluable before making a purchase.
When you are trying shoes on, listen for a 'whoosh' sound which should indicate air leaving the shoe which usually suggests a good fit. Walk around in the shoes too so you can feel any pinching and whether your feet are moving around inside them. A correctly fitted shoe should so neither of these things.
Getting the right fit is important because otherwise blisters can build up. Or your feet may slide around inside, which limits your stability.
Spiked or spikeless? - Do you want a spiked or spikeless design because there are incredibly good golf shoes in each category. That being said each have their own pros and cons.
Spiked golf shoes offer better grip and stability but don't sit as low to the ground as spikeless models. Spikeless golf shoes offer off-course versatility but might not offer as much traction. Have a think about which factor is most important to you here.
Waterproofing - If you live somewhere that gets a lot of rain then a waterproof shoe is a must. The best designs will keep your feet bone dry however if you play golf in glorious sunshine most of the time, then you may view other factors as more significant.
Styling - Thankfully modern golf shoe design has seen many brands not just create traditional, classic-looking shoes, but also modern styles that can be used off the golf course too. Therefore it is important to think about what your shoes look like and what style suits you. Whatever you like or dislike, there is something for everyone these days.
Budget - Finally be aware of your budget because you can find a good, comfortable golf shoe at every price point.
Dan is a Staff Writer and has been with the Golf Monthly team since early 2021. Dan graduated with a Masters in International Journalism from the University of Sussex and primarily looks after equipment reviews and buyer's guides on the website. Dan was a custom fit specialist at American Golf for two years and has brought his expertise in golf equipment to a huge range of buyer's guides and reviews on the website. A left handed golfer, his handicap index is currently 9.8 and he plays at Fulford Heath Golf Club in the West Midlands. His golfing highlight is shooting 76 at Essendon Golf Club on his first ever round with his Golf Monthly colleagues. Dan also runs his own cricket podcast and website in his spare time.
Dan is currently playing:
Driver: Ping G425 Max
Fairway: Ping G425 Max
Hybrid: TaylorMade Rocketballz
Irons: Ping i59 (4-PW)
Wedges: Ping Glide Forged Pro
Putter: Wilson Staff Infinite Buckingham
Ball: TaylorMade TP5 Pix