Best Golf Sneakers 2022
Our guide to the best golf sneakers on the market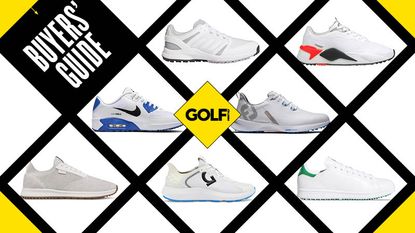 (Image credit: Golf Monthly)
Best Golf Sneakers
There has never been more options on the market for golf shoes. No matter what aspect of performance you value above all else, there will be something out there that fits the bill.
Spiked, spikeless, waterproof, textile, casual, traditional - whatever you are after there will be a model for you. Here, however, we will be focusing on the rise of the golf sneaker. As versatile as they come, these offer golfers sneaker-like looks and feel with the performance of the best golf shoes (opens in new tab). These shoes are designed to be worn on and off the course and offer as much comfort and style off the course as they do on it. They also add a relaxing vibe to a game that has been guilty of being stuffy and exclusive in the past. Of course, there is nothing wrong with preferring a traditional look, but more and more brands are catering for a wide array of styles and we are in full support. Check out some of our picks for the best golf sneakers below.
Best Golf Sneakers
Why you can trust Golf Monthly Our expert reviewers spend hours testing and comparing products and services so you can choose the best for you. Find out more about how we test.
Specifications
Sizes: 6.5-12.5
Colors: 5 Men's (White; Royal Blue; Grey; Red; Sub Green) 2 Women's (White & Turqoise; White & Pink)
Reasons to buy
+
Upper is very durable and waterproof
+
Available as spiked or spikeless model
+
Ideal summer golf shoe
+
Modern aesthetic with several colors to choose from
Reasons to avoid
-
Grip is questionable in slippy conditions
adidas decided to celebrate the 30-year anniversary of the launch of its original EQT branding by releasing a special throwback into the golfing world. It's available as a spiked and spikeless shoe, which is a nice touch and comes in various colors for both men and women. We really enjoyed putting this shoe through its paces, with the Bounce midsole and Boost heel giving us a lightweight and responsive underfoot feeling.
Additionally, the upper is waterproof, meaning it's a shoe that can be worn year-round, while it is constructed using no shortage of recycled materials as part of the brand's push to end plastic waste. The outsole on the spikeless model provides decent grip considering but for those who want more absolute performance, we would suggest opting for the spiked model instead. You'll also find this shoe featured in our guide on the best adidas shoes (opens in new tab).
Specifications
Size: 7-13
Colors : 5 (Nimbus Grey; Onyx Black; Snow White; Twilight; Poppy)
Reasons to buy
+
Striking looks on and off the course
+
Superb grip
+
Several color options
+
Excellent comfort
Reasons to avoid
-
Hard to keep the heavily textured areas looking clean
Selected in Golf Monthly's Editor's Choice for 2022 (opens in new tab), the MG4x2 is one of the best golf shoes when it comes to on and off course style and performance. This is a cross-trainer shoe, a multi-functional model designed for both on and off the course. A lot of golf shoes struggle to find the balance between on and off course versatility; many end up failing on one or sometimes both tasks with either the style or performance being compromised. Not so with the MG4x2 shoes.
On course, the Sawtooth sole design offers one of the most compelling spikeless outsoles on the market even in wet and soft underfoot conditions. We've been sure to test these a fair bit during the winter months and at no point did we wish we were wearing a spiked model instead. Most modern spikeless shoes are good in damp or wet conditions, but the Sawtooth sole stands out here.
These shoes are about as far away from a traditional pair as you can get, and for that reason they're not going to appeal to everyone. However, if you are looking for something bolder, G/FORE's MG4x2 golf shoes certainly tick that box.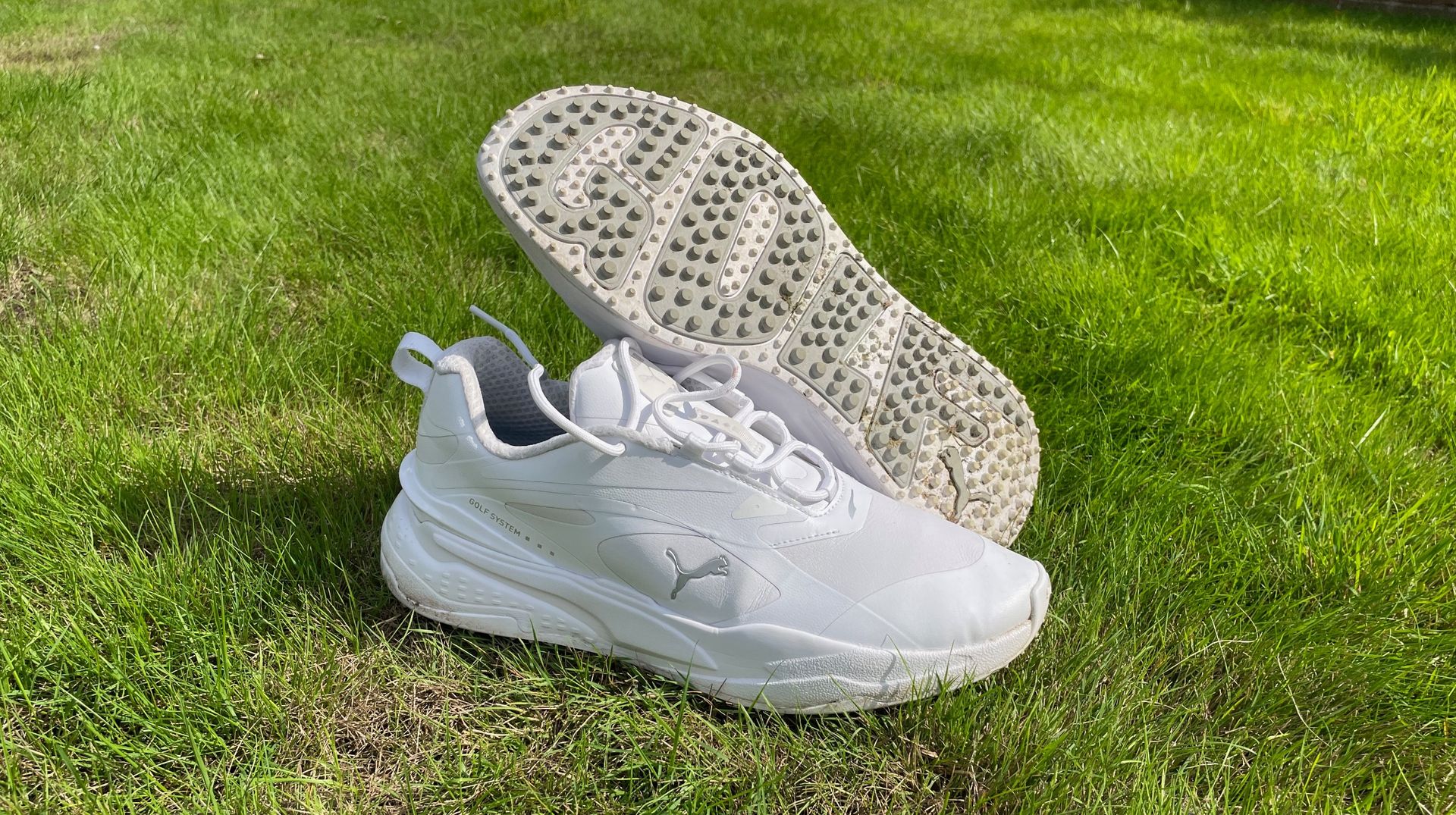 The best shoes for comfort and to stand out
Specifications
Sizes: 7-12
Waterproof: 100%
Colors: 6 (White; Black; White and Black; White and Blue; White and Grey; Black and Gold)
Reasons to buy
+
Unique styling
+
Excellent comfort and support
+
Offers decent grip on the ground
+
Easy to clean
Reasons to avoid
-
Style may not be to everyone's tastes
-
Not the best for ventilation
PUMA have always been a front runner when pushing the boundaries to design trendy yet functional golf shoes and the GS-Fast, an update on their much talked about RS-G Golf Shoes (opens in new tab), certainly continues that trend. These are a statement shoe for those players wanting to complete a streetwear look on the course. Admittedly these shoes will not be everyone's cup of tea and we did get several comments about them from playing partners and other members of the golf course when we first tested them out.
But aesthetics aside, our testing procedures showed us that PUMA have put an awful lot of technology into these shoes, making them one of the most comfortable spikeless golf shoes (opens in new tab) on the market. Their chunky sole provides exceptional level of cushioning as you walk around the course, while the mesh sock-liner prevents the risk of blisters arising on your feet.
The GS-Fast comes with a wide rubber outsole that is littered with a ton of small rubber studs. That means these shoes are better used as a summer golf shoe but still performed very well in slightly soft autumnal conditions with their grippy outsole providing solid traction on the turf. They are also completely waterproof and are very easy to wipe down after your round.
Specifications
Sizes: 4-11
Waterproof : Water resistant
Colors: 4 (Halo Blue, Clear Pink, Pulse Yellow & Crystal White
Reasons to buy
+
Iconic design
+
Standout range of colours
+
Genuine on and off course shoe
+
Good levels of grip
Reasons to avoid
-
Not a year round shoe
-
Hard to keep clean
-
Narrow fit can cause sizing issues
Adidas has been turning iconic sneaker designs into golf shoes for couple of years, with the Stan Smith a great example of a sneaker and golf collaboration. Now the iconic Samba silhouette has been given the golf touch to make it into one of the best looking spikeless shoes we think you can get right now.
From a performance perspective, the Samba is a quality performance shoe in the right conditions. Bolstered by extra EVA cushioning versus the standard sneaker, this golf edition of the Samba has extra support and comfort needed for golfers walking 18 holes. The adiwear spikeless outsole performs well on and off the course and mimics the original Samba design by featuring suction cups in the forefoot, which now incorporate golf specific traction. In dry conditions, the shoe excelled by keeping a low-profile with plenty of sure footing and it's this low-profile that makes them so wearable off the course.
Specifications
Sizes: 6-12
Colors: 3 Men's (White; Blue and Gray; White; Black and White), 3 Women's (White; Navy; Stone)
Reasons to buy
+
Really stylish, athletic look
+
Plenty of traction
+
Waterproof protection
Reasons to avoid
-
Shoe upper could have more padding
Bolder in terms of aesthetics than you will find elsewhere in the range, the FootJoy Fuel golf shoe aims to combine those modern, athletic looks with the high-level golf-specific performance you'd expect from one of the best golf shoes (opens in new tab) of 2022.
The synthetic upper might not have the refined look of the premium leather alternatives like the Premiere Series (opens in new tab) but the benefit is how hard wearing it is. We tested the white, blue and grey colorway and thought it was an incredibly versatile option that could be worn with trousers and shorts, in all seasons and all conditions.
Specifications
Sizes: 6.5-13
Colors: 3 (Wolf Grey; Black Metallic Silver; White/Fire Red)
Reasons to buy
+
Stylish shoe
+
Very comfortable
+
Great quality materials
Reasons to avoid
-
A little heavier than other models
There aren't many names in sport more synonymous with sneakers than the Air Jordan. Made famous by six-time NBA champion Michael Jordan, this is the sixth generation of the Air Jordan golf shoe. Featuring five of the famous 'Jumpman' logos on each shoe, they look athletic and very sneaker-like. Oddly, they are devoid of any Nike swooshes, but we don't think that detracts in any way from the visual aspect. Thanks to a nice foam midsole, your feet are nicely cushioned from start to finish, whether that finish comes at the end of 18 holes or sometime after. Additionally, the soft, thick tongue gives the top of the foot a secure and padded feel.
As for the traction, seven well-placed spikes provide a good amount, even in the wet. They're not the most grip-laden shoes we've ever tested, but you won't notice it's lacking. The only drawback we found was that they are heavier than some of the other options on this list. But in the same breath, they are undoubtedly the most sneaker-like, which is what this guide is all about.
Specifications
Sizes: 7-13
Colors: 3 Men's (White; Slate; Black)
Reasons to buy
+
Distinctive styling and niche cool brand will help you to stand out from the crowd
+
Lightweight and comfortable
+
Durable Matryx fabric
+
On and off course appeal
Reasons to avoid
-
Not fully waterproof
-
Not as much grip as other spikeless shoes
Founded in 2015 by Reebok alumni Marcus Wilson and Michael Schaeffer, Nobull has become a huge name in the world of CrossFit with many athletes using the brand, which will is also the title sponsor for the CrossFit Games. But the brand are now making their way into the golf market with this stylish golf sneaker that can provide a very athletic and sporty look to your outfit.
The shoes textured and breathable material makes it a great summer sneaker, but we would advise against wearing this sneaker in wetter and muddier conditions as it will slip and slide underfoot and isn't totally waterproof. That being said, the comfort levels on this shoe are through the roof and the spongy outsole provided great cushioning underfoot. In dryer conditions, the grip on the sole of the sneaker certainly gave us enough traction off the floor and that made this overall, a very impressive debut golf shoe.
Specifications
Sizes: 7-15
Colors: 5 Men's (Black; White; Gray; Green; Slate)
Reasons to buy
+
Comfortable and breathable
+
Lightweight
+
Good choice of color
+
Waterproofing warranty
This is an athletic looking summer golf shoe that keeps your feet nice and cool inside thanks to its lightweight breathable material. If you play constantly in warm conditions, then this is a great golf shoe for you. It doubles as a versatile shoe you can wear out and about away from the course. But they also provide great performance, thanks to the multi-directional traction nubs on its outsole that provide great grip to stop your feet from slipping on as you play your shots.
These sneakers also come with a full sock fit opening that make them very easy to slide on and off before and after your round. They were very comfortable to wear and fitted well to our feet like a sock. The best feature about this shoe is that they are backed by industry-leading waterproof ratings and come with a two year waterproof warranty. While their fabric material may not look to be waterproof, True Linkswear say the shoe has gone through rigorous testing in all environments and is suitable for use in wet weather. For more examples of shoes that are great for wet weather golf, take a look at our guide on the best waterproof golf shoes (opens in new tab).
New Balance Golf Leather 574
Specifications
Sizes: 8-14
Colors: Navy only
Reasons to buy
+
Very versatile and affordable
+
Extremely lightweight
A shoe that offers the best of both worlds, New Balance's Golf Leather 574 could also easily be in our guide for the most comfortable golf shoes (opens in new tab). The microfibre leather upper is fully waterproof, guarding golfers against the elements, and features a fitting technology that suits a number of foot shapes. Additionally, at just 306.2g per shoe, they are extremely lightweight, which minimizes the feeling of fatigue that often accompanies more stuffy models.
The rubber outsole features New Balance's proprietary Champ Slim-Lok Zarma Tour cleat system and offers good traction from a variety of lies. It also supports your feet as you walk but is also quite flexible allowing your feet to bend and move in the shoe. Chief among the performance benefits is the comfort it gives you. The foam compound midsole is responsive and provides all the cushioning of a running shoe.
Specifications
Sizes: 6-14
Colors: 3 (White; Graphite Grey; White/Pure Silver)
Reasons to buy
+
Extremely comfortable
+
Waterproof
+
Offers great support
Reasons to avoid
-
Not the most stylish shoe on the list
Asics is best known for its running shoes and with this foray into the golf market, the company has built on that platform. Unsurprisingly then, the Gel-Course Ace shoes are also up there with the best of them in terms of comfort. Not only are they comfortable, but they are also flexible, moving with the natural movement of the foot to offer support with every step. Officially, this is thanks to the Asics Gel and FlyteFoam, as well as comfort padding on the ankle that helps to minimize the potential for blisters to break out.
And although spikeless, they offer a good amount of traction and the upper is waterproof, meaning they tick all the major performance boxes. Best of all, all three colorways - white, white and blue, and black - retain the sneaker-like look, making them a great option for those who favor this style.
Specifications
Sizes: 6-14
Colors: 6 (White; Black; White and Blue; Gray; White and Pink)
Reasons to buy
+
Seemless transition from on course to off course
+
Plenty of underfoot cushioning
+
Huge amount of color options
Reasons to avoid
-
Not as supportive around the ankle as some
The Air Max 90 shoe from Nike has been reinvented for use on the golf course and, pleasingly, we found this classic silhouette to be a practical and fashionable offering. The spikeless outsole is one of the best we've tried on any recent spikeless golf shoe and the Air Max 90 G was comfortable in damp conditions on course.
Nike describe the outsole on this shoe as 'waffled', and that bumpy outsole provides traction in all the right places while still providing a low profile look and feel on the course. The fully waterproof synthetic upper means these shoes will keep you dry in the heaviest of rain, but we wouldn't trust them under-feet quite as much once the heavens open. If you're looking for a golf shoe that will provide greater traction in wetter climates, take a look at our guide on the best spiked golf shoes on the market (opens in new tab).
Adidas Stan Smith Golf Shoes
Specifications
Sizes: 3.5-13
Colors: White/Green only
Reasons to buy
+
Super comfy
+
Very unique
+
Can be worn in different setting off the course
Reasons to avoid
-
Lace cover might split opinion
Like the Air Jordans, this is a shoe with a famous name that needs little introduction. More than 50 years after their original unveiling, adidas released a limited edition green version ahead of the year's first major at Augusta National and have now added another classic and versatile option.
Although spikeless, the Adiwear outsole provides a good amount of grip and stability, while the look is a proper throwback, with the lace cover reminiscent of the old-school court style that made the shoe famous. Additionally, it is a waterproof sneaker that can seamlessly transition from the course into most post-round activities.
The shoe's PU cushioning in the midsole provides ample support during your round. One other thing to note about the Stan Smiths is that they have been constructed in-keeping with adidas' sustainability drives. They are made of recycled materials, with their their vegan friendly Primegreen upper, being made specifically of 50 per cent recycled materials.
Specifications
Sizes: 6.5-12
Colors: 2 (Navy; White)
Reasons to buy
+
Lightweight at just 320g per shoe
+
Subtle style is appealing
+
Fully waterproof
Mizuno's G-Style shoe is perfect for those looking for an all-round performer that comes in a lightweight package. At just 320 grams per shoe, walking the course has never been easier. The upper is made from soft Kuraray leather, which offers a nice feel on the top of the foot and is also waterproof, meaning you'll be prepared for any and all conditions that might come your way.
We were also impressed with the grip delivered by the durable outsole that features several nubs for traction from most locations you could feasibly find yourself. Finally, we love the subtle styling of the two colorways available - white and navy. Such is their appeal that you could turn up at a social gathering and people would be none the wiser.
Specifications
Sizes: 4-15
Colors: 4 (Maui Black; G.O.A.T Grey; Deep Sea; Bone White)
Reasons to buy
+
Great for wearing off course
+
Good amount of color options
+
Easy to put on
+
Breathable
Reasons to avoid
-
Not waterproof
-
Lacking a little grip
Another lightweight contender, this is one of the more sneaker-like options on our list and is a very versatile shoe that can be worn both on and off the course. The Open Cell footbed and Wanderlux midsole really make this shoe a joy to wear, as does the flexible opening that makes it so easy to slide your foot in.
The comfort of this shoe is apparent as soon as you put it on and while walking, there is enough support even when swinging flat-out. They aren't the grippiest shoe we've ever tested nor are they waterproof, but as a shoe for dry, sunny days, you'll struggle to find anything better and more stylish.
How we test golf shoes
Our golf shoe testing methodology revolves around putting models to the test over a number of rounds and in different conditions. This is so we can gain a better idea of overall performance in terms of factors like grip comfort, grip, stability, waterproofing and how they actually look on the golf course. Each of the shoes listed above has been personally used by a member of the Golf Monthly team.
This is the best way of testing a golf shoe as using it in the real world over a number of weeks allows us to see how the sneakers perform when variables change like weather, ground conditions, different stances and lies, and so on. We think this also gives us information on the little details as well like which brands come up small or large, which models start to rub a bit too much after 36 holes, which designs can be used off the golf course and for the drive home?
As these shoes are sneakers, we also used many of them in other settings around the clubhouse, or on our way to the course. That also gave us a good indication of their versatility and how well they can be styled with everyday clothing.
We are very comprehensive in our tests to the point where we will regularly attend product launches and meet with the manufacturer's R&D experts to understand the new technology. That isn't to say manufacturers can buy a good review though, as all our reviews are made by golfers, for golfers. If you're looking to find out more about the methodology behind our golf shoe testing process, take a look at our how we test guide (opens in new tab), which also provides information on how we rank each product.
Here at Golf Monthly, golf shoe testing is headed up by Staff Writer Dan Parker (opens in new tab) who is ably assisted by our Technical Editor Joel Tadman (opens in new tab) and Digital Editor Neil Tappin (opens in new tab).
What To Consider When Buying Golf Sneakers
There are a number of factors to consider when picking out your next pair of golf sneakers, particularly if you have wider feet than others. Let's take a look at them.
1. Comfort
Once you know the right size to go for, comfort is the next factor to be aware of. If a shoe isn't comfortable, you aren't going to wear it so we recommend trying on different models before you buy.
When trying shoes on, listen for a 'whoosh' sound which should indicate air leaving the shoe which usually suggests a good fit. Walk around in the shoes too so you can feel any pinching and whether your feet are moving around inside them. A correctly fitted shoe should do neither of these things.
This is important because if your feet slide around inside, or you get rubbing and blisters, you won't want to wear them again and they could damage your feet and hinder your performance.
2. Support
Similarly, when purchasing a pair of golf sneakers you need to make sure you buy the shoe that provides you with the most support. This is especially vital if you're planning on playing regularly in these shoes with it being very easy to twist and turn your ankle while walking on an undulating course.
Likewise, it is also very easy to put additional strain or stress on your knees or hips, if you're not wearing a well-supported pair of shoes. For that reason, you need to consider buying sneakers that keep your feet well locked into the shoe, provide good ankle support and superior cushioning underfoot.
3. Waterproofing
Waterproofing is always important in a good golf shoe. Us golfers are outside all day sometimes and that means the occasional bit of rain is inevitable, and your shoes need to be able to deal with this. Therefore always check if a model is waterproof. While golf sneakers are mostly designed for summer use, you will find some that are waterproof, as the weather can be very unpredictable, it might be a wise decision to purchase a shoe that will always keep your feet dry. It's also worth noting that some shoes are 'water-resistant' and they will survive in a short shower, but will struggle to keep the water out in significant rain.
4. Grip
Golf sneakers are designed to be worn during the summer months as their lack of spikes means they are not great for use in wet or muddy terrain. But it is still always important to buy the shoe that gives you the best grip. Grip is so important as the better connection you have with the ground, the greater your performance on the course will be. Plus with a spikeless golf shoe you'll get greater versatility to wear the shoe not just on the course but off it as well.
Spiked golf shoes offer better grip and stability but don't sit as low to the ground as spikeless models.
Spikeless golf shoes offer off-course versatility but might not offer as much traction. Have a think about which factor is most important to you here.
As you have seen in this guide, most of the best casual golf shoes are spikeless, so check out our best spiked golf shoes guide for a comprehensive look at some spiked options.
5. Budget
Finally be aware of your budget because you can find a casual golf shoe at any price point. Sneakers can be some of the more expensive models on the market because they combine greater style elements from some of the biggest and best apparel brands on the market. But as they are made of slightly less material compared to a spiked golf shoe, you can find some great deals on golf sneakers on the market if you shop around.
FAQs
What sneakers are good for golf?
Sneakers aren't ideal to play golf in, in fact some golf courses won't allow them. That's where these golf sneakers are ideal as they are styled well but also perform like a good golf shoe. The benefits of a specific golf sneaker is the outsole, which will give you much more grip on course that a regular sneaker outsole.
Are sneakers OK to wear when playing golf?
There was once a time when it would have been frowned upon to wear sneakers at a golf club, but now it seems as attitudes towards apparel are changing, so are the clothes that golfers are wearing. While there may be some clubs may still have more traditionalist rules on the type of shoes you can wear, it is generally okay to wear sneakers when playing golf.
Do professional golfers wear spikeless golf shoes?
Yes, a lot of PGA and DP World Tour golfers wear spikeless golf shoes. As they are regularly playing in warm climates on the most well manicured golf courses, Tour pros are able to wear spikeless shoes that will still give them ample grip when playing their shots.