Best Golf Shoes For Walking 2023
We highlight some of the best golf shoes for walking out there right now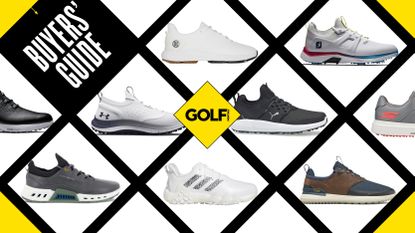 (Image credit: Future)
Get the Golf Monthly Newsletter
Thank you for signing up to Golf Monthly. You will receive a verification email shortly.
There was a problem. Please refresh the page and try again.
During a round of 18 holes, a golfer will, on average, walk approximately five miles and spend around four to five hours on their feet. That is a lot of time standing up and for that reason, it is important to have a comfortable pair of golf shoes that you are comfortable walking in for long distances. Golf is hard enough as it is without having to worry about how your feet are feeling. So getting a reliable and comfortable pair of shoes really is a must and is arguably more important than getting the right clubs.
When it comes to picking out the right golf shoes for your game, there is a lot to consider. One of the main things that many of the best golf shoes for walking get right, though, is they blend performance nicely with comfort and fit. There are several factors to consider when trying to find the best golf shoes for walking but, when it comes to the best golf shoes in this aspect of the game, comfort is key. A shoe that is comfortable to walk in feels great and makes it less likely that we get painful blisters on our feet which can ruin the entire golfing experience.
VIDEO: Watch Dan Parker's verdict on the 11 of the best golf shoes from 2023
Adding to that, breathability and lightness are also two important factors to consider especially if you are the type of golfer who walks more than one round in a day, or wants a pair of golf shoes that are versatile enough to use both on and off the golf course. In this guide, we'll be walking you through what we think are some of the best golf shoes available right now. And while you're here, why not also check out our guides to the most comfortable golf shoes, best golf shoes for wide feet and best golf shoes for plantar fasciitis.
The Quick List
Best Golf Shoes For Walking
Spikeless models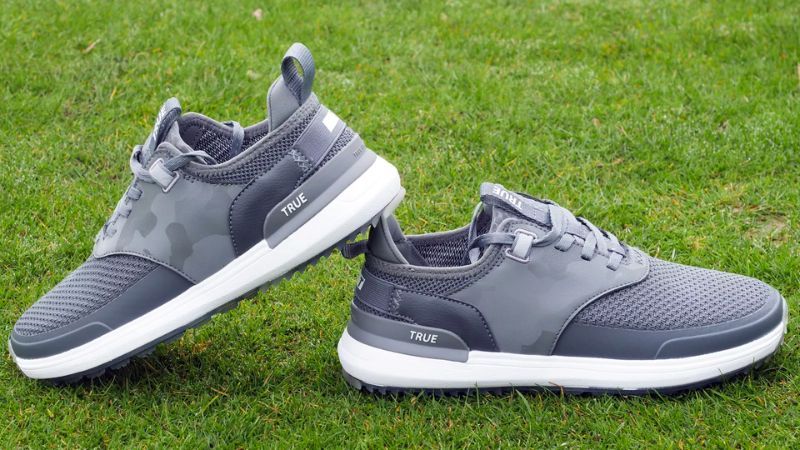 An excellent example of a hybrid golf shoe, the True Linkswear Lux Hybrid strikes a great balance between being an out-and-out golf shoe, but one you can also wear off the course. Akin to many of the best golf sneakers this shoe comes with a sleek athletic look, that will look great in any setting, not just your local clubhouse. The other good news is that it is completely waterproof, and having tested it ourselves we are pleased to say the Lux Hybrid kept our feet bone dry during a wet round of golf.
This is one of the most comfortable golf shoes on the market thanks in part to its Wanderlux midsole that is up there with some of the best midsole technology in the game right now. It is soft to the touch but very firm underfoot and that helps to offer a lot of support during your golf swing. These shoes are super light too, being one of the lightest spikeless golf shoes we've tested lately, and they genuinely felt like we weren't wearing any shoes! It did lack a little in the way of support because of that and its low profile.
We also loved the grip on offer here as when walking on firmer surfaces, we didn't feel like the spikes on the sole were pushing us too far up above the ground. Yet, that didn't mean they weren't able to give us good grip in damp conditions, with the sole performing as required to deliver ample grip on a variety of terrain. While we wouldn't advise using these in muddy conditions the Lux Hybrid is definitely an excellent shoe for summer golf.
Under Armour Charged Phantom SL Golf Shoe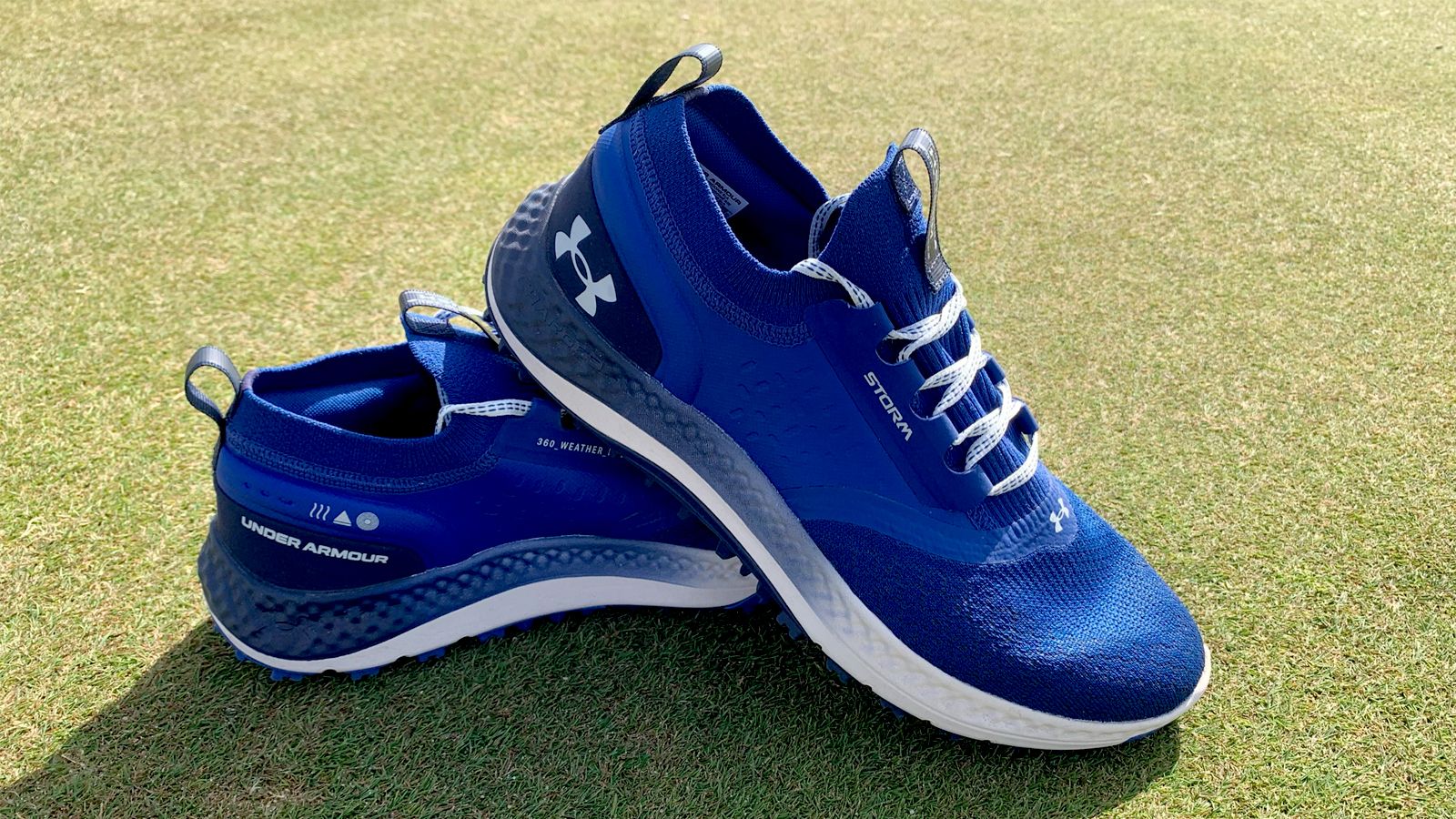 The best Under Armour golf shoes deliver in both performance and comfort and that is certainly the case with this latest offering from the American brand. The Charged Phantom SL Golf Shoe is a versatile golf shoe that we would highly recommend testing if you get the chance. Visually, it comes with a stunning trainer-like design that comes in four different colorways. We loved the blue and white color and the knit design on the upper that gives this shoe a very sporty look.
Ultimately, it is a summer golf shoe as it lacks many of the grip features that you'll find on the best winter golf shoes. But it is one of the best warm-weather golf shoes we've tried lately and during our testing sessions we loved how comfortable we felt wearing the Charged Phantom around the course, heading to the local bar and even to the supermarket to pick up a few groceries on the way home. We enjoyed the shoe's athletic design, with the upper really offering breathability and comfort all day - a great feature if you suffer with sweaty feet on the golf course. The Storm Flat Knit Collar around the ankle provides a locked-in feel while also being extremely comfortable.
The midsole that separates the footbed and outsole is something that has featured in many Under Armour running shoes and provides comfort, as well as the ability to help transfer energy created from pushing against the ground, into your swing. Stability is not an issue here either and we loved the locked-in feeling the shoe delivered. Grip-wise, the Charged Phantom felt tacky on the dry surfaces we tested it on, with the rubber nubs on the sole preventing rotational movement when we swung through the golf ball with these shoes.
adidas Codechaos 22 Golf Shoes
Perhaps one of the bolder golf shoes on this list, the adidas Codechaos 22 is an excellent shoe that any player who likes to make a statement on the course should consider buying. Its futuristic design is very similar to the previous Codechaos model released in 2020, and will certainly be a hit among many golfers and junior players. It is one of the most comfortable golf shoes on the market and features a new wraparound outsole design that adds unique looks as well as more grip and stability to the golf shoe.
We took it out for a spin on the course and we really enjoyed the comfort on offer here, with the spongey BOOST midsole giving instant comfort. We also enjoyed how these shoes took pretty much no time at all to break in, with our feet molding to the sole within a few rounds. The arches of our feet were also raised, which helped to reduce foot fatigue after a long day on the course.
It's one of those golf shoes that you forget you are wearing, such is the nature of the comfort, support and grip on offer, which was very adept at handling damp conditions. It is primarily a fair weather shoe but we found it really did offer a lot of traction when things did get a little damp on the course. Don't worry either about your feet getting wet in these shoes, as their waterproof upper matches up well to some of the best waterproof golf shoes on the market.
NOBULL Leather Golf Shoe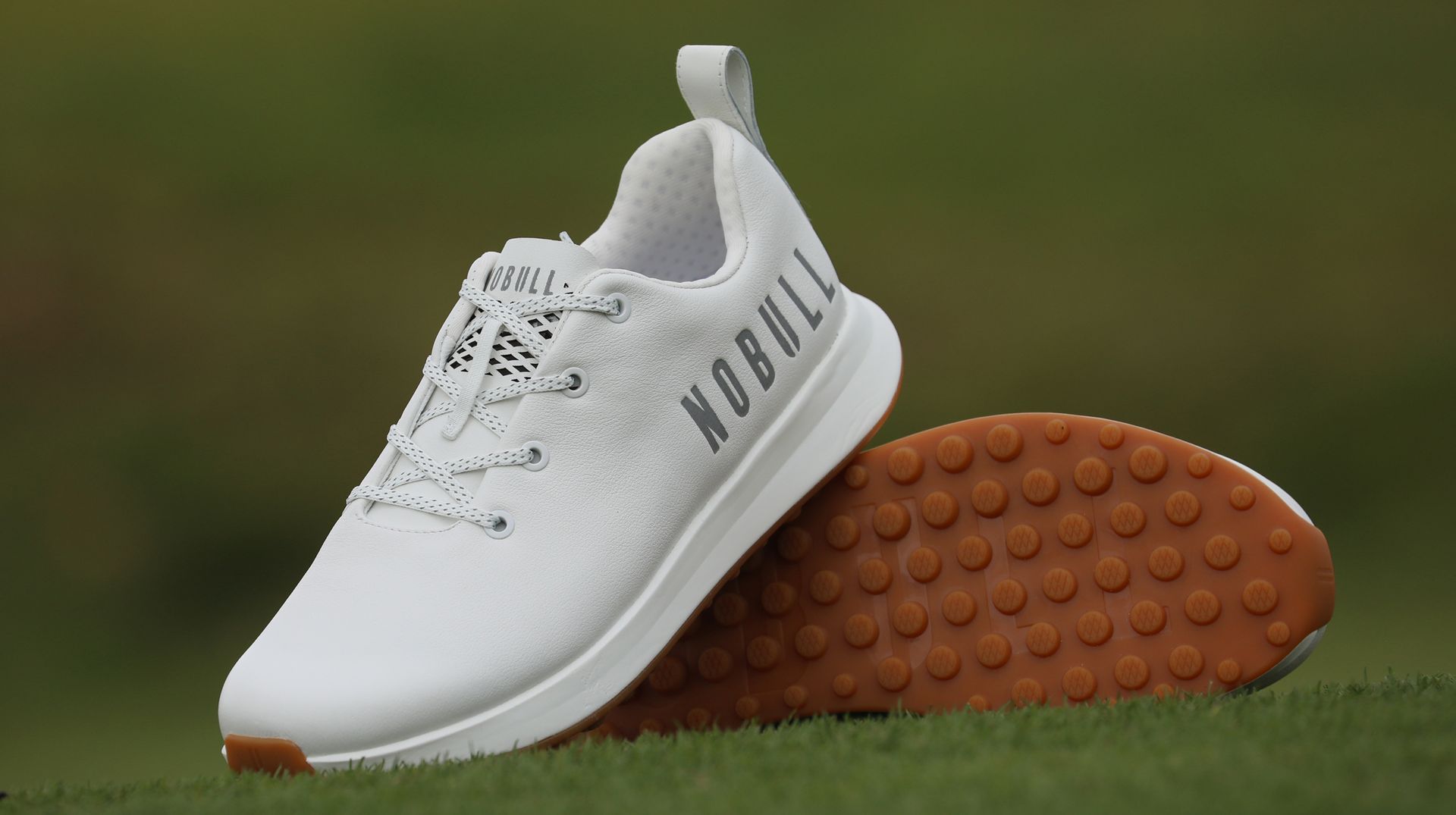 New to the golfing world, NOBULL are one of the most exciting brands on the market right now. Founded in 2015, the brand have become a dominant force in the CrossFit game and are making strides into the golfing world, producing some of the best casual golf shoes on the market. And this pair of excellent golf sneakers is a very versatile option that we really enjoyed wearing both on and off the golf course. Visually they boast a stunning all-white colorway that is contrasted by the brown soles underfoot. That makes them not just a great golf shoe, but one you can certainly wear about town, to the shops or even to the pub.
Featuring a reflective NOBULL logo on the side, their looks back up the performance, with the shoes delivering fantastic grip on the course, especially when there's a bit of moisture underfoot. While we perhaps may not wear them in torrential conditions, we think these are a fantastic golf shoe for warm and dry days on the golf course. We should also not that they're also very easy to clean if you do happen to step into the mud during your round.
Comfort is also not a problem here either, with the super soft leather upper caressing your feet during your round, while the spongey midsole also makes this an excellent golf shoe for walking around the course. We found the space on offer in these shoes makes them one of the best golf shoes for wide feet and if you're someone looking for more room and comfort then this became really noticeable in our testing sessions.
Ecco Biom C4 Shoe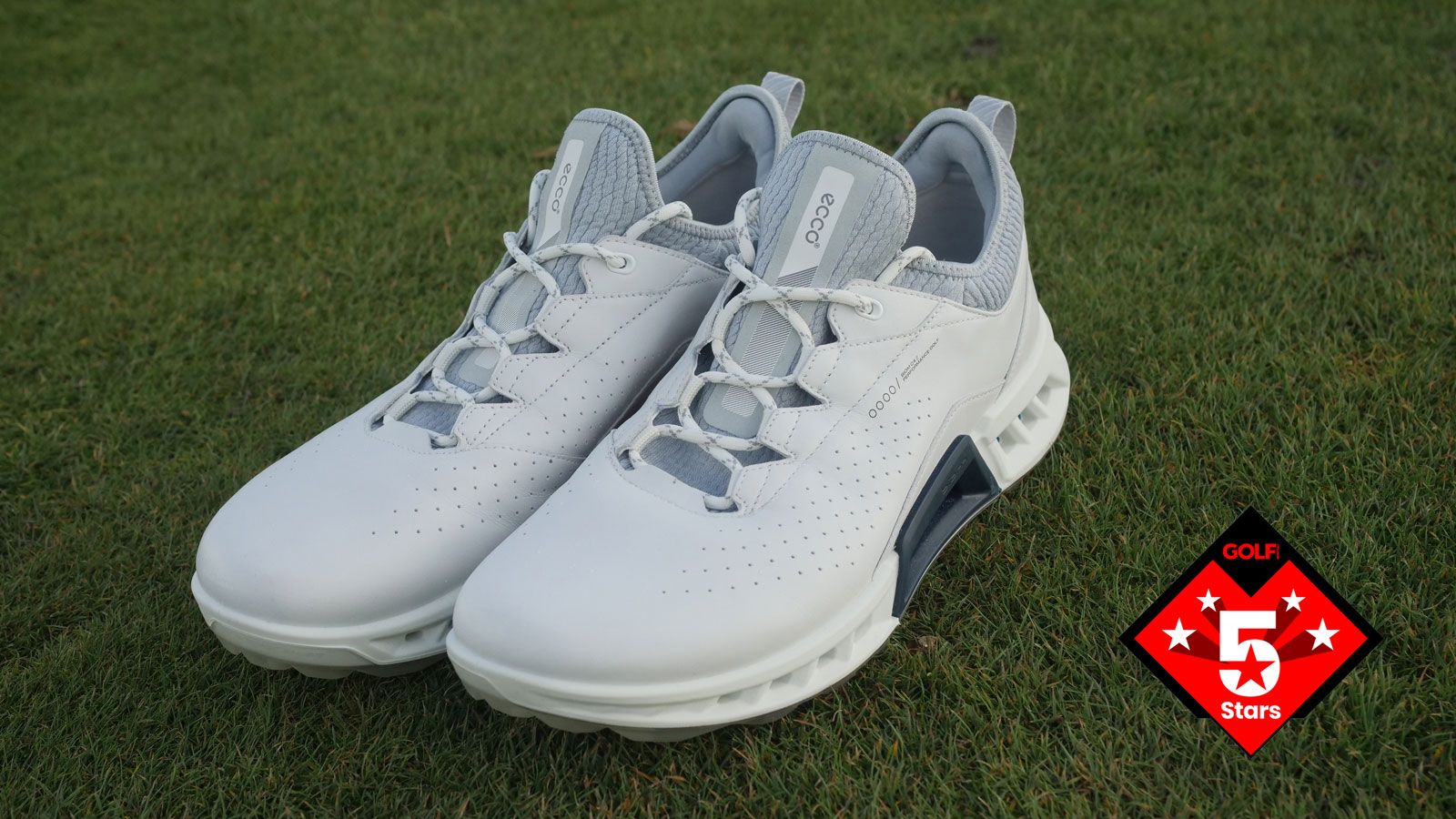 One of the most technology-packed spikeless golf shoes we've had the pleasure of testing this year, the Ecco Biom C4 seriously impressed us with its overall comfort, grip, style and breathability - four things that definitely make up a good golf shoe for walking. It is built nicely on the foundations of the excellent Biom H4, which carries over into 2022, but the new sneaker-style has won our hearts from a style perspective and the performance is there to match.
The Biom C4 uses Ecco's Exhaust Grid technology that scoops fresh air towards the sole of the foot to keep it cool. This, combined with Gore-Tex surround and breathable Ortholite insole makes this by far one of the most breathable shoe we've tested. Another excellent touch from Ecco is that the insole is removable to allow for more width in the shoe. This makes the Biom C4 one of the best golf shoes for wide feet and there was still the same amount of comfort and cushioning with the first insole removed. I's certainly a step (pardon the pun) in the more athletic direction for an Ecco shoe and we think this aesthetic move will attract golfers of all ages into some of the best Ecco golf shoes on the market.
Skechers Go Golf Elite 5 Slip 'In Shoe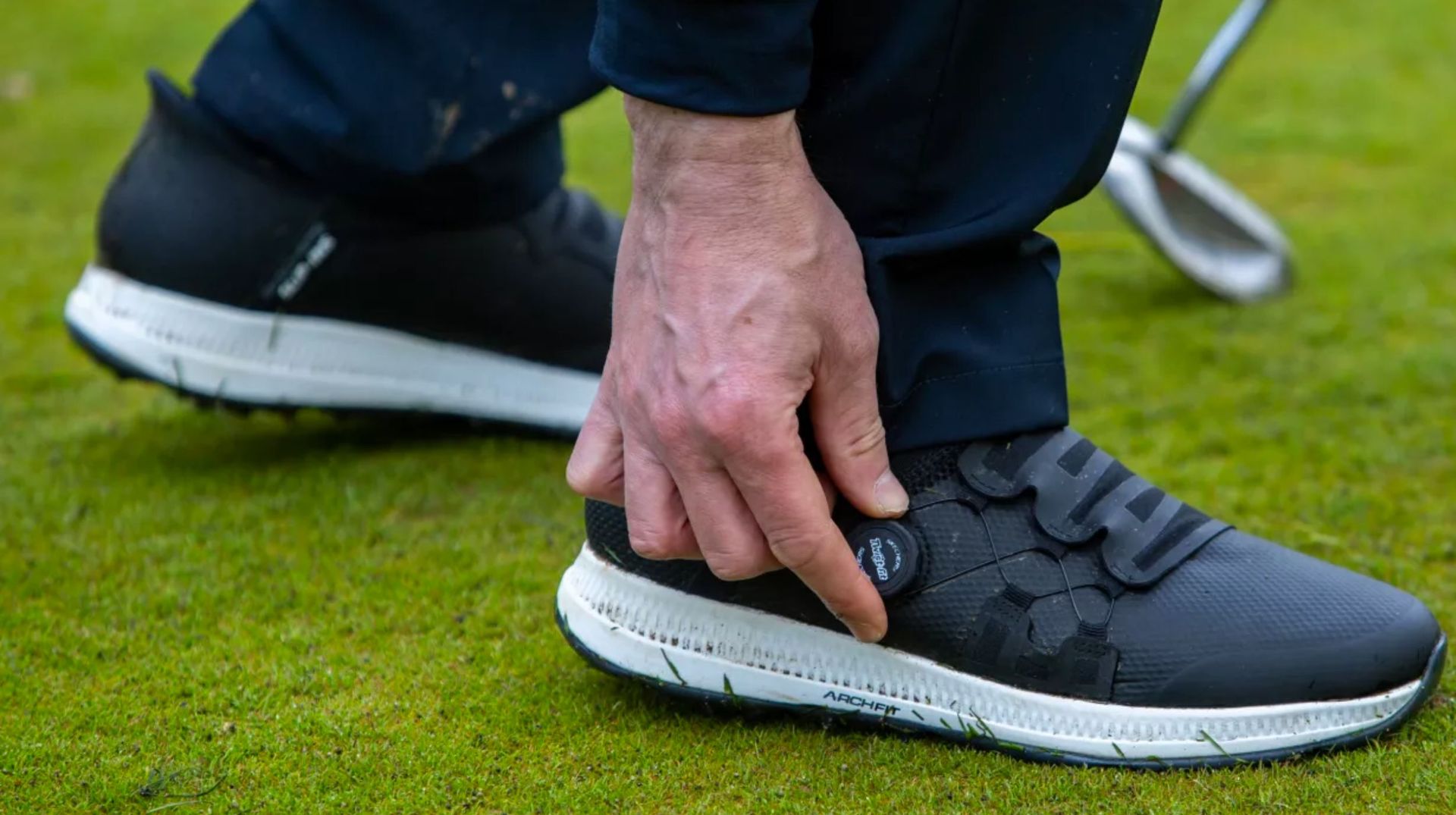 What Skechers has earned a reputation for – and this applies right across the best Skechers golf shoes – is supreme levels of comfort. This rule applies to the Elite 5 Slip 'In and this pair is definitely one of most comfortable golf shoes that we've worn. We've never put on a pair of golf shoes before without carefully avoiding applying too much pressure on the back, obviously for fear of causing lasting damage. With the Skechers Go Golf Elite 5 Slip 'In shoes, and courtesy of an extra stiff back, this is not a problem – they slip on just like a pair of comfy slippers – and they feel just as good. So, no shoe horn required.
Meanwhile, the Twist-Fit dial system located on the side makes them easy to fasten. Again, we can see the appeal for those who suffer with a stiff back in the morning, as there's no need to struggle with lacing up, plus you haven't got to worry about the laces gradually loosening over time and needing to be retied at the most inconvenient of moments. You can't talk about Skechers without mentioning the removable Arch Fit insole, which provides podiatrist-certified arch support. Combined with the Heel Pillow, you're guaranteed a comfortable and 'locked in' feel, which is something we also experienced when testing the Pro 5 Hyper shoe worn by Matt Fitzpatrick.
Ecco Biom H4 2023 Golf Shoes
We have always liked the H4 shoes (as you can see with our review of the older version), and the newer 2023 design did not disappoint either. It has a reworked upper which was mainly noticeable in two areas. In the toe it looks a touch slimmer whilst the tongue itself has been redesigned completely. We liked both of these design alterations.
It is visually appealing thanks to the combination of a simple aesthetic that also features some pops of color. It isn't over the top and garish, but rather has subtlety to it. The shoes felt soft but not overly squishy and the tongue in particular was a new design element which felt comfortable.
The outsole itself gave very good grip and despite mud and sand gathering in each channel this didn't seem to impact the grip and stability. In wet conditions the shoes also performed well and we found them to be reasonably easy to clean after too.
G/FORE MG4+ Shoes
Whilst G/FORE are synonymous with outlandish designs and color ways, the MG4+ has a more understated, and yet modern look and appeal. Lightweight and completely waterproof, the shoe does not compromise in terms of comfort either thanks to ForeFoam cushioning and a triple density footbed which is "the ultimate massage for your soles." Admittedly this was something that took us a moment to get used too. It feels like you're walking on massaging nubs, which later into our round we were very grateful for.
When we put the shoes through their paces, they were comfortable from start to finish, and performed about as well as is possible on a debut outing and beyond. A common thing with spikeless shoes can be less stability and grip than spiked models but there was never a situation in which this came to fruition in these shoes. This is thanks to the non-slip outsole and the stability comes from the heel cup at the back of the shoe that really locks the foot in place without sacrificing any comfort. As with some of the best G/FORE golf shoes on the market, the MG4+ offered fantastic durability and we found them very easy to wipe down too after a muddy round.
Spiked models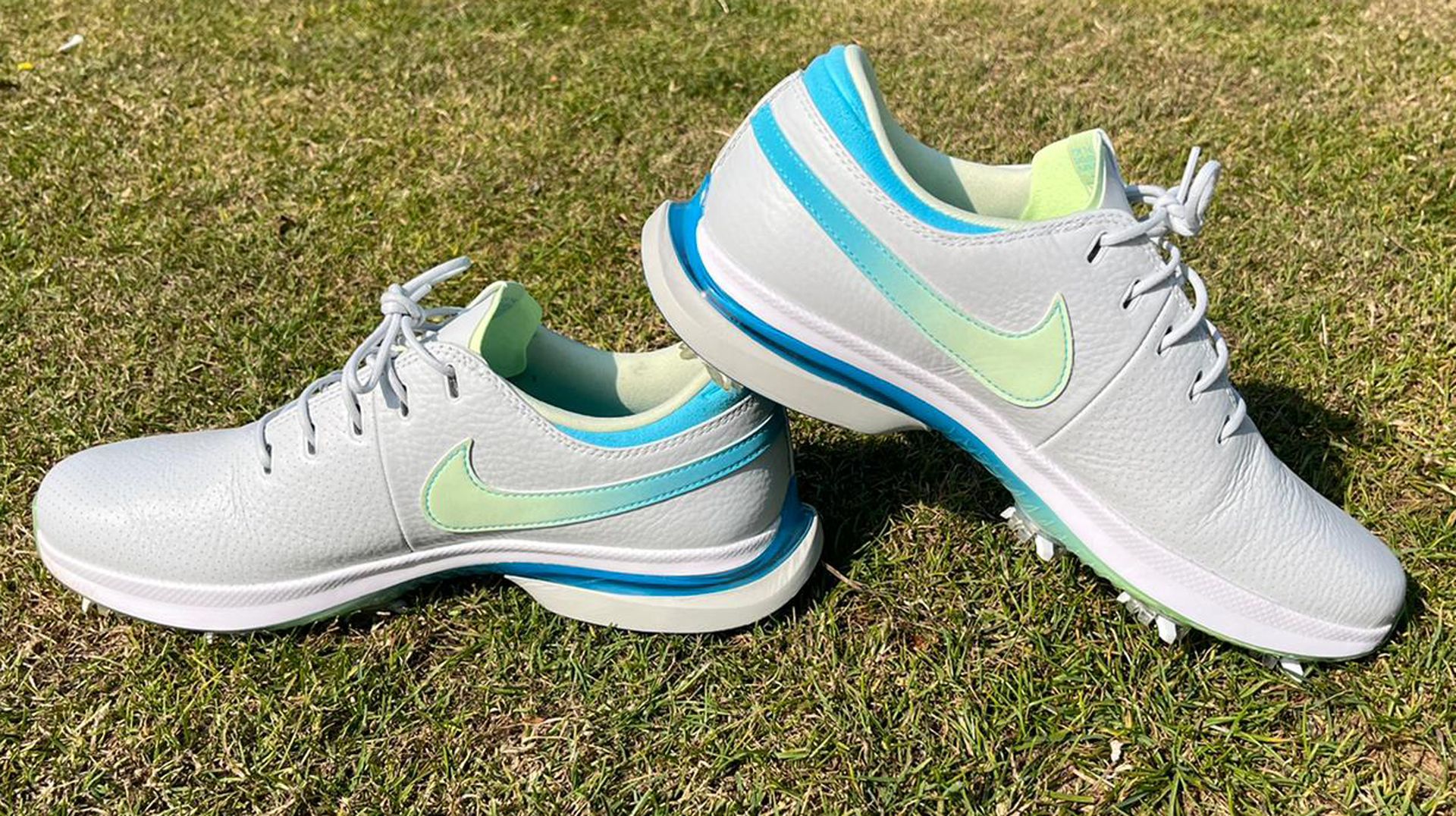 Replacing the Victory Tour 2 shoes below, (which I absolutely loved), the newer 3 model takes total performance even further, getting 5 stars in our review. Why? Well looks wise Nike improved the aesthetics in several subtle ways - the new Full-grain leather upper has a supple feel and sophisticated look. The swoosh and midsole sections look slightly different and better in my opinion, and overall I think the shoe looks more refined. I also absolutely loved the color I got sent and there are also several other colors to choose from, as well as special edition designs too for events like The Masters.
Comfort wise these are right up there with the best on the market thanks to the extra padding around the ankle, and the internal strap on the inside of the shoe which actually contours to your feet. Nike also stitched a Zoom Air unit directly to the upper which delivered exceptional feel, and the foam towards the heel felt very cushiony, almost bouncy when walking on the course.
Grip and stability was also good, and the shoes are 100% waterproof as well. In short, I love this shoe and it covers all the bases to a very high standard. It may come with a pretty punchy price tag, but I really do think it is worth it. (you can also find these shoes with money off sometimes as well so we do recommend keeping a look out for sales on them).
FootJoy HyperFlex Carbon Golf Shoe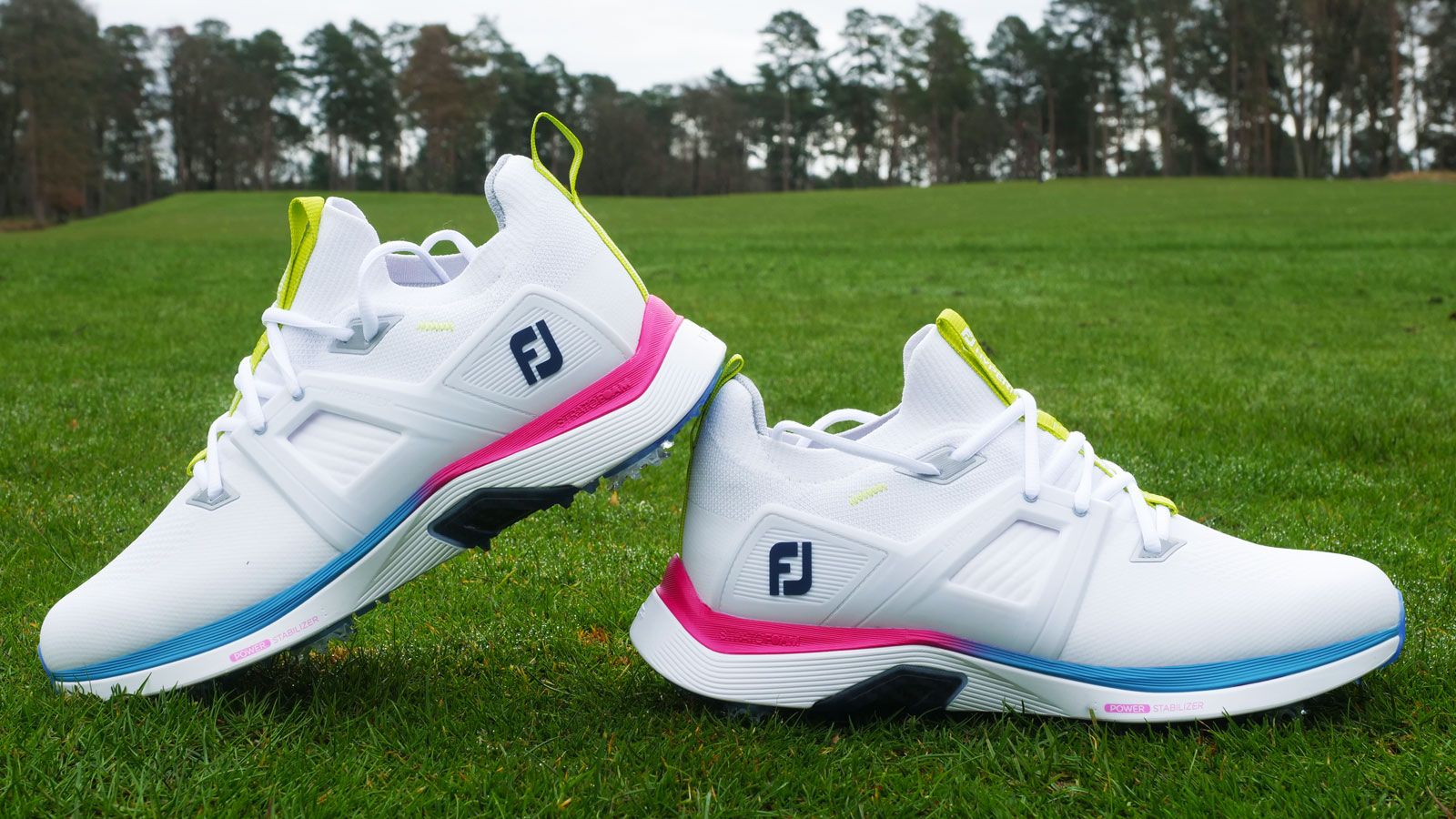 The new HyperFlex range comes in three men's models - HyperFlex, HyperFlex BOA, and HyperFlex Carbon, with the Carbon version containing a carbon fiber construction which makes it incredibly lightweight. Having tested it on the course, these are certainly one of the best golf shoes for walking, and were so light, it felt like we weren't even playing in a pair of shoes.
Aside from that, there's a lot to like about this model and, from a performance perspective, the absolute highlight we thought was the Ortholite Impression Footbed. This technology has elevated the HyperFlex Carbon from a good golf shoe to a great golf shoe because, as soon as we slipped our foot inside, we could feel the technology at work. It delivers excellent comfort throughout our round but also helps to improve the locked-in feel this shoe delivers. After only a few rounds, the footbed had actually molded to our feet, adding to the comfort on offer here.
Aesthetically, the HyperFlex Carbon has stuck to the similar blueprint of its predecessor, but this time around, FootJoy has included some new splashes of color that elevate the overall shelf appeal. It's part of a clear effort by FootJoy to go a bit bolder and brighter with some of its color options. It is worth noting that the waterproof upper on this shoe is very easy to clean, making it one of the best winter golf shoes if you manage to get them mucky on the course.
Puma Ignite Articulate Golf Shoe
The Ignite Articulate is one of the best spiked golf shoes on the market. It boasts a stunning athletic design that will appeal to a range of golfers. It is jam packed with technology too and endeavours to compliment the movement of your feet as you swing through each shot. Having tested it on the course we found the shoe delivers comfort in spades and really hugs your feet without feeling too intrusive.
Underfoot, the spongy Ignite Foam midsole utilises special technology to deliver excellent comfort and support. We found walking in these shoes a breeze especially considering the energy return we got from that springy sole. You'll find your feet stay nicely in place on the turf, thanks to the eight tornado grips that are lined around the outsole of the shoe. They come in a traction pattern that helps to compliment the movement of your feet through the golf swing and that gave us a lot of confidence that we could strike through the golf ball with full power.
There isn't a traditional shoe tongue here either. That is replaced with a single construction that provides plenty of support around the whole foot. There is then a 'cage' - pictured in black across the shoe - which wraps around any foot shape for added support. Much like with the FootJoy Tour Alpha, the shoe really creates a 'locked-in' feeling once the laces are tightened.
Nike Air Zoom Infinity Tour NEXT% Shoes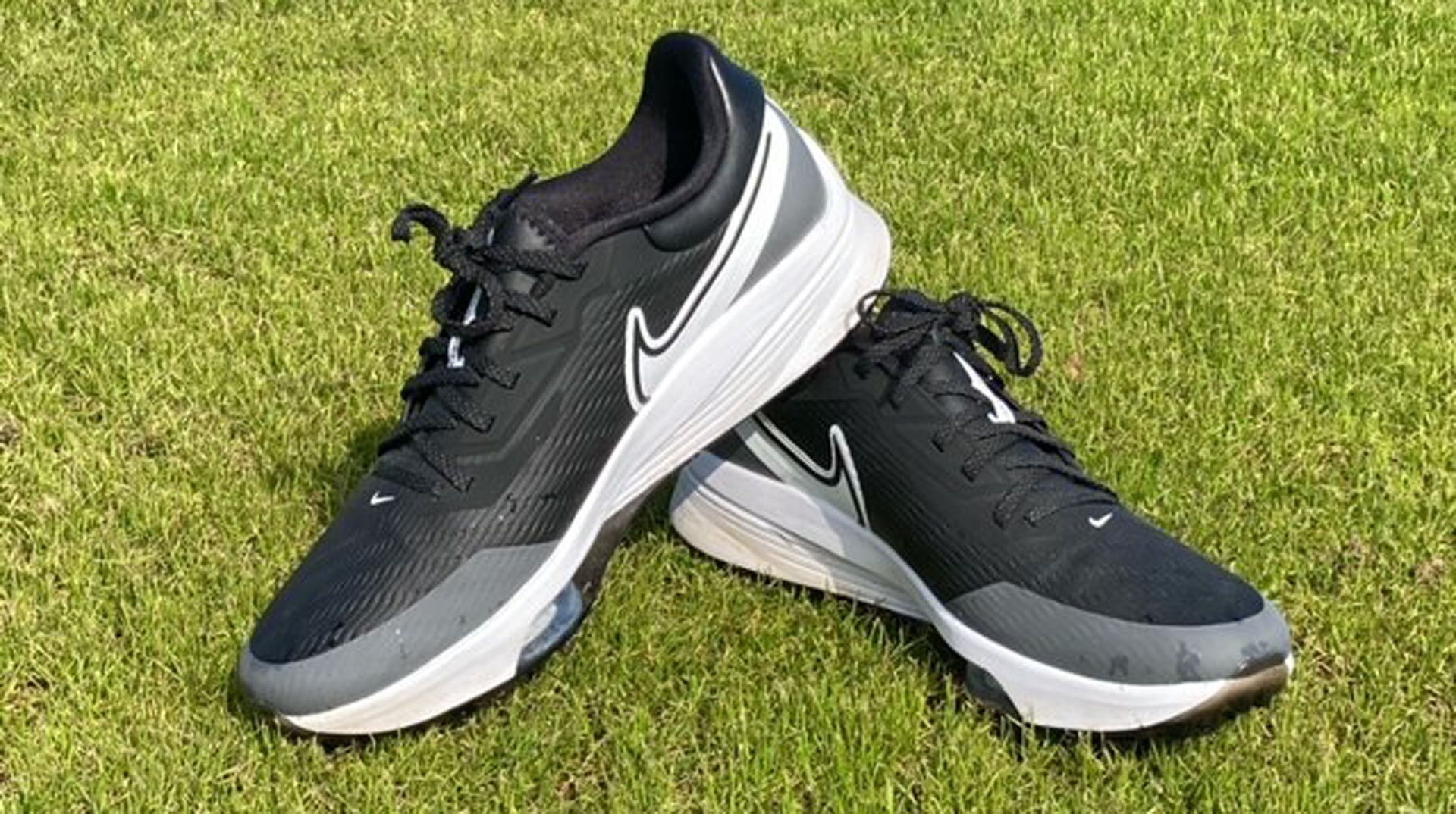 Nike are well known as one of the best golf apparel desingers on the market and this latest offering from the brand, used by Brooks Koepka no less, is an excellent and very comfortable option that will rival the best spiked golf shoes on the market. The Infinity Tour Next% is a very sporty golf shoe offfering up a modern aesthetic that has a very premium design. The shoe is by far one of the best golf sneakers on the market and oozes class thanks to the brilliant colorways on offer here.
Taking them out on the course, the support was right up there with some of the most comfortable shoes in the game. The soft cushioning around the heel really felt nice and even when taking out of the box for the first time the comfort around the foot was excellent. These shoes are very lightweight but this wasn't at the expense of stability because the two spikes on the forefoot and two on the heel deliver exceptional grip, especially when combined with the traction pattern on the outsole. The shoes are also waterproof and deliver excellent ventilation to your feet making them an excellent option to wear on the course in both summer and winter conditions.
How we test golf shoes
Our golf shoe testing methodology revolves around putting models to the test over a number of rounds and in different conditions. This is so we can gain a better idea of overall performance in terms of factors like grip comfort, grip, stability, waterproofing and how they actually look on the golf course. Each of the shoes listed above has been personally used by a member of the Golf Monthly team.
This is the best way of testing a golf shoe as using it in the real world over a number of weeks allows us to see how they perform when variables change like weather, ground conditions, different stances and lies, and so on.
We think this also gives us information on the little details as well like which brands come up small or large, which models start to rub a bit too much after 36 holes, which designs can be used off the golf course and for the drive home? We are very comprehensive in our tests to the point where we will regularly attend product launches and meet with the manufacturer's R&D experts to understand the new technology. That isn't to say manufacturers can buy a good review though, as all our reviews are made by golfers, for golfers.
How to choose golf shoes
As you spend a lot of time on your feet on the golf course, its vital that you get the right shoes that will help keep your feet well supported and comfortable on the golf course. That can make your buying decision a tricky one, but we've set out below several key points that'll help you to make the most informed buying decision.
1. Comfort
As you would expect, when it comes to the best golf shoes for walking, comfort is king. As we stride the fairways and greens, if we are in an uncomfortable pair then we can get distracted especially if the discomfort causes blisters and rubbing. We recommend trying on some models before you buy to see what you like the feel of, and be aware of some models that have specific foam technologies, or specific sole designs that are designed to house your feet in all day comfort. Check out our guide to the most comfortable golf shoes for more examples of what some of the most supportive shoes are packing.
2. Grip/Stability/Traction
All three of these things are important because they allow you to commit to golf swings and play with confidence. If a pair doesn't deliver on these then you may slip, causing a bad shot or even worse, a bad injury. As a result, many of the models above, in both spiked and spikeless designs, have specifically designed traction patterns and lugs to make sure your feet don't slip. For wet weather golf, we recommend some of the products found on our guide to the best winter golf shoes.
3. Looks
This is entirely subjective but you need to make sure you like the look of your golf shoes and there is a model above for all different types of fashion sense. If you want a traditional design then something like the FootJoy Pro/SL will work well, whereas if you want to stand out a bit more, the adidas Codechaos is something to consider.
4. Waterproofing
If you are going to be walking in all weathers then you need a waterproof model too. Thankfully most of the models above and those on our guide to the best waterproof golf shoes provide 100% waterproof protection and we also recommend checking out specific brands that have long waterproof warranty's.
5. Sizes
It sounds like an obvious thing to say but make sure you get the right size for your feet. It is worth trying models on and making note of brands that come up slightly smaller or larger. For example Nike often comes up half a size bigger than my normal shoe size.
6. Budget
Be aware of how much you want to spend because there is a model above for people at different price points.
For more advice take a look at our guides on the best golf shoes for plantir fasciitis, our best best women's golf shoes guide and our guide to the best budget golf shoes too.
FAQs
Are golf shoes okay for walking?
Yes definitely. Modern golf shoes are designed to be as comfortable and supportive across 18 holes of golf. Most golfers will cover anywhere from 3 to 6 miles playing a game of golf, so pretty much all golf shoes will be suitable for other walks too.
What are the most comfortable golf shoes made from?
The most comfortable golf shoes are often made with soft, full-grain leather uppers and come with plenty of support and padding in the midsole. Our guide on the most comfortable golf shoes goes into more depth on the most comfortable golf shoes currently on the market.
What's the difference between a winter and a summer golf shoe?
Most golf shoes are made to be used all-year-round, but we do find that there are some shoes that are more suited to winter or summer golf. Depending on the climate and temperatures you regularly play in your buying preference will lean to one of these categories. Winter golf shoes tend to be more suitable for wet, muddy conditions, featuring spikes, waterproof designs and are generally a little more robust than summer shoes. Dissimilarly, shoes that are better for summer golf will tend to be a bit lighter, offer better breathability and ventilation and lastly will not generally feature spiked soles.