Best Golf Shoes For Walking 2022
We highlight some of the best golf shoes for walking out there right now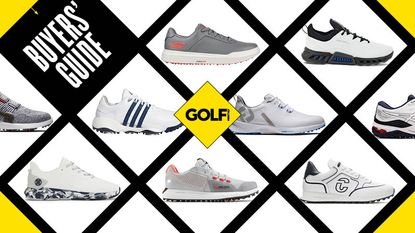 (Image credit: Golf Monthly)
Golf Monthly Newsletter
Golf tips and expert instruction, golf club reviews and the latest golf equipment.
Thank you for signing up to . You will receive a verification email shortly.
There was a problem. Please refresh the page and try again.
Best Golf Shoes For Walking
We all want a comfortable walk on the golf course, right? Golf is hard enough as it is without having to worry about the state of your feet, so getting a reliable and comfortable pair to walk in is arguably as important as getting the right clubs for your game. There are several factors to consider when trying to find the best golf shoes for walking. First, when it comes to the best golf shoes (opens in new tab) in this aspect of the game, comfort is key. A shoe that is comfortable to walk in feels great and makes it less likely that we get painful blisters on our feet which can ruin the entire golfing experience.
Video: Best Golf Shoes 2022
Adding to that, breathability and lightness are also two important factors especially if you are the type of golfer who walks more than one round in a day, or wants a pair of golf shoes that are versatile enough to use both on and off the golf course. This guide has collated what the team at Golf Monthly think are the best golf shoes for walking currently on the market. At least one member of the team has been out on the golf course walking in these shoes, so be sure to check out our full reviews of each product to gain an even deeper understanding of why we think these shoes in particular are the best for walking. It's worth noting that we also think these golf shoes are great for walking anywhere off the course too. So if you're a keen golfer and hiker, we think these shoes can come with you wherever you go walking.
Bearing these factors in mind, we have taken a look at some of our favorite golf shoes to walk in below. Alternatively we also recommend checking out our guides on the best golf shoes for wide feet (opens in new tab) as well.
Best Golf Shoes For Walking
Specifications
Sizes: 6-12
Waterproof: 100%
BOA Option: Yes
Colors: 4 Men's (Grey, Blue, Black, Grey) 2 Women's (Black, Grey)
Reasons to buy
+
All-day comfort
+
Extremely versatile shoe
Reasons to avoid
-
Textured upper so difficult to clean
The HyperFlex shoe has quickly become not just one of the best FootJoy golf shoes out there, but one of the best on the market in any category. Underfoot it feels really soft, making it a very pleasant shoe for walking 18 holes and beyond and there's more than enough grip on offer thanks to seven specifically placed spikes. The Wrapid fastening system in the BOA model completely eliminates pressure points for excellent fit, while there is also a laced model for those who take a more traditional approach. We tested the BOA option and FootJoy has done a pretty good job at concealing the mechanism and the laces.
When we turned the dial we noticed the feeling of even pressure across the foot instantly. In other shoe tests we found when laces are tied the top of the shoe remains tight but the front of the shoe is loose, but with the HyperFlex it felt pleasantly spread out. Finally the looks are very modern and almost trainer-like which we definitely are a fan of.
Specifications
Sizes: 7-12, 13, 14, 15
Waterproof: No
BOA Option: No
Colors: 8 (Static Black, Everyday Grey, Shadow, Soft White, Reflect Camo Black, Reflect Camo Charcoal, Reflect Camo Navy, Reflect Camo Cobblestone)
Reasons to buy
+
Highly comfortable with no break-in period
+
Impressive stability and traction
The True Linkswear OG Feel golf shoes offer a unique user experience, as they provide a feel that is almost as if you're playing barefoot. But in our testing while you felt a heightened connection to the ground while swinging and walking, the shoes also proved to be extremely supportive and comfortable, which is why they're on this list as one of the best golf shoes available for walkers.
The OG Feel shoes are lightweight in their design and we experienced no foot fatigue after use. They're also available in eight unique colorways, all of which are incredibly stylish. It should be noted that the OG Feel is not a waterproof golf shoe, rather it was intended to excel in terms of its breathability, a performance promise that was realized in our testing.
Specifications
Sizes: 7-12, 13, 14
Waterproof: 100%
BOA option: No
Colors: 4 (Metropolis/Gunmetal, White/White, White/Midnight, Grey/Silver)
Reasons to buy
+
Modern, athletic look
+
Impressive stability and traction
Reasons to avoid
-
Running shoe like fit might not appeal to everyone
Asics' new Gel-Kayano Ace golf shoe is an impressive addition to the spikeless shoe category for 2022. It's a lightweight design that has a modern, athletic look, but the Gel-Kayano Ace also offers stability and support that exceeds what might be expected from such a light shoe. That stability and support comes from a design approach that is often used in high-end running shoes, as a wider toe box and snug-fitting midfoot and heel sections have been utilized.
The Gel-Kayano Ace's sole also excels in terms of the traction it provides, as small rubber spikes and channels have been strategically positioned to maximize a golfer's ability to stay in complete control during the golf swing. The Gel-Kayano Ace is also fully waterproof and available in four different colors for golfers to choose from.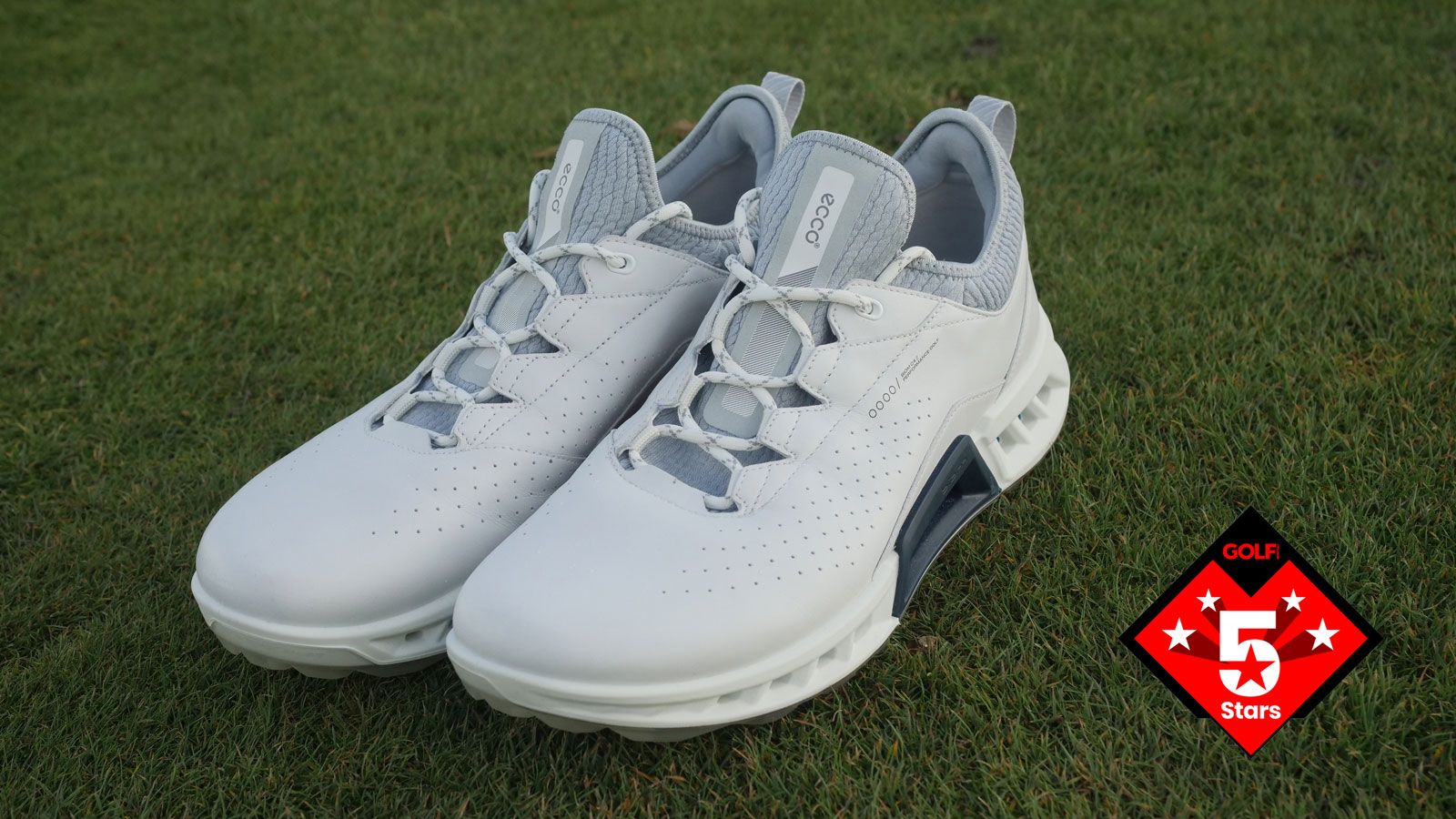 Specifications
Sizes: 6-12
Waterproof: 100%
BOA Option: No
Colors: 4 (White, Navy, White/Black, Grey/Blue)
Reasons to buy
+
Supreme comfort
+
Incredibly soft leather upper
+
All-over breathability
+
Suitable for all feet widths
Reasons to avoid
-
Toe area prone to staining
One of the most technology-packed spikeless golf shoes we've tested this year, the Ecco Biom C4 seriously impressed us with its overall comfort, grip, style and breathability. It's built nicely on the foundations of the excellent Biom H4, which carries over into 2022, but the new sneaker-style has won our hearts from a style perspective, and the performance is there to match.
The Biom C4 uses Ecco's Exhaust Grid technology that scoops fresh air towards the sole of the foot to keep it cool. This, combined with Gore-Tex surround and breathable Ortholite insole makes this the most breathable shoe we've tested in 2022 by some stretch. Another excellent touch from Ecco is that the insole is removable to allow for more width in the shoe. This will make the Biom C4 suitable for those with wider feet and there was still the same amount of comfort and cushioning with the first insole removed.
I's certainly a step in the more athletic direction for an Ecco shoe, and we think this aesthetic move will attract golfers of all ages into Ecco shoes - we think these are some of the best looking golf shoes this year
Specifications
Sizes: 6.5-13
Waterproof: Water-resistant
BOA Option: No
Colors: 2 Men's (Black and Grey)
Reasons to buy
+
Excellent HOVR cushioning
+
Sole provides good grip
Reasons to avoid
-
Only a couple of colors to choose from
Another in Under Armour's line of HOVR shoes, the Forge RC SL unquestionably fits into the comfortable category of golf shoe thanks to the HOVR cushioning, which supports the natural motion of the foot and provides a soft underfoot feel.
Additionally, the HOVR foam, which moulds to your foot thanks to a compression mesh, delivers explosive energy return during the swing. We love the low profile feel and the soft feeling underfoot stays the same, round after round. It provides a spring in your step when walking while also helping you stay grounded for longer during the swing.
As far as grip and stability goes, the shoe coped well with uneven lies primarily because of the Rotational Resistance outsole. We also really like the modern and cutting-edge aesthetics.
Specifications
Sizes: 7-12
Waterproof: 100%
BOA Option: No
Colors : 3 (Black/White; Grey/White; White)
Reasons to buy
+
Extremely comfortable from the start, with excellent cushioning around the heel
+
Good waterproof properties and very good grip in the wet for a spikeless golf shoe
Reasons to avoid
-
Styling perhaps errs a little on the safe rather than eye-catching side
Combining a relaxed design with Skechers patented Arch Fit technology the Skechers Men's Go Golf Drive 5 Golf Shoe is a comfortable spikeless golf shoe that offers great performance on the course. Firstly there is ample cushioning on offer here, and these shoes almost felt like slippers the moment we put them on. Walking and playing in, these shoes were very nice and didn't rub on our heels.
They were also totally waterproof and kept our feet dry during a rather wet round. on the course. That also gave us a great opportunity to test the shoe's grip and again, the shoe proved it could withstand the elements, providing us with excellent traction off the turf with no sliding issues. The lack of spikes on the shoe and its cool style mean it is a very versatile on-course/off-course shoe that can also help improve your playing performance. For that reason, the Skechers Men's Go Golf Drive 5 Golf Shoe is one of the best spikeless golf shoes (opens in new tab) on the market.
Specifications
Sizes: 6.5-11
Waterproof: 100%
BOA Option: Yes
Colors: 4 Men's (White, Black, Grey, Green) 2 Women's (White, Black)
Reasons to buy
+
Super comfy
+
Lots of performance for the price
Reasons to avoid
-
Some sections are difficult to clean
With a set of colors and a design that is sure to make you stand out from the crowd, the CodeChaos shoe from adidas caused quite the stir when it was unveiled. And yet despite the outlandish design, it is one of the best adidas golf shoes (opens in new tab) you can buy because the performance really does stack up to other premium golf shoes.
Golfers will really enjoy the soft, spongy feeling underfoot when you first slip the shoe on and whilst walking because it definitely has a trainer-like fit and feel to it. During testing we couldn't fault the grip on offer either - it provided a slip-free platform from which to swing on a variety of different lies and the wet ground conditions didn't seem to make a difference.
Specifications
Sizes: 6.5-12.5
Waterproof: 100%
BOA Option: Yes
Colors: 4 Men's (White, Black, Grey, White) 4 Women's (White, Black, Pink, White)
Reasons to buy
+
Stylish and supremely comfortable
+
Grippy and waterproof
Reasons to avoid
-
Softer feeling models underfoot
Ecco is well known for producing comfortable golf shoes, and the Biom Hybrid 4 is no different. In fact, since its release, it's quickly becoming one of our favorites and is definitely among the best spikeless golf shoes (opens in new tab) available right not.
The comfort comes from the Fluidform Technology which promotes a process by where specialized fluid materials form around the foot to deliver an unparalleled balance of cushioning and rebound. There is plenty of rom upfront which aids comfort by giving your toes plenty of maneuverability, whilst the back section feels locked in. This is important for grip and stability.
It isn't the softest feeling spikeless shoe underfoot, but sometimes you don't want your golf shoes to feel overly squishy when on the course – there's enough give there not to feel cumbersome when walking, while still providing a solid base from which to swing. Furthermore, the entire shoe is breathable and waterproof, while the stylish design means it's suitable for wear on and off the course.
Best New Spiked Shoe For 2022
Specifications
Sizes: 6.5-12
Waterproof: 100%
BOA Option: Yes
Colors: 4 (Black, White/Navy, All White & White/Blue/Orange)
Reasons to buy
+
Snug fit gives immense comfort
+
Locked-in feel
+
Styling has broad appeal
Reasons to avoid
-
Boost outsole difficult to clean
In our opinion one of the best spiked shoes to be released in 2022, the adidas Tour360 22 golf shoes immediately impressed us when we tried them out on course. The upper features a premium rich leather which is 100 percent waterproof and you also get a one-year waterproof warranty as well which gives good peace of mind. adidas has also incorporated recycled materials into the design to continue the brand's goal of ending plastic waste.
The shoe mimics the natural shape of the foot and accommodates the movement of the foot in all directions, even throughout the golf swing. The Tour360 22 also has cleats directly injected into the base of the shoe which provide excellent grip with a low profile look. It also means you won't ever have to worry about losing spikes ever again.
Specifications
Sizes: 7-11
Waterproof: 100%
BOA option: No
Colors: 3 Men's (White, Grey, Black)
Reasons to buy
+
Soft and comfortable while offering excellent grip and stability
+
Modern, sporty styling looks the part too
A new entry to the list this year is the Payntr X001 F shoe. The sports footwear performance brand has already turned heads in the golf world, with its shoe that is said to give golfers a competitive advantage thanks to a unique 3D traction system specifically designed to prevent rotational slippage.
There is also a Responsive Power Plate and midsole cavity that make it easier to utilize ground reaction forces, while the underfoot cushioning and PMX foam midsole provide all-day comfort that is breathable and waterproof. Visually, this shoe will turn heads because there are lots of elements to catch your eye such as the color blocks and laces. Overall it is an impressive debut by Payntr in the world of golf but there is one thing to remember – we found these shoes to come out on the small side, so you might want to opt for a half a size bigger than you normally would.
Most Athletic FootJoy Shoe
Specifications
Sizes: 6-12
Waterproof: 100%
BOA Option: No
Colors: 4 Men's, 3 Women's, 1 Junior
Reasons to buy
+
Really stylish, athletic look
+
Plenty of traction and waterproof protection
Reasons to avoid
-
Shoe upper could have more padding
Bolder in terms of aesthetics than you will find elsewhere in the range, the FootJoy Fuel golf shoe aims to combine those modern, athletic looks with the high level golf-specific performance you'd expect from one of the best golf shoes of 2022. The synthetic upper might not have the refined look of the premium leather alternatives like the Premiere Series but the benefit is how hard wearing it is. We tested the white, blue and grey colorway and thought it was an incredibly versatile option that could be worn with trousers and shorts, in all seasons.
Massaging insoles
Specifications
Sizes: 7-15
Waterproof: 100%
BOA Option: No
Colors: 4 Men's (Black, Snow, Nimbus, Twilight) 5 Women's (Snow, Racer, Stone, Nimbus, Scarlet)
Reasons to buy
+
Use all day
+
Modern, stylish design with good color/size choice
Reasons to avoid
-
Can feel slightly heavy after a day on the course
Whilst G/FORE are synonymous with outlandish designs and color ways, the MG4+ has a more understated, and yet modern look and appeal. Lightweight and completely waterproof, the shoe does not compromise in terms of comfort either thanks to ForeFoam cushioning and a triple density footbed which is "the ultimate massage for your soles."
When we put the shoes through their paces, they were comfortable from start to finish, and performed about as well as is possible on a debut outing and beyond. A common thing with spikeless shoes can be less stability and grip than spiked models but there was never a situation in which this came to fruition in these shoes. This is thanks to the non-slip outsole and the stability comes from the heel cup at the back of the shoe that really locks the foot in place without sacrificing any comfort.
Italian styling
Specifications
Sizes: 7-11
Waterproof: 100%
BOA Option: No
Colors: 3 Men's (Navy/Kobalt, White, Black)
Reasons to buy
+
Foam and waterproofing create comfort
+
Something a little different
Reasons to avoid
-
Styling will not appeal to everyone
Fashion and style underpin Duca del Cosma's brand ethos, but there's plenty of technology packed into the Flyer shoe that makes it a delight to take a walk in. Chief among this is the waterproof but breathable internal bootie membrane, meaning external water is kept at bay while internal moisture created can escape. Not only this, but the memory foam Arneflex insole, which is also covered in cow leather, offers incredible comfort underfoot. If you're looking for something a little bit different this year, we would recommend that you take a closer look at the Flyer.
Specifications
Sizes: 6.5-12.5
Waterproof: 100%
BOA Option: No
Colors: 4 (Black, White, Navy, Brown)
Reasons to buy
+
Leather construction gives premium feel
+
Excellent fit
+
Unique and yet somehow understated styling
+
Good price poin
Reasons to avoid
-
Not the best winter golf shoe in terms of grip
-
Leather may start to crack after a while
The shoe has a full-grain leather upper which is not only waterproof, but it adds a really premium feel to the shoe. The shoes fit excellently and provided a firmer feeling underfoot which we really enjoyed when out on course. It should be said if you want a really soft golf shoe perhaps look elsewhere.
One particular comfortable design feature we liked was the FitFoam Geo element around the heel which protrudes outwards and creates a precise fit around the ankle. It also stopped any rubbing or discomfort in that area as well. Of course there is also Boost midsole cushioning which always performs as it should.
How we test golf shoes
Our golf shoe testing methodology revolves around putting models to the test over a number of rounds and in different conditions. This is so we can gain a better idea of overall performance in terms of factors like grip comfort, grip, stability, waterproofing and how they actually look on the golf course. Each of the shoes listed above has been personally used by a member of the Golf Monthly team.
This is the best way of testing a golf shoe as using it in the real world over a number of weeks allows us to see how they perform when variables change like weather, ground conditions, different stances and lies, and so on.
We think this also gives us information on the little details as well like which brands come up small or large, which models start to rub a bit too much after 36 holes, which designs can be used off the golf course and for the drive home? We are very comprehensive in our tests to the point where we will regularly attend product launches and meet with the manufacturer's R&D experts to understand the new technology. That isn't to say manufacturers can buy a good review though, as all our reviews are made by golfers, for golfers.
How to choose golf shoes
Comfort
As you would expect, when it comes to the best golf shoes for walking, comfort is king. As we stride the fairways and greens, if we are in an uncomfortable pair then we can get distracted especially if the discomfort causes blisters and rubbing. We recommend trying on some models before you buy to see what you like the feel of, and be aware of some models that have specific foam technologies, or specific sole designs that are designed to house your feet in all day comfort.
Grip/Stability/Traction
All three of these things are important because they allow you to commit to golf swings and play with confidence. If a pair doesn't deliver on these then you may slip, causing a bad shot or even worse, a bad injury. As a result, many of the models above, in both spiked and spikeless designs, have specifically designed traction patterns and lugs to make sure your feet don't slip.
Looks
This is entirely subjective but you need to make sure you like the look of your golf shoes and there is a model above for all different types of fashion sense. If you want a traditional design then something like the FootJoy Pro/SL will work well, whereas if you want to stand out a bit more, the adidas Codechaos is something to consider.
Waterproofing
If you are going to be walking in all weathers then you need a waterproof model too. Thankfully most of the models above provide 100% waterproof protection and we also recommend checking out specific brands that have long waterproof warranty's.
Sizes
It sounds like an obvious thing to say but make sure you get the right size for your feet. It is worth trying models on and making note of brands that come up slightly smaller or larger. For example Nike often comes up half a size bigger than my normal shoe size.
Budget
Be aware of how much you want to spend because there is a model above for people at different price points.
FAQs
Are golf shoes okay for walking?
Yes definitely. Modern golf shoes are designed to be as comfortable and supportive across 18 holes of golf. Most golfers will cover anywhere from 3 to 6 miles playing a game of golf, so pretty much all golf shoes will be suitable for other walks too.
What are the most comfortable golf shoes made?
The most comfortable golf shoes are often made with soft, full-grain leather uppers and come with plenty of support and padding in the midsole. Our guide on the most comfortable golf shoes goes into more depth on the most comfortable golf shoes currently on the market.