Best Puma Golf Shoes 2023
We take a look at the best Puma golf shoes currently on the market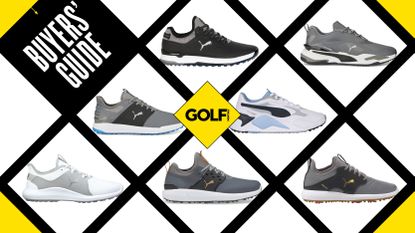 (Image credit: Golf Monthly)
Best Puma Golf Shoes: Quick Menu
Puma provide footwear and apparel for professionals like Gary Woodland, Rickie Fowler and Lexi Thompson. That means they are regularly on our television screens so it stands to reason that the brand has to make high-quality, great-looking golf gear. With this kind of backing on Tour, it is safe to say that Puma make some of the best golf shoes on the market right now. Having tested a good amount of the Puma range, we've become accustom to the brand's quality, durability and overall comfort in it's spiked, spikeless and women's range too.
The company's shoes are stylish and feature great technology to help you play better golf. Whether you're looking for ultimate performance, a pair of waterproof shoes, a street-style pair or something that looks a bit different, you'll find a pair to suit your needs with the brand's wide range of footwear. To help you decide which is best for you, we list the best Puma golf shoes in the current range. If Puma isn't the brand for you, we've made other brand-specific guides on FootJoy, adidas and Nike too.
The Quick List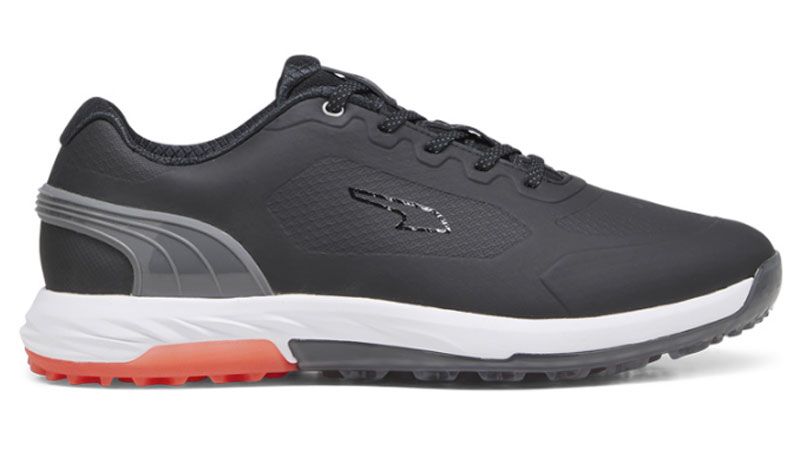 Puma Alphacat Nitro Golf Shoes
Not only does the Nitro look crisp and modern, but the comfort and grip is some of the best on the market. Available in multiple colorways too.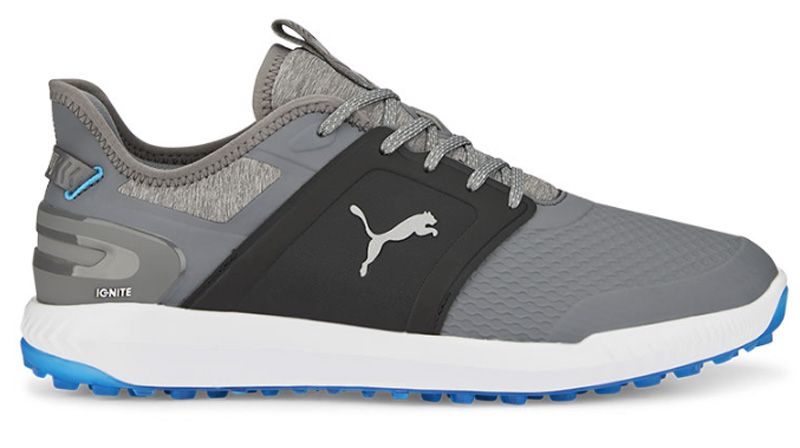 Puma Ignite Elevate Golf Shoe
One of the best-looking spikeless golf shoes of the year, the Elevate brings everything that was great about last year's Articulate on a new spikeless outsole.
Blending urban streetwear styles with golf, PUMA has developed a versatile golf shoe that provides fantastic comfort and support to your feet and ankles.
Puma Proadapt Alphacat Shoe
A solid spikeless shoe that excels in all round grip and support around the ankle. Make sure to get these half a size bigger than you normally would.
The Puma RS-G shoe's style won't be to everyone's taste but it is a great shoe if you're a golfer who likes to make a statement with their fashion style on the course.
Puma Ignite Articulate Golf Shoe
A spiked shoe to compete with the very best. The improvements on last year's model are minimal, but it provides excellent traction, support and a sharp look.
Best Puma Golf Shoes
Why you can trust Golf Monthly Our expert reviewers spend hours testing and comparing products and services so you can choose the best for you. Find out more about how we test.
Spikeless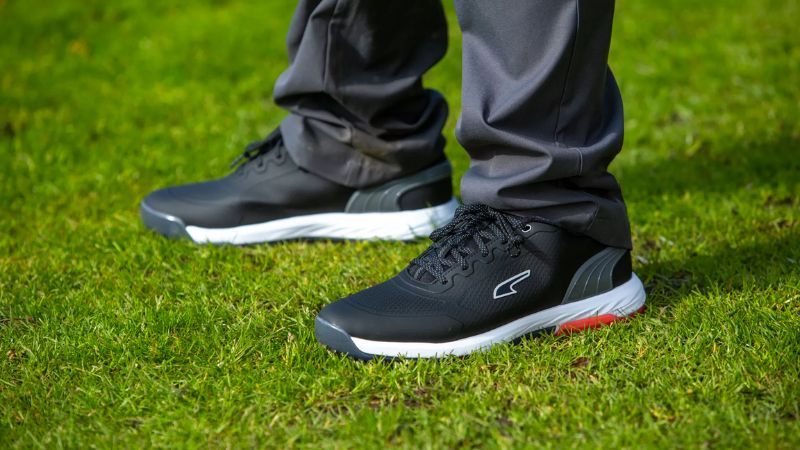 A stunning shoe that performs like a spiked model
Specifications
Sizes: 6-12
Waterproof: Yes
BOA Option: No
Colors: 3 (White/Grey; White/Red; White/Black)
Reasons to buy
+
Cleverly designed sole performs like a spiked model
+
Modern, crisp looks will appeal to most
+
Superb comfort thanks to the Nitro Foam materials
Reasons to avoid
-
Breathability not as good as other premium models
Perhaps one of the best spikeless golf shoes in the game right now, the Puma Alphacat Nitro golf shoes are one of the grippiest sneakers on the market and deliver excellent comfort as well as a sporty aesthetic. Puma are well known for designing some of the best golf shoes in the game and we loved the visuals on these trainers. The only slight issue is that the midsole does pick up dirt quite easily, which can obviously be wiped away after your round has finished. But overall, they suit players not looking to go too bold in their sneaker choice, but deliver a smart and understated design that looks great.
These shoes are also some of the lightest on the market too. Out of the box, we noticed straight away how lightweight they were. Standing up revealed that they also delivered bags of comfort, keeping our feet perfectly cushioned too! They feature Advanced Nitrogen-Injected Foam which provides plenty of comfort to your feet as you walk the course. But these shoes really excel when it comes to grip. Having tested them on wet and dry conditions, we've had no problems with slipping or balance here, which is a big deal considering they are a spikeless shoe. The Alpha Traction sole design on this shoe is cleverly constructed with rubber grips that work together to provide grip in areas that suit you the most.
Puma Ignite Elevate Golf Shoe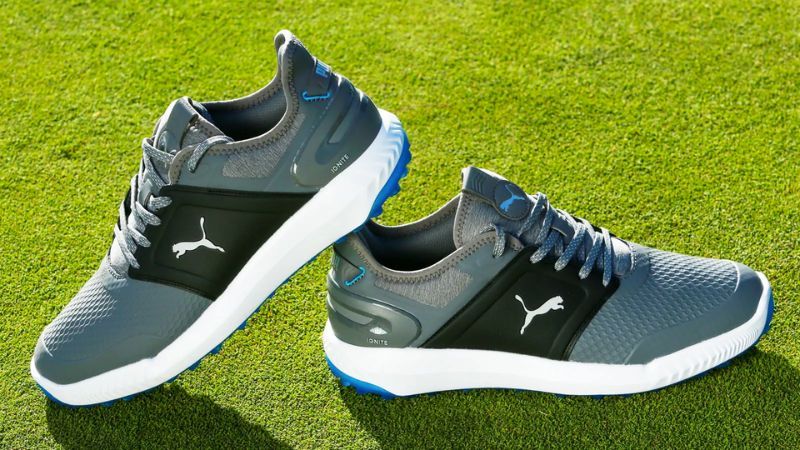 One of the best-looking spikeless golf shoes on the market
Specifications
Sizes: 7-12
Waterproof: Yes
BOA Option: No
Colors: 3 (All White; Black/Silver; Grey/Black)
Reasons to buy
+
Soft midsole and upper
+
One of the best-looking spikeless shoes of the year
+
Excellent on/off course wearability
Reasons to avoid
-
Outsole not as comprehensive as rivals
An upgrade on the Puma Ignite Articulate the Ignite Elevate expands on what was one of the best golf shoes to be released in 2022. The Elevate does look very similar to its predecessor and we loved the combination of materials the brand has used to develop what is a fantastic looking golf trainer. It comes with a textured upper that is contrasted by a black 'cage' area across the shoe. The pops of color adds to the quality feel the Elevate delivers and we also liked the the addition of a fabric 'sock' area near to the top of the shoe that again boosts its shelf appeal.
On testing, we found that the upper and midsole feel very soft as you walk. Puma have also added a back section which they've call the Exoshell and that aims to deliver 360º of support to your feet. On testing we found it really does lock you in place, but doesn't feel too intrusive. While we do think the grip may struggle in wet conditions, it certainly performed in dry conditions too and offered a low-profile that gives the shoes a lot of versatility to be worn on and off the course. Overall, the Elevate is a stunning spikeless golf shoe that will appeal to many kinds of players.
PUMA GS-Fast Golf Shoes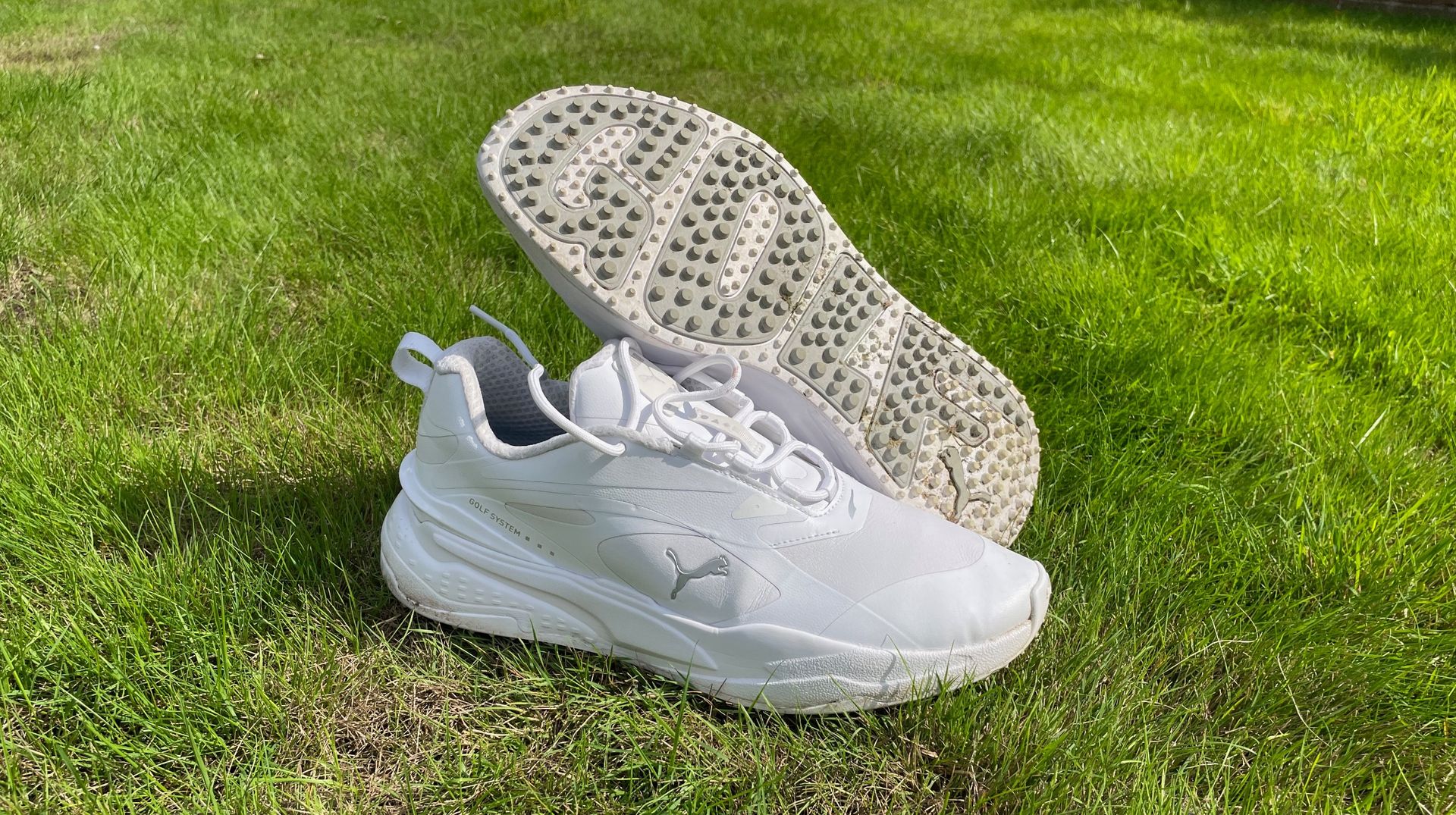 The best shoes for comfort and to stand out
Specifications
Sizes: 7-12
Waterproof: Yes
BOA Option: No
Colors: 6 (White; Black; White and Black; White and Blue; White and Grey; Black and Gold)
Reasons to buy
+
Unique styling
+
Excellent comfort and support
+
Offers decent grip on the ground
Reasons to avoid
-
Style may not be to everyone's tastes
PUMA have always been a front runner when pushing the boundaries to design trendy yet functional golf shoes and the GS-Fast, an update on their much talked about RS-G Golf Shoes, certainly continues that trend. These are a statement shoe for those players wanting to complete a streetwear look on the course. Admittedly these shoes will not be everyone's cup of tea and we did get several comments about them from playing partners and other members of the golf course when we first tested them out.
But aesthetics aside, our testing procedures showed us that PUMA have put an awful lot of technology into these shoes, making them one of the most comfortable spikeless golf shoes on the market. Their chunky sole provides exceptional level of cushioning as you walk around the course, while the mesh sock-liner prevents the risk of blisters arising on your feet.
The GS-Fast comes with a wide rubber outsole that is littered with a ton of small rubber studs. That means these shoes are better used as a summer golf shoe but still performed very well in slightly soft autumnal conditions with their grippy outsole providing solid traction on the turf. They are also completely waterproof and are very easy to wipe down after your round.
Puma Pro Adapt Alphacat Golf Shoes
Best for support around the ankle
Specifications
Sizes: 7-12
Waterproof: Yes
BOA Option: No
Colors: 3 (Black, Grey, White)
Reasons to buy
+
Stylish, solid grip
+
Trainer-like aesthetic
+
Excellent support around the ankle
Reasons to avoid
-
Take quite a bit of breaking in
A shoe design that looks very much like a trainer, we recently put the model through its paces. First things first the Adapt Foam, a combination of EVA cushioning and an impact resistant polymer, creates a firm feeling shoe whilst still being comfortable. This shoe does not fall into the trap of being too soft.
Our testing revealed the shoes highlight to be the support it provides around the ankle. Once your foot is in the shoe it feels locked in place, giving you the ability to confidently swing for the hills on an awkward lie without the feeling that your foot might move.
From an aesthetic point of view we think Puma has got it right here. We tested the grey and white model which really looks smart thanks to the the shock of orange that dominates the heel and the faux mesh pattern across the whole shoe. The Alphacat strikes a poised look in the two other colorways too and the grey and black versions have similar, sharp contrasts. We'd also highly recommend getting them half a size up, as they come up a little short around the toe area and we were most comfortable in a half size up from normal.
Puma Golf RS-G Shoes
An ultra-comfortable pair for those wanting something a little different
Specifications
Sizes: 7-13
Waterproof: Yes
BOA Option: No
Colors: 7 (Pureed Pumpkin; Dark Shadow; Peacoat; White/Red Blast; Paradise Navy Blazer/Blue Glow, Quite Shade; Peach Skin)
Reasons to buy
+
Very comfortable
+
Versatile due to trainer-like styling
+
Impressively stable
Reasons to avoid
-
Divisive styling won't be for everyone
The RS-G is one of the most talked-about shoes since it launched, as it breaks new ground in golf shoe design, blending street and sport culture with golf performance. The design of the shoe takes its inspiration from Puma's extremely popular RS series of shoes, which were first introduced in the 1980s. We tested them for a couple of rounds and have to say, we really enjoyed the experience. The laces are unusually thick but the shoe feels really soft and snug, to the point where you might want to go up half a size, and you definitely don't feel as high off the ground as the sole design suggests.
The level of grip was sufficient, even when testing during an unforeseen rain shower (our feet stayed dry too), and there's a good level of stability on offer. The white/grey colorway goes perfectly with a grey pair of slacks and they just didn't seem as out of place visually as we were expecting. The women's version in particular has proven extremely popular which comes as no surprise to us because we included it in our guide on the best women's golf shoes. Olivia Cowan in particular has shown how much she likes the shoe regularly wearing it out on Tour.
Spiked
For that 'locked in' feel on course
Specifications
Sizes: 6-13
Waterproof: Yes
BOA Option: No
Colors: 2 (White/Silver & Grey/Gold/Black)
Reasons to buy
+
Comprehensive grip from the new outsole
+
360° support
+
Sharp, understated looks with plenty of color options
Reasons to avoid
-
Very little difference to previous Puma spiked shoe
Articulation geometry is behind the somewhat quirky name of the latest spiked shoe from Puma. The new technology allows the shoe to move with your foot while still providing a strong level of support. In practice, it works brilliantly and the shoes were a pleasure to play golf in. The styling is subtle but smart and Puma's Ignite Foam provides a good amount of comfort and energy return in the midsole.
There isn't a traditional shoe tongue either and it is replaced with a single construction that provides plenty of support around the whole foot. There is then a 'cage' - pictured in black across the shoe - which wraps around any foot shape for added support. Much like with the FootJoy Tour Alpha, the shoe really creates a 'locked-in' feeling once the laces are tightened.
How we test golf shoes
Our golf shoe testing methodology revolves around putting models to the test over a number of rounds and in different conditions. This is so we can gain a better idea of overall performance in terms of factors like grip comfort, grip, stability, waterproofing and how they actually look on the golf course. Each of the shoes listed above has been personally used by a member of the Golf Monthly team.
This is the best way of testing a golf shoe as using it in the real world over a number of weeks allows us to see how they perform when variables change like weather, ground conditions, different stances and lies, and so on.
We think this also gives us information on the little details as well like which brands come up small or large, which models start to rub a bit too much after 36 holes, which designs can be used off the golf course and for the drive home? We are very comprehensive in our tests to the point where we will regularly attend product launches and meet with the manufacturer's R&D experts to understand the new technology. That isn't to say manufacturers can buy a good review though, as all our reviews are made by golfers, for golfers.
How to choose the best golf shoe
Spiked or spikeless?
The best golf shoes above are split into spiked (or cleated) and spikeless designs and there are pros and cons of each. Spiked golf shoes offer better grip and stability but don't sit as low to the ground as spikeless models.
Spikeless golf shoes offer off-course versatility. They are perfect for driving in the car to the golf course, playing a round, and then driving home again because they are usually light and comfortable, but most won't offer as much traction as a spiked shoe.
Waterproofing
If you live somewhere that gets a lot of rain then a waterproof shoe is a must. The best designs will keep your feet bone dry however if you play golf in glorious sunshine most of the time, then you may view other factors as more significant.
Many players choose to have one pair for winter and another, lighter pair for summer to keep them fresh and suit different requirements.
Getting the right fit
When picking out golf shoes getting the right fit is important because otherwise blisters can build up. Or your feet may slide around inside, which limits your stability.
When trying a pair on for the first time, listen for the 'whoosh' sound when you slide your feet in - that's the sound of all the air leaving the shoe to confirm it is the correct size, but do a walking test to be sure. They shouldn't pinch anywhere, nor should your feet be moving around inside.
When it comes to the right fit it is also worth considering different laces. Normal laces are good for most but for some golfers, BOA laced shoes provide more convenient fastening and shouldn't loosen during the course of a round, but are usually a tad more expensive.
Styling
Thankfully modern golf shoe design has seen many brands not just create traditional, classic-looking shoes, but also modern styles that can be used off the golf course too. Therefore it is important to think about what your shoes look like and what style suits you. Whatever you like or dislike, there is something for everyone these days.
FAQs
Are Puma good golf shoes?
Yes. Pairs of golf shoes made by Puma regularly make it into our list of the best golf shoes. Puma make some excellent spiked and spikeless golf shoes for men and women.
Do Puma golf shoes fit true?
In our testing of a range of Puma shoes, they do fit true. The only exception to this was the Puma Alphacat and Puma Articulate golf shoe, where we'd recommend going at least half a size up.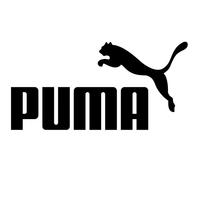 Find one of our Puma coupon codes to save some dollars on sportswear, including trainers & branded clothing.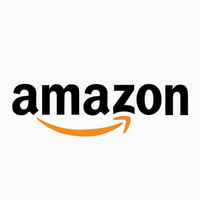 Get saving on those Amazon orders with these coupon codes to help reduce the price in your basket.