Best Wilson Golf Clubs 2023
There are a number of fantastic Wilson clubs currently available. Here, we take a look at the best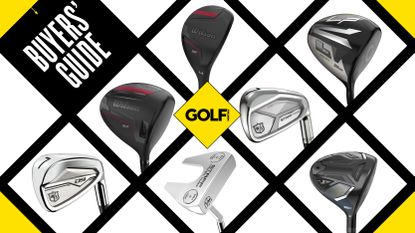 (Image credit: Future)
Get the Golf Monthly Newsletter
Thank you for signing up to Golf Monthly. You will receive a verification email shortly.
There was a problem. Please refresh the page and try again.
If you're in the market for new equipment then Wilson is a brand that should definitely be on your radar. Founded in 1914, the Wilson Staff golf department has been making top-quality golf clubs for over 100 years. Interestingly, the brand claims that its irons have won more Majors than any other brand on your radar, with the likes of Gary Woodland, Padraig Harington, Vijay Singh, John Daly and Bernhard Langer currently, or previously, opting to use the brand. For that reason, it is safe to say Wilson Staff is one of the most established and best golf club manufacturers in the game right now.
But what is truly excellent about this club manufacturer is that it caters to a wide range of golfers. From junior players right up to Tour professionals, Wilson produces a wide variety of equipment that can help any player improve and, in this guide, we've set out our picks for some of the best Wilson golf clubs in the company's current lineup. Use this guide to make a great selection for your game, or check out some of our other guides, such as the best golf irons or best golf drivers for insights on other top brands.
Best Wilson Golf Clubs
Best Wilson Golf Sets
A solid, cost-effective option that is perfect for anyone looking to kit themselves out with a quality set of golf clubs, this offering from Wilson is one of the best and most complete club sets on the market. Featuring 10 clubs that include a driver, 3-wood, 5-hybrid, 6-iron to SW and a putter, beginner players will have a blast playing with these smart-looking golf clubs. The bag is made of high-quality materials and we thought it had a very simple design with ample pockets and an easy-to-use seven-way divider.
The highlight of this set though are the irons. Both in the bag and behind the ball, they have a smart look that inspires confidence ahead of your swing. The toplines are thick, but not too chunky. The driver and woods both offer ample distances off the tee, while we thoroughly enjoyed playing with the putter. However it's worth noting that we would recommend replacing the grip with a thicker offering from our best golf putting grips guide.
If you're new to golf, you want every bit of help getting the ball in the air, plus you need plenty of forgiveness when you don't find the centre of the clubface. The sweetspots on the clubs in this SGI set are large and forgiving, while the heads themselves inspire confidence. We found the lower end of the bag to be fantastic, with the irons and putter the best performers among the setup. Fitted with a sturdy men's regular flex shaft, the irons and wedges feel really strong whilst swinging, with the thick top line and large sweet spot making the ball feel huge when you are setup.
We found the irons in particular achieved the desired forgiveness, while the wide sole of the sand wedge makes escaping bunkers far easier, which is an area of the game beginners can really struggle with. This set comes with a 10.5° driver, a 3-wood, hybrid, 6-iron to sand wedge and an excellent putter to match. Other sets may come with more clubs (this is a 10 piece set), but it does mean you can add extra clubs as your game improves.
The Wilson Magnolia set offers excellent value as there is a choice of either a cart or carry bag to hold a driver, 3-wood, 4, 5, 6 hybrids and a full iron set (7-SW), plus a putter. A high-lofted driver with an oversized head profile is designed to instill confidence, forgiveness and maximum distance off the tee, whilst the fairway wood and hybrids feature a large sweet spot and low weighting to make shots easier to play from a variety of lies.
The metalwoods and irons are all fitted with decent lightweight graphite shafts that feel easy to swing. The driver has a very rounded, oversize head with lots of loft to give you confidence and help you launch your tee shots easily. We found that the irons were easy to launch due to the oversized head and clever weighting, while the consistency is enhanced on the greens thanks to the putter's alignment aid.
Best Wilson Drivers
The Wilson Dynapower Carbon driver is a visually appealing driver that should perform admirably against what's already in your bag. It is by far one of the most adjustable drivers ever created by Wilson and is available in both Carbon and Titanium head options. The carbon model is designed for slightly better players and, as you might infer from the name, it boasts carbon fiber panels on the sole and crown of the club, making it an excellent looking driver for its premium visuals and superb lightweight feel.
While there is a lot of carbon fiber in this club, the sound on impact is quite dense and short. Some players may or may not like this level of feedback but, in our testing sessions, it certainly felt solid and stable. While it did struggle to keep up with launches of clubs like the TaylorMade Stealth 2, falling around 5-10 yards short in distance, it still offers excellent firepower off the tee.
Importantly, it delivers on its promise of a neutral-to-slight fade shot shape bias, making it an excellent choice for anyone struggling with a slice. This meant that it did allow us to feel comfortable putting full commitment behind each shot, knowing the ball would still find fairways. The adjustability does help to optimise ball flight plus, it's worth noting that, while it may not be able to deliver the same distance as some of the best golf drivers on sale right now, its $520 price tag will be very appealing prospect for many players.
Wilson's new Launch Pad 2022 driver was designed with one goal in mind - to help golfers who struggle with a slice square the clubface more easily at impact. By utilizing heel weighting, an offset hosel design and an upright lie angle to create a draw bias, the brand have certainly succeeded as it's one of the best drivers for slicers.
The Launch Pad 2022 driver was also developed to be extremely lightweight in each of its components (grip, shaft, and head) to help moderate swing speed players move the club more quickly and generate greater ball speed. There is also Wilson's Peak Kinetic Response face technology, which would best be described as a variable face thickness design. This helps maintain that ball speed on shots struck from somewhere other than the middle of the clubface, making it one of the best drivers for high handicappers.
Wilson's D9 driver is one of the most forgiving drivers for golfers who are looking for more consistency off the tee. It performs very well on off-center strikes and launches the ball high with ease. Designed to help recreational players find more fairways and improve their carry numbers, one of the reasons why the D9 is so forgiving is the use of a lightweight crown that has been constructed using carbon fiber and Kevlar. This allows engineers to move the center of gravity lower and deeper in the head to improve stability at impact.
The D9 is also competitive from a ball speed standpoint, as its titanium clubface was engineered using specific fractal zones to help optimize ball speed from strike locations across the face. The one thing golfers do need to be aware of is that the D9 driver is a bonded hosel design, meaning face and lie angle cannot be adjusted. There are, however, three lofts to choose from at 9°, 10.5° and 13°. There is also an adjustable weight in the sole to help players fine-tune their launch and spin characteristics.
Best Wilson Fairway Woods
The Wilson Dynapower fairway wood is the newest addition to the Wilson range for 2023 and, thanks to a generously sized, pear shaped head that comes in a satin black finish with red detailing around the perimeter, it will appeal to a wide range of golfers, especially as it's one of the most forgiving fairway woods on the market.
Loaded with technology, the sole of the Dynapower fairway features Wilson's trademark shield logo as well as its iconic brand name. There is also 12g weight situated towards the rear of the sole which helps produce a high MOI and stable clubhead while increasing the launch and forgiveness. Designed with the majority of golfers in mind, both visually and performance wise, the Dynapower is a fairway wood that wouldn't be out of place in both high-handicappers and Tour professionals bags this season.
The Wilson Launch Pad fairway wood does exactly what it says on the tin and would make a great addition to any high handicappers golf bag. To begin with, the fairway woods are simple, uncomplicated and designed for improving golfers that want clubs that are easy to use and which correct some of their swing faults. In this case, the Wilson Launch Pad fairway will help dampen down a slice.
The most obvious thing you notice about the Wilson LP fairway wood is that it sits very closed and has an obvious draw bias. This naturally benefits the golfer who slices the ball, as it will help straighten up the ball flight. What's more, the Evenflow shaft is light at 55g, but adds a premium touch to a value driven product. The Launch Pad inevitably flies high but has plenty of forward momentum suggesting that the shaft and head are well set up to keep spin rate down.
Best Wilson Hybrids
The Dynapower is certainly one of the most forgiving hybrids we have tested and perfect for those seeking a confidence inspiring look behind the ball. It has one of larger hybrid profiles on the market and, on initial inspection, the length of the face was the first thing that caught our eye.
In testing, the performance matched the aesthetics, with the Dynapower producing a soaring high ball flight which came into greens with a steep descent angle, making it perfect for those looking for more help with approaches from distance. It's worth noting that it does have a slight draw bias which won't suit all golfers. eBecause of its pleasing feel at impact, as well as the turf interaction from both the fairway and the rough, it really is one of the best golf hybrids anywhere on the market and continues the historic Wilson brand name.
As soon as you set the Wilson D9 hybrid behind the ball, it inspires confidence. That makes it an attractive option for all golfers, especially as it's one of the best hybrid golf clubs for high handicappers.
On the technical side, it delivers too. The variable face technology provides high ball speeds and makes it really easy to get in the air, something that can't be said for all clubs of this type. It also comes with a fairly compact head, which is interesting considering how forgiving this hybrid is.
Overall distance isn't the best with this club compared to some of the best hybrids on the market but, on the flip side, the control and consistency on offer here makes this one of the most forgiving clubs we've tested. Engineered using the same premium steel that Titleist uses, you know you're getting quality but at a fraction of the price and, while it boasts a lot of quality, it is best suited to the golfer who wants a trusted club to get them out of bother when things go awry on the course.
An easy-to-hit all-rounder that is excellent for high handicap golfers, the Wilson Launch pad hybrid is a superb hybrid golf club that offers great forgiveness and the potential for game improvement. It is a blend of a fairway wood and hybrid and comes with a generously sized 19.5º head that launches well and helps stop the ball easily on the greens.
In testing, we noticed how closed the face is to deliver a clear draw bias to help strike the ball further and eliminate a slice. That is an odd sight for experienced golfers but is a great addition to help flight the ball nicely. It also delivers on all main selling points, and can be struck out of a range of lies including rough and tight bare fairways. Overall, we enjoyed playing with this club and felt the distance it offered was excellent compared to other top-quality hybrid clubs.
Best Wilson Irons
Wilson have always been a brand that produces some of the best distance irons and most forgiving irons, with their latest offering doing just that as it's an iron that feels faster than most other premium models on the market. This club, which is also on our 2023 Editors Choice Awards, has all the hallmarks of a game improvement iron - notably generous offset and a wide sole but the topline has been made thinner to appeal to a slightly lower handicap range than the D9.
What you certainly get with the Dynapower is value for money, with a set costing considerably less than the best Mizuno irons or the best Titleist irons. The irons are also crammed with technology, as thanks to the use of Artificial Intelligence, Wilson's engineers have been able to optimise the face architecture and reconfigure the Power Holes 3.0 on the sole to perform better for its target player.
The ball flight is fairly flat, as you might expect, which means golfers with slower swing speeds may struggle to fulfil this iron's distance potential. That said, for us this iron was fast from a wide area and pretty consistent. The shot pattern was left of target, likely down to the offset, but it was nice knowing the ball would draw pretty much every time so I could allow for it.
The Wilson D9 Forged irons fall into the player's distance iron category and, as such, will suit a wide array of golfers. The D9 Forged irons, which are replaced Wilson's D7 Forged irons, offer players the compact, classic shaping and soft, forged feel that they want, but with an influx of ball speed and forgiveness that makes them more playable than a traditional blade or a smaller forged cavity back.
The D9 Forged Irons have a number of facets that help to create fast ball speeds. They have an expanded sweet spot and more power holes along the sole of longer irons to help the face flex more at impact to provide consistently fast speeds from across the face. In terms of their look, the D9 forged irons would qualify as quite compact in the player's distance iron category, including a shorter blade length and relatively thin topline and the 8620 carbon steel that has been used to forge the face provides a soft yet responsive impact sound and feel.
When it comes to the best golf irons for beginners, the Wilson Launch Pad 2022 is among the leading contenders. Certainly, there will be those who can't get past the unusual looks, which in many ways are more hybrid-like than iron-like. But the reality is that for higher-handicap golfers who need help when it comes to distance, launch, forgiveness and consistency, the 2022 Launch Pads warrant serious consideration.
As for what makes the Launch Pad irons so playable, it's a variety of factors. Their hollow-body design enables a thinner clubface, a combination that promotes speed and naturally higher launch conditions. Additionally, the rounded, wide soles that each iron features, improves turf interaction for golfers with steep angles of attack, a frequent issue for high-handicappers and those who are new to the game.
Discretionary weight has also been distributed lower and deeper in the 2022 Launch Pads to further enhance launch while also reducing the twisting of the clubhead on mis-hits, which keeps poorly struck shots from straying too far offline.
The new D9 irons are a game-improvement offering from Wilson, but it must be said that the overall packaging of the D9s has been significantly slimmed down when compared to their predecessors, the D7 irons. That said, from a distance standpoint, the D9s pack every bit as much punch as the D7s, if not more, and have proven to be one of the best distance irons we've tested in the game-improvement category.
That distance comes in part thanks to Wilson's urethane-filled power holes, which have been positioned along the sole of the club to maximize face flex at impact. The result is faster ball speeds from across the clubface, as well as higher launch. Aiding in the launch conditions and, more importantly, the high level of forgiveness that the D9s provide is what Wilson says is the lowest center of gravity it has utilized in an iron, which equates to more stability at impact and improved accuracy on off-center strikes.
The Wilson Staff Model CB irons are forged cavity backs that were designed with better players in mind. They feature compact blade lengths, a thin-to-medium topline, and minimal offset and they excel in terms of workability when it comes to shaping shots and controlling trajectory. The Staff Model CBs also offer the soft, forged feel that lower-handicap golfers want, having been forged from 8620 carbon steel.
All that said, this is an iron that offers a level of forgiveness that belies its compact size, which has been accomplished in a couple of ways. For starters, 20 grams of tungsten weight has been utilized in the toe section of the long and mid irons to improve stability on poor strikes and make it easier to launch the ball higher with the lower-lofted irons in the set. Additionally, Wilson's Tri-Brace Stabilizer helps maximum energy transfer from across the face to provide improved distance consistency.
The best utility irons have grown increasingly popular in golf in recent years, as technological advancements have allowed them to rival what hybrids can offer in terms of performance. One of the best, and most underrated, utility irons on the market is the Wilson Staff Model driving iron. These clubs were originally developed as prototypes for touring professionals, but Wilson ultimately decided that recreational golfers could benefit from them as well.
Staff Model driving irons feature a hollow-body construction that combines with a thin, high-strength C300 steel clubface to generate impressive ball speed numbers regardless of strike location. The increased ball speed also promotes higher launch, as does seven grams of added weight in the sole. That said, thanks to its iron-like shaping and relatively minimal offset, better players are likely to be able to control trajectory and shape shots more easily with the Staff Model driving irons, which come in lofts of 18, 21, and 24 degrees, than most hybrids on the market.
Best Wilson Wedges
Wilson relied on its roster of touring pros to help develop its Staff Model wedges. The result of their feedback is a set of wedges that feature classic shaping, a soft feel and impressive spin numbers on shots into and around the green. The Staff Model wedges have been forged from 8620 carbon steel to provide the soft feel that players want and a combination of milled faces and machine-engraved scoring lines deliver high spin rates from any type of lie.
The Staff Model wedges across all loft options, which range from 48 to 60 degrees, feature bounce angles that would qualify as mid-to-high, providing ample forgiveness for a wide range of players. Wilson also offers a Tour Grind option that features a crescent-shaped sole and the heel and toe relief that skilled players want in an effort to easier manipulate the clubface around the green, but most players will fit nicely into the standard Staff Model options.
Best Wilson Putters
A classic Anser style blade putter that has been given the Wilson Staff treatment, the Model BL22 is a very well put together putter that delivers everything you could want from a classic blade. The club has been milled from 304 stainless steel that gives it a very classy look. It comes with a very cool milled face pattern that delivers a soft feel, as it has less points of contact with the ball on impact.
At address, it boasts a long profile with a short black alignment line that offers a very clear aiming guide. Out of the center of the club, the feel was excellent, but if you're slightly off, the quality of the milled head delivers instant feedback and still provides a nice roll on the ball. It comes with a standard Lamkin Deep Edge grip which has a pistol style and is made from a Genesis Material that feels like rubber and should stand the test of time.
One of two mallet shapes in Wilson's latest range of putters, the TM22 boasts some excellent features which make it one of the best mallet putters on the market. We feel that Wilson has surpassed themselves here, employing a clever use of milling lines to create visual differences for alignments. It is made from a 304 block of stainless steel and looks fantastic at the address, framing the ball against the club face thanks to the fangs and different milling patterns you'll notice on the club.
The subtle alignment lines improve the overall aesthetic of this putter, making it a great tool to use if you're looking for more accuracy around the greens. It's also great for those who have a small arc in their swing, thanks to the slight overhang the club's hosel boasts. Combine that with the milling pattern on the club's 3º lofted face and you'll really feel the premium feedback it delivers, even when you hit your shot slightly off center. Not shown above is the premium leather pistol handle that also comes with the club which has some smart contouring around the upper part of the handle which will complement whatever grip style you employ.
Wilson debuted its Infinite line of putters in 2018 and one of the most popular models in the range has been the Buckingham. That shouldn't qualify as much of a surprise, however, given that high-MOI mallet putters have become all the rage in golf of late. The Buckingham falls nicely into that category, and its perimeter-weighted, oversized head design will help players enjoy better speed and distance control on mis-hits.
The Buckingham also features a double-milled face, which gets the ball rolling more quickly, with its PVD finish reducing glare on the sunniest of days. The Buckingham's other most noteworthy feature is its counterbalanced design, as a heavy, 104-gram grip moves the putter's balance point higher to help golfers quiet their hands for more consistent results. Lastly, from a toe hang standpoint, the Buckingham is face balanced, meaning it will work best for players with minimal arc in their putting stroke.
How we test Wilson Golf Clubs
Here at Golf Monthly, we employ a rigorous testing procedure when reviewing any product on our website. All of our writers are experienced golfers who know and understand how to use golf equipment and can ably analyze the benefits and drawbacks of any product. Essentially, we look to test gear to help you make the most informed decision when purchasing a set of clubs or a pair of golf shoes. Specifically, when it comes to the best Wilson Staff golf clubs, we look to test each club in a variety of conditions on and off the course to give us the best possible insight into what that club offers.
Whether we're testing a driver or a putter, we will look to assess the benefits and features each club offers to understand who it is best suited to. We test each club out on the course too, in order to give us accurate readings on the distance it offers, how much spin we can put on each club and the general feel of the ball against the clubface. One thing to note is that we only use premium golf balls when testing new golf clubs and that manufacturers cannot buy a good review.
What to consider when buying Wilson clubs
When buying any golf club, there are many different aspects to consider before you make your purchase. From the length of the club to the type of grip on offer, it can sometimes be an overwhelming choice, which you need to think carefully about to get the right golf clubs that will help you perform on the course. For that reason, we've set out a handy list of points that will help you make the most informed decision, when purchasing your next set of Wilson Staff golf clubs.
1. Length
No matter what golf club you're buying, you need to get the right length of club for your height and swing. If you buy a club that is too long for you, there is a greater chance that you might hit the ball fat. Too short, and you're more likely to top the ball. For that reason, it is always wise to test each golf club before you buy it, and use our handy height guide to establish which length is right for you.
2. Type
One great thing about Wilson Staff is that they produce clubs for every type of golfer, from professionals right down to beginners. But it is important to make sure you're buying the right club for your abilities. Obviously, it is no good for junior or beginner golfers to be playing with forged irons that have little forgiveness. Cavity-backed irons are much more suitable for these kinds of players as they are a lot more forgiving than forged or bladed irons. For that reason, make sure you pick the right irons that are going to improve your game, not hinder it.
3. Loft and shaft flex
This pertains mostly to drivers but is also important for your long irons too. Having the right shaft flex on your clubs can seriously help you to strike the ball longer and further. That depends on your swing speed and if you have a low swing speed you're better off using a more flexible club shaft, while faster swingers are better off using a stiffer club shaft. Equally when it comes to driver loft, those with faster swing speeds are better off picking a driver with a lower loft, while slower players should opt for higher lofts to help them flight the ball better.
4. Mallet or blade?
When it comes to picking the right putter for you, you want to think about how much forgiveness you want to get from your flatstick. Mallet putters offer way more leeway on miss-hit shots than bladed putters, but slightly less feel and control. For that reason, mallets are better for beginner golfers who may be less experienced around the greens.
5. Budget
Budget is always a big factor you should consider when buying any golf club and our advice is to not always go with the most expensive offering on the market. Yes, if you are an experienced golfer looking to break into single digits, you may want to spend a little extra than someone just starting out in the game to get a top-quality set of clubs. But our advice is to always make a note of your budget before heading to the shop and to shop around as much as you can. That way you can secure yourself the best deal for the right clubs for you.
Speaking of shopping around, have you had a look at some of our other guides on the best golf manufacturers? Check out our guides on the best Callaway golf clubs, best Taylormade golf clubs and best Titleist golf clubs.
FAQs
Are Wilson Golf Clubs Any Good?
Wilson might not enjoy the brand recognition of some of its competitors in the current market, but it makes outstanding golf clubs. Its forged irons for better players might be the company's ultimate strength, but it also has developed some excellent game-improvement options in recent years to help mid- and high-handicappers improve their performance on the course. Additionally, Wilson is quietly assembling a loyal following in the metalwood space, as those products in recent years have been highly forgiving and tremendous values.
Do Any Pro Golfers Use Wilson Clubs?
Wilson's presence on professional tours around the world has been on the rise in recent years, with the most notable player on Wilson's roster of touring pros being Padraig Harrington. The Irishman won three Major championships in 2007-08 as a Wilson staff member and has been with the company ever since. Other prominent touring pros on Wilson's roster at present include Gary Woodland, winner of the 2019 U.S. Open at storied Pebble Beach, as well as Kevin Kisner, Brendan Steele, and Kevin Tway.
How many majors have been won with Wilson golf clubs?
Wilson has an incredibly storied history in the game of golf and, at one time, was the most dominant equipment manufacturer in the game, with its products having been played by the likes of Gene Sarazen, Arnold Palmer, and Sam Snead, among others. In all, Wilson clubs have been in the bag for 62 major championship victories, including most recently Gary Woodland's 2019 U.S. Open win at Pebble Beach and all three of Padraig Harrington's Major championships.
Coupon Discount Codes