Best Putter Grips 2022
We round up the best putter grips on the market to help you find the right one for your stroke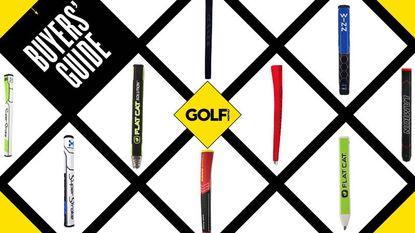 Best Putter Grips
The putter grip is the only point of contact between you and your flatstick so it's important you use the right one that can help you produce the best connection on the golf ball. To help golfers make the most informed decision, we've made this in-depth guide, highlighting some of the best options on the market.
As with most things in the modern game, there are a number of different styles available. From thin pistol-type grips to straighter and thicker models there are a number of things you need to be aware of when purchasing a new putter grip. For those new to the nuances of putter grips, pistol-style grips are thicker at the top, which means that your grip pressure varies between each hand. That makes them an excellent piece of golf equipment (opens in new tab) for feel putters and players with arced strokes.
A thicker, straighter grip is better suited to people who like to take their wrists out of it and have a more straight-back-and-through stroke. Interestingly, the putter grip has become one of the best golf accessories (opens in new tab) because there are now models that can help your stroke and alignment, as well as armlock and wristlock options, too. Additionally, we recommend taking a look at some of our other guides too, such as the best putters (opens in new tab), best golf grips (opens in new tab) and our guide on the best golf grips for sweaty hands (opens in new tab).
SuperStroke Traxion Tour 2.0 Putter Grip
Reasons to buy
+
Excellent performance
+
Various sizes available
Reasons to avoid
-
Won't suit all stroke types
SuperStroke really pioneered the straight putter grip where the sizing is exactly the same throughout compared to a traditional tapered pistol grip. We really like how the straight grip allows us to exert equal pressure in both hands to promote a smooth stroke.
The Traxion range from SuperStroke comes in various different sizing options and features what the brand call Traxion Control enhanced feedback zones. They combine a tacky polyurethane outer layer to deliver a comfortable feel and enhanced feedback.
Golf Pride Pro Only Putter Grip
Reasons to buy
+
Three distinct shapes in the range
+
Classic brand quality
With three distinct Tour shapes, the Pro Only models have been refined with direct player testing to deliver the highest degree of responsiveness and performance. Each model comes with its own unique shape and color-coordinated star on the end cap to help distinguish them at a glance.
The Pro Only Red Star features a modernized horseshoe shape with an arched paddle front for thumb placement. It also utilizes a slight pistol kick in the back for hand heel pad placement and weighs 74.5g. The Blue Star version boasts an angled profile with a wide, flat paddle front for thumb placement - something we liked - and the angled back shape allows for comfortable finger positioning.
Finally, the Pro Only Green Star model is an Oval shape with an arched paddle front for thumb placement. It features a slight upper-hand flared back for optimum finger comfort and hand positioning and is the heaviest and thickest at 86.5g and 88cc respectively. Before picking which of these putters you prefer, it's wise to try each out before and see which size and style is right for you. For more information on whether your putting grips are right for you take a look at our guide which assesses whether your golf grips are the correct size. (opens in new tab)
Golf Pride Tour SNSR Contour Putting Grip
Reasons to buy
+
Fits well in hands
+
Good amount of size options
Reasons to avoid
-
Color scheme not for everyone
Another hugely popular Golf Pride putter grip is the SNSR Contour. The SNSR range features an extremely soft feel to help with distance control and consistency on the greens. The Contour is an evolution of the classic tapered pistol grip, which allows the upper hand to be locked in for a more consistent hand placement.
It gets its name from the proprietary soft-tuned SNSR rubber, which promotes a lighter grip pressure and adds feel and feedback during the stroke. The SNSR range also features a Straight model and a Contour Pro version as well. All three models are slightly different to each other and come in two different sizes. Golf Pride are one of the best grip (opens in new tab) manufacturers on the market meaning these are a high-quality set of grips that can really improve your putting stroke.
SuperStroke Traxion Flatso 3.0 Putter Grip
Reasons to buy
+
Helps to take wrists out of stroke
+
Comfortable to hold
This is the grip used by three-time major champion Jordan Spieth. The Flatso 3.0 from SuperStroke comes with a unique pentagonal profile. The patented shape is said to allow for increased repeatability and consistency due to its wider flat-front and multiple edges.
It is flat the whole way down to ensure your hands are applying equal grip pressure, and its Spyne technology helps you keep them in the same place every time you hit a putt. This new Traxion offers an advanced surface texture design that provides enhanced feedback and greater confidence when striking the ball. The technology that is in these putter grips proves that it is one of the best golf accessories (opens in new tab) on the market.
Ping Golf PP58 Classic Standard Putter Grip – Blackout
Reasons to buy
+
One of the most classic grips
+
Great level of feel
+
Very cool design
This legendary putter grip was made famous by Tiger Woods. This classic pistol grip from Ping is very thin and offers up fantastic feel - great if you're this type of putter. It comes in the Blackout or White colors. There's not too much technology to speak of here so we reckon this grip would be best used by a low handicapper or a good putter. Pair this with a Scotty Cameron Newport and feel the Tiger vibes. Also if you are a fan of Ping then be sure to have a read of our best Ping putters (opens in new tab) guide, too.
Scotty Cameron Red Pistolero Putter Grip
Reasons to buy
+
Super soft feel
+
Offers great feedback
+
Great colorway
Reasons to avoid
-
Not as good for straight-back-and-through strokes
The Scotty Cameron Pistolero is another classic grip in a very similar style and size to the Ping PP58. It looks great, feels great and offers that unbeatable feedback through the stroke that only a thin grip can offer. Again, we'd recommend this for the feel putter and one with a slight arc due to its pistol shape. Take a look at our guide on the best Scotty Cameron putters (opens in new tab), if you're after a few more examples of the types of clubs you might want to pair your blade putter grip up with.
Reasons to buy
+
Does exactly what it's supposed to
+
Good colour options
Reasons to avoid
-
Might need to alter your putter
The WristLock grip from SuperStroke has been designed to help golfers who use the arm-lock putting method with a longer shaft that runs along the arm, in the style of a Bryson DeChambeau or Matt Kuchar. It has been engineered with a thicker top section on one side to 'lock' itself in against your arm.
We were big fans of this but be wary that you may need to adjust the loft on your putter as you'll find yourself leaning the shaft slightly forward at impact and during the stroke. That being said, this is a fantastic grip that does sit nicely on the arm and gives good feedback when you strike through the ball. The best armlock putters (opens in new tab) on the market have very similar grips to the WristLock, so if you're looking for a good grip for your armlock putter look no further than this offering.
Read our full Superstroke Wrist Lock Putter Grip Review
Winn Excel 2020 Vision Midsize Putter Grip
Reasons to buy
+
One of the grippiest
+
Works well in damp conditions
This classic-styled Winn midsize pistol grip features a hexagon pattern to offer great feel and performance with ideal tackiness. It will serve you well in wet and sweaty conditions as it's made with an excel polymer material, which is slip-resistant for performance in all weathers. It was that performance aspect we really liked and one of the main reasons we included it in this guide on the best putter grips.
Flat Cat Putter Grip
Reasons to buy
+
Very soft feel
+
Great for taking the wrists out of play
Reasons to avoid
-
Not as versatile as others
The Flat Cat putter grip was made famous by Justin Rose, who has had a real resurgence on the greens over the past few years - coinciding with his rise to the World No. 1 position between 2018-2019. There are a few different sizes in the range and they all feature the company's FLAT1 design, which helps golfers square up the putter face on a more consistent basis.
Featuring a flat front and made from a lightweight polyurethane compound, this grip delivers a soft, comfortable feel and comes with a lighter-traction surface to give you a nice grip texture. It's very large flat surface makes it a unique addition to this guide, but operates as a very handy putting and training aid (opens in new tab) that can help you sync more putts.
Flat Cat Solution Putter Grip
Reasons to buy
+
Does make it harder to get twitchy
+
Very well made
+
Cool style
Reasons to avoid
-
Heavy weight won't suit some
Evolving from the original Flat Cat above is the Flat Cat Solution grip, which features the same qualities as its predecessor but with an added heavier weighted steel cone at the bottom of the grip to produce a pendulum-style putting stroke. Marketed as a solution to the dreaded yips, we were really keen to put this to the test. If you're someone that likes a heavier putter, this will be a great option for you. There are a few different variations of the Solution, from standard to fat, pistol and the slimmer svelte option.
Winn Dri-Tac Midsize Pistol Putter Grip
Reasons to buy
+
Really comfortable
+
Suitable in loads of conditions
Reasons to avoid
-
Not as long-lasting as others
This great value Dri-Tac grip from Winn with breathe some life into your putter if you're looking to refresh your current grip. The Dri-Tac performance material offered us comfort for our hands, a nice feel through impact and slip-resistance in all-weather conditions. If you're somebody that plays a lot of golf in the rain, we know you'll appreciate this grip. But if you do struggle for grip in wet weather, take a look at our guide on the best wet weather golf gloves (opens in new tab).
Iomic Classic Midsize Putter Grip
Reasons to buy
+
Good selection of colours
+
Fully waterproof
Reasons to avoid
-
Not as many size options
Available in blue, black and red, this grip is made by well-known brand Iomic. It features the company's smooth putter texture and a tour-proven Sticky pattern on the underside - a unique combination that gave us superior traction while producing ultimate control and feel. Additionally, it is fully waterproof so you won't lose any performance when the heavens open - a factor that could prove decisive in the heat of competition.
Golf Pride Players Wrap Putter Grips
Reasons to buy
+
Classic styling
+
Perfect for feel putters
One of the best value grips on the market, the Golf Pride Players Wrap is small in size to offer great touch on the greens. It has a smooth paddle front and a half wrap back in a simulated leather wrap, which provides added comfort for your hands and touch on the greens. It's a throwback to eras of old and we love that aspect of it. Players who rely on feel will love it.
Scotty Cameron Black/Silver Matador Midsize Putter Grip
Reasons to buy
+
Versatile size
+
Quality construction
Reasons to avoid
-
Not as readily available
This midsize Scotty Cameron grip is made from a Tacky Excel polymer construction to promote a more relaxed grip pressure. It also features a Staggered tread pattern to offer greater feel and control. What's more, it comes as standard on many of the company's renowned putters and you can learn more about them on our guide to the best Scotty Cameron putters. We were really impressed with the overall performance of what is undoubtedly one of the best putter grips on the market right now.
Lamkin Sink Fit Straight Putter Grip
Reasons to buy
+
Really durable
+
Feels excellent in the hands
Reasons to avoid
-
Not ideal for arc strokes
Lamkin's midsize Sink Fit Straight grip features the company's Fingerprint Technology and Genesis Material to offer golfers a responsive feel on their putts, optimized surface tack, and great durability. It is made in a unique contoured shape, which has been designed to promote proper wrist alignment for smooth, repeatable mechanics.
We found it works best with golfers who have a straight back and through stroke as oppose to an arced motion. Lamkin also features heavily in our best golf grips for drivers (opens in new tab) guide too, so if your hands slip on tee shots we definitely recommend taking a look at some of the models we selected.
Winn ProX 1.60″ Putter Grip
Reasons to buy
+
Lots of size options
+
Encourages clubhead stability
Reasons to avoid
-
Might be a little light for some
If you get a little wristy in your putting stroke, a chunky grip will help take the hands out of it. The Winn ProX comes in various different thicknesses including this 1.6" size, made to eliminate wrist movement and offer up a comfortable, tacky feel. We really noticed the WinnLite Technology at work here to minimize weight, enhance clubhead feel and provide stability during the stroke. That makes this a great piece of golf equipment to help you improve the roll of the ball off the clubface.
How we test putting grips
When it comes to product testing, our reviews and buyers' guides are built upon a rigorous testing procedure as well as the knowledge and experience of the test team. The putter section is headed up by Martin Hopley (opens in new tab), one of the foremost UK equipment reviewers with over 20 years' experience.
Other members of the Golf Monthly team contribute to the putter tests as well, and all writers are able to efficiently test the vast majority of the biggest product releases and convey the pros and cons eloquently. Getting into specifics, we test the putters outdoors on real greens with premium golf balls to get a thorough understanding of design features, feel, sound and looks.
Ultimately, we aim to be as insightful and honest as possible in our reviews so it is important to acknowledge that no manufacturer can buy a good review. This is because our team tells it how it is. To learn more about our methodology, see how Golf Monthly tests products (opens in new tab) in our guide.
What to consider when purchasing a new putting grip
The putter is perhaps one of the most important clubs in your bag. As most golfers will know, the amount of shots you can gain or lose on the greens can make or break your round. For that reason, having the right putter with the right grip for your putting stroke in your bag can seriously help you shave shots off your round.
The grip is one of the most important features on your flatstick and there are many different types of grip available to you. For that reason, when purchasing a new putter grip, there are several factors you should consider, which are set out below.
1. The shape
Putting grips come in a variety of shapes and sizes. Those generally include circles, ovals, flat ovals, pistols and flat wides. Each provide a different feel and offers golfers with different swing types a variety of benefits. Circle shapes are the traditional style of putting grip and typically have a thinner grip than most other putters. They are great for players with more rotation in their swing.
Pistol grip putters are another popular grip style and, conversely to the oval shape, are better for players who have a slight arc in their putting stroke. The ergonomic shape means they are wider at the top and are designed to deliver a closed face angle at impact, which helps to improve the connection you get on the golf ball.
Wider grips and flatter putter grips help to quiet wrist movement and that makes them a great tool to use if you're a golfer who suffers from the yips. The thickness helps to produce a fluid pendulum motion from your shoulder and allows you to strike through the ball with greater confidence and control. This ultimately means picking a grip can be a very subjective thing for different golfers. Where one player might prefer a circular grip, another player might want to play with a pistol grip. It depends on what works for you and provides you with the best feel. For that reason, we recommend you head down to your local club shop to try a variety of different putters with different grips.
2. Tackiness
Having a tacky grip on your putter is another important factor that all players should consider when buying any flatstick. The better the grip, the more you can relax your hands when holding the club. That can allow golfers to use their shoulders and arms more to create a pendulum motion through the ball and produce a more controlled, fluid stroke. Some putter grips also provide aids that help you place your hands on the club in the same position each time. Look out for these as this can improve the consistency of your strokes and help you sync more putts.
3. Feel
Similar to when picking the best putter, iron or driver that is right for you, you're going to want to factor in how that club feels on impact. The same goes for when you're trialing different grips. You'll want to pick the grip that gives you the best responsivity, control and overall feel as you strike through the ball. Again that is something that is subjective from golfer to golfer. For example, some players like to feel more vibrations coming up the club, while others would prefer that sensation to be dampened. Depending on what works best for you, trying out different types of grip can seriously help you discover the best one for your needs as a golfer. Head down to your local club shop to try out more.
4. Style
Style might interestingly be one of the most crucial things to consider when purchasing a new putter grip. As golf is primarily a mental game, looking good on the course means feeling good. And if you're feeling good, then you are inevitably going to be higher in confidence. For example, standing over the ball while holding a putter that looks the part, and makes you feel confident, can go a long way in helping you shave putts of your round. For that reason, pick a putter grip that not only feels good but looks good too.
If you're currently in the process of re-gripping a variety of clubs, why not check out our guides on the best golf grips for drivers, best golf grips for irons, and the best golf grips for sweaty hands.
FAQs
Is a pistol putter grip or a circular putter grip better to use?
Each are suited to golfers with different swing styles. A pistol grip is perhaps better for golfers who have a straighter swing or a small arc in their putting stroke. A circular grip might be better for golfers who putt with a more curved arc. Ultimately, there is no right or wrong here, it depends on what works best for each golfer.
Are thicker golf grips better?
Oversized golf grips can be better for golfers who struggle with the yips or more hand movement through the stroke. Thicker golf grips allow players to wrap their hands more around the club and provide more stability, enabling you to swing through with a pendulum motion.
How wide can a putting grip leagally be in golf?
Per USGA rules, the maximum width of grip a golfer can have on their putter is 1.75" in diameter.