Best Golf Clubs For High Handicappers 2023
Our look at the best golf clubs for high handicappers worth considering this season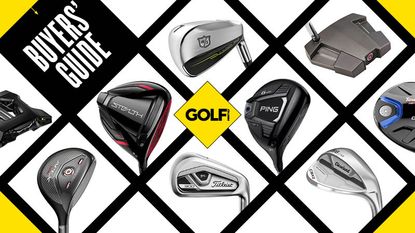 (Image credit: Golf Monthly)
Best Golf Clubs For High Handicappers
In case you didn't already know, you're spoilt for choice. Because golf club technology has grown by leaps and bounds over the last 20 years, the best golf club sets (opens in new tab) and specific clubs for higher handicap players offer plenty of assistance out there to help you shoot lower scores and take your game to the next level.
Typically, the best golf clubs for high handicappers are more forgiving, which means mis-hits aren't so severely punished. So, no matter what club you're hitting, there's more margin for error, something high handicap players need, given that their strike pattern isn't usually so consistent. With the drivers and fairways, slice-correcting technology is often at the heart of the clubs' design, which is really helpful for those high handicappers who tend to suffer with a left-to-right shot shape.
Acknowledging all of this below we have taken a look at some of the best golf clubs for high handicappers, but if you want to have club specific guides we also recommend taking a look at our posts on the best high handicap drivers (opens in new tab), the best fairway woods for high handicappers (opens in new tab), and also the most forgiving irons (opens in new tab).
Best Golf Clubs For High Handicappers
Why you can trust Golf Monthly Our expert reviewers spend hours testing and comparing products and services so you can choose the best for you. Find out more about how we test.
Drivers
Reasons to buy
+
Premium, aspirational looks in the bag and at address
+
Encourages a draw shape without compromising forgiveness
Reasons to avoid
-
Not as confidence-inspiring at address as previous generation SIM2
For golfers who struggle with a slice with their tee shots, TaylorMade has devised the Stealth HD driver. As with the other two heads in the Stealth range, the HD features a lightweight carbon fibre face.
Admittedly the black finish does create a more compact look at address, which many higher handicap players might find intimidating, but many will also enjoy this look as well.
When it came to actually hitting the club during testing, we were impressed with how much this driver did encourage us to hit more of a draw shape with the ball - it'll certainly be the best driver for slicers (opens in new tab) in the range. The ball speeds are impressive and we could really feel the extra forgiveness across the face at play.
Reasons to buy
+
Fast and forgiving
+
Helps reduce a slice
Reasons to avoid
-
Eliminates those players who draw the ball
Callaway has a good number of driver options, covering golfers of all skill levels, with the B21 one of those models aimed at the high handicap player. More specifically, it targets the golfer who struggles with a miss to the right, especially a shot pattern that is accentuated by excessive spin from a downward attack angle where the ball travels across the fairway rather than down it.
And having put the driver through its paces, we can confirm that trying to hit a fade was very difficult, which will be music to the ears of serial slicers. High handicappers will also like the generous footprint at address, as well as the explosive feel, even on mis-hits. If you tend to use a large portion of the face over the course of a round, make sure you put this club on the must-try list.
Reasons to buy
+
Impressive forgiveness on off-center strikes
+
Extremely consistent in terms of flight and distance
+
Classic shaping, premium look
+
Incredible value at its price
Reasons to avoid
-
No adjustability
-
Limited shaft options to choose from
If you're a high handicapper, or perhaps someone just looking to get started in the game, you might be less inclined to spend large sums of money on new gear - which is fine, because you still have plenty of options. This driver from Tour Edge might well be one of the best in that lower price category.
The overall profile is on the larger side, inspiring confidence at address, but the shaping is more traditional, best described as a rounded, pear shape. Tour Edge went to great lengths to position weight low and deep in the clubhead to increase MOI, including a fixed weight at the rear of the sole. That technology delivered, as the C522 was extremely playable on mis-hits, ranking easily as one of the most forgiving drivers we've tested in 2022. It also delivered in terms of distance as well, and when coupled with the overall performance on offer here, who wouldn't be attracted to that price?
Fairways
Ping G425 SFT Fairway Wood
Reasons to buy
+
Faster ball speeds across the face against last year's model while keeping the forgiveness
+
Three dot alignment system helps frame the ball
Draw bias clubs might not be everyone's cup of tea, but they can be game changers for high handicappers. With weight positioned more towards the heel, players should experience a straighter ball flight, which will contribute towards finding more fairways.
The G425 SFT is lofted at 16° for extra forgiveness and playability but its adjustable 1.5° up or down, so this club can be fine-tuned to suit different preferences. Meanwhile, the one-piece face makes for very fast ball speeds, 1.5mph quicker than last year's Ping G410. Without doubt, this is a worthy inclusion in our list of the best golf clubs for high handicappers.
Reasons to buy
+
Superior feeling face is a joy to play
+
Heel draw-bias weighting will help golfers who tend to slice their fairway woods
Reasons to avoid
-
Not quite as long as the other Cobra LTDx models tested
Given that the Cobra LTDx Max is the most forgiving option in a family of three new LTDx designs, it's aimed at the majority of mid to high handicap players who are likely to favor one of the most forgiving fairway woods.
As such the Max is filled with innovative technology including a carbon fibre crown, new face technologies, and redistribution of weight around the head. This is all in the name of faster ball speed and more MOI for forgiveness. Admittedly in our testing we found this model to be similar to the other LTDx models in distance, we did however thoroughly enjoy the draw-bias face which resulted in a pleasing right to left ball-flight. This is definitely something slicers of the golf ball will enjoy.
Hybrids
Reasons to buy
+
Can do the job of a higher lofted fairway wood and a strong hybrid
+
Longer than a five wood, easier to hit than a 2-iron or utility iron
Reasons to avoid
-
Looks are plain for such a high-tech club
Callaway has regularly sought to think outside the box when it comes to golf club design and the latest attempt is the Apex UW (Utility Wood) - a club that looks and flies like a fairway wood but offers the versatility and precision of the best hybrids (opens in new tab).
The forged face, made from C300 Maraging Steel, was a pleasure to hit and the feel is responsive and energetic. The Jailbreak A.I blades provide vertical stiffness near the sole, which helped keep ball speed up when hitting a touch low on the face. When inconsistency of strike is a common issue for higher handicap players, this technology does help.
On test, it was exceptionally long, around 25 yards past similarly struck shots with other leading brand hybrids tested the same round. Additionally it seemed to perform very well in the wind as well with performance more akin to a fairway wood than a hybrid.
Irons
Reasons to buy
+
Confidence inspiring looks
+
Easy to launch and swing faster
+
Effective in reducing the impact of heavy strikes
Reasons to avoid
-
Wide soles limit ball striking progression
-
Will look too chunky for some
For higher-handicap golfers who need help when it comes to distance, launch, forgiveness (opens in new tab), and consistency, the 2022 Launch Pads warrant serious consideration.
Their hollow-body design enables a thinner clubface, a combination that promotes speed and naturally higher launch conditions. Additionally, the rounded, wide soles that each iron in the set features improves turf interaction for golfers with steep angles of attack, a frequent issue for high-handicappers and those who are new to the game.
At address, you'll notice the slightly thinner topline and at the rear, a new paint job is designed to resist scuffing and it certainly enhances the shelf appeal too. There's generous offset whilst the overall look will certainly inspire confidence for the inconsistent ball striker.
Reasons to buy
+
Long and consistently so
+
Very user friendly for golfers that utilise a lot of the face area
+
Excellent value for money
Reasons to avoid
-
Flat ball flight and low spin limits stopping power
We were big fans of the Radspeed golf clubs from Cobra and so we were interested to see how the LTDx range could go even further. Down at address, we noticed the cut out section from the topline we saw in Radspeed has gone, which will please the traditionalists.
From a performance perspective, the LTDx irons have distance at the forefront of the design. In fact, it has a floating steel bar completely separate from the body and face suspended in a lightweight polymer to get the centre of gravity right behind the preferred striking area. This is said to encourage the face to flex more, aiding distance (opens in new tab), while also aiding the feel and sound.
Reasons to buy
+
Is explosive off the face without feeling harsh.
+
Delivers consistently long carries with a very stable ball flight.
+
Excellent value for money.
Reasons to avoid
-
Low speed players may struggle to see big carry distance gains
One of the key pieces of technology that will interest high handicappers, is something called Max Impact. This comprises a silicone polymer insert that provides support behind the face so it can be thinner, improving all-round speed, launch, feel and sound without sacrificing durability.
For a long time, given the brand's reputation as one for the 'serious' golfer, high handicap players, understandably, may not have considered Titleist as a viable option. However, this is certainly a set that will help high handicappers with their ball striking. It's a distance machine, but you're also treated to the kind of classic look that you come to expect from Titleist (opens in new tab).
Wedges
Reasons to buy
+
High levels of spin
+
Inviting address look
+
Eye2 sole profile a game-changer out the sand
Reasons to avoid
-
Feel off the face a little firm
Ping is a brand that knows how to make clubs for all levels of golfer, including those at the higher end of the handicap spectrum. One such example of this is the Ping Glide 4.0 wedge, which not only looks great in the Hydropearl 2.0 chrome finish, but we are confident it will also help higher handicap players feel more confident when faced with short-game shots.
In our testing we thought this to be the case, especially from the sand. We thought that it was one of the best performing wedges (opens in new tab) out of the sand due to its forgiveness from tougher lies. Indeed there are also four sole options to choose from with the Eye2 design being one we would recommend you have a go with.
Reasons to buy
+
Extra forgiveness helps get full shots closer to the hole
+
Aggressive milling boosts spin
The Cleveland CBX 2 wedge features a hollow chamber towards the heel and a heavy weight strategically placed in the toe, which helps maximize MOI to improve forgiveness. High handicappers need that margin for error, especially around the greens, where heavy strikes - a common problem shot - can see shots frittered away.
We found the wide sole design especially helpful from the sand, as it allowed the club to glide rather than dig downwards with minimal interference. Whilst you can lose a little versatility with this cavity back wedge, the gains in forgiveness are worth it.
Putters
Reasons to buy
+
Confidence inspiring shape
+
Good alignment line options
+
Great grip
Reasons to avoid
-
Prefer darker head across all models
A very stable and high MOI putter with a good choice of hosels, the Odyssey is a must consider if you're a high handicapper who is looking to shave some shots off your round. The putter simply looks and feels the part. Its brushed-steel finish, sleek design and handy alignment tool all combine to make this club visually a very good-looking piece of kit.
In terms of its performance, the putter boasts a traditional, White Hot face insert that provides an excellent feel and seems to suit mallet putters very well. Meanwhile, the clubhead features several heavyweight steel weights in each of its back corners, which aim to keep the center of gravity on the club forward, which helps to produce a smooth ball roll off the face of the club.
The club's shaft joins a graphite top section with a steel tip to improve stroke consistency, accuracy and stability. That also means it is a lot lighter than a steel shaft and combines well with the Eleven clubhead to produce a fluid putting stroke. As one of the best Odyssey putters (opens in new tab) on the market, it is both a very forgiving and stylish club that high-handicappers can benefit from.
Reasons to buy
+
Face design provides consistent ball roll
+
Extremely forgiving
Reasons to avoid
-
Unorthodox design won't appeal to all players
-
Metal top section does produce sun glare
Continuing the mallet theme in this putter section, another model to mention is the Agera from Cobra. As you can see above, it has a large footprint which is a key part of the design because it has been created to offer the highest MOI possible. It does this in part because of the 3D-printed inset and tungsten weights.
It is unquestionably one of the most forgiving putters (opens in new tab) on the market and this is further aided by SIK Face Technology which uses descending loft technology to produce consistent stroke through the ball. And we've found that technology to be a genuine asset in our testing.
Once we got used to the futuristic look, we really did enjoy the unique design, and because of how much forgiveness there is on offer, we think there are very few putters on the market that could help players as much as this design does.
How we test golf clubs
Our testing for golf irons is built upon a comprehensive process combined with the knowledge and expertise of the entire Golf Monthly test team, headed up by technical editor Joel Tadman. As far as the specific procedure goes, before testing, the team will usually attend product launches and meet with the manufacturer's R&D experts to understand the new technology.
When it comes to testing, we often head indoors first to try clubs in a controlled environment. This usually takes place on an indoor simulator using a premium, reputable launch monitor with premium balls. Our outside testing normally takes place at West Hill Golf Club, a course with top-notch practice facilities, both on the range and on course.
We think it is vitally important to do both and continue to test the clubs so they have been comprehensively put to the test in different conditions. It should also be mentioned that manufacturers cannot pay for a good review and we make our conclusions from the testing and our experiences.
FAQ's
What golf clubs should a high handicapper use?
A higher handicap player should use golf clubs that help them as much as possible. This could take the form of being as forgiving as possible so strike is less inconsistent, and then distance is maintained. In fact, inconsistency of strike is one of the most common problems facing higher handicap players and because many brands know this, there are loads of golf clubs, from drivers down to putters, that have been created to help with consistency off the face.
Should high handicappers get fitted for clubs?
At Golf Monthly we think a custom fitting is a good thing for every level of golfer because a professional fitter will get you using clubs that have been designed specifically for you and your strengths and weaknesses.
Joel has worked in the golf industry for over 12 years covering both instruction and more recently equipment. He now oversees all product content here at Golf Monthly, managing a team of talented and passionate writers and presenters in delivering the most thorough and accurate reviews, buying advice, comparisons and deals to help the reader find exactly what they are looking for. So whether it's the latest driver, irons, putter or laser rangefinder, Joel has his finger on the pulse keeping up to date with the latest releases in golf. He is also responsible for all content on irons and golf tech, including distance measuring devices and launch monitors.
One of his career highlights came when covering the 2012 Masters he got to play the sacred Augusta National course on the Monday after the tournament concluded, shooting a respectable 87 with just one par and four birdies. To date, his best ever round of golf is a 5-under 67 back in 2011. He currently plays his golf at Burghley Park Golf Club in Stamford, Lincs, with a handicap index of 3.3.
Joel's current What's In The Bag?
Driver: Titleist TSR3, 9°
Fairway wood: Titleist TSR3, 15°
Hybrid: Titleist TSi2, 18°
Irons: TaylorMade P770, 4-7 iron, TaylorMade P7MC 8-PW
Wedges: Titleist Vokey SM8, 50°, 54° and a Titleist Vokey SM9 60° lob wedge
Putter: Evnroll ER2V
Ball: 2021 Titleist Pro V1x